Gideon Sa'ar and Geula Even: Preparing for the Day After Netanyahu
When the interior minister announced his decision to take a 'time out' from politics, it was doubtless coordinated with his media-savvy new wife. Many Likud insiders are seeing 'Gideon and Geula' as the new 'Bibi and Sara.'
Geula Even and Gideon Saar, August 2014.
Credit: Sivan Farag
The interview that anchorwoman Geula Even held with then-Education Minister Gideon Sa'ar in the summer of 2012 didn't seem any different from any other interview she conducted for the Channel 1 news show "Hamusaf" (The Supplement). She asked about his plans; he stayed serene, even when she pressed hard. Yet there was something different: the two couldn't stop smiling at one another.
Some weeks later, rumors that they were dating began to circulate. In November 2012, a fortnight after he placed first in Likud's primary elections, and two months before the general election, Even was spotted leaving Sa'ar's house. The pairing of the intensely private news anchor and the rising political star was outed, and progressed to a wedding and a quickly born child. Since then Even has been by Sa'ar's side, involved in every step. They know how to conduct their public coupleship: not to fight the media, but not to grovel to it, either. Sa'ar has always cultivated ties with the press. He'd been a journalist and knows what they want, and Even knows the media, a media personality said last week.
Some reporters claim Even runs her partner's media relations. Others say his conduct hasn't changed.
"Sa'ar was goal-oriented before her," a Likud insider says. "He never took his eyes off the top, but his union with Even strengthened his coverage. She's heavily involved, appearing at most important political events. If it's a Mimouna in Dimona or a wedding in Haifa, she comes with their 3-month-old son. You can see it impresses the party members. She is a celeb, after all."
A friend says their relationship is close: he comes home early to be with the baby when needed; she joins him at myriad events to which other politicians seldom bring wives. She burnishes his image as a Shabbat-observing family man, which matters "because the Likud members didn't like the speed at which he left his former wife, and didn't like the constant paparazzi pictures of the couple during the election campaign."
Israeli politicians' wives span the spectrum, from noninvolvement (Aliza Begin, Shulamit Shamir and Sonia Peres, for example) to anonymity (few would recognize Ada Ya'alon, Nehama Rivlin or Tzipi Livni's husband, Naftali Spitzer), to Judy Nir Mozes Shalom and Lihi Lapid, who live in the public eye.
But as an experienced news anchor savvy in politics, Even's media clout seems to dwarf that of Nir Mozes Shalom and Lapid.
When working on her current-affairs show, Even steers clear of issues directly associated with her husband. But when she anchored the election broadcast in early 2013, with Ayala Hasson, the network's ethics committee discussed the potential conflicts of interest and decided that Hasson would cover anything about Sa'ar in the broadcast. In a recent interview during the presidential elections with outgoing president Shimon Peres, she asked whether Reuven Rivlin – Sa'ar's idol – was presidential material, but didn't ask about the other candidates.
In March, Even brutally attacked Communications Minister Gilad Erdan regarding dismissals as the Israel Broadcast Authority was dissolved. She hit below the belt when, at a public assembly at Beit Sokolov, she noted, "It isn't easy being communications minister after Moshe Kahlon [who reformed the cellular industry, saving consumers billions of shekels a year]. Erdan had to show an achievement. Or a superfluous ministry could be eliminated," by which she meant the Home Front Defense Ministry, which was also under Erdan's wing.
Erdan placed third in Likud and is one of Sa'ar's biggest rivals in internal party power plays. In many ways, he's a red flag to Sa'ar. Erdan is also connected to the cool relations between Prime Minister Benjamin Netanyahu and Sa'ar, when the prime minister chose Erdan (who ranked lower in the Likud polls) over Sa'ar for a coveted seat on the security cabinet, which Sa'ar had wanted.
The anchor with bite
Originating in Army Radio, Even advanced rapidly in Channel 1 thanks to her energy and articulateness in front of the camera, and her political savvy, says Rafik Halabi, former chief of the network's news division. "Her first interview was with a former Mossad director general [Shabtai Shavit], who treated her disrespectfully. She answered him back fearlessly," Halabi relates. "Professionally, she was an amazing anchor. They couldn't get her to stop blinking … but she was terrific and always fought for her place and centrality in the studio; she stood up for herself and won. She's one of the best, most hard-hitting and biting female anchors I've known."
Opinionated and hard-pressing, Even cut nobody any slack and didn't shy from confrontation with interviewees. She also kept her private life private. Former Channel 1 colleagues describe her as "introverted." She lived in Nes Tziona, far from the Tel Aviv hive, and raised three children with her first husband, Amit Oberkovich, whom she met during the army. She managed to keep their divorce low-profile, but within months came the stories that she was dating the then-education minister and the No. 2 man in the Likud Knesset list.
They moved in together in Tel Aviv and held a modest wedding (with paparazzi climbing the walls of the friend's house where the nuptials were held). Their son David was born in late 2013.
Even had been accused of being left-leaning, but childhood friends recall a poster of Benjamin Netanyahu over her bed. Meanwhile, in the last year she's been going everywhere with Sa'ar, including to events beyond the Green Line. Likud activists are already calling them the "new Bibi and Sara," and say she's pushing Sa'ar in the race to the top.
That places Even in an impossible situation, especially as decisions are being made about the broadcast body to replace the IBA. Most of Israel's politicians have passed through her studio.
Hasson, now head of the channel's news division, last week decided to double Even's daily broadcast to an hour – but shortly afterward suspended her, pending a hearing into why Even violated the network's order barring her from interviewing MKs from Likud because of a potential conflict of interest.
Combo journalist-lawyer-politician
Even and Sa'ar – who friends say has been targeting the prime minister's seat since age 16 – have things in common: Both are children to immigrant parents (hers from Lithuania, his from Argentina); Even is reportedly slow to form relationships with colleagues, while Sa'ar's cronies call him an "iceman."
Sa'ar stood out as a teenager in the right-wing Tehiya youth movement, led then by Tzachi Hanegbi, and in the army joined the Golani Brigade. He completed university studies and worked as a journalist for Uri Avnery's weekly magazine Ha'olam Hazeh ("This World"), where he also wrote on politics. Later he served as political correspondent at the daily newspaper Hadashot and helped found Channel 2. But after studying law, he left the media and began interning at the Tel Aviv branch of the state prosecution. He also worked as assistant to the attorney general as the office investigated several few politicians, including Ehud Olmert (while he was mayor of Jerusalem). He briefly opened a law office, but in 1996 Netanyahu called on him to be cabinet secretary in his first government.
"What a waste. He could have been an excellent lawyer," laments a former law colleague, Amir Zolty.
The combo of a secular Tel Avivan liberal (fan of Maccabi Tel Aviv and Real Madrid) who holds right-wing positions, looks intellectual and posts photos on Facebook of rock concerts he's attended in Israel and elsewhere, is married to a media star and growing nearer to religion... it all seems designed to attract the maximal number of voters. Smart lawyer with glasses, right wing but also hangs out at trendy bars: it's worked for years, says a friend.
Sa'ar's positions prove to be flexible, say Likud insiders. He seemed to oppose the 2005 disengagement from Gaza, but gave then Prime Minister Ariel Sharon the backing for it to happen, for instance. (He quit twice at the time, but relented.) "As education minister he gave funding to the gay community, but now he's crusading against business on Shabbat," says another.
Friends say he's an ideologue. "He doesn't care if people support or don't support his moves," says one. "When it's about the rule of law, he doesn't care even when his views aren't popular … he's the last one you could call a weather vane."
Yet those who choose can find political motives behind his every move. He seems to maneuver in the House of Cards better than the rest. He leaves his mark at ministries he runs, subsidizing high-school trips to Hebron as education minister, or completing a reform of municipality tax at the interior ministry. Don't dismiss it when he says he wants to unite Tel Aviv and Bat Yam.
It's no wonder he placed top of Likud's polls twice. "He's a media master," says a long-term associate.
When necessary he allied with Netanyahu, then with Sharon. In the last year, he went against Netanyahu again and pushed Rivlin for president. Now that he's positioning himself as a rival to Netanyahu, he's gradually nearing Moshe Kahlon. Netanyahu didn't realize what he was doing when he gave Sa'ar the Interior Ministry, says an associate: "He's king of the Likud mayors now. That, and his media moves, are the source of his power."
Thou shalt not open a kiosk on Shabbat
Political opportunist or man of principle? The argument peaked in recent weeks after Rivlin won the presidential race – a victory for which he can thank Sa'ar first and foremost – and after Sa'ar decided to close down grocery stores in Tel Aviv on Shabbat. Sa'ar the lawyer argued the case on legal grounds, but ultimately quoted Haim Nahman Bialik: "Eretz Yisrael will never be built without the Sabbath. It will be destroyed, and all your work will be for naught."
But his move is seen as pandering to the religious vote. Meir Sheetrit even claims Sa'ar struck a deal with the ultra-Orthodox: if they'd support Rivlin, he'd give them Shabbat observance in Tel Aviv.
Hogwash, says a presidential-race insider – Sa'ar wouldn't commit suicide for Rivlin. "He was probably thinking about his observant voters, the new knitted-skullcap elite in the army and Knesset," which are demographically increasing. Shabbat shoppers in Tel Aviv weren't his constituency, anyway. "He's preparing for the day after Bibi ... and who will bring the most votes to Likud."
Sa'ar has been nearing religion in recent months. He's studying Torah, separating milk and meat, and observing Shabbat – in contrast to his utterly unobservant lifestyle in previous years. Pre-Even, he was a Tel Aviv night owl, even deejaying at nightclubs. Now an associate speaks of Sa'ar's great love for Even. "It looks like a pairing of people in love."
In love with a powerful media personality, who's admired by the people and politically smart. In fact, the perfect partner for a would-be prime minister.
Click the alert icon to follow topics:
ICYMI
Ken Burns' Brilliant 'The U.S. and the Holocaust' Has Only One Problem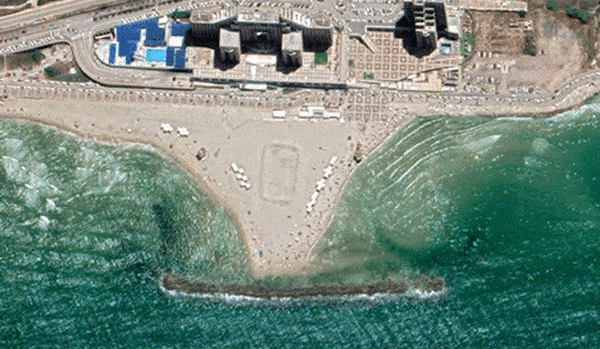 Facing Rapid Rise in Sea Levels, Israel Could Lose Large Parts of Its Coastline by 2050
As Israel Reins in Its Cyberarms Industry, an Ex-intel Officer Is Building a New Empire
How the Queen's Death Changes British Jewry's Most Distinctive Prayer
Chile Community Leaders 'Horrified' by Treatment of Israeli Envoy
Over 120 Countries, but Never Israel: Queen Elizabeth II's Unofficial Boycott