All That Glitters |
Protective Edge Exposes Our Economic Weaknesses
In normal times, we can take pride in data showing that Israelis are happy or have relatively high life expectancy. But in wartime, we come to realize that mediocrity is not an option.
A building in Sderot hit by a rocket on July 3, 2014.
Credit: Eliyahu Hershkovitz
Do you feel happy today?
In these days of rockets and runs to the bomb shelter, do any of us remember the comparative economic data we so love to take pride in during normal times? Do you remember this morning that Israel is ranked high in the international happiness rankings? Does anyone fondly recall our ranking in life expectancy? And how does the narrative that Israel is the startup nation and inventor of patents help us this week?
Politicians, senior government officials, senior executives and the heads of interest groups in Israel have a standard answer, which they pull out of their hats every time the public demands something from them: "What do you want? Look, Israel is ranked in a very good place compared to the average for OECD countries." And that's it; the latest demands have been dismissed.
But these are times of war. As sirens sound across the country and many Israelis, especially those living near the Gaza Strip, fear for their lives, these quick brush-offs aren't really working in Israel right now.
Belgium or Denmark, maybe, where the economy, and society in general, can more or less rely on doing okay and on nothing too serious happening to their citizens. But in Israel, where we are surrounded by enemies determined to destroy the country, extended mediocrity is not an option; over the long term, marching in place threatens our fortitude.
If Israel is average – if it stands still, and if its economy and society do not improve, though our enemies become stronger – our ability to withstand them will erode.
There are unlimited examples of the spin applied to these international comparisons. Today, no one doubts the incredible concentration of economic power in many sectors in Israel, but when a government committee began examining the issue, Israeli businesspeople concentrated their efforts on showing that the situation here is the same as anywhere else. After that, the very same tycoons weakened some of the proposals by saying such restrictions have never been tried anywhere else in the world.
Israel ranks very high in measures such as fertility, health, marriage rates and life expectancy; it also has low suicide rates. But are the challenges facing Israel similar to those facing other countries? And can we make do with being just like them, with capabilities in the upper third of the Organization for Economic Co-operation and Development?
In a cabinet meeting last December, Prime Minister Benjamin Netanyahu presented the most recent OECD report on Israel. Israel's position is rather good in comparison to other OECD nations, he said.
"[Economic] growth is one of the highest of developed countries, unemployment is one of the lowest in the world, and Israel does quite a lot of things well on other measures too," said Netanyahu.
But how do all those statistics help us when we are running to find shelter from rockets, or when they tell us that in every new round of violence the enemy is becoming bolder and more accurate? How do those comparisons matter when it turns out we have to transfer billions of shekels more for defense, and can forget about any real improvement in public services?
Perhaps Operation Protective Edge, like the empty streets and parks that abound along with the continued rocket fire, exposes our socioeconomic nakedness. They expose the vulnerability and failures of the Israeli economy, and in particular how much we must improve so that the ongoing violence does not threaten our economic stability – and ultimately our own defense.
Am I exaggerating? Am I being defeatist? Anti-Zionist?
Don't play the blame game
With timing that drew its share of controversy, on the day the first rockets began hitting the center of the country, Haaretz held a peace conference in Tel Aviv.
The economic discussion held at the conference was supposed to outline the economic blessings the public will enjoy once Israel signs a peace arrangement with the Palestinians and the rest of our neighbors. But the speaker who opened the session – Manuel Trajtenberg, the economist who used to head Netanyahu's National Economic Council – chose to focus on the other side of the same coin: what would happen to the Israeli economy if the status quo, including the rounds of mutual violence we are now experiencing, continues for a long time.
Trajtenberg was not optimistic, and he noted two major factors that in his opinion are expected to seriously harm the Israeli economy in the absence of a peace agreement. For our purposes it does not matter who is to blame, or whether or not there is a peace partner on the other side.
The Israeli economy, says Trajtenberg, is bound up more than ever in the global economy, and the number that demonstrates this best is that 80% of Israel's gross domestic product is the result of international trade. This is exactly what enabled the Israeli economy to prosper over the past three decades and to increase the gap between our economy and that of our neighbors; but the flip side of the coin is that this interdependence also makes us very vulnerable.
In simple terms, if 80% of our economic activity is wrapped up in international trade, then every blow to this trade will cause immediate and serious damage to Israel's economic growth, standard of living and economic stability. This means that any drop in the willingness of our trade partners to trade with us is a major risk, and in Trajtenberg's opinion, even our friends are starting to lose patience with this regional conflict.
"There is an economic necessity to show our friends that we are truly attempting to reach an agreement, with goodwill and in good faith, to reestablish the faith of the international community," he said in a conversation before the conference. There are countries – for example, the United States – where the majority of GDP comes from internal consumption, and they can absorb a certain shrinkage of international trade. We, it seems, cannot.
In addition, Trajtenberg says the Israeli public is no longer willing to accept the costs of the economic status quo, and is demanding changes. After all, Trajtenberg himself was the head of the committee established to make recommendations on how to lower the cost of living after the massive social protests of the summer of 2011. He says those protests marked the boundaries of the extent to which Israelis, especially young adults, are willing to accept further economic burdens.
Last week Trajtenberg phrased all this more simply: The young people in Israel are sick and tired of hearing it will be better later, in the future. They want it to be easier – now.
Falling behind
The problem, of course, is that Israel's defense needs are not going to diminish for as long as the status quo continues, and so it is difficult for the Israeli economy to improve. If, at the same time, our trading partners close their doors to us, our ability to maintain our economy as is will be severely damaged, says Trajtenberg.
If all this is true, I asked Trajtenberg last week, why is it that the Israeli public, which went out and protested in huge numbers against the tycoons and the high cost of living, hasn't gone out en masse to protest the situation with the Palestinians?
His answer: This idea is starting to enter the public consciousness, and sooner or later it will express its opinion on the matter strongly. In addition, he also warns of the risk of continuing to have Israelis put off their higher education until after their military service, causing them to fall far behind their counterparts elsewhere.
Some economists who agree with Trajtenberg have been even more blunt in spelling out the choices Israel faces. Yarom Ariav, a former director general of the Finance Ministry, and Yoram Gabbai, the former director of the treasury's State Revenue Administration, have written of the economic benefits of a peace agreement.
Gabbai told TheMarker there are only two ways Israel's economy will be able to take a forward leap: if powerful but narrow interest groups stop receiving financial benefits, or if Israel signs a peace agreement that will be a big catalyst for trade and business.
So which benefits is Gabbai talking about exactly? Here is the surprising discovery: Capital investment tax breaks and grants, benefits for the settlers, business tax breaks and more. Gabbai says the present political situation does not make it possible for Israel to deal with most of these problems, so he has his hopes set on a peace deal.
But this analysis can also be interpreted differently. Maybe a peace deal really is difficult to achieve at the moment; maybe there really is no partner right now. If so, then the government and public at large must focus on slashing these benefits for specific interest groups, for they are bloating the state budget and eroding the standard of living for everyone else.
Click the alert icon to follow topics:
ICYMI
Ken Burns' Brilliant 'The U.S. and the Holocaust' Has Only One Problem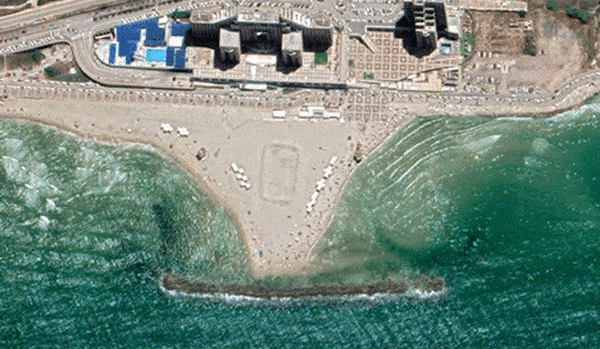 Facing Rapid Rise in Sea Levels, Israel Could Lose Large Parts of Its Coastline by 2050
As Israel Reins in Its Cyberarms Industry, an Ex-intel Officer Is Building a New Empire
How the Queen's Death Changes British Jewry's Most Distinctive Prayer
Chile Community Leaders 'Horrified' by Treatment of Israeli Envoy
Over 120 Countries, but Never Israel: Queen Elizabeth II's Unofficial Boycott