Want to Live Large in Israel? Look Outside the Big City
Homes in central Israel tend to monopolize headlines, but some major deals were sealed in 2013 from Kiryat Shmona to Eilat and even in Sderot. Were these homes worth the multi-million-shekel price tag? You judge
46 Keren Hayesod Street, Sderot. Real estate boom near the border.
Credit: Eliyahu Hershkovitz
It's no surprise that homes in Israel's biggest cities, Tel Aviv and Jerusalem, can be very expensive. Take, for instance, the home bought last year by Avi Naor, one of the founders of telecommunication service provider Amdocs. Naor reportedly paid 80 million shekels ($22.9 million) for a duplex in the upscale Lenox Nachmani housing project in Tel Aviv. That 500-square-meter apartment is located in Tel Aviv's UNESCO-recognized White City, in a building slated for conservation, on the corner of Nachmani and Ahad Ha'am streets near Rothschild Boulevard.
Yet this wasn't the most expensive real estate deal in Israel last year. It was surpassed by a deal for 81.5 million shekels, involving a 612-square-meter beachfront apartment in the David Promenade Residences on Hayarkon Street, also in Tel Aviv.
It's also no surprise that once you leave Tel Aviv and Jerusalem, your money goes much, much farther. The record-setting transactions in Tel Aviv are generally in apartment towers with views of the sea, while in Jerusalem they mostly occur in high-end projects in the heart of the city, or close to the Jewish Quarter in the Old City. In Herzliya, the deals are for properties on the most expensive street in the country, Galei Tchelet, or on adjacent streets. In other places, though, the most expensive homes in town tend to be single-family homes, not apartments in towers. The farther you move from Israel's biggest cities, the more prices drop. The most expensive deals in progressively more distant Ra'anana, Beit Yanai and Caesarea last year were for 20 million shekels, 13 million shekels and 10-11 million shekels, respectively.
That 500-square-meter apartment Naor bought? Similar-sized homes with yards are yours for a mere 10 percent of what Naor paid, so long as you're willing to leave the big city.
TheMarker reviewed last year's most expensive deals in some of Israel's farthest flung towns. Were these homes steals at these prices, or did the buyers pay way too much given the location? You be the judge.
Zichron Yaakov: Over a 
million shekels per room
The property: A house at 28 Ta'ashur Street
Number of rooms: 10
Size: 740 square meters
Price: 11 million shekels ($3.2 million)
Zichron Yaakov is an hour's drive north from the center, but someone was still willing to pay 11 million shekels for a house there. This place is somewhat exceptional for Zichron and elsewhere, since this is a 740-square-meter house sitting on a 1.6-dunam (0.4 acre) plot. Building rights on such a lot permit the construction of four residential units, which explains the high price. This is a 10-room, 3-story house with a swimming pool, with a high-tech design and construction. Sitting at one of the highest points in town, it has a view of the sea and nearby fish ponds. Several 250-square-meter cottages were also sold in Zichron last year for almost 4 million shekels apiece. Zichron Yaakov has done well in attracting affluent professionals, thanks in part to the town's high-quality education, fresh air and easy accessibility.
Eilat: 350 km from Tel Aviv, 
for 10 million shekels
The property: A house at 2 Mishol Zayit Street
Number of rooms: 9
Size: 558 square meters on a 
plot of 1.3 dunams
Price: 10.3 million shekels
You probably didn't know that Eilat has houses that sell for as much as 10 million shekels, but in the tony Shahamon neighborhood, a house sold for that much in 2013. This was a 9-room, 2-story house that was built in 2004, with a pool and a large yard. Only a small number of houses in Eilat are believed to be able to fetch such high prices. The Shahamon neighborhood – to the west of the Red Sea – is characterized by houses and villas priced in the 3-10 million shekel range. Previously, Eilat benefited from real estate acquisitions by French nationals who purchased upscale properties. These buyers are now rare, which is weighing on the high-end real estate market in the city's south. The other two most expensive deals in the city involved penthouses on the 17th floor of a tower on Hanabatim Street. One was a 360-square-meter property selling for 5.5 million shekels, while the other, at 140 square meters, sold for 3.3 million shekels.
Ashdod: A tower apartment 
for 7.6 million shekels
The property: An apartment in the K Towers project on Herzl Boulevard
Number of rooms: 6
Size: 416 square meters
Price: 7.6 million shekels
The priciest deal in Ashdod last year involved an apartment in the K Towers project developed by Klod Nahmias, which is still under construction. The deal was for an apartment near the top of one of the two 42-story towers. On offer in the same tower is an enormous 800-square-meter penthouse with a pool, for 26 million shekels. The project is in the city center, next to the marina, and is within walking distance of the beach.
The supply of apartments in Ashdod is very limited, particularly in the city center. This pushes up the price of both average apartments and upscale houses. Demand in the city is driven by locals and former residents, and by people with above-average budgets. French citizens are still buying in the city, although to a lesser extent than in previous years. An apartment with a sea view sells for 1.9 million shekels, but larger, 200-square-meter apartments on the seafront can sell for as much as 6 million shekels. Detached houses aren't cheap, either, fetching 4-5 million shekels apiece.
Haifa: Carmel and Denya more expensive than the seaside
The property: A house at Shvedya Street
Number of rooms: 6
Size: 300 square meters
Price: 7.3 million shekels
Whereas in most Israeli cities the more expensive real estate is near the seafront, in Haifa it's the opposite, with properties high on Mount Carmel selling for more than those by the shore. In 2013, the most expensive real estate transaction was in Denya – a neighborhood of single-family homes – where a 300-square-meter home sold for 7.3 million shekels. This was a relatively old house, built more than 20 years ago.
There are no empty plots in Haifa, which obviously raises real estate prices. Houses in Denya range between 3 and 10 million shekels, although there aren't many transactions. Some of the villas on the Carmel are even more expensive. Upscale apartments in neighborhoods like Shambur can also sell for 20,000 to 25,000 shekels per square meter – close to prices in Tel Aviv, and often more than prices for single-family homes in the city. People buying such apartments are usually older residents who have sold their single-family homes and are moving into apartment towers.
Ashkelon – Ashdod 
residents driving up prices
The property: A house at 12 Ha'odem Street
Number of rooms: 5
Size: 190 square meters
Price: 3.2 million shekels
Just like in Tel Aviv, in Ashkelon real estate prices go up the closer one gets to the sea. The most expensive deal in the southern city last year was for a house in the Barnea neighborhood, just a few minutes by foot from the shore. The house, which was built two years ago and has an area of 190 square meters, was sold for 3.2 million shekels. One of the factors driving prices upward in Ashkelon is the skyrocketing prices in Ashdod, which pushes Ashdod residents to drive a few miles south in order to save hundreds of thousands of shekels. The rail line to Ashkelon (50 minutes from Tel Aviv) also increases its attractiveness.
Anyone searching for an apartment in the towers by the sea won't find many for sale; many of the properties that were available there were sold in recent months. Penthouses in the city have crossed the 2-million-shekel bar. In addition, French residents have rediscovered the city and made numerous purchases there recently. The French buyers are less active there now than they were in the past, but since prices have gone up along the coast, some French nationals have exploited the increased value of their properties in cities like Netanya to buy new investment properties in Ashkelon.
Be'er Sheva – land 
prices have shot up
Property: A house at 5 Aluf 
Aharon Yariv Street
Number of rooms: 6
Size: 223 square meters
Price: 3 million shekels
The most expensive deal in Be'er Sheva last year was for a house in the Ramot D neighborhood, for 3 million shekels. This was a 2-story, 6-room house, built seven years ago. At that time, plots being sold by the Israel Lands Authority were going for 250,000 to 300,000 shekels, including development. Now such plots sell for 700,000 to 800,000 shekels, if not more.
The price of apartments in the Negev city's high-rise towers approaches that of detached houses, and isn't that different from those in central Israel. Apartments in centrally located towers can cost up to 2.3-2.4 million shekels, which is 2.5 times more than the average home price in the city. These apartments are being bought by people who are downsizing, mainly older people who have sold their houses in Be'er Sheva or nearby towns.
The rising prices in Be'er Sheva reflect an increase in demand that is unmet by increasing supply. Whereas in past years young couples or others upgrading their housing tended to move to Ashdod in order to be closer to the center, the higher prices in Ashdod now keep these people in Be'er Sheva. The adjacent military bases and increased investments in the city are also contributing to the rising home costs.
Carmiel – A valley view 
for 3 million shekels
The property: A house at 17 Yonat Habar Street
Number of rooms: 6
Size: 200 square meters
Price: 2.83 million shekels
Carmiel was the Israeli city in which real estate prices climbed the most in 2013, according to TheMarker and the online wanted ads company Yad2. The most expensive deal was for a six-year-old house with a large balcony overlooking a nearby ravine. The expensive deals in Carmiel last year involved houses that were built five or six years ago, and which are now sought after by people intent on improving their accommodation. As in other locations in the north, some of the houses in Carmiel also include on-site rental units.
Almost no new building permits are granted in Carmiel, and plots sold there recently fetched almost a million shekels. This drives up the prices of older houses. Another factor pushing up prices is the improved infrastructure and the planned train line between Carmiel and Acre, which is supposed to start operating in two years. Another factor is the planned launch of new high-tech centers and factories in the area.
Kiryat Shmona – prices have doubled since 2007
The property: A cottage at 10 Dan Dayan Street
Number of rooms: 6
Size: 280 square meters
Price: 1.54 million shekels
An upscale transaction in Kiryat Shmona sounds like a bit of a stretch. The only apartment tower in the northern border town has 14 stories, and no apartment there crossed the 1-million-shekel threshold in 2013. What about single-family homes? A few years ago, a million-shekel home would have seemed laughable here. However, houses built in the 1980s, located in older neighborhoods near the center, now cost almost 1.5 million shekels. A two-family cottage with an area of 280 square meters sold for 1.54 million shekels in 2013, making it the most expensive deal that year. In comparison, a 200-square-meter house on the same street sold for 770,000 shekels in 2007. Some of the houses in Kiryat Shmona have attached rental units, so owners enjoy an extra income of 1,800 shekels a month by renting to students at the nearby Tel-Hai Academic College. Some houses have attached vacation units for rental.
One reason prices have gone up here is the calm security situation ever since the Second Lebanon War in 2006. In addition, there has been no substantial construction for several years and only a few plots are being offered by the Lands Authority. Tax benefits, improved infrastructure and intense activity by investors interested in renting to Tel-Hai college students have combined to drive prices upward. This increase has trickled down to nearby communities and kibbutzim, where prices can also reach 1.5 million shekels or more.
Sderot – profits of more 
than 300,000 shekels
The property: A house at 10 Keren 
Hayesod Street
Number of rooms: 6
Size: 180 square meters
Price: 1.48 million shekels
It's hard to believe that Sderot – located only a few kilometers from northern Gaza – is enjoying a real estate boom. Housing prices rose by 60-70% over the last six years, and a 5-room apartment now costs 850,000 shekels. The most expensive transaction there in 2013 was a home sold for 1.5 million shekels. The seller had bought it as an investment and never lived there. The 6-room, 180-square-meter house was bought by a family. It is located in a neighborhood of single-family homes that has no empty plots. The plot on which this house stands was sold three years ago for 300,000 shekels, so the seller probably turned a profit of 300,000 to 500,000 shekels.
There are several other houses in Sderot that sold for 1.3-1.4 million shekels in 2013. The rising prices are attributed to the calm security situation, the new train line and investors eyeing students at the adjacent Sapir College.
Click the alert icon to follow topics:
ICYMI
Ken Burns' Brilliant 'The U.S. and the Holocaust' Has Only One Problem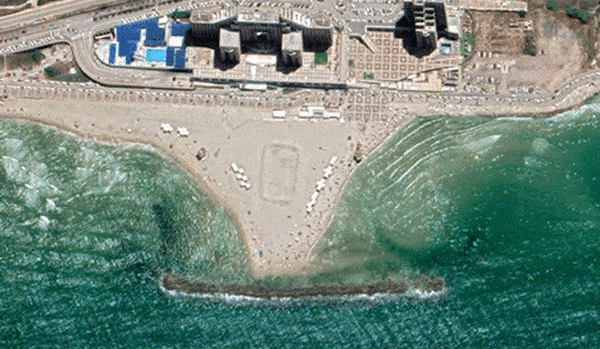 Facing Rapid Rise in Sea Levels, Israel Could Lose Large Parts of Its Coastline by 2050
Lapid to Haaretz: 'I Have Learned to Respect the Left'
The Mossad's Fateful 48 Hours Before the Yom Kippur War
As Israel Reins in Its Cyberarms Industry, an Ex-intel Officer Is Building a New Empire
How the Queen's Death Changes British Jewry's Most Distinctive Prayer