Why Cities in the Periphery Are Such a Big Hit With Real Estate
Known as a frequent target of Qassam rockets from Gaza, Sderot seems an unlikely place to buy up property. So why are real estate prices in outlying cities like this one shooting through the roof?
Upon entering the city of Sderot, one can't help but notice the bus stops resembling sentry posts, surrounded by concrete barricades and dreary high-density apartment blocks interspersed with bomb shelters. Why would anyone want to buy property in such a place? But the real estate market in Sderot is sizzling. Prices here have tripled in the last four years despite the development town's notoriety as a frequent target of Qassam rockets from nearby Gaza.
Second-hand three-room apartments that cost NIS 120,000 to NIS 150,000 in 2008 now fetch between NIS 300,000 and NIS 400,000, while rent has risen from NIS 1,500 to around NIS 2,000 per month - even more when shared by several housemates - yielding a tidy 6% to 8% return on investment.
Sapir College, with 9,000 students in need of housing, is what drives the rental market in this southern city numbering 20,000 full-time residents. Slightly more than two thirds of the students are successful at finding accommodations locally.
Other factors buoying up prices include graduates staying on after completing their studies, a lack of new construction, tax benefits and other incentives for citizens residing on the "frontlines" surrounding Gaza, as well as the prospect of train service beginning within a year or two.
Minuscule interest rates have been steering many investors away from the stock market and term deposits and into the real estate market. In particular, cities in the periphery are a big hit with investors: Rental income there can still yield 8% or more, although far below the double-digit returns earned before selling prices began shooting through the roof several years ago. For instance, four-room apartments on Yosef Sprinzak Street in Kiryat Shmona, which four or five years ago cost NIS 130,000 to NIS 150,000, now sell for up to NIS 350,000. But even after doubling or tripling, prices in outlying areas remain reasonably affordable for investors and don't require a large outlay of capital.
Average rates of return in Kiryat Shmona, Eilat, Arad and Ma'alot-Tarshiha are between 6% and 7%, almost double those in areas such as Tel Aviv, and approximately 5.6% in Kiryat Malakhi, Ofakim, Migdal Ha'emek, Beit She'an, Kiryat Ata and Be'er Sheva.
Dr. Rina Degani, who heads the Geocartography Knowledge Group research institute, which surveyed the market, stresses that most cities offering investors high rates of return are similarly distant from the country's center while in close proximity to regional colleges where students provide a high-quality pool of customers. Spurred by increasing demand in the job market for advanced academic education, college enrollment has soared by 50% over the past decade from 125,000 to 190,000.
Degani explains: "This is a good deal for both sides. The investor buys apartments at cheaper prices than in central Israel, yielding high returns from desirable tenants who for their part can rent at a reasonable one third to half the cost in the center."
Degani points out that Tel-Hai Academic College near Kiryat Shmona, ORT Braude College in Carmiel, and Western Galilee College in Acre, all in the north, as well as southern colleges like Sapir College and Achva Academic College near Kiryat Malakhi, draw quality people to peripheral areas. Since these institutions haven't any dormitories, their students need to find nearby accommodations.
Student housing in zimmers
Like Sderot, Kiryat Shmona also underwent a marked transformation over recent years. "Returns on investment have always been high in Kiryat Shmona," says Hanan Dadon at Meirav Investments, a realty brokerage. "From 2004 to 2006 returns on investment reached as high as 18% to 20%. Those were uncertain times from a security perspective and proximity to the border affected housing prices. All that has changed, and today the area is much quieter than in the past."
Tel-Hai Academic College has provided the momentum. "I went out looking today with two female students who have been searching a long time for an apartment to rent," says Dadon. "Some students turn to the kibbutzim because of the lack of options available in the city. Most people investing here live elsewhere. Kiryat Shmona residents put less trust in property, particularly around downtrodden areas like Sprinzak Street. But investors aren't put off: They see the city differently - for its high returns and students. They don't bother renting to couple or families. Most of the investing now is concentrated in the northern part of the city with a hitchhiking post leading to the Tel-Hai College campus."
Dadon says he recently sold a one-bedroom apartment for NIS 235,000 that's rented out for NIS 1,700 a month. A two-bedroom apartment that just sold for NIS 345,000 was rented out to two roommates at NIS 2,400 a month. "Zimmer (bed & breakfast ) owners have even been converting these into student apartments lately," claims Dadon. "It's convenient for them because they don't need to worry about operating the business. During the summer, the height of the tourist season when students are away on vacation, they convert them back into zimmers."
Adding to the pressure on prices is the fact that there has been no new building in the area in a decade, according to Dadon. "The market froze for just a few months when faced with war or uncertainty, during the protests too, but the investment market has remained hot," he says.
Not just students in sunny Eilat
The survey by Geocartography also found returns on investment upwards of 6.5% in Eilat, with its own campus of Ben-Gurion University of the Negev. City residents are entitled to free tuition while hundreds of scholarships are disbursed to students coming from the rest of the country. But investors are attracted by other pools of tenants in this resort city as well.
"The city has hotels with large numbers of workers," explains Adili Wiesglass, who runs Adili Real Estate Eilat. "Some forgo the cramped living quarters provided them at work and rent apartments instead. There are also demobilized soldiers coming to Eilat following work-incentive programs. Adding migrants from Sudan and Eritrea to the mix, investors have a broad-based market of potential tenants. Although a common belief is that rents drop during the summer and units are easy to find, this isn't necessarily the case since soldiers are discharged in January and February too."
Three-room apartments in the city go for NIS 350,000 to NIS 400,000 and are rented out at NIS 2,300 per month for an 8% return, she says. One way investors overcome difficulties reaching the distant city quickly is by hiring local realtors to take care of any problems cropping up.
"There have been cases where I called in a professional or checked the nature of the problem and contacted the landlord," says Wiesglass. Lately she has even run into students in their early 20s buying apartments for investment to rent out and earn themselves some money. "They raise NIS 100,000 in initial capital, and the rent covers the mortgage," she says. "Sometimes they sell and move on to further investments."
Investment opportunities are also being discovered in the West Bank city of Ariel. The pending upgrade of the city's college, with its 13,000 students, to university status could mean a boon for investors. "We bought the last piece of land that can be used for building several months ago, and no additional master plans exist for building here," says Hanan Mor, owner of Hanan Mor Group. "There is a great need for rental apartments, residential apartments for those upgrading their housing situation, but also for students."
At Hanan Mor they say the company recently sold 48 units in the city within a matter of hours. Three-room apartments costing NIS 350,000 to NIS 400,000 in 2009 now fetch NIS 650,000 and are rented out at NIS 3,300 to NIS 3,500 per month for a 6% return. The distance to Tel Aviv, 25 kilometers - about the same distance as Rehovot to Tel Aviv - is another factor taken into consideration.
Hanan Mor marketed its four-room apartments beginning at NIS 900,000 - an enticing price for investors looking for student tenants. The company designed the apartments, depending on buyer preferences, such that part of the unit can be rented out to students while the rest can serve as a family home.
But before running out to invest all your money, keep in mind that property investments in distant cities are more volatile than in the center of the country. This could be likened to basing capital market investments on shares of small companies. When the market swings down, these are the first to get hammered.
Investing in such properties is nothing like the cost of buying an apartment in Tel Aviv, so the gamble in terms of expenditure isn't high. However, the risks of finding tenants easy to deal with and the travel distance for owners living afar are considerable concerns when contemplating such an investment.
ICYMI
Ken Burns' Brilliant 'The U.S. and the Holocaust' Has Only One Problem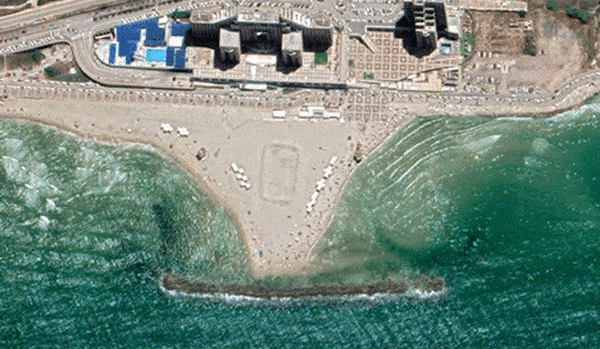 Facing Rapid Rise in Sea Levels, Israel Could Lose Large Parts of Its Coastline by 2050
As Israel Reins in Its Cyberarms Industry, an Ex-intel Officer Is Building a New Empire
How the Queen's Death Changes British Jewry's Most Distinctive Prayer
Chile Community Leaders 'Horrified' by Treatment of Israeli Envoy
Over 120 Countries, but Never Israel: Queen Elizabeth II's Unofficial Boycott