Behind the Scenes at the Company Behind the Scenes
Amdocs has become the undisputed global leader in billing systems, customer relations management and operations support systems. The notoriously media-shy company talks about the secrets of its phenomenal success.
"At Amdocs we don't believe in miracles," says CEO Eli Gelman. "Our success story is rooted in methodology and procedures. There's no astonishing invention you can put your finger on. That's part of its greatness ... becoming a huge company without a patent for something like an iPhone or any earth-shattering invention. If you look at companies built to last forever, you'll see they didn't just appear out of the blue."
Amdocs is without doubt a tough nut to crack as companies go, particularly among those with $3 billion in annual revenues, 20,000 employees around the globe and a $5 billion market cap on the New York Stock Exchange. The vaguely military atmosphere and shroud of secrecy are impressive, particularly in light of its size. Over the years, Amdocs' management has kept out of Israel's limelight; its aversion to media exposure is legendary.
Amdocs chief executives have steadfastly avoided interviews or even talking to reporters in both Israel and abroad since the company was floated on Wall Street in 1998. Now, in the first such interview in a long time, Gelman attributes much of the company's success to its media silence.
"We're known for keeping quiet," says Gelman, who has been with the company for 25 years and has served as CEO since replacing Dov Baharav in November 2010. "That's one of our core values. We focus on our work. We are very un-Israeli in that sense."
Founded 30 years ago as a software developer for phone directories, Amdocs is one of the most successful, consistent and adaptive companies ever started in Israel, despite its aura of mystery. It is the undisputed global leader for billing systems, customer relations management (CRM) systems and operations support systems (OSS), and its 250 customers in more than 60 countries include some of the world's largest corporations: AT&T, T-Mobile, Vodafone, Sprint Nextel and Comcast.
On its way to the big time, Amdocs shed much of its Israeli character, but the drive for expansion that led it to conquer new fields in telecommunications is a direct result of the locally produced entrepreneurial DNA imprinted in its genes. The company has carefully fostered exceptionally strong loyalty among its staff, even among those who have left. Efficient and well-oiled, the closely knit organization can be forgiving toward failure but also merciless when necessary.
Humble beginnings
Amdocs started out in 1982 under the name Aurec Information, owned by Morris Kahn and brothers Zvi and Shmuel Meitar. It was part of the Aurec Communications Group, which owned Golden Pages, the Israeli version of the Yellow Pages business directory. The company's first job was developing the software needed to produce the business directory via an original application developed by cofounder Boaz Dotan, who had previously established the Israel Postal Company's computer system.
Three years later Southwestern Bell Corporation bought a 50% stake in the company and the name was changed to Amdocs. The founders soon began developing a billing system that they tried selling to other phone companies around the world.
"While putting together the system, we visited some overseas publishers of Yellow Pages and concluded our system was better than any of the others," recalls Dotan, the company's first CEO. "Having such a valuable asset in hand, Kahn and I decided to set up a company under Golden Pages ownership to sell our product worldwide, and within a short time managed to close several deals. Within three or four years, we were already the world leaders in this field." Dotan left the company acrimoniously in 1995 following a dispute with Shmuel Meitar and was replaced as CEO by fellow cofounder Avi Naor.
The founders realized early on that there was little room for expansion in the business directory field and that to survive, the company would need to break into the wider telephony industry. An attempt to gain a foothold in the U.S. market, however, brought the company to its first serious crisis.
"Until 1984, the U.S. market was divided among 20 regions, each served exclusively by a single phone company," explains Dotan. "Most of those companies belonged to AT&T, which also made equipment and had the world's best development labs. When we tried penetrating the U.S. with our products, the regional companies said they would need AT&T's permission just to talk. We were treated disdainfully when we visited their laboratories. Rather than listening to what we had to offer, they kept insisting on showing us what they had and then sent us packing."
Left with no other choice, the company made do with small contracts from Europe, hanging its hopes on hatching a deal with Australia's main phone company. But the deal, which would have provided Amdocs with the breakthrough it needed, fell through at the last minute. The day before Dotan planned to leave for Australia to sign the contract, he received a message asking him not to come: The phone company was embarking on a restructuring plan and would be forced to postpone any decisions. "I was really frightened," admits Dotan. "When the Australian deal fell apart, we were concerned that Amdocs might not survive."
But just then the company got a lucky break on the American front: In 1984 AT&T was forced to break up into a number of independent regional operators following a lengthy antitrust lawsuit. "Within a few months of the AT&T breakup, we were already working with our first American company," says Dotan. "From that point on, we began growing at a dizzying pace."
During those early years, Amdocs put together a unique business model that became one of its main pillars of success. "Our field has two common models: independent software vendors (ISV), companies like Microsoft and Check Point, that build and sell core products; and system integrators (SI), such as NICE Systems, which apply software developed by other companies," explains Gelman. Amdocs, he says, took the extraordinary step of filling both roles, not to get more business, but because of the intricacies of coordinating all the various applications and the complex system environment.
"This is the first element of the Amdocs model," adds Dotan. "Amdocs provides not only the software, but can supply most of the services, too.
The connection with the customer based on the package of services offered is so strong that it would take an earthquake to separate them. The second element is listening attentively to the customer putting the customer at the center. That's why customers that began working with Amdocs 30 years ago are still working with the company today. Hardly any customers who have worked with Amdocs have left."
The third critical element is the company's refusal to tolerate failure, says Dotan. "Many projects in Amdocs' field of operation end in failure," he explains. "Even in Israel there have been cases of large companies investing heavily in projects and failing. The Amdocs culture insists that, cost be damned, there is no such thing as an unsuccessful project."
Constantly reinventing itself
Over the years Amdocs kept reinventing itself. The first time was by switching markets from phone directories to phone services, helping maintain growth at a fast clip through the end of the 1990s. The second time was in 2001 when it expanded from billing systems to other areas and bought Clarify, a Canadian CRM company, for $200 million in a deal that has since proven itself but was frowned on by analysts at the time.
In 2003 Amdocs did it again with the strategic decision to move into outsourcing, going beyond simply developing and installing its systems by taking on responsibility for their operation too. The company is now undergoing another change, which includes its recent takeover of Canada's Bridgewater Systems, a provider of pricing management and network control solutions.
"None of the changes stemmed from a crisis," insists Gelman. "Every change was sparked by the desire for constant growth, to do new things, to not just make do and rest on our laurels. It's a drive that comes from within."
Gelman admits, however, that the company has faced two real crises. The first was in 2002-2003, when the dot-com bubble collapse "took about 18 months to reach the telecom world, and our revenues fell about 10%. But we came out stronger than before.
"The second was in 2008-2009 when the entire world was hit by crisis, but we came out strengthened from that one too. We have what it takes to endure a crisis: You downsize and switch strategies, but in the end you survive. The fact we survived attests to our strength," Gelman says.
Internally, Amdocs has developed a remarkable organizational culture, another critical element in its success. Considered an extremely demanding workplace, the company also gives staffers a huge degree of freedom, even when it might lead to failure. "When you take risks in a large organization, you also need to know when to absolve people of failure," says Gelman. "At Amdocs you are allowed to fail if you're trying to accomplish something unique and unprecedented, but not if you merely did a mediocre job. It's important to give someone doing innovative things the feeling that failure is legitimate."
The Israeli incubator
Amdocs grew over the years to an unprecedented size for an Israeli company and, in the process, lost a good deal of its Israeli character. The company's headquarters is now in St. Louis, Missouri, and while its largest research and development center is located in Israel and top management still sits in Ra'anana, most of its employees aren't Israelis. Still, some things never seem to change.
"Israeli DNA, no doubt, remains very dominant in the company and part of its mentality," says senior vice president Brian Shepherd. "Amdocs is characterized by a tenacity of purpose, aggressiveness and an extreme belief that everything is possible that you can't give up and must always find a way, even when dealing with the most complicated IT projects possible. No job may be left unfinished regardless how long it takes. These things are very characteristic of Israelis."
It is not rare to find employees who have stayed many years with the company, sometimes as with Gelman since its very early days. "Amdocs is like one big family," says the CEO. "The devotion and loyalty it commands are phenomenal, not just in Israel but even in places like Brazil."
"I haven't been with the company 20 years, but I can understand why people stay so long," says Shepherd. "You're always being pushed and encouraged to contribute more value: to grow. Every two or three years your role is expanded. I've been here seven years and have already served in five different positions. Amdocs has been steadily growing for 30 years now, and this leads to new assignments."
Dotan concurs: "During my time we reached 2,000 employees and still maintained a family atmosphere. It's very encouraging that Amdocs manages to maintain this feeling, even with 20,000 employees in 16 different time zones."
With a stable position at the forefront of its field and growth beginning to slow, Amdocs is once again looking for ways to reinvent itself. "Amdocs will probably need to take another major step forward very soon since it's already No. 1 in the world in the field of telephony and wants to continue growing," says Dotan. "I don't know anyone better suited than Eli Gelman to take this step."
For his part, Gelman says he is "just completing a strategic examination process of all our activities. You take apart the entire organization, mercilessly turning over every stone: every activity, region, field, product and business; examining how everything is put together from the inside out, asking yourself once again why it works this way and what has changed in the market that requires the adjustments necessary to help us succeed again next year."
ICYMI
Ken Burns' Brilliant 'The U.S. and the Holocaust' Has Only One Problem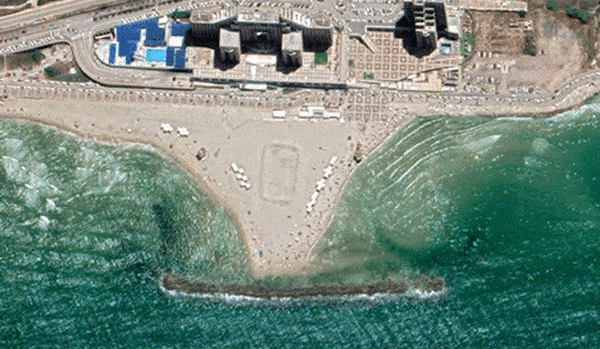 Facing Rapid Rise in Sea Levels, Israel Could Lose Large Parts of Its Coastline by 2050
As Israel Reins in Its Cyberarms Industry, an Ex-intel Officer Is Building a New Empire
How the Queen's Death Changes British Jewry's Most Distinctive Prayer
Chile Community Leaders 'Horrified' by Treatment of Israeli Envoy
Over 120 Countries, but Never Israel: Queen Elizabeth II's Unofficial Boycott