The Theft That Changed the Israeli Banking System and Underworld
April marked ten years from the thunderous collapse of Trade Bank thanks to a man who couldn't beat the house and his sister, bank officer Etti Alon.
Ofer Maximov (left) owed about NIS 100 million to underworld gangs, which his sister Eti Alon (center), the deputy head of investments at Trade Bank, stole from her employer.
Credit: Nir Keidar
April marked the 10th anniversary of the biggest bank theft in Israeli history, which not only put the perpetrators in prison but upset the entire Israeli banking system, and the balance of power in the underworld too. Investigators are still working at tracking down some of the money.
On April 25, 2002, Etti Alon, the former deputy head of investments at Trade Bank, walked into the fraud squad headquarters and confessed that she'd stolen a quarter of a billion shekels from the bank's customers over five years.
Her sticky fingers led to the bank's collapse and cost the state – which had guaranteed deposits at the bank – half a billion shekels all told.
Alon was sentenced to 17 years. Her brother, Ofer Maximov, who received most of the money, was sentenced to 15.
The ease with which the fraud was perpetrated changed financial regulation in Israel. Also, people lost their faith in small banks, which vanished. They were gobbled up by the big ones, increasing their domination over banking in the country.
In 2006, the official state receiver sued 35 people over the affair. The first circle of defendants, which included Alon and her relatives, were declared bankrupt on the spot. Reclaiming money from the second circle, which included people in the gray market, was more complicated.
"The second Etti walked into the police station, the whole underworld knew she was there," said a high-ranking police officer at the National Fraud Investigation Unit who had participated in the investigation. "We knew that if we didn't get our hands on the money within 24 hours, it would take years to get it back. In one case, we recovered money mere minutes after a bank transfer. In another, we got a warrant for NIS 20 million that were in somebody's bank account, and we got to it the second before he was about to transfer it."
You can't sell a football player
And that was an easy case. Others were trickier. "Take [gray market dealer] Benny Revizada, for instance. He lent money to Maximov and got it back in the form of checks that Alon stole from the bank," says a police source. Revizada used some of it to buy apartments together with other people. "Good luck trying to get your hands on apartments like that, where ordinary people are living. He was also a part-owner of the Maccabi Jaffa football club. What can you do with that – take over the team? Sell the players? Also, most of the money passed through several different hands, and it was hard to track down."
That helps explain why the authorities haven't manage to get back more than NIS 38 million from the shadow market.
Yet another circle of defendants was made-up of high-ranking officials and the bank's board members, who were ordered by the court to pay the state NIS 18 million (some of the money was covered by insurance companies).
The final, fourth circle of defendants included the Kesselman & Kesselman accounting firm, the bank's auditors. It was ordered to pay NIS 20 million.
Two months before Alon showed up at the police station, Israel's crime kingpins held an urgent meeting at the David InterContinental Hotel in Tel Aviv.
The purpose of the summit was to defuse conflict over Alon's brother Ofer Maximov, who was one of the biggest spenders in the underground world of Israeli gambling at the time. (Gambling is illegal in Israel, with the exception of the national lottery and the national sports betting organization). He owed about NIS 100 million to underworld gangs, who were squabbling over who would have dibs on collection rights.
The NIS 250 million stolen from Trade Bank had quickly reached Maximov's creditors on the gray market, the owners of the casinos where he had gambled and, ultimately, various organized crime gangs.
The amounts were so enormous that they redrew the map of organized crime in Israel, says the police source: "Small-time crooks, real nothings before Trade Bank scandal, came out of it big-time players."
Maximov was not fussy about where he did his gambling. He visited almost every casino in Israel and many abroad, and owed them vast sums.
During their summit, the underworld leaders decided that the "Jerusalem gang" would place Maximov under their protection, with supervision from the Abergil brothers, Yitzhak and Meir. But shortly afterward, Alon confessed and the font of cash – Trade Bank – dried up. Police officials believe the collapse of the cash cow triggered a gang war that lasted years.
Petty criminals elevated to crime bosses thanks to Maximov lost their lofty status after his arrest. In 2011 the Abergil brothers were extradited to the U.S. to face trial on allegedly laundering money that came from Trade Bank, amongst other charges. Several high-ranking members of the Abutbul family were murdered, and senior members of the Jerusalem gang, together with Ze'ev Rosenstein, one of the most infamous criminals in the country, ended up behind bars.
The collapse of Trade Bank exposed a powerful financial player who had previously been unknown to most Israelis: Benny Revizada, who ran an unregistered bank from a mobile home, and, later on, from a booth near a fuel station on Herzl Street in Tel Aviv. The amount he got from Trade Bank – NIS 144 million – was a drop in the sea of money passing through his hands by cashing checks and loan-sharking.
According to the prosecution, NIS 4.2 billion were deposited in Revizada's accounts between 1999 and 2002.
Cronies describe him as a fascinating character, who, with zero higher education or even Excel spreadsheets, managed billions of shekels. He relied on his phenomenal memory, common sense, high emotional intelligence and mostly, as he himself told the detectives who questioned him, "a nose for people."
Police officials say Revizada started his day by withdrawing anything from tens to hundreds of thousands of shekels from one of his bank accounts. "Then he'd go to his booth and sit back. Say somebody came to him with a check for a hundred thousand shekels. Revizada would study him, decide whether he could cover it, and give him ninety thousand for his check."
Revizada based his business on charging interest tailored to each client, albeit using methods that would make a professional risk manager snort. According to an official, Revizada said that he would mark his clients' checks with animal-shaped stamps. "For example, he knew that Moshe's checks were marked with an eagle, David's had a Doberman and so on. That was how he tracked people." However offbeat his method, the fact is that he got almost all the money back.
A bank check is a precious, rare commodity on the gray market. Revizada would change the payees' names on the checks that had been stolen from Trade Bank and deposit them in his own accounts. When Trade Bank scandal broke, his business was revealed, his gray-market bank was shut down and he served four years for tax evasion. Recently, he lost a lawsuit connected with the case, and is now awaiting sentencing.
Meanwhile, the Trade Bank scandal had changed thinking in the gray market. "Israeli crooks learned they didn't have to break into houses and steal food," a police official says.
The banking system changed as well. An analysis conducted after the scandal showed the brazen theft had been enabled by structural failures. For instance, Alon had been responsible for approving both credit and deposits.
Subsequently, the Bank of Israel ordered all banks to identify sensitive positions and improve anti-money laundering controls. New procedures were instituted to keep track of employees' bank accounts. Vacation regulations were tightened to prevent bank employees from refusing to take time off to cover up nefarious actions – Alon had refused to go on holiday for years, in case a replacement noticed something amiss. Based on the same logic, the banks were ordered to rotate sensitive jobs. Regulations governing the separation of powers and decentralization of authority in the bank were amended.
Also as a result of the scandal, consumers lost their trust in the small banks, which were bought up by the big ones.
Could it happen again? No, say regulators, thanks to the regulation revamp. But the police shrug: "Never say 'never again.'"
ICYMI
Ken Burns' Brilliant 'The U.S. and the Holocaust' Has Only One Problem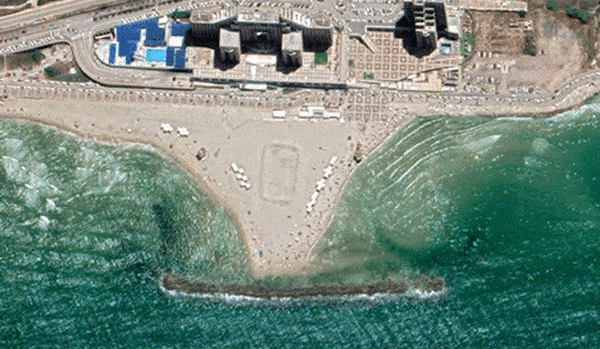 Facing Rapid Rise in Sea Levels, Israel Could Lose Large Parts of Its Coastline by 2050
As Israel Reins in Its Cyberarms Industry, an Ex-intel Officer Is Building a New Empire
How the Queen's Death Changes British Jewry's Most Distinctive Prayer
Chile Community Leaders 'Horrified' by Treatment of Israeli Envoy
Over 120 Countries, but Never Israel: Queen Elizabeth II's Unofficial Boycott