Walk This Way
After a nod from the hit American TV show 'Glee,' Israel's Argo Medical Technologies expects runaway sales of its innovative ReWalk device - which helps get disabled people back on their feet.
The secretary looks hassled. It's four in the afternoon. We're right on time to meet with Amit Goffer, founder and chief executive of Argo Medical Technologies. This wasn't his first interview that day, and at 5:30 P.M. he and his right-hand man, Oren Tamari, were scheduled to speak on a popular radio show. In recent weeks, the people of Argo Medical have become extremely popular: If media interest was once sparse and scanty, now the secretary and team of workers have to beat back the press.
It's all because of "Glee," the popular American television show which recently aired an episode featuring Argo's breakthrough device for the disabled - the ReWalk exoskeleton. "It was invented by some guy in Israel," says Artie, one of the main characters, whose legs are paralyzed - as he demonstrates that now he can walk. With the help of crutches, to be sure, but it's independent motion, free of the wheelchair.
Even before the "Glee" episode hit the airwaves, Argo had been getting attention, thanks to being the first company to develop technology that gets the disabled back on their feet. Or at least it will once sales begin, which should be in a matter of weeks, now that testing has been completed.
We enter the company's demonstration room at its headquarters in Yokne'am. The device, which the company calls "a quasi-robotic ambulation system" for people with lower-limb disabilities, looks like a cross between a crab skeleton and a getup for Iron Man. Crutches remain necessary, to maintain balance.
The ReWalk device includes mechanized support systems for the legs, motion sensors, an advanced computer system, a pack for rechargeable lithium batteries and a control panel. Users are able to control their movement through subtle changes in center of gravity and upper-body movements, the company explains. In other words, the user chooses positions - sit, stand, walk straight - using a remote control attached to his hand, then leans forward to activate the sensors next to his body. This initiates the motion of the robotic legs.
Testing the limits of physics
The story of Argo Medical Technologies is the story of Amit Goffer, 57, a high-tech engineer who is also disabled himself. His lower body is paralyzed and his arm motion is limited too, following an injury in 1997.
Before the accident involving an all-terrain vehicle that impaired his mobility, Goffer had been at Odin Medical Technologies, which he co-founded. Engaged in medical resonance imaging technology, that company was not a huge success: It was sold to Medtronic for a mere $9 million, after having had $32.5 million invested in it.
Ironically, Goffer can't use the ReWalk device himself because he doesn't have enough control over his hand movements. Confined to a wheelchair, he explained how odd he thought it was that nobody in this day and age had created technology to help the disabled walk again. The concept was one obstacle, and the power source was another.
"I thought it would be interesting to invent an external skeleton with motors to restore mobility," he says. "I wondered if physics could support such an invention, and if regular sized batteries could be developed to support such a skeleton."
Previous attempts had been made to make something of the sort, says Goffer, an engineer with three degrees in electronics engineering. All failed because none of them considered the perspective of the disabled person who was supposed to use the product.
Goffer consulted with his good friend Ramy Langer, CEO of the company Infinite Memories, as to whether the market was large enough for a development of the sort. The answer was an unqualified yes, and so he went for it.
"I didn't want to develop a product and then toss years of effort away because it wouldn't ever be used," Goffer explains. But the numbers were so enticing, it almost looked too good to be true. "I wanted somebody to pour cold water on me. I checked the American census, which is conducted every 10 years, and found the U.S. market includes some 500,000 to 600,000 disabled people who could use the device."
He estimated that out of that American market alone, some 130,000 people would be early adaptors - eager to buy the device the moment it was available. The figure for early adaptors in Europe, if anything, might be even bigger, Goffer estimated.
The training course
From the get-go, Goffer set out to develop technology that would do more than just get the disabled back on their feet for short stints. He wanted to develop a complete robotic system that could get them walking again - "From the time they get up in the morning, until they go to bed at night," he says.
The ReWalk machinery underwent clinical testing at the neurological rehabilitation division of Sheba Medical Center in Tel Hashomer, run by Dr. Gabriel Zeilig, and was crowned a success in August 2008.
Argo has in fact developed two types of robotic skeletons: the ReWalk I, for medical use, rehabilitation centers and hospitals; and the ReWalk P, for private users. The differences between the two models are in price and design. The skeleton for private users is designed more as a fashion gadget, as it were, while the institutional model ignores externalities and serves to train the disabled.
It takes getting used to as well; private users can't just buy the device and start running around. They need to undergo two-week training course, provided by the company. It won't just sell the device and let the user walk away. Complete the course and get the permit, or no device.
The price of the device for medical institutions is between $80,000 and $90,000, not including the cost of training, which runs to a few thousand dollars more. The price for individuals will apparently be about half that. As noted, sales should begin in a matter of weeks.
Argo Medical received its funding from a host of venture capital and investment bodies: Vitalife, which focuses on life sciences ventures, the BIRD foundation, the ProSeed fund, a group of Spanish investors, and others. To date, the company has collected $5 million altogether in backing. And it's considered relatively lean, with just 11 employees at this stage.
Despite the fact that nobody came up with robotic exoskeletons before, there's still competition out there. An American company called eLegs was recently named one of the 50 most promising companies of 2010 by Time magazine. It states that its aim is to get paraplegics back onto their feet, too.
But Goffer believes Argo's technology is more mature, and in fact the Israeli company is starting to market to European rehabilitation centers for the disabled. Argo has also received approval from the U.S. Food and Drug Administration, enabling it to sell the technology to medical centers in the United States.
Not cheap, but people want it
Although the technology isn't cheap, Goffer is confident that it will find buyers. The ReWalk does much more than merely get its users up and around. It is a life-changing device with medical benefits.
"By keeping users upright on a daily basis, and exercising even paralyzed limbs in the course of movement, ReWalk alleviates many of the health-related problems associated with long-term wheelchair use," the company explained in a press release. Governments, HMOs and the like will also want the device because it ultimately reduces health care costs for the disabled. As for individuals, they will pay whatever it takes to get up on their feet again.
But most disabled people will have to buy their own, as opposed to receiving one from some agency or other. Goffer believes the families of potential customers will want to help as well; it will be a beautiful day for them, too, to see their loved ones walk upright once again.
Moreover, the price of the ReWalk is comparable to the cost of advanced prosthetic devices, Goffer adds. Computerized prostheses for two legs will cost the same - some $90,000, he says.
Production is one thing: that has already happened and the company has orders in hand. Mass production is another. ReWalk will be manufactured mainly in Israel, but not exclusively.
"All the electronics, the systems integration, the testing and engineering will be carried out in Israel," says Goffer. "Some parts, for instance the motors, can't be bought here. We'll get them in Germany or China."
The first person to test the ReWalk was a man named Shai Shabtai. Goffer recalls Shabtai's first moments using the robotic exoskeleton.
"I was focused entirely on the device. I was afraid that Shabtai would fall. I kept looking only at the machine," Goffer says; he didn't think to look at the man himself. "Only after that did I ask Shabtai how it felt to walk with it for the first time and he told me he'd had tears in his eyes."
So what isn't a given here? That the invention will be sold in Israel. It could yet happen that disabled army veterans in the United States will get the ReWalk before Israel's own injured soldiers. Why? The Israeli bureaucracy is very difficult to overcome, Goffer explains.
Efforts to forge collaborations with organizations representing Israeli army casualties amounted to nothing, says Oren Tamari, the chief operating officer of the company. "We were prepared to provide the device at cost to start with. But it didn't happen," he explains.
While Argo would like to sell to all five Israeli rehabilitation hospitals, it's at least happening elsewhere in the world. Two Italian hospitals have said they'll buy the ReWalk and a hospital in Philadelphia, where testing was also carried out, is on board too, says Tamari. Spanish institutions are expected to place orders as well. In the next two months he foresees about 10 sales.
And no, Goffer isn't thinking about his "exit" - selling the company for a profit. The venture capital funds maybe, but that's what they do. He may not be able to use his own invention himself, but moving on is not on his mind.
ICYMI
Ken Burns' Brilliant 'The U.S. and the Holocaust' Has Only One Problem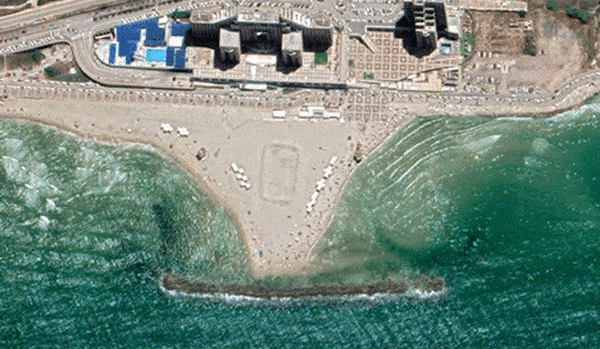 Facing Rapid Rise in Sea Levels, Israel Could Lose Large Parts of Its Coastline by 2050
As Israel Reins in Its Cyberarms Industry, an Ex-intel Officer Is Building a New Empire
How the Queen's Death Changes British Jewry's Most Distinctive Prayer
Chile Community Leaders 'Horrified' by Treatment of Israeli Envoy
Over 120 Countries, but Never Israel: Queen Elizabeth II's Unofficial Boycott