COVID Pushed Israeli Synagogues Outdoors for Rosh Hashanah. They're Never Going Back
Social distancing requirements may be over, but these Israeli synagogues loved celebrating Rosh Hashanah and Yom Kippur outside so much, it's now their new normal
Outdoor prayers during COVID in Jerusalem last year.
Credit: Ohad Zwigenberg
To comply with social distancing requirements mandated by the COVID pandemic, many congregations in Israel held their High Holy Day services outdoors in recent years. Indeed, it is a time of the year when synagogue attendance – in Israel as elsewhere – tends to peak and more space is required to accommodate the crowds.
Now that Israel has lifted all coronavirus-related restrictions on large gatherings, synagogues and congregations are free, for the first time in three years, to hold their services indoors again.
Yet many are not in a big hurry to do so.
In fact, as they have discovered, praying outdoors has many advantages besides preventing the spread of disease. And given Israel's Mediterranean climate and little risk of rain at this time of year, it is also extremely doable.
"We love the connection to nature and have no intention of rushing back indoors," says Avigail Reiner. She is one of the founders of Plitei Hasfar (literally, "Refugees from the Frontier"), an egalitarian congregation that serves several neighborhoods in eastern Tel Aviv. "The great thing about praying outdoors is that when the kids are playing, it's much easier to keep an eye on them."
Plitei Hasfar is the name of a street in one of the neighborhoods where this relatively new congregation held prayer services before the pandemic struck. But it is also meant to symbolize the fact that most of the congregation's founders were originally from central Tel Aviv and had moved to the city outskirts in search of more affordable housing once they started having families.
The congregation, which is very child-focused, holds a weekly Kabbalat Shabbat service on Friday evenings and meets once a month for a Shabbat morning service in the playground of an elementary school in the Yad Eliyahu neighborhood.
Plitei Hasfar never had its own synagogue, and up until March 2020 its members wandered from one temporary space to another – including an air-raid shelter and a municipal day care center. After indoor gatherings were banned because of COVID in 2020, they began holding services in a small nature reserve located near the school.
"It was a nice intimate space for Shabbat services, but for Yom Kippur we were looking for a place that would attract more people," recounts Reiner.
Two years ago, Plitei Hasfar moved its Ne'ila service (which marks the end of Yom Kippur) to a wide, tree-lined boulevard – known to be a popular local hangout on this annual fast day when nearly all of Israel shuts down.
"What happened was amazing," Reiner says. "The boulevard was packed with kids on bicycles and scooters, people walking dogs and young couples wheeling baby carriages. And there we were, smack in the middle of it all, praying. Much to our surprise, many of the passersby started joining us.
"There was even a bigger crowd the following year, and I'm sure there'll be even more people this year as word gets around. It's pretty unbelievable when you think about, but this Ne'ila service of ours has turned into a huge community happening."
Since the COVID outbreak began, Plitei Hasfar has never resumed its indoor prayer sessions, except on a few very rainy days. "For now, the plan is to stay outdoors," says Reiner. "The fact that we have no permanent prayer space of our own has, in a way, made the decision easier."
'Far less claustrophobic'
Yuval, a Reform congregation in the central Israeli city of Gedera, has no synagogue of its own either. In fact, the congregation leaders have spent the past seven years in and out of court trying to force the mayor to allocate them a plot of land that would serve this purpose – to no avail as of yet.
Up until March 2020, Yuval held its High Holy Day services in the classroom of a local elementary school. That was before Rabbi Dana Sharon was appointed the congregation's rabbi.
"I can't even imagine what it must've been like stuffing so many people into such a small space," she says.
During the pandemic, services were held outside in the school playground. And they will be again this Rosh Hashanah and Yom Kippur, even though no social distancing requirements exist anymore.
"It's just much nicer outside and far less claustrophobic," says Sharon. "This was a decision taken by the executive board of the congregation, but I backed them all the way. As far as I'm concerned, we should continue staying outside until we get a place of our own."
Since it was founded some 30 years ago, Amiqa D'Birah (Aramaic for "Depth of the Well") – better known as "The Leader Minyan" – has bounced around from venue to venue. One of the first liberal Orthodox minyans in Jerusalem, it holds services just once a month, on the Shabbat that precedes each new Jewish month, and on the High Holy Days.
Before the pandemic, the Leader Minyan had been holding services in a room rented from a martial arts club in Jerusalem. When indoor prayer was prohibited, the congregation moved to a large yard adjacent to a café in the trendy Baka neighborhood.
"Holding our Rosh Hashanah and Yom Kippur services in this open space with all the trees, children running wild, and dogs and the cats turned out to be an amazing experience," says Avraham Leader, whose family founded the minyan. "The whole yard was covered with families sitting on mats, and it felt more like a festival than a solemn prayer service."
The downside of holding services outside, he notes, is the acoustics. "The intensity is a very big part of our service and, when you're outside, the sound gets diffused and you lose some of the intensity," says Leader. "On balance, though, I prefer the laid-back feeling that comes with being outside where there's space for everybody."
Shofar, so good
The Kehila Shivionit (egalitarian congregation) in Nes Tziona, affiliated with the Masorti-Conservative movement, holds services only on the main Jewish holidays. Established just a few years before the coronavirus outbreak, it is the only congregation in this central Israeli city that offers an alternative to strictly Orthodox services.
Before the March 2020 lockdown, Kehila Shivionit held its services in a municipal building that had an outside courtyard. Since then, the congregation has been praying outdoors with no intention of returning to the indoor space.
"It's been really nice for us," says Ruthy Modai, a leader of Kehila Shivionit, "especially on Yom Kippur when so many people are out in streets. We've found that many of those passing by stop and join us. So, being outside has really strengthened our profile in the community, which has been great for us."
Yachad, a liberal Orthodox congregation in central Tel Aviv, has traditionally held its services in a synagogue that belongs to a religious high school. During the pandemic, it moved outside to the school courtyard. But when restrictions on large gatherings were lifted, it moved back inside again.
Yom Kippur will be an exception, though, with the main services reverting to the outdoors.
"We found that having an outside service makes things feel more inclusive," explains Hillel Meyer, a gabbai of the congregation. "On Yom Kippur, you get people who attend services who aren't regulars. And when they come inside, there's not always room for them so they don't really feel part of things. What we've discovered is that when we hold services outside, and there's space for everyone, it's much more comfortable for those who aren't regulars."
As it did last year, Yachad will hold two Kol Nidrei service on Yom Kippur eve: one indoors and one outdoors. Its Ne'ila service, which culminates with a shofar blowing, will only be held outdoors.
Before COVID struck, Meyer relays, he would regularly head to the nearby park after the Ne'ila service was over, to blow the shofar for passersby who might not have been in synagogue to hear it. "Usually, I'd have a crowd of 60 to 70 people gathered around me when I'd do this," he recounts. "Last year, there was nobody. You know why? Because many of the people I'd usually meet in the park had already heard the shofar at our outdoor Ne'ila service at the shul. That was proof to me of the success of our outdoor services."
Like Yachad, Yedid Nefesh, a Masorti-Conservative congregation in Hod Hasharon (just north of Tel Aviv), has the good fortune of having permanent access to a prayer space located in a school. In the case of Yedid Nefesh, it is the sanctuary that belongs to the local Tali school (part of a nationwide network of schools that promote pluralistic Judaism). Unlike Yachad, it chose not to bring services back inside after social distancing requirements were lifted.
"We're all happy to be outside in the fresh air and we've found no reason – save on a few very rainy or extremely hot days – to go back inside," says Tammy Yakobovich, a leader of the congregation, which has about 30 dues-paying families. "In fact, since March 2020, I can probably count on a single hand the number of times we've held services inside."
The congregation drew one of its biggest crowds ever for Ne'ila last Yom Kippur. "There were easily 400 people," Yakobovich recalls. "The whole yard was packed. It was just lovely – an uplifting and very special experience."
Click the alert icon to follow topics:
ICYMI
Ken Burns' Brilliant 'The U.S. and the Holocaust' Has Only One Problem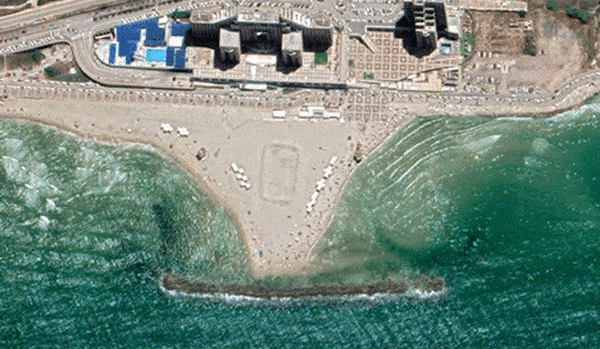 Facing Rapid Rise in Sea Levels, Israel Could Lose Large Parts of Its Coastline by 2050
As Israel Reins in Its Cyberarms Industry, an Ex-intel Officer Is Building a New Empire
How the Queen's Death Changes British Jewry's Most Distinctive Prayer
Chile Community Leaders 'Horrified' by Treatment of Israeli Envoy
Over 120 Countries, but Never Israel: Queen Elizabeth II's Unofficial Boycott