Haaretz English at 25: The Most Memorable Front Pages
From peace processes to terror attacks, unlikely election victories to even more unlikely sporting triumphs, Haaretz has brought you all of the news over the past quarter-century. Here are some of the paper's most indelible page ones
Credit: Artwork by Anastasia Shub
The Middle East and Israel have never been short of conflict and bloodshed, and Haaretz's front pages have captured all of that – and more – since the first edition of Haaretz in English was published on September 1, 1997.
We have combed through the archive to pick out an iconic front page for each of the English edition's years, with the media aphorism "If it bleeds, it leads" all too frequently borne out in these snapshots of history. But it's not all doom and gloom – unless you're not a fan of sports and Eurovision, that is.
Read more >> Haaretz English at 25: The Iconic Photos
Read More >> From South Tel Aviv to the White House: The Inside Story of Haaretz English Edition at 25
September 7, 1997
Despite the optimism of the early days of the peace process, Haaretz's front page of September 7, 1997 was full of violence. Coming only a week after the launch of the Israeli newspaper's English edition, it detailed the deaths of 11 Israeli naval commandos during a failed mission in Lebanon, and noted that security had been increased across the country in the wake of a triple suicide bombing in Jerusalem.
The cabinet called on a freeze on West Bank redeployments until the Palestinian Authority changed its approach to security coordination, while the U.S. Congress passed a resolution warning PA Chairman Yasser Arafat that unless he fights terror, his relations with Washington and the peace process itself were in jeopardy.
October 25, 1998
Haaretz English Edition was born during the heady heydays of the peace process. In 1998, Prime Minister Benjamin Netanyahu, in his first spell in office, signed the Wye River Memorandum with Arafat. In the historic deal, ending an 18-month stalemate between the two sides, Netanyahu agreed to relinquish an additional 13 percent of the West Bank, the release of 3,000 Palestinian political prisoners and guarantee "safe passage" for Palestinians moving between the West Bank and Gaza.
On the same front page, renowned Israeli historian Tom Segev penned an Op-Ed about Netanyahu's intentions, asking: "Why should we believe him?"
In the end, his grim prediction turned out to be correct: just 2 percent of the allotted land was returned to the Palestinians, with both parties blaming each other for the collapse of the accords.
May 18, 1999
The next year, Ehud Barak defeated Netanyahu by a margin of almost 13 percent, with the promise of advancing the peace process. Within half an hour of the exit polls, Netanyahu had already conceded defeat and stepped down as leader of Likud.
At the time, Israelis voted directly for the prime minister and had a separate vote for electing members of the Knesset. Despite the convincing victory, Barak's party, One Israel, ended up lagging behind his individual popularity, meaning the Election Night euphoria didn't materialize into political power.
Shas, the Sephardi ultra-Orthodox party, made major gains in 1999, securing 17 seats to become the third-biggest party in the Knesset. Meretz initially refused to sit with Shas under their leader Arye Dery, who was convicted for accepting bribes. Ultimately, Barak needed both the left-wingers and the ultra-Orthodox party for his governing coalition.
May 24, 2000
The start of the new millennium saw the end of Israel's 18-year occupation of south Lebanon.
According to the official account, Israel's first Lebanon war, which at the time was called Operation Peace for Galilee began on June 6, 1982, as the Israel Defense Forces entered Lebanon, and ended on September 29 of that year, as its forces left Beirut.
But the IDF remained in Lebanon for another 18 years, withdrawing gradually by 1985, to the "security zone" along the border, where it stayed in a series of fortified outposts until May 2000.
September 12, 2001
The 9/11 terror attacks shook the world. As one of the U.S.' closest allies, Israel was no different. "A day of mourning" was announced by Jerusalem, with flags in state buildings lowered to half-mast. But the reverberations also extended into security concerns. Israel closed its airspace to foreign airlines and closed its embassies overseas, fearing copycat attacks.
The cataclysmic attack, Ze'ev Schiff wrote, was likely to extend solidarity in the other direction too: "It is more probable that the Americans will understand Israel's pain better when it has to deal with suicide bombers."
Although several Arab states and PA leader Arafat gave full-throated condemnations of the attack, the West Bank and Palestinian refugee camps in Lebanon viewed the attacks on the World Trade Center and the Pentagon as "a taste of what we've tasted," with jubilant gunfire ringing out across the territories.
March 29, 2002
The 2002 front page features a chilling picture of a deserted Seder plate – one of the enduring images of freedom in Jewish tradition – next to a torn Haggadah prayer book following the deadliest terror attack during the second intifada. Haaretz also spoke to "miracle" survivors from the suicide bombing at the Passover seder massacre at Netanya's Park Hotel, which eventually claimed the lives of 30 civilians.
Following the attack, Prime Minister Ariel Sharon and opposition leader Netanyahu both called for the expulsion of Arafat from the Palestinian territories.
The Arab League, meanwhile, finalized its adoption of the Arab Peace Initiative, which offered "normal relations" with Israel in exchange for a withdrawal to its pre-1967 borders, allowing the establishment of a Palestinian state with East Jerusalem as its capital.
October 5, 2003
As the second intifada raged on, another horrific terror attack on a Haifa restaurant, which killed 21 people, seemed to strengthen Israel's resolve to expel Arafat once and for all from his compound in Ramallah.
Although the attack was orchestrated by the Palestinian Islamic Jihad, Israel's belief that Arafat had ramped up his involvement in the recent wave of terror attacks seemed to spell his end. Danny Rubinstein wrote that despite the logistical challenges and the swelling support for the Palestinian Authority chairman, "if Israel is set on getting rid of Arafat, it will manage it."
The Mukata had been besieged three times, but the next blockade would prove to be the last. It ended with Arafat being evacuated to hospital and dying in Paris a month later, in October 2004.
August 26, 2004
Wearing an olive wreath, windsurfer Gal Fridman kisses his Olympic gold medal – the first time an Israeli athlete had ever won the top prize at the Summer Games (held that year in Athens) – a feat that has only been achieved twice since.
After Israel's High Court of Justice rerouted the West Bank separation barrier in order to minimize the harm to Palestinian rights, settlers planned to petition the court, asserting that their communities were likely to be left outside the revised route.
In religious news, then-Attorney General Menachem Mazuz called for the recognition of non-Orthodox conversions conducted in Israel for the purposes of citizenship – a change that would only finally happen by order of the High Court 17 years later.
August 24, 2005
The Israel Defense Forces finished its evacuation of all 21 Israeli settlements in the Gaza Strip, as well as four in the West Bank, at the direction of then-Prime Minister Ariel Sharon. Two years later, Hamas would expel Fatah from the Strip, launching an ongoing struggle marked by thousands of rockets and numerous Israeli military operations against the militant group.
The dramatic scenes of distraught settlers being dragged from their homes and the destruction of buildings and greenhouses forever changed the reputation of the former builder, architect and political patron of the settlements. Soon after, Sharon left the right-wing Likud party to found the more centrist Kadima.
At the same time, the IDF appropriated land surrounding the West Bank settlement of Ma'aleh Adumim for the construction of the separation barrier despite U.S. protests that such a move would impede the establishment of a viable Palestinian state.
January 5, 2006
Less than a year after ordering the disengagement from Gaza, Sharon, 77 at the time, suffered a massive stroke and was rushed into surgery at Jerusalem's Hadassah Ein Karem Hospital, with the Prime Minister's Office declaring it was "hoping for a miracle." Despite doctors' best efforts, he slipped into a coma and died eight years later in January 2014.
Sharon was replaced as prime minister by his Kadima colleague Ehud Olmert, a former Jerusalem mayor and deputy prime minister.
September 7, 2007
In a military operation that Jerusalem would not officially acknowledge for many years, Israeli jets destroyed a Syrian nuclear reactor – in a mission that reshaped the country's defense policies for years to come.
Unlike with former Prime Minister Menachem Begin's strike against Iraq's Osirak reactor in 1981, for which Israel took public credit, Olmert declined to acknowledge the destruction of Syria's nuclear facility, birthing a policy of ambiguity in which Israel consistently refrains from making announcements regarding airstrikes carried out beyond its borders. Citizens of Israel instead learn about these incidents from "foreign sources," often accompanied by video footage or satellite photos.
November 6, 2008
The cease-fire between Israel and Hamas in the Gaza Strip was shattered when the Palestinians launched a barrage of rockets on Israeli cities in response to an Israeli operation to thwart the digging of a tunnel under the border and into Israeli territory. The violence quickly escalated, leading to an Israeli ground incursion, dubbed Operation Cast Lead, the following month.
Following the November U.S. election, Prime Minister Olmert headed to Washington in an attempt to secure last-minute agreements and promises from President George W. Bush before the inauguration of President-elect Barack Obama, whose policies regarding Israel were still unclear.
December 11, 2009
Not every lead story on Haaretz has to involve bloodshed. The December 11, 2009 front page, for instance, featured Israeli chemist Ada Yonath receiving the Nobel Prize from King Carl XVI Gustaf of Sweden during a ceremony in Stockholm.
Syria declared that it would not enter into talks with Israel without a full Israeli withdrawal from the Golan Heights, while ultra-Orthodox rabbis decreed that their followers may not access the internet. The Shin Bet security service, meanwhile, began efforts to recruit Persian speakers from among new immigrants from Iran.
December 4, 2010
A huge forest fire on Mount Carmel in northern Israel became one of the most serious civilian tragedies in Israel's history. Forty-four people died, including 36 students from the Prison Service guards' course who were en route to the Damon jail to help evacuate inmates there.
Thousands were forced to flee their homes and wildlife was decimated. Israel had to turn to countries around the world for assistance, which resulted in an airlift of materials and firemen, as well as firefighting planes and helicopters.
October 19, 2011
One of the biggest news Israeli stories this century was the release of Gilad Shalit, the young IDF soldier who was kidnapped by Hamas after his tank was attacked on the Gaza border in June 2006.
He was held captive for five years and only freed after Israel agreed to release more than 1,000 Palestinian and Arab-Israeli prisoners, several of whom were later implicated in further terrorist actions.
Then-military correspondent Avi Issacharoff noted that while "most Israelis shed a tear at the sight of an IDF soldier returning home," many "were unable to see the price involved: Hamas celebrating in the streets of the West Bank, masses of people vowing to kidnap Israelis, songs of praise for Hamas' military wing and crowds vowing to continue the jihad until Israel is destroyed."
November 30, 2012
In a historic session of the United Nations in New York on November 29, 2012 – exactly 65 years after passing the Partition Plan for Palestine – the General Assembly voted by a huge majority to recognize Palestine within the 1967 borders as a nonmember state with observer status in the organization.
Israel's then ambassador to the UN, Ron Prosor, responded to PA President Mahmoud Abbas' speech, saying that peace could only be achieved through negotiations, not via the UN route. Those who vote in favor are undermining peace, he said. "The UN was founded to advance the cause of peace. Today, the Palestinians are turning their back on peace. Don't let history record that today the UN helped them along on their march of folly."
March 21, 2013
Haaretz's front page was dominated by the iconic image of U.S. President Barack Obama and Prime Minister Benjamin Netanyahu walking on the tarmac at Ben Gurion Airport – their jackets slung over their shoulders and matching blue ties blowing in the wind – during the former's first visit to Israel as U.S. president.
During his trip, Obama said his visit was meant to be a reassuring one, declaring that he had come to make it clear to Israelis that the United States stands behind them and will ensure their security, even though the neighborhood has become tougher.
May 19, 2014
While there are many depressing headlines in any newspaper covering the Middle East, this Haaretz front page featured a jubilant photograph of Israel's Maccabi Electra Tel Aviv basketball team, which the previous day had defeated Real Madrid 98-86 to win the Euroleague championship. It was the club's sixth European championship title.
Elsewhere, Yaniv Kubovich reported that police intelligence officers and investigators had compiled the country's first ever "Israel's most wanted" list of top criminal suspects.
November 22, 2015
Jewish-American spy Jonathan Pollard was released from a U.S. jail on November 20, 2015, after serving three decades in prison following his 1987 conviction for spying for Israel. American-Jewish organizations and multiple successive Israeli administrations had for many years lobbied for his release.
Also in the news, the daughter of an Orthodox convert was retroactively declared non-Jewish by the Chief Rabbinate, leading critics to charge that "no convert can sleep peacefully in Israel." The Foreign Ministry, meanwhile, expressed opposition to a measure intended to place restrictions on arms sales to regimes involved in human rights abuses.
October 2, 2016
World leaders bid farewell to former president and prime minister Shimon Peres, at the Jerusalem funeral of Israel's elder statesman. Many voiced regret that the last leader of Israel's founding generation, who died at age 93 two weeks after suffering a major stroke, did not live to see a two-state solution with the Palestinians.
Over a seven-decade career, Peres held virtually every senior political office in Israel, including three terms as prime minister and stints as foreign and finance minister. He jointly won the 1994 Nobel Peace Prize for his work in reaching an interim peace agreement with the Palestinians.
January 22, 2017
Dominating Haaretz's page one coverage on this day was the inauguration of reality TV star-turned-GOP politician Donald J. Trump, following a contentious election campaign full of invective and mudslinging. In his page one analysis, columnist Bradley Burston called Trump's ascension to the position of commander-in-chief a "black Friday for America," while Chemi Shalev warned of the dangers of his America First agenda and panned the new president's inaugural address as "dark, belligerent and populist through and through."
May 14, 2018
Good news returned to the front page when Israel won the 2018 Eurovision Song Contest with Netta Barzilai's "Toy," marking Israel's first triumph since 1998 and its fourth win overall. Over 186 million viewers tuned into the 2018 finale.
Thanking the audience for their vote, the 25-year-old singer praised their choice to accept diversity and for choosing something different. Afterward, she proclaimed her victory by screaming: "I love my country, next year in Jerusalem," and concluded by saying "Thank you, Europe!"
Co-written by Doron Medalie and Stav Berger, "Toy" was viewed over 17 million times on YouTube and hit the No. 1 spot on Spotify Israel. Then-Prime Minister Netanyahu also got in on the celebrations by performing the song's somewhat bizarre "chicken dance" en route to a cabinet meeting.
February 24, 2019
The American Israel Public Affairs Committee, the most powerful pro-Israel lobby in Washington, joined with the American Jewish Committee and other American-Jewish groups in condemning then-Prime Minister Netanyahu's move to convince the "reprehensible" Otzma Yehudit party, a far-right Kahanist faction, to join forces with the religious-Zionist Habayit Hayehudi party to increase their chances of winning seats in an upcoming election.
In other developments, Haaretz reported that Israel's Beresheet spacecraft was "set to make history" by landing on the moon (it didn't) and that then-Attorney General Avichai Mendelblit was preparing to indict Netanyahu on corruption charges (he did).
January 29, 2020
On a momentous news day, then-President Trump's so-called "deal of the century" vied with AG Mendelblit's indictment of Netanyahu on corruption charges, leading to an ongoing legal saga whose end is not yet in sight.
The peace plan was presented by Trump at a joint press conference at the White House with Netanyahu, who said Israel was willing to use it as the basis for immediate negotiations with the Palestinians.
Following the announcement of the new framework, which ultimately fizzled out, Netanyahu pledged to apply Israeli sovereignty to West Bank settlements – a move that, unlike his indictment, never came to pass.
August 2, 2021
Haaretz's page one featured a striking image of Israeli gymnast Artem Dolgopyat hanging upside down in the air during a routine at the Tokyo Olympics (which had been delayed by a year due to the coronavirus). He made history by winning gold for the floor exercise. "It was my biggest dream, and I did it," Dolgopyat said after the tournament. "I made mistakes in the routine, I thought I had blown it, but I told myself to go all the way."
Also during that year's Olympics, Linoy Ashram won a gold medal in rhythmic gymnastics, Avishag Semberg won a bronze medal in taekwondo and the Israel national judo team also won a bronze medal.
February 25, 2022
Israel was "flooded" with aliyah requests from desperate Jews in Ukraine, Haaretz reported, a day after Russian forces invaded the former Soviet republic on a self-declared mission of "denazification."
Local Jews voiced anger and outrage over Russia's justification for its aggression, saying that "the Jews of Ukraine are an integral part of Ukrainian society and we never faced Nazism here."
The following months would see millions of Ukrainians displaced, cities razed to the ground, and a wave of refugees from both Russia and Ukraine arriving in Israel, which is still attempting to maintain a tenuous neutrality between the two sides.
Click the alert icon to follow topics:
ICYMI
Ken Burns' Brilliant 'The U.S. and the Holocaust' Has Only One Problem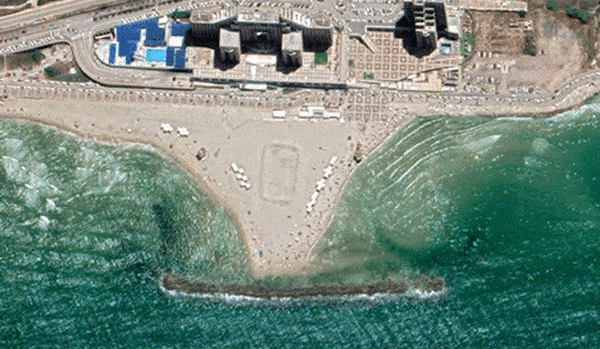 Facing Rapid Rise in Sea Levels, Israel Could Lose Large Parts of Its Coastline by 2050
As Israel Reins in Its Cyberarms Industry, an Ex-intel Officer Is Building a New Empire
How the Queen's Death Changes British Jewry's Most Distinctive Prayer
Chile Community Leaders 'Horrified' by Treatment of Israeli Envoy
Over 120 Countries, but Never Israel: Queen Elizabeth II's Unofficial Boycott