Sea of Galilee Real Estate Wars: 'This Monstrosity Is Blocking My View'
The picturesque village of Kinneret, on the shores of Sea of Galilee, is home to a class, race and taste battle
Modern homes in the historic colony of Kinneret, overlooking the Sea of Galilee in northern Israel.
Credit: Gil Eliahu
It's only 9 A.M., yet the small northern village of Kinneret is already sweltering. The homes scattered across the hillside seem to wilt beneath the scorching sun, though the views of the Sea of Galilee are breathtaking. Anyone unaccustomed to the Jordan Valley will search for a spot to cool off, but will not find it on the second story of the local council's charming headquarters.
"The air conditioner has been broken for two years now," an employee says. "There's no money to fix it," adds local council leader Itzik Oz. Instead, we agree to talk with Oz at his nearby home, over an excellent espresso and even more powerful air-conditioning.
En route to his home, the streets of this historic colony – dating from the first wave of Jewish immigration at the end of the 19th century – are quiet. However, the signs scattered along the roads draw your attention to a particular problem: "We behave differently in Kinneret," they declare, stating a total ban on parties – including karaoke.
Do not be misled, however: Karaoke parties are not the primary concern Kinneret has been grappling with in recent years.
It is impossible not to spot a major difference between the homes here. Although all of them are big and have expansive yards, some look rather dated and washed out, while others are modern palaces surrounded by fences and electric gates.
In recent years, this agricultural community has become a place of refuge for the rich and famous. If until a few years ago 95-year-old musical director Naomi Polani was its best-known resident, today that would probably be businessman Chemi Peres – son of the late president Shimon Peres.
Other residents include Dr. Iddo Netanyahu (brother of former Prime Minister Benjamin Netanyahu) and billionaire Anan Shamshoum, whose firm imports beverages such as the Blu energy drink. The latter two are permanent residents of Kinneret. A small Arab community is forming here as well, alongside less famous homeowners who rent out their residences for parties and events.
On the morning we visited, this cradle of Zionism was particularly serene – although that too was misleading. The colony, which is on the eve of its 120th anniversary, ceased to be a united community a long time ago. Our visit and conversations with residents were fraught with tension, anger, and even hatred and overt racism, between the various forces at play.
Above all, there is pain: the pain of far-reaching change; of a present that is so radically different than the expectations of the colony founders; and an unknown and anxious future. "Kinneret is a small place," says educator and researcher Muky Tsur. "But it's a big mirror of all our society's ills."
Worlds apart
Kinneret was established in 1908, alongside the neighboring Kinneret farm, on the lands of local Arab villages that had been purchased by the Jewish Colonization Association – an organization founded in 1891 by Baron Maurice de Hirsch with the aim of aiding in the settlement of Jewish émigrés from the Russian empire. This is where attempts to establish communal living in what was then Ottoman Palestine began.
Among the 250 or so households living here today, only about a fifth are descendants of the founding families. Over the years, the difficulty of earning a livelihood from agriculture, and the fact that Kinneret is located on the country's periphery, caused many of the heirs to sell their homes and landholdings in a bid to survive. Even among those who stayed, it is possible to find residents who are worlds apart financially from the well-to-do new arrivals who have built mansions here.
At the same time, the descendants who remain still enjoy a special place of honor. Only six families among this group are active farmers, but all of them own parcels of land that have been passed down from one generation to the next. Given the prolonged decline of agriculture, they are also a desirable target for agents of change. Conversations with these farmers reflect a profound sense of historic privilege, but there's also a sense of barely concealed arrogance that can be found among those raised as sons and daughters of the soil.
In the early 1990s, wealthy residents of the Galilean city of Tiberias drifted southward to this rural retreat. The new residents wished to leave Tiberias and its education system for greener pastures that offered a greater quality of life. "They were greeted with some trepidation," Oz recounts. "It's not nice to say it, but we're talking about the 'Second Israel' [meaning the offspring of immigrant parents, usually from Middle Eastern and North African countries]. Until then, it was only the 'First Israel' [Ashkenazim] who lived here."
Oz has lived in Kinneret for the past 30 years, having arrived with his wife from a nearby kibbutz. Although he worked in agriculture at those kibbutzim, he does not belong to the well-connected group of farmers since he does not own land.
Despite his official government position, Oz does not mince words. "When the Tiberias people came in, the farmers felt they were losing control. The new folks settled mainly in one neighborhood and included educated people, those with money and, primarily, the religiously traditional. The lifestyle changed. The modest synagogue, which had existed in Kinneret since its foundation, was enlarged and became the center of life for this new element of the community.
"The farmers had never really gotten along with each another – there was always this horrible hatred between them," Oz continues. "But all of a sudden, they were all unified against this new community. A sense of hostility formed, which is still perceptible today."
He is not exaggerating. "I no longer go to the Independence Day celebrations because all they want to do is barbecue and eat free food," says one local resident who belongs to the group of founders and declines to have her name published. She does not bother to tell us who she is referring to.
"Even on Shavuot, which is our holiday [when dairy food is traditionally eaten], I don't go because it's just something they're checking off the list. There has always been a synagogue here – but it was never the center of life. Now it's the center of life and they're building a mikveh [ritual purification bath] here. They're constantly poking a finger in our eye."
The mikveh has aroused strong emotions. "Women had been asking for a mikveh to be built here so they wouldn't have to drive to the neighboring villages," Oz relays. "There was huge opposition. Except for murder, we've had everything here."
The waves of opposition soon reached the Jordan Valley regional council, which was supposed to raise the budget for the mikveh's construction. Council leader Edan Greenbaum ordered a local survey in order to ascertain whether a majority of Kinneret's residents actually wanted it. They did, the money was raised, and the mikveh is currently being built.
"There's racism here from extremist farmers against the Haredim who don't live here," says council head Oz. The farmers' response? Oz hates them.
Poor place, wealthy residents
There was another, historical, flash point that did nothing to improve communal relations. As part of the consolidation of local authorities initiated by the Interior Ministry, it was decided that the local council, with its annual budget of 3.4 million shekels (just over $1 million), would become part of the Jordan Valley regional council. Consequently, in 2004 the colony lost its independence.
"When we were independent, we managed our affairs very nicely," Oz says. "We had a modest but adequate budget, and we chose how to use it. Now we're sitting on a council with 17 kibbutzim, and we don't matter to anyone."
A resident of a neighboring village understands the anger, but asks rhetorically: "Who should we be more concerned about? People living in a village that's ranked [high] on the socioeconomic index, with big homes and even larger tracts of land? Or residents elsewhere who are struggling with really difficult economic problems?"
In the meantime, the local group that represents Kinneret on the regional council is having a hard time securing the money to install an air conditioner in the local council building. In other words, this is a poor place with wealthy residents.
Even so, Kinneret might have overcome all its problems were it not for the latest drama to hit the community. In 2012, two sisters belonging to a founding family subdivided 60 dunams [about 15 acres] of private land into 51 plots, selling them to the highest bidder. In such a small, historic place as Kinneret – which is forged on the ethos of redeeming the earth – this constituted nothing short of an exploding land mine.
In a place like Kinneret, such a quantity of land is sold to the public once in a lifetime, if at all. And because Kinneret has no committee to control who moves to it (unlike neighboring kibbutzim and moshavim), the free market began to work its magic.
"Until then, plots in Kinneret were sold for 500,000 shekels, and another 200,000 shekels went on development," Oz says. "Suddenly, and in tandem with the real estate crisis, prices skyrocketed. Now, a plot of land in Kinneret goes for between 2 and 3 million shekels, while homes sell for 6 million shekels or more."
In mid-August, we found seven different Kinneret offerings available to buy online, through which it was possible to gain an impression of how those prices have soared. For instance, a small three-room house on a 700-square-meter (7,500-square-foot) plot was listed for 4.9 million shekels, while a vacant lot measuring 700 square meters was going for 3.5 million shekels.
A conversation with the owner of an agricultural lot that measures 250 square meters helps explain the high demand. The seller wants 580,000 shekels for this plot, which is not zoned for residential use but boasts a beautiful view of the Sea of Galilee. He says that if the plot was rezoned for housing, he would be asking for at least 1 to 1.5 million shekels.
Even though the plot in question is relatively small, there are already two potential buyers for it. The seller is clearly correct in his assessment. Another lot, on a one-dunam plot, is currently on sale for 1.1 million shekels.
The high prices can be explained not only by the relative paucity of land until recent times, but mainly the Kinneret master plan, which historically determined that the size of the plots would be no less than 750 square meters (on average). In addition, construction here was restricted to just one house per plot, even on the largest pieces of land.
In other words, anyone buying land knew that it was for one large home and breathtaking views. Such gems, increasingly rare in Israel, are accessible only to the wealthy – who, unsurprisingly, have discovered the joys of Kinneret.
Priced out
The founders' families soon learned that Kinneret had been found not only by wealthy Jews but also by rich Arabs – including descendants of the very people whose lands had been sold initially. It is estimated that some 20 plots in Kinneret have been purchased by members of the Arab community.
At the same time, it transpired that while the price hikes were making some residents wealthy, it also meant that the colony's offspring were being priced out of the market. "Once upon a time, there was a community here," reminisces farmer Ilan Goldstein. "Today, it no longer exists."
The founding family member is one of the six still-active farmers here, engaging mainly in orchard crops and fruits after Goldstein himself shut down the last cowshed on Kinneret some 18 months ago.
He is also fully aware of the farmers' hardships. He is always searching for the next big thing (along with his wife and daughter), in order not to have to rely on farming alone as it is clear to him the next generation will not be engaging in agriculture. His main gripe is that even if they wanted to return, his children are no longer able to buy land in the colony co-founded by their ancestors.
"The farmers can tell us any story they want, but they're the ones selling the land," responds Oz. "If not them, then it's their grandchildren who are selling everything they can. The farmers feel bad, because they want to sell the land but they want the land to remain in their possession. Everything is done for financial gain. They're hurting and so they're selling – both to Jews and 'the cousins' [Arabs] – and we're losing our hold on the land."
The claim that it is farmers who are selling land to Arab Israelis infuriates Goldstein. "Farmers are not selling lands to Arabs," he states. "Two patriotic women sold land to Jews, who then sold [the plots] to others and created a business out of all the landholdings. Personally, I have no problem with Arabs – even if I would not exactly want to see a significant population here so they might build a mosque. I would prefer that there be farmers here, that the children of all the farmers would come back here and continue the Kinneret way of life, and that we would be a community like the kibbutzim around us."
Goldstein touches on a point that, perhaps surprisingly, has universal buy-in: Kinneret is getting richer but at the same time is experiencing a worryingly aging community.
Based on data compiled by the council earlier this year, the colony's primary age group is aged between 60 and 70 years old. Over 30 residents are 80 or older – of whom 18 are over 90. This is highly significant when you consider that Kinneret's total population is less than 700.
Conversely, there are only 74 children aged 10 or under here. Oz says these children are mainly among those renting properties in the colony. "In the past year, the kindergarten had only three children from among the local residents and all the rest came from other places or those who rent here. We're continuing to operate the kindergarten with the aim of drawing in a young population – but who knows if they'll come back. The situation is a matter of concern, for sure, because at this rate we'll become an old folks home."
"We have no problem with new residents like Iddo Netanyahu," agrees one veteran resident. "He and his wife are charming, and so are their dogs, and they came here to live on a permanent basis – unlike people who come here for the weekend. Still, they don't have any young children," she says. "The population coming here now is a satiated adult population that can afford to pay the prices that this place demands – and these are not our children."
Regional council head Greenbaum is aware of the problem and also troubled by it. He says he and the residents are considering ways to lower the average age so that Kinneret "doesn't become Florida."
In parallel, the council is battling an additional problem that concerns all the residents: vacation homes being rented out for parties. "I'm battling them with all my might and with all of the tools I have – I'm considering welding the gates shut," he says. "This phenomenon is going to end."
Monstrosity on the hill
Ironically, it is a relatively new member of the community who is working toward lowering its average age. The billionaire Shamshoum lives in a grand house on the ridge of the hill with his wife and young daughter, who attends the local kindergarten. Recently, he donated a shade canopy to the kindergarten because no one else would purchase one. "He wants to give a lot more, but we're forbidden to accept contributions despite the limited budget at our disposal," Oz says.
Shamshoum moved to Kinneret eight years ago along with his brother, who lives in another house, and another Arab-Christian family. For all of them, this is their primary residence. Although Shamshoum is happy to respond to every request for help, and another Arab resident serves on the colony's emergency team and contributes to additional causes, not everyone is pleased by this growing community. It is estimated that some 20 housing lots are owned by Arabs and that three more (Muslim) families will be arriving soon. At least one Arab family that purchased two lots has already submitted building plans.
An Arab woman who resides in northern Israel and is considering relocating to Kinneret says this is for one simple reason: "Unlike Haifa, for instance, Kinneret still has large plots of land on which it's possible to build large homes with a marvelous view. This is a northern village that's close to the family, but distant from the Arab cities where the quality of life is low."
Oz says Arab buyers "candidly admit that they want to live somewhere where people are not shooting [each other], and where a good level of services are provided to residents. We're talking about people who have money, who can afford to live here."
"They're moving here because there's no acceptance committee," argues one of the veteran residents. "They wouldn't be accepted in any other place in the [Jordan] Valley."
Shamshoum's mansion is of some concern to veteran residents. "I don't care that he's Arab," says one. "I care that some wealthy guy came in and built this monstrosity that blocks my view, has a lot of big shiny cars and a lot of guests who make noise. The veteran residents of the colony are modest folk. The new ones are not."
While the veterans all own large homes, generally speaking they have not exploited all the rights given to them on the lots. The new owners, by contrast, are taking full advantage of them, right up to the last centimeter. As a result, the older homes are now dwarfed by the new buildings – a fact that is obvious on the local landscape and is another source of resentment.
Researcher Tsur notes that Arabs returning to Kinneret are not seeking some reverse redemption of the land. "We're not dealing with a political act here," he says. "They're not coming to Kinneret in order to engage in agriculture or to redeem the lands that were bought from their ancestors. They're part of a wider phenomenon that sees Arabs going into other 'Jewish' places such as Poria Ilit and Nof Hagalil.
"Understandably, they're remaining in the Galilee because this is their home and they're the majority here. They're not building homes in the Sharon region. Their arrival in Jewish locales stems from a desire to get out of the pressure cooker in which they're living and an attempt to move away from [the violence] in Arab society. That's a totally pragmatic reason, which stems from a desire to raise their standard of living."
The Arab woman with whom we spoke did not see the land purchase in historical terms. "It's a quiet, beautiful place with large lots that we can afford. Equally importantly, it's both close enough to and far away enough from Nazareth," she says, when asked why her family bought plots in Kinneret.
Kinneret "is a small place with a limited ability to withstand external economic forces," Tsur observes. "Since it has defined itself as being open, it cannot be open only to idealists. This openness, along with the beautiful location, is now going against it. It isn't a case of Kinneret being under attack. It's important to remember that Kinneret was established on strong agrarian values, and the transition from agriculture to real estate is going to be accompanied by some pain. The question is whether the community has sufficient forces to overcome it."
Shamshoum, Peres and Netanyahu declined to be interviewed for this article, saying they were not interested in discussing their private lives.
Click the alert icon to follow topics:
ICYMI
Ken Burns' Brilliant 'The U.S. and the Holocaust' Has Only One Problem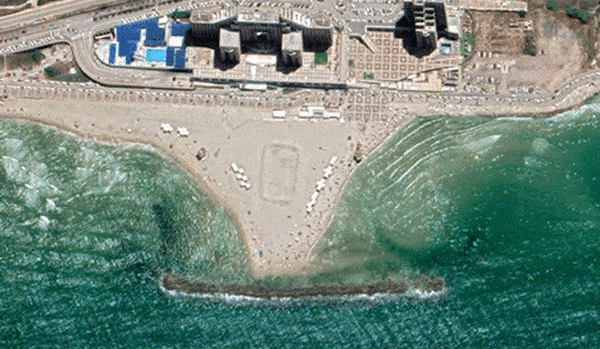 Facing Rapid Rise in Sea Levels, Israel Could Lose Large Parts of Its Coastline by 2050
Lapid to Haaretz: 'I Have Learned to Respect the Left'
The Mossad's Fateful 48 Hours Before the Yom Kippur War
As Israel Reins in Its Cyberarms Industry, an Ex-intel Officer Is Building a New Empire
How the Queen's Death Changes British Jewry's Most Distinctive Prayer