Analysis |
Netanyahu Offers a Solution for an Inflation Crisis That Doesn't Exist
Bibi knows voters are anxious about prices and is offering them a grab bag of solutions. They won't work because the problem isn't under Israel's control
Netanyahu voting at the Likud primary in Tel Aviv on Wednesday.
Credit: Tomer Appelbaum
One could almost believe for a day or two last week that Israel had become a normal country, in terms of its electoral politics. For the first time in years, candidate Benjamin Netanyahu took the trouble last Wednesday to present voters with an economic program ahead of the November 1 election. There wasn't a word about Iran, Arabs or national security.
What caused Netanyahu to take this unusual step were polls showing voters are, for now, setting aside the issues that usually preoccupy them. In the Israeli Voice Index released this week, just 11 percent cited defense and foreign policy as their No. 1 priority. Forty-four percent said the economy and the high cost of living.
Whether these economic anxieties are grounded in reality is another thing (to be dealt with later), but the poll does show that Israelis are concerned first and foremost about the economy, just like their counterparts in other democratic countries.
Netanyahu gave a polished performance that should remind everyone that in addition to being Mr. Security, he's also Mr. TV, a worthy rival to Prime Minister Yair Lapid, who's a television presenter by profession. Netanyahu's 17-minute video made its points clearly and seemingly convincingly – inflation is out of control, Israel needs a stable government to solve the problem (to be precise, a stable right-wing government, just to clear up any possible confusion); he lauded his record on the economy and then presented a multipronged plan for how to deal with the cost-of-living crisis.
Another moniker that could be applied to Netanyahu in this case is Farmer Ben, because to create such a clean narrative he had to engage in a lot of factual cherry-picking.
Until COVID struck, the economy did very well in the Netanyahu years of 2009 to 2019. But how much credit does Netanyahu deserve for that? Not much. He was lucky to have been in office during a period of relative calm for the world economy and the rapid expansion of Israel's high-tech sector.
Netanyahu takes credit for grappling with the two crises that occurred at either end of his 12 years, but the claim is exaggerated. It was Stanley Fischer, as Bank of Israel governor, who did more than anyone else to save Israel from the worst of the Great Recession of 2009.
A decade later, Israel was spared the worst of the coronavirus economic downturn due to its big high-tech and small tourism sectors. Netanyahu's contribution was to throw reams of money at the economy, but that was a needlessly costly and poorly conceived endeavor. Economically his response to the pandemic was policy chaos. His government didn't even pass a budget for years.
As to the current government now led by Lapid, Netanyahu left viewers with the impression that it has been a government of inaction and failure. After all, inflation under Netanyahu averaged 0.5 percent annually while in the year of the Bennett-Lapid government it has been 4.4 percent.
True enough, but except for a passing reference to COVID and the war in Ukraine, he fails to mention the causes. That's because they are external, hardly the fault of the current government.
But let's leave Farmer Bibi's orchard and have a look at what he is proposing to do to solve the problem of inflation and the cost of living.
The bonds that tie
The first thing he promises to do is to lower prices for electricity, gasoline, water and arnona (municipal taxes). True, all of these are controlled by the government, but only in a sense – power and water prices are set by independent bodies; elected politicians can't interfere. The Lapid government has already cut taxes on gasoline to reduce the pump price and arnona has been frozen more or less for the past two years. There's not much Netanyahu can do in these areas that hasn't been done.
His next target is food prices, which Netanyahu vows to lower through reduced regulations, more imports and lower duties. Again all of this has been done, a little by Netanyahu over the years and more by the Bennett-Lapid government – but without enormous effect. There are no solutions to be found here either.
By contrast, when it comes to housing prices, Netanyahu's key proposal is something creative: The government should issue bonds linked to the price of housing.
As he explains it, lots of people are buying homes out of fear that prices will keep climbing. They reason that it's better to buy now than pay even more later. A housing-linked bond would give these buyers an insurance policy against future price rises. They can invest the money in the bonds knowing that their cash pile will increase in line with the rise in home prices. When the time comes that they actually need a house, the value of their capital will have kept up with increase in prices.
How much of housing demand is due to panic buying is hard to say. But it should be kept in mind that the big problem is that the housing supply is chronically less than demand. Except for people living with their parents, housing demand is a combination of renters and buyers – the bond scheme would reduce the buyer component but increase the renter component.
The final part of Netanyahu's program is to reduce the tax burden by cutting personal and corporate income tax rates, widening thresholds, increasing tax credits and (for the poor) expanding the negative income tax program.
To his credit, Netanyahu doesn't ignore the problem of how to pay for all the above. The first is by making the government more efficient, thereby saving money. This is the favorite method of politicians explaining how they will pay for new programs, but in practice it almost never happens. Unions and ministers jealous of their budgets don't cooperate.
The second solution is to use part of the surplus tax revenues the treasury has been accumulating. In 2022, he says, these will reach 60 billion shekels ($18 billion). That is probably a stretch, but even if it isn't, the money would be better used paying down some of the debt Netanyahu ran up during the pandemic.
That's because the economic distress that Israelis are feeling is terribly overstated.
Notably absent among the cherries Netanyahu picked was a reference to anything about the economy except inflation and the high cost of living. But the fact is the Israeli economy is doing extraordinarily well – GDP was up 9 percent year on year in the first quarter, and unemployment is at a record low. The government is running a budget surplus the envy of other countries.
Even the inflation problem should be kept in proportion. Salaries have climbed 4.5 percent in the past year, about the same rate as the consumer price index. Naturally people remember when the price of something rises (and they have the media to help them if they don't), but the numbers don't point to a serious problem for most household budgets. The cost of living in Israel is high, as it has been for years, but inflation isn't bad enough to make the situation worse.
In any case, inflation is a problem mostly beyond the control of the Israeli government. It can help on the margins, but most of that help will be provided by the Bank of Israel, not by the prime minister. This isn't a crisis that needs a solution.
Click the alert icon to follow topics:
ICYMI
Ken Burns' Brilliant 'The U.S. and the Holocaust' Has Only One Problem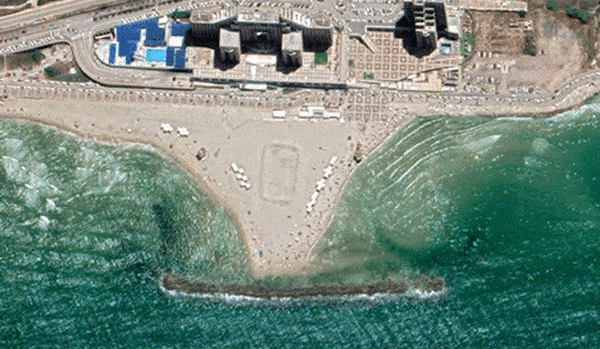 Facing Rapid Rise in Sea Levels, Israel Could Lose Large Parts of Its Coastline by 2050
As Israel Reins in Its Cyberarms Industry, an Ex-intel Officer Is Building a New Empire
How the Queen's Death Changes British Jewry's Most Distinctive Prayer
Chile Community Leaders 'Horrified' by Treatment of Israeli Envoy
Over 120 Countries, but Never Israel: Queen Elizabeth II's Unofficial Boycott