Opinion |
For Israeli Voters, Do Palestinians Really Matter?
The latest hostilities with Gaza have ended, and the Israeli-Palestinian conflict will again fade from campaigning for the November elections. But don't be deceived by its apparent absence
Yair Lapid speaks during the launch of his Yesh Atid party's election campaign in Tel Aviv, last week.
Credit: AP Photo/Oded Balilty
"Breaking Dawn" represented Israel's sixth round of fighting in Gaza since 2009, alongside the fifth Israeli election campaign since 2019. Yet with a mercifully quick ceasefire coming so far ahead of the November 1st elections, attention to the Israeli-Palestinian conflict will fade once again. Almost none of Israel's political parties are expected to say anything substantive about conflict resolution.
Even the fresh escalation with Gaza is being viewed not as an expression of the wider conflict but as a discrete problem between Israel and the Gaza factions, Islamic Jihad or Hamas. Comprehensive political solutions seem so remote they might as well be interplanetary.
Joe Biden knows there will be no two-state solution anytime soon, and only 22 percent of the Israeli public believes that negotiations can produce a peace agreement, according to a late July Peace Index survey from the Conflict Resolution and Mediation Program at Tel Aviv University.
In a 2021 survey I conducted for the human rights NGO B'tselem, Israelis ranked "resolving the conflict" fifth out of six items of top national urgency. Over three-quarters of Palestinians in the West Bank, Gaza and Jerusalem, do not believe a Palestinian state will be established any time soon.
Parties competing in the upcoming election will either speak about a "diplomatic resolution" with the Palestinians in perfunctory terms, or not at all. Few politicians, perhaps Meretz and the Joint List alone, are likely to propose concrete steps like reviving bilateral negotiations. That would force them to address three thorny problems: First, whether to commit to negotiating with Palestinian President Mahmoud Abbas; second, which specific solution they support (two states? something else?) and the most toxic: which concessions Israel should make.
Israelis have been taught to detest Abbas. Outside the (ever-shrinking) left, the public environment has swung decisively against any talk of evacuating settlements. The term "settlement freeze" is mostly mukzeh [taboo] too, unless you're promising not to do it.
As for solutions, the more prominent question in Israel is hardly one or two states, but annexation yes or no – and even that has died down lately.
How will the parties dance around the issue?
The Zionist left, the Joint List and Ra'am can at least answer one question: they openly support a two state solution. Notably, Labor's and even Meretz's most recent platforms introduce peace through the prism of security. Their platforms also provide rough outlines for limited concessions. But even Zehava Galon, the returning heroine of Meretz, is making a muted comeback on the conflict, preferring to prioritize solutions to bring down the cost of living for the young voters Meretz hopes to attract.
Any party that might be inclined to mention the Palestinians while seeking votes from the Israeli center or moderate right is in a bind. Although a majority of centrists regularly support the two-state solution in surveys, it's not a consensus. And many parties now hope for a winning centrist cocktail, while some are courting moderate right voters as well.
No less than four parties exist in that realm, including Labor, Lapid's Yesh Atid, the Benny Gantz-Gideon Sa'ar formation, and Yisrael Beitenu (Avigdor Lieberman).
Gideon Sa'ar is clear enough: the Likud-bred, hawkish right-wing outgoing justice minister opposes a Palestinian state, supports annexation, and made the lie of stopping the "Palestinian takeover of Area C" part of his coalition demands.
His new political partner, current Defense Minister Benny Gantz, has always been cagey on the two-state solution. Security is his beat – especially following the latest fighting in Gaza. His 2019 campaign included a video in which he boasted about how the IDF, under his command, had sent parts of Gaza "back to the Stone Age."
Lieberman theoretically supports a version of two states, but opposes both negotiations and concessions to getting there; his core constituency of former Soviet immigrants is reliably hardline and won't want to hear about either.
The biggest parties know exactly what they need to avoid. Likud has not published a platform at all for over a decade, but its eternal incumbent, Netanyahu, hardly needs to.
From his "no Palestinian state on my watch" speech in 2015, to his cheeky TV ad that year quipping that Isaac Herzog, the current President, and Tzipi Livni (then leaders the Labor-based Zionist Union party), "will hand over even the carpets" ("carpets" and "territories" sound similar enough in Hebrew to make a decent pun), Netanyahu squelched the problems of both solution and concessions, while leading the demonization of Abbas for years.
Netanyahu busted the taboo of openly supporting de jure West Bank annexation – then cleverly suspended the issue in return for the Abraham Accords, allowing Israeli expansion to continue without global or regional uproar, as it has for decades. Likud voters don't need an explicit party manifesto to tell them this.
Yesh Atid, the second largest outgoing party of the current prime minister, has not yet published its platform for the November elections and took down earlier platforms from its website.
The 2013 and 2015 platforms talk of two states, but the 2015 document was far more cautious than the earlier one: it proposed a settlement freeze rather than evacuations, and with numerous exceptions.
For Lapid, Yesh Atid's sole hope for victory rests on two dynamics working in unison: that voters of the moderate right shift away from Likud and drift towards Sa'ar-Gantz or Lieberman, while more centrist-moderate right voters flow to him.
Lapid must attract a flow of fresh voters, even if small. Taking all his votes from the current center or left camps just cannibalizes "the bloc" and makes it impossible to reach a majority coalition. Yesh Atid will do everything to avoid alienating the kingmaker citizens of the moderate and centrist-right, and the Gaza fight will push him towards a tougher line in its wake, at least on the campaign trail.
Get ready for many analysts to declare that the Israeli-Palestinian conflict has fallen off the agenda in Israeli politics. But don't buy it.
The albatross that hovers over Israeli politics
Analysts may not know where to look, but Israelis do. The conflict is an albatross that hovers over Israeli politics; it is everywhere even when it is nowhere. Israelis read its signals instinctively.
Take security: A fresh escalation is just the thing to bring out what's always underneath the surface. Israelis may have tried to surgically separate security from the bigger political conflict in their minds, but escalations – and attitudes around them – are still an outgrowth of that reality.
Israelis will be scrutinizing every statement the party leaders make in the days after the ceasefire (which is tentatively holding, as of this writing), to see who talks (and acts) toughest, or who trips up. Prime Minister Yair Lapid did his part during the three days of the Breaking Dawn operation, promising that Israel is prepared to fight as long as it takes, and assassinating top Islamic Jihad leaders systematically.
The pressure to rally around Israel's political and military leaders during active conflict is irresistible. Labor leader Merav Michaeli tweeted out support for Israeli sovereignty and security forces while explaining the government's actions (Labor being a member of the outgoing government), and advocating for a future political agreement only in the most general terms.
Consider diplomacy: Last week, Yair Lapid made headlines attacking the UN Human Rights Council's Commission of Inquiry into the situation in Palestine as antisemitic, after one commissioner accused the "Jewish lobby" of "controlling" critical social media and queried why Israel was a member of the UN at all. Not content to condemn the one member, he insisted the entire commission be sacked, he called on the UN to "disband this moral travesty of a commission once and for all."
Translated into Israel-speak, Lapid is saying, "I won't let anyone judge our conduct regarding the Palestinians." These are the codes of Israeli life, and all Israelis know them.
The toughest political evidence is right in front of our noses. Until Sa'ar and Gantz merged and their combined party began polling between 11and 14 seats, the third-biggest party in all polls was Religious Zionism, led by Bezalel Smotrich – voters presume he will run together with Itamar Ben-Gvir, though their partnership is not yet final.
Ben Gvir is a disciple of the late, explicitly racist arch-nationalist Meir Kahane, whose group was designated as a terror organization by the U.S. State Department, while Smotrich is an open Jewish supremacist, making them hard to distinguish when it comes to attitudes towards Palestinians and the conflict.
Their party has apparently received the refugee far-right voters who fled Yemina after the latter teamed up with Bennett's now-defunct rainbow coalition. In addition, Religious Zionism seems to be nipping at the more radicalized margins of Haredi and Likud voters and they may climb yet higher. Nobody is supporting Religious Zionism for its plan to lower the rent.
Signals and spectrum – what is right, left and center in Israel anyway?
Jewish identity and Jewish-Arab issues in Israel, along with the Israeli-Palestinian conflict, define left, right and center in Israel before anything else. This is not to exclude other divisive issues, such as religion and state, but the latter of course links back to the bigger issue, and nothing else cuts so deeply between the political camps.
In the July Peace Index, 86 percent of the Jewish left supports the establishment of a Palestinian state next to Israel – the two-state solution – and 88 percent of the firm right opposes it. Consistent over time, the self-defined center is closer to the left: a majority (54 percent) supports the two-state solution, while two-thirds of the moderate right oppose it. Two-thirds of Arab citizens support this solution – the tallest remaining pillar of support between the river and the sea.
A majority of the firm right (53 percent) support "Israeli annexation of the territories with limited rights for Palestinians," in the July Peace Index – and 35 percent of all Jews support this annexation; 96 percent of the left is against it.
No other issue I have seen in 23 years of polling divides the Israeli left, right and center camps so deeply, so consistently, as the conflict with the Palestinians. Within the camps, voters juggle the usual considerations: party leader, historic or group affiliation (such as religious or secular), and specific policies.
Moreover, election results line up very neatly with how Israelis self-identify as left, center and right in the total Israeli population, in my surveys.
In the first three cycles from 2019, about half of all votes (or slightly more) went to right-wing parties, while 40 to 44 percent went to centrist and left-wing parties combined. In 2021, Arab turnout plunged, and the election results reflected more the ideological breakdown of the Jewish population: 58 percent of all votes went to right-wing parties. Among Jews, that number had climbed over the last two decades, reaching, then crossing, 60 percent in recent years.
Now, in the July Peace Index, fully 64 percent of Israeli Jews identify as right-wing. Twenty-two percent of Jews identify as centrists, and 11 percent as left-wing (the rest declined to respond). If large portions of Arab citizens stay home in November, Israel could easily have 70-75 right-wing seats; without Netanyahu in the way there could be a full-on if not hard right coalition, and there's no telling what it might do to Israel or the Palestinians.
What's the conflict got to do with it? Everything.
Dahlia Scheindlin is a political scientist and public opinion expert, and a policy fellow at The Century Foundation. Twitter: @dahliasc
Full disclosure: Dahlia Scheindlin will be conducting a survey for the Labor party in the upcoming election as an outside consultant.
Click the alert icon to follow topics:
ICYMI
Ken Burns' Brilliant 'The U.S. and the Holocaust' Has Only One Problem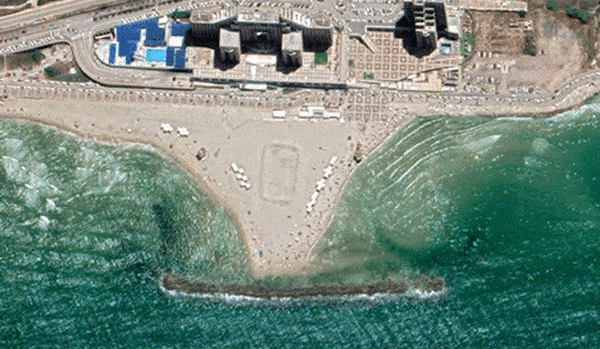 Facing Rapid Rise in Sea Levels, Israel Could Lose Large Parts of Its Coastline by 2050
As Israel Reins in Its Cyberarms Industry, an Ex-intel Officer Is Building a New Empire
How the Queen's Death Changes British Jewry's Most Distinctive Prayer
Chile Community Leaders 'Horrified' by Treatment of Israeli Envoy
Over 120 Countries, but Never Israel: Queen Elizabeth II's Unofficial Boycott