Five Decades, Ten Visits: Biden's Unique History With Israel
U.S. President Joe Biden is a self-declared Zionist with a genuine love of Israel. But that doesn't mean he hasn't experienced some rocky moments with Israeli leaders during his 50 years in politics
U.S. Vice President Joseph Biden and Israeli Prime Minister Benjamin Netanyahu talking before a dinner at the prime minister's residence in Jerusalem, March 2010.
Credit: Baz Ratner / AP
When U.S. President Joe Biden lands in Israel on Wednesday, it will be his 10th visit to the Jewish state in a relationship that has spanned half a century.
It's a history that is unprecedented for an American head of state. Donald Trump's May 2017 visit to Israel as president was his first-ever; Barack Obama's in March 2013 was only his second (having visited Israel for the first time as a presidential candidate in 2008).
Until Biden, the president who landed in Israel with the most experience was Bill Clinton, who had been to Israel four times before arriving on Air Force One in October 1994. Yet Clinton's previous interactions with Israeli leaders as an Arkansas politician are hardly comparable to Biden's as chairman of the Senate Foreign Relations Committee and then vice president of the United States.
Biden loves reminding Israel's supporters of that history. At an Israeli Independence Day celebration in April 2015, the then-vice president looked around the crowd filled with Israeli officials, Jewish organization officials and pro-Israel lobbyists and told them: "I've worked with many of you in this room for up to 40 years. You know me. You raised me. You educated me."
He then declared, as he has frequently: "You don't have to be Jewish to be a Zionist, and I'm a Zionist."
Biden's numerous Jewish supporters and aides can rattle off such quotes, along with a laundry list of the times Biden was a linchpin of support for Israel in the Democratic Party – something they did frequently throughout the 2020 presidential campaign.
Biden has repeatedly defended U.S. aid to Israel, calling Israel "the best $3 billion investment we make," and opposed weapons sales to its enemies. Prof. Jonathan Rynhold, head of the Department of Political Studies at Bar-Ilan University, Ramat Gan, views Biden as the last of his breed: the generation of Lyndon Johnson-era Democrats who valued Israel as a feisty, independent, democratic ally in the shifting political sands of the Middle East – in contrast to today's progressive members of his party, who "viscerally identify with the Palestinians as victims while Biden viscerally identifies with Israel as a democracy."
He adds: "Biden makes it clear that he cares for Israel, and is genuinely committed to Israel's security." At the same time, "when it comes to issues relating to the peace process and the settlements, he's like a left-wing Israeli, a Zionist who would serve in the army but still feel genuinely angry with Israeli prime ministers who he feels undermined chances for peace."
Biden took care to rarely show that anger or frustration in public.
According to David Makovsky, a fellow at the Washington Institute and host of the Decision Points podcast, "the biggest critic and opponent of any approach that involved pressuring Israel and its leaders" during the Obama years was Vice President Biden. "He had been around the block so many times that he had come to the conclusion that putting pressure on Israel was nearly always counterproductive, and he would speak out about it."
Still, here and there, stories of behind-the-scenes confrontations between Biden and Israeli leaders have emerged – beginning with the meeting that is unquestionably the U.S. president's favorite story...
When Biden met Golda
President Biden has related the tale of his encounter with Golda Meir so many times that when he begins to launch into the story for a Jewish audience, chuckles and eye-rolling ensue. As a young 30-year-old senator, voted into office just a year earlier, Biden traveled to Israel in August 1973 and met with Meir, then the country's prime minister.
Biden's multiple colorful tellings dwell on the details of the furniture, maps behind Meir's desk and her assistant Yitzhak Rabin chain-smoking. As he had many times before, Biden told the story at an Israel Independence Day event in 2015, characterizing it as "one of the most consequential meetings I've ever had in my life."
As always, he described how Golda reassured the young politician – concerned that neighboring armies would once again attack – that Israelis "have a secret weapon in our conflict with the Arabs. You see, we have no place else to go."
The buildup to that punch line included Biden recounting that he had "just come from Egypt. They let me go to Egypt and go to the Suez Canal. And I was saying to [Meir] and Rabin that I thought they were getting ready to attack again. And everyone, including my military and the Israeli military, thought I was crazy."
Before arriving in Israel, Biden recalled, "I remember driving from Cairo all the way to the Suez. And you could see these great plumes of dust and sand. But none seemed isolated. It turns out it was [military] maneuvers taking place in the desert. And I was really worried."
But in 2020, newly published documents unearthed in the Israel State Archives by historian Dr. Yigal Kipnis paint a picture of a very different kind of meeting. A memo of the meeting written up by Meir's aide suggests that Biden may have been unwittingly used by the Egyptians as a vehicle of disinformation, which lulled Israel into complacency leading to the surprise attack 40 days later that began the Yom Kippur War.
The Israeli summary of the encounter recounted that Biden, whom the aide described as "enthusiastic" but inexperienced, reported – following a meeting with Egyptian President Anwar Sadat's confidant Muhammad Hassanin Heichel – that the Egyptians acknowledged the "absolute military superiority" of the Israelis and "minimized the probability that the Egyptians would attack."
The memo also noted that Biden attempted to convince Meir in the meeting to make a gesture in the form of unilateral withdrawals from strategically unimportant territory captured in the Six-Day War. Meir rejected his suggestion, along with dismissing Biden's criticism of the Labor Party platform.
He also told Meir, the memo said, that there was no real debate about Israeli policies in the U.S. Senate because American politicians were "afraid" of U.S. voters.
Despite the memo's revelations, says Makovsky, who has seen Biden tell the story "dozens" of times, he believes what the president remembers and "internalized" from the meeting was the experience of being a young senator fearful for Israel's existence and the memorable reassurance from the Israeli prime minister, who, in retrospect, had much more to worry about than she realized.
Biden vs. Begin
Just weeks after the Israeli invasion that marked the beginning of the first Lebanon war on June 6, 1982, Prime Minister Menachem Begin traveled to Washington, where he found support from President Ronald Reagan's White House and Secretary of State Alexander Haig, but encountered a very different mood on Capitol Hill.
"Mood is angry as Begin meets panel of Senate" was The New York Times headline of an article that described the Israeli premier's closed-door meeting with the Senate Foreign Relations Committee as "highly emotional" and "bristling with anger."
And of all the criticism hurled at Begin, "the bitterest exchange was said to have been between Mr. Begin and Sen. Joseph R. Biden Jr., Democrat of Delaware, who told the Israeli leader that he was not critical of the Lebanon operation but felt that Israel had to halt the policy of establishing new Jewish settlements in the West Bank. He said Israel was losing support in this country because of the settlements policy."
Biden refused to speak publicly about the confrontation – but several of his colleagues didn't hold back.
"I think it is fair to say that in my eight years in Washington I've never seen such an angry session with a foreign head of state," Sen. Paul Tsongas told the Times. "I think there is a lot of concern among those who are supporters of Israel that their policies are in excess," he said, "and support for Israel in this country is eroding."
Israeli journalist and Begin confidant Moshe Zak claimed in 1992 that during that encounter, Biden "threatened that if Israel did not immediately cease this activity, the U.S. would have to cut economic aid to Israel."
When the senator raised his voice and banged his fist on the table twice, Begin told him: "This desk is designed for writing, not for fists. Don't threaten us with slashing aid. Do you think that because the U.S. lends us money, it is entitled to impose on us what we must do? We are grateful for the assistance we have received, but we are not to be threatened. I am a proud Jew. Three thousand years of culture are behind me, and you will not frighten me with threats. Take note: we do not want a single soldier of yours to die for us."
At the time, Begin himself would only say that the Senate session was "lively," but never mentioned a clash with Biden. He did reportedly tell Israeli journalists after returning to Israel that he was impressed by Biden's "impassioned" display of support for the Lebanon invasion, claiming that the senator said Israel was justified in launching the operation, even at the cost of civilian casualties.
When Biden kept Bibi waiting
The most dramatic clash between Biden and an Israeli prime minister – and one that played out on the public stage and needed little behind-the-scenes reporting – took place in 2010, when an unpleasant surprise awaited Obama's vice president after he arrived in Israel.
Biden had come on a bridge-building mission, to make nice with then-Prime Minister Benjamin Netanyahu and attempt to reassure Israelis of the White House's support following Obama's June 2009 Cairo speech, when he said Israel needed to stop building settlements, and in the face of threats from Iran.
The main purpose of the visit was to encourage the resumption of peace talks between Israel and the Palestinian Authority. Biden was set to meet with Israeli leaders and Palestinian President Mahmoud Abbas. After his first day in Israel, on the eve of his Abbas meeting, came news that the Interior Ministry had granted approval for the construction of 1,600 new housing units in Ramat Shlomo – an ultra-Orthodox community of some 20,000 situated north of Jerusalem, bordering the Palestinian refugee camp of Shoafat.
The timing of the move hardly seemed coincidental and made headlines as a humiliating slap in the face for Biden by Netanyahu's government.
Following the announcement, the tone of a visit that Biden had begun with a poetic statement of how Israel had captured his heart visibly shifted. Biden and his wife Jill made their displeasure clear by showing up over 90 minutes late for a scheduled dinner with the Netanyahus. They reportedly told the Israeli prime minister and his wife Sara that they were delayed as a result of extended discussions with Washington weighing the U.S. response to the settlement-building move.
During the dinner, a public statement was released in Biden's name strongly "condemning the decision by the government of Israel" to advance the building plan, calling it "precisely the kind of step that undermines the trust we need right now and runs counter to the constructive discussions that I've had here in Israel."
According to reports, Netanyahu apologized to Biden at the delayed dinner, claiming the announcement had been made by then-Interior Minister Eli Yishai of the Haredi Shas party behind the prime minister's back, and that Netanyahu, like Biden, had been blindsided by the move. Whether or not Biden believed him remains unclear.
Despite the moments of conflict, Makovsky, like Rynhold, is convinced that Biden's affection for Israel – even when he disagrees with policies or personally dislikes its leaders – is generational and deeply rooted.
Even in 2010, the harshest pushback regarding the Ramat Shlomo episode, Makovsky believes, came as a result of long-distance marching orders from Washington and the White House, not on Biden's initiative.
"This man lived through the epic moments of the 20th century; the birth of Israel; the 1967 war; the Cold War; and the Soviet Jewry movement. He believes deeply that there must be a state for the Jewish people, and that fighting for its security and existence will always be a just cause."
Click the alert icon to follow topics:
ICYMI
Ken Burns' Brilliant 'The U.S. and the Holocaust' Has Only One Problem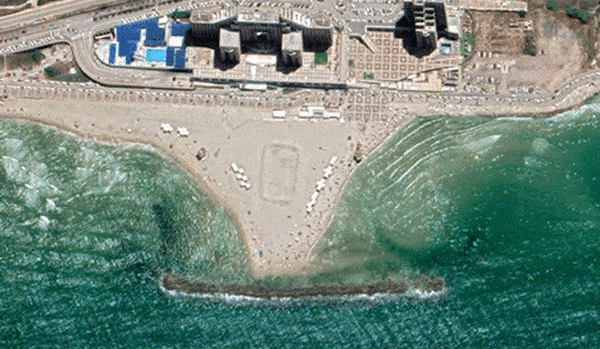 Facing Rapid Rise in Sea Levels, Israel Could Lose Large Parts of Its Coastline by 2050
As Israel Reins in Its Cyberarms Industry, an Ex-intel Officer Is Building a New Empire
How the Queen's Death Changes British Jewry's Most Distinctive Prayer
Chile Community Leaders 'Horrified' by Treatment of Israeli Envoy
Over 120 Countries, but Never Israel: Queen Elizabeth II's Unofficial Boycott