The Arab Israeli Experience: Constant Vigilance Against Prejudice
Facing rude stares on the train, showing your ID everywhere and staying indoors during times of violence. Arab Israelis tell Haaretz about how they cope with the country's worsening intercommunal relations
Mona Wazwaz, a 19-year-old student at Hebrew University.
Credit: Naama Grinbaum
He had taken the same route dozens of times, but that day in the city of Sderot, the walk home was a tense one. He passed a group of teenagers as he spoke on the phone – in Arabic.
"They were sort of noisy, so I was really scared they would talk to me. I just wanted to get to my apartment and close the door," says Sleman Altehe, 21, an undergraduate at Sderot's Sapir College.
"They didn't yell anything at me, they didn't even say anything to me. Maybe they couldn't think of anything, but I was afraid."
To Althehe, this was the latest incident reflecting the changes in Israel after the fighting with Gaza a year ago, the tensions in Arab-Jewish cities and the recent shooting, stabbing and ax attacks. He says the temperature "has increased to frightening levels."
In recent weeks, Haaretz has spoken with dozens of Arab Israelis; most were afraid to go on the record but all told a similar story: fear, racism and daily experiences ranging from threatening stares to an inexplicable detention by the police or angst about speaking your mind at university. And forget about, say, taking a knife to the beach simply to slice up a watermelon.
"It's not that something is happening that we've never known. We've always experienced it," says a woman who asked not to be named. "Now it's worse than usual, and after this things will calm down. Until next time."
For a year now, Altehe, a native of the city of Rahat in the south, has been living in Sderot, a predominantly Jewish city. "At the college there's a strong right-wing consensus," he says.
"Lots of students are afraid to talk about politics, to say they're Palestinians. This leads to silencing. People send me messages saying I should go study in Syria or Gaza."
Five months ago, Altehe ran for the student union "on a diverse slate with right-wingers and left-wingers, religious, secular, Arabs. People joined because they felt we had a chance to win," Altehe says, adding that a few days before the election, right-wing activists took an interest in his Facebook profile.
"They found posts from when I was 13, posts that I disown today," he says. "There was a piece on this on Channel 14, and they sent the video to all the students and held a demonstration. That day I didn't come to school."
In a way, those unpleasant days had a happy ending: The election slate weathered the attacks and Altehe was chosen for the student union.
Fear on the train
"You know how you know when you're being watched? That's how it is when I wait at a stop or station," says Mohammed Jamal, 30. Every day he does such waiting – he has to switch from bus to train and back to bus to get from his home in Arara in the north to Jaffa, where he teaches at the bilingual school.
"Any direction you look you see somebody looking at you – and looking away the second you look back," Jamal says. "Maybe he's afraid of me, he wants to be careful of me, or maybe he's thinking other things. These looks give me the feeling that I could be a victim in seconds."
He says he tries to "project normality like any other normal citizen who isn't going to do anything. First I keep my distance from people from another community; I smile and try to make people around me feel that everything is okay."
But there's a limit. "I'm not a cowardly person. A few weeks ago a soldier on the bus wouldn't stop looking at me, as if he were waiting for me to look back at him," Jamal says.
"The three seats next to me remained empty. I realized that nobody wanted to sit next to me," Mohammed Jamal says.
"I didn't respond with words; I didn't want to start a fight and end up being called a terrorist. I looked back at him normally. I wanted him to realize that I wasn't afraid of what might happen, because I knew I hadn't done anything."
Jamal also recalls an incident when he got on a packed train; people had to sit on the floor, but "the three seats next to me remained empty. I realized that nobody wanted to sit next to me," he says.
"I asked myself: Do they not want to sit next to me because I'm an Arab and they're afraid, or does being an Arab make me persona non grata? It's unpleasant to think about such things."
Jamal says that in tense times like the current one, his desire to be at the school is even greater.
"Jews and Arabs live together, work together, study together, ride [on public transportation] together, eat together and spend time together in most mixed cities," he says. "We all live together, and if we stay together, we can get through these times."
Suspicion on the train
Hilal Kaboub, a 45-year-old native of Jaffa's Ajami neighborhood, is a third-generation cook and has a restaurant in Jaffa, which he manages himself. Fifteen years ago he discovered that he's also an actor.
"A friend who went to school with me told me that he had an idea for a movie and wanted me to play myself," he says.
Kaboub soon found himself in the United States doing press conferences; "Ajami" had been nominated for an Academy Award for best foreign language film. Since then, Kaboub has been splitting his time between acting and running his restaurant.
"I get a lot of roles, diverse ones, but in the end anything you do will be connected to Jews and Arabs," he says. "That's what sells these days, too."
A few months ago, at a project in the village of Reineh in the north, he was asked to come by train and be picked up at the station.
"I got a phone call on the train," he says. "I spoke normally. In Arabic. I didn't even think about it. I got to the station, I hadn't even gotten out of my seat and three cops and a conductor came up to me."
Kaboub was asked to show his ID card. "I told them, 'You didn't ask to see anybody else's ID, so why?' They didn't say anything, so I kept going. 'Why? Because of the beard? Because you know I'm an Arab because I spoke Arabic?'"
He refused to give his name and the police blocked his way until someone at the station who recognized him told them that he was an actor. "They asked me to understand them, but they're the ones who should understand me," he says. "What if I was with my wife and girls? It's degrading."
After the shooting attack on Tel Aviv's Dizengoff Street last month, with hundreds of armed people searching for the suspect, Kaboub says he wondered, "If I passed by there by mistake and they noticed that I was an Arab, what would have happened to me?"
"It makes me laugh to see a person who just sat and talked trash about Arabs suddenly try to explain himself," Hilal Kaboub says.
His encounters with strangers have given him plenty of insight. "Sometimes I talk to people in the industry who don't know me, and suddenly I hit them with the fact that I'm an Arab," he says.
"It makes me laugh to see a person who just sat and talked trash about Arabs suddenly try to explain himself. Some people are liberals, but deep inside there's hate. And recently it's been coming out like you wouldn't believe."
Kaboub has scathing criticism for the liberals out there. "I appreciate the religious more than the liberal Jews, because they're not hypocrites," he says. "Even the most left-wing don't believe that Arabs should be here. They used to talk in the media, make a noise. Now they're all quiet."
Judged based on looks
Religious Muslim women suffer most of all from racism, many interviewees said. One of theme is 19-year-old Mona Wazwaz from East Jerusalem.
"Sometimes I get looks, but what can you do – I ignore it and get on with my life," she says, adding that, in general, she responds "courteously, nicely. In our religion we say that if someone isn't nice to you, you have to be nice to them."
Wazwaz lives with her family in Kafr Aqab, an East Jerusalem neighborhood beyond the separation barrier. To enter her home city, she has to cross at the Qalandiyah checkpoint.
"I don't understand it, but that's the way it is," she says. In recent weeks, as tensions increased, her commute has become even tougher.
"A few days ago I put my bag in the X-ray machine, as usual, but they wouldn't let me through," Wazwaz says. "They did it to me around five times. I don't know why. They thought I had something. It's my bag for university."
"I can't go into Jerusalem, the city I live in. The only way is for my father to drive me to the Hizma checkpoint," Mona Wazwaz says.
A little over a year ago, she began a course at Hebrew University for training Arabs for studies at Israeli colleges and universities. The Qalandiyah checkpoint is 8 kilometers (5 miles) from the university, but to make it to a 9 A.M. class, she has to leave home at 6:30 A.M.
"You always have to prepare for the possibility that it will take longer than you think," she says – and that's when things are going well. In times of tension, the checkpoint might be totally blocked.
"Thank God it doesn't happen very often. So far it has only happened when there was no school anyway, so it's working out fine," she jokes. "But I can't go into Jerusalem, the city I live in. The only way is for my father to drive me to the Hizma checkpoint" at the city's northern edge.
Wazwaz pays a price for being a resident of East Jerusalem's Kafr Aqab neighborhood wearing a hijab. "In our society nowadays you're judged only based on looks," she says, adding that there are few opportunities to make things different.
"But at the university it's possible – there's a difference between there and the outside world. You won't be getting looks from people; I feel comfortable walking around the campus."
Off campus, "whenever there are times of violence, you never know what might happen. So I cancel all my plans for that day."
Click the alert icon to follow topics:
ICYMI
Ken Burns' Brilliant 'The U.S. and the Holocaust' Has Only One Problem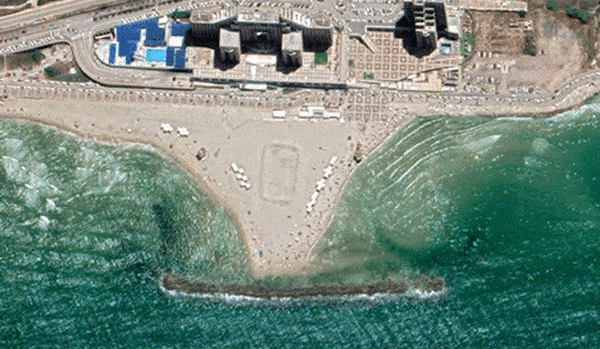 Facing Rapid Rise in Sea Levels, Israel Could Lose Large Parts of Its Coastline by 2050
As Israel Reins in Its Cyberarms Industry, an Ex-intel Officer Is Building a New Empire
How the Queen's Death Changes British Jewry's Most Distinctive Prayer
Chile Community Leaders 'Horrified' by Treatment of Israeli Envoy
Over 120 Countries, but Never Israel: Queen Elizabeth II's Unofficial Boycott