Palestinian Attempts Stabbing Israeli Soldier in West Bank; Attacker Shot
Israeli army says the man ran toward soldiers near Nablus armed with a knife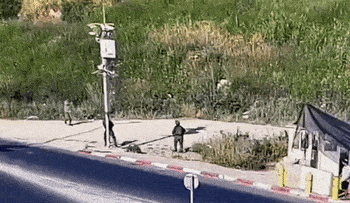 A Palestinian man tried stabbing a soldier in the West Bank and was shot, the Israeli army reported Tuesday.
The Israeli army said the man ran toward soldiers posted outside the Shomron Regional Brigade military base near Nablus, armed with a knife and waving his hand in the air, as also seen in a security video of the incident. No soldiers were harmed in the attempted attack, according to the army.
The wounded suspect was evacuated to Beilinson Hospital in the central Israeli city of Petah Tikva. Details of the attack are under investigation.
After the stabbing attempt, Prime Minister Naftali Bennett visited the West Bank with Israeli military chief Aviv Kochavi, where he declared that Israel will "hit every terrorist, wherever they are, using any means" necessary.
Also on Monday night, says the IDF, security forces arrested 18 Palestinians suspected of involvement in "terrorist activities" throughout the West Bank.
Tensions have been high amid a spate of deadly Palestinian terror attacks on Israelis on both sides of the Green Line over the past two months, as well as clashes between Palestinians and Israeli security forces in Jerusalem and the West Bank.
Most recently, on Monday, the funeral of a Palestinian man who succumbed to wounds during prior Temple Mount clashes devolved into violence, with one Palestinian man seriously wounded and six police officers lightly injured. Last week Palestinian Al Jazeera journalist Shireen Abu Akleh was killed in the West Bank city of Jenin, and Israeli forces were recorded attacking mourners with batons at her funeral in Jerusalem – incidents met with international opprobrium.
A string of Palestinian attacks on Israelis in the past two months has left 19 Israelis dead, and at least 27 Palestinians have been killed by Israeli forces, some related to operations to locate suspects in the attacks.
Click the alert icon to follow topics:
ICYMI
What if the Big Bang Never Actually Happened?
Why Palestinian Islamic Jihad Rockets Kill So Many Palestinians
'Strangers in My House': Letters Expelled Palestinian Sent Ben-Gurion in 1948, Revealed
AIPAC vs. American Jews: The Toxic Victories of the 'pro-Israel' Lobby
'This Is Crazy': Israeli Embassy Memo Stirs Political Storm in the Balkans
Israel Rewards Hamas for Its Restraint During Gaza Op