'My Soldier Son Killed Himself. He's at the Bottom of the Bereavement Ladder'
Six bereaved families of Israeli soldiers who died by suicide talk to Haaretz about their memories, and about shame, self-flagellation and how the military and society can do better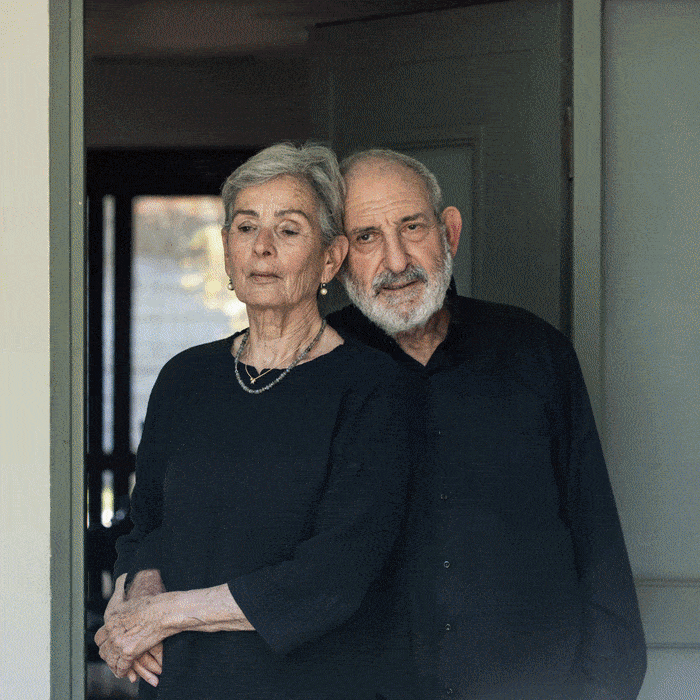 Credit: Avishag Shaar-Yashuv, David Bachar, Rami Shllush, Hadas Parush
It was a rather routine Sunday. In the morning, a culture program in Tel Aviv; at night, a backbreaking trek, another stage in the long training course of a Golani Brigade special reconnaissance unit. The end point was in the heart of the infamous "Area 100," not far from Kibbutz Ayelet Hashahar. At a certain point, one of the soldiers felt unwell and started to vomit. "Come on, get up on the stretcher," his commander ordered. He ended the trek with his friends carrying him, and with an unpleasant sensation – emotional rather than physical. "You pushed me, not me," he explained to one of his friends.
Shortly afterwards, he volunteered for guard duty when the others went to eat. Perhaps he saw it as a necessary atonement, or maybe he wanted to be alone. But he never finished his guard duty. He took his gun, aimed at his head and fired. Amit Alexander was 19 years old at his death.
I've met many families that don't talk about the fact that what happened to them was a result of suicide. Sometimes the parents will even use the word 'accident'

Channah Granot
"He didn't leave a letter, so we'll never know what was going through his mind," says his mother, Esther. "But I assume that he was afraid they would throw him out of the unit. That's how it is with young men of his age – they think the army is the most important thing in the world."
If you are thinking about suicide, worried about a loved one, or simply need emotional support, please contact the ERAN helpline 24/7 at 1201 (from inside Israel) or visit their website in English https://en.eran.org.il/
On that day, March 19, 1995, there was much activity in the Alexander home in Kibbutz Ein Hanatziv. The next day Tal, Amit's little sister, was supposed to be enlisted. But at 5 A.M. came a knock on the door. The following 13 years were completely different, and then things became even harder. Yotam, Amit's younger brother, also became an Israel Defense Forces casualty. He also took his own life. "We felt as though a tsunami had swept over us," says his mother. "Once again we found ourselves on the bereavement track. But this time there was also a feeling that we could have saved him, but were simply unsuccessful."
For Memorial Day, Haaretz spoke with six families out of a long list of those who were bereaved when a loved one ended their lives during their army service. Officially, according to IDF figures, there were 817 soldiers who killed themselves from 1990 to 2021. However, various sources claim that the actual number is probably higher.
They note that for years, the IDF classified many fatalities as gun accidents rather than as suicide, Sometimes after specific requests by the families. "The army goes along with the families," says Esther. "In our case too, they told us during Amit's investigation that they couldn't be certain that it was suicide, and that if we wanted they could write 'playing with a weapon.'" (The IDF says in response that "the data were listed after an examination of the cause of death" and that it stands behind the numbers.)
In the Alexander family, they had been seven children now there are five left. "After Amit's death, we kept thinking 'How will we be able to protect the rest of our children?'" says Esther. "It made us extremely fearful."
The parents decided not to allow the other children to become combat soldiers. Some of them argued, but Yotam didn't. He enlisted in the Education Corps as part of the hesder yeshiva track, which combines army service with Torah study, and served at a base where he helped soldiers to complete their matriculation exams. Afterwards he returned to the yeshiva in the settlement of Otniel, as part of the program.
One day, someone from the yeshiva's emergency squad placed his gun on the floor next to the wall during prayers. "Yotam took the gun, went outside with it and shot himself," says his mother.
He had been suffering from psychological problems, she says. She says he attended psychological therapy that occasionally helped him. It was during his time at the yeshiva, and after he gotmarried, that his personal problems returned and intensified, she says. "I think that his judgment became clouded," she adds, "and the solution that his brother found became realistic for him."
'What he said scared me'
According to IDF figures and sources involved in the field, in recent years there has been a significant decline in the number of suicides in the military. While in the 1990s an average of 36 soldiers a year died by suicide, the number has shrunk, reaching 11 lasr year. According to the 2020 state comptroller's report, the decline "should be attributed to the dedicated suicide prevention program launched by the IDF in 2006."
This program aims to increase access to psychological treatment, by posting mental health officers in the army commands and branches; significantly reduce soldiers' access to weapons; and develop commanders' ability to identify signs of distress.
Another case of suicide was that of Ran Dolev, who killed himself about half a year before he was scheduled to be discharged. Dolev enlisted in the Field Intelligence Corps in November 2008, went through basic training and a squad commanders' course and served as a sergeant for new recruits. He then had to choose his final job as a regular soldier. He ended up as a company sergeant major in an operational battalion in the north.
"He came home and said that he didn't like it much, that it wasn't what he thought, that it was a very boring job," says his mother, Vered. "He said that it affected him so strongly that he didn't enjoy things the way he used to. What he said really scared me." She suggested that he speak with his commanding officer about seeing a mental health officer. "But I didn't translate it further," she admits. "I didn't think about that direction at all."
'I would tell myself that maybe he was only thinking about it, and didn't entirely mean it. Maybe he only wanted to see how he would do it, and a bullet was discharged'
Ten days after that conversation, Ran came home again. "Everything was as usual," she recalls. "The next day, in the afternoon, he said that he was going to meet his girlfriend, entered his room to get ready and suddenly we heard a loud noise."
The family wondered what had happened during those 10 days, whether their son had received any psychological help. At first his direct commander claimed that Ran hadn't spoken to him about a mental health officer. But during a military police investigation, says Dolev's mother, the commander suddenly recalled that her son had asked him about it. "The investigation discovered that he hadn't seen to getting him a referral to the mental health officer, and didn't report to his superiors as required," she recalls. "There was a trial, he was reprimanded, and that's more or less where it ended."
Dolev describes Ran as an ordinary child with no history of psychological problems. "Had he done it at the base rather than at home, I wouldn't have believed that that's what happened," she says. "But since I experienced it 100 percent, in the most concrete manner imaginable, I know that it happened."
Over the years, she occasionally started to have doubts about her son's intent to kill himself. "Suddenly I would tell myself that maybe he was only thinking about it, and didn't entirely mean it," she reflects. "Maybe he only wanted to see how he would do it, and a bullet was discharged. Maybe he didn't know that there was a bullet there. These are thoughts that have stayed with me, but they won't cause the facts to change. My son shot himself."
'It's convenient for the army to focus on psychological problems'
Informed sources express reservations about the way the IDF handles cases of suicide among its soldiers. "The most prominent explanation among Israelis for suicide, and the working assumption in the army, is that it's related to a soldier's psychological issue that junior commanders and military classification initiatives were unable to diagnose in time," explains Nitzan Rotem, a sociologist who has studied the subject.
"The idea of 'suicidality,' the assertion that there are soldiers who presumably suffer from suicidal tendencies, implies a genetic defect, a character weakness and even a problematic education." She says this idea eliminates alternative explanations for suicide, and in effect attributes responsibility and blame to the bereaved parents, sometimes covertly and sometimes overtly, thereby adding to their suffering.
A psychiatrist who worked in the IDF for many years and who asked to be identified only by the name Boaz says, "It's convenient for the army to focus on the soldiers' psychological problems, because that absolves them of responsibility, but unfortunately I've encountered many cases of suicide that took place due to poor service conditions and abuse by commanders."
Avshalom Aderet undertands this deeply. He believes that the job that his son Eran received in the army played a part in his suicide. "Eran was a computer nerd who wanted to serve in that field," says his father. "Instead, they assigned him to the logistics department at the recruitment base, loading and unloading equipment from trucks. And so, without preparation, this sensitive boy ended up in a place that wasn't for him, that was foreign to him."
'At a certain point I decided that I would do everything possible in order to continue to live'
About a month and a half later, Eran came home with a gun for the first time. The next day he was supposed to return to the base for guard duty. He never arrived. That same evening, he took the gun to a field near his home and didn't return. "For many years I blamed the army," admits his father. "That if he hadn't been in that situation or that job – he wouldn't have done it."
Even today, 25 years later, Avshalom Aderet is still convinced that had Eran ended up with a different assignment, his life story would have been different. But now he is no longer looking for people to blame. "At a certain point I decided that I would do everything possible in order to continue to live, and I went through processes in order to channel this anger into positive places."
And in fact, Boaz says, "whereas in the general population most of the suicides are in people suffering from clinical depression, in the army the suicides are usually people who are physically and mentally stable, who reach a crisis that leads them to put an end to their lives ... The crisis can be due to their service or for a personal reason. But from my experience, even in cases where the crisis stemmed from a personal reason, the availability of weapons in the army and the strict military framework have a decisive influence on the decision to commit suicide."
A case in point is the story of Dror Granot. He was a combat soldier in the Givati Brigade who later became a squad commander for recruits. On January 30, 2003, he led his soldiers on a trek at the conclusion of their training, which ended in a swearing-in ceremony at the Western Wall. At the end of the ceremony he left for home; the next day, he ended his life.
The reason was not related to his army service; his girlfriend had left him for someone else and his heart was broken. "The thing that hurts me most is that I know that within a week he could have gotten through this crisis," says his mother, Channah. "If they had only identified it in time and distanced him from his emotion and his pain, this smart, handsome boy would have carried on with his life and today I would be a grandmother to additional grandchildren."
'The entire air force on his soldiers'
Uri Marom had been in uniform for five years when he died. He had also been in distress for a while. It began after the high point of his service. After completing his training as an air force helicopter pilot with distinction, he received a prestigious mission: to fly to the United States in order to receive a new transport helicopter. He returned from the flight a different person; something in him had changed. "He felt as though the entire air force was on his shoulders," says his father, Benny, a psychologist.
Marom was sent for treatment, diagnosed with depression and received a prescription for Prozac. "He started flying again relatively soon," says his father. "But after about a year he had another crisis. This time he decided that he would try to overcome it without Prozac, and he succeeded. But his increasingly stringent demands of himself made things very difficult for him, and the third time he experienced a crisis, he decided that he didn't want to live any longer." On May 17, 2000 ,he ended his life. "In his unique way and in his belief he aspired to excellence and an attempt to achieve zero defects," said his commander in his eulogy. "Uri couldn't understand that he was already there."
Did that mission cause it? What it just a spontaneous action? "When a person, at any age, decided to end his life, there are several reasons for that decision, and not only one exclusive reason," says Leah Shelef, former head of psychology in the Israel Air Force. Benny Marom agrees with this approach.
"In my opinion, trying to attribute the suicide to a single parameter is a childish approach," he says. After all, not everyone whose heart is broken, not even everyone who suffers from depression or experienced abuse in the army chose to kill themselves. On the contrary. The majority chose not to do so."
The question is what differentiates suicide cases in the military from all the other soldiers. "It's hard to know," adds Marom. "I have no doubt that the IDF played a part in Uri's suicide. The pressure of the military framework certainly affected him, but that's not the only parameter."
But it's worth dwelling on the military framework and its unique characteristics. "The army is a masculine, competitive and macho system in which the individual often has a desire to prove himself and a need to fit in," explains Shelef. "For that purpose, he has to become accustomed to many challenges and difficulties – including limited hours of sleep, activity at high physical and psychological intensity, a command system and high expectations. As a result he is likely to conceal distress and will function without expressing weakness or asking for help."
This system is very familiar to Col. Itay (not his real name), who served in various positions in the IDF Infantry Corps. Over a decade ago, when he commanded a company of new recruits, one of his soldiers killed himself during nighttime guard duty.
"As a company commander you're always measured by the rate of dropouts among your soldiers," he says. "And that's why you're constantly trying to get them to remain in combat units and not to drop out of combat."
This is where the military's "fighting spirit" enters the picture. "You shout at them comments such as 'Do you want to carry weapons like men or to hug Mom every night like crybabies?'" the colonel says. "As a young officer you don't even think about it, but there are soldiers who don't take it well. That soldier who committed suicide was a sensitive type like that, he almost never said a word. Sometimes I think to myself that maybe it was actually I, with all the nonsense I said, who caused it? Maybe I hurt his feelings? At a certain point I even considered going to apologize to his parents, but what can I say to them? 'Sorry, it's possible that by mistake I killed your child without even noticing?'"
'There's a sense of shame surrounding suicide'
The accusations against the military also come from parents. But those of them who spoke to Haaretz direct more blame elsewhere – on themselves. "For years I was flooded with feelings of guilt for all kinds of reasons," says Ofra Hermesh. Her son, Assaf, killed himself on August 27, 1995 while service as an adjutancy NCO.
"I would think why I didn't hide the gun and how I failed to see the early signs, and why I didn't say anything to him," she says. "As far as I'm concerned, I was the only one to blame. After all, what do they expect from us as parents? To protect our children. And we failed in a big way – we were unable to protect him."
Assaf didn't die on the base. It was on Saturday night and he was at home. That day, he went to a friend's birthday party and when he returned he found a note left by his parents, saying that he had to return to base.
He decided to contact someone there, and then he received a possible threat that he might have to go to jail for a month if he didn't return in time. It's impossible to know what went through his head, but Assaf decided to go to a movie with a friend and returned home in the middle of the night. "Assaf stayed by himself and we assume that he was very scared by the threat of a month in jail," says his father, Haggai. "So he took the gun to a nearby woods and at about 4 or 5 A.M. he was already gone."
Ofra and Haggai have since established an NGO, Bishvil Hahayim – Path to Life, in order to deal with the problem of suicide in Israel and to support families bereaved due to suicide. They were also in need of support and understood its importance. "Only after treatment that lasted for years," says Ofra, "was I able to also see the army's responsibility for what happened."
But it's not only about their guilt. "In Israeli society, there's a sense of shame surrounding suicide," explains Channah Granot. "They prefer to sweep the subject under the rug, and to behave as though it doesn't exist. I've been volunteering at Yad Labanim" –an organization dedicated to preserving the memory of soldiers – "for 18 years, and I've met many families that don't talk about the fact that what happened to them was a result of suicide. Sometimes the parents will even use the word 'accident.'"
They have no complaints about the treatment that they received and still receive from the IDF. "The moment that a soldier who committed suicide is recognized as an IDF fallen soldier, his family is surrounded by support for life," says Avshalom Aderet. "There's no discrimination in terms of support for the family between soldiers who died in battle and soldiers who committed suicide."
But society's attitude is another story. "Several years after Ran committed suicide, Operation Protective Edge took place, and the difference in the public attitude towards the families of those who fell during the operation and the attitude towards us was clearly felt," says Vered Dolev. How clear? "It's a very tough bereavement that's at the bottom of the ladder of Israeli bereavement," adds Aderet. "My son didn't fall in battle, didn't die in a training accident, he wasn't even ill and he didn't die in a road accident – he simply killed himself."
However, some of the bereaved parents say the army must take another step for the sake of those suicides – to update the Yizkor prayer for the dead that excludes the suicides, and in effect anyone who didn't die in battle. "Their exclusion from the text of the prayer creates a feeling that the families of these fallen are not a part of this day, are not a part of the national bereavement," says Aderet. "I think that the time has come to amend this issue, even to add a sentence. Just a single sentence referring to them too. That would afford them recognition."
Click the alert icon to follow topics:
ICYMI
'Strangers in My House': Letters Expelled Palestinian Sent Ben-Gurion in 1948, Revealed
What if the Big Bang Never Actually Happened?
AIPAC vs. American Jews: The Toxic Victories of the 'pro-Israel' Lobby
'This Is Crazy': Israeli Embassy Memo Stirs Political Storm in the Balkans
Israel Rewards Hamas for Its Restraint During Gaza Op
Gazans Are Tired of Pointless Wars and Destruction, and Hamas Listens to Them