'Punisher' Creator Decries Terrorist's Use of His Symbol in Israel Attack
The Punisher 'has become a symbol for a disaffected, antisocial mind-set,' U.S. comic book writer Gerry Conway tells Haaretz after an ISIS-inspired shooter used the symbol during an attack in Israel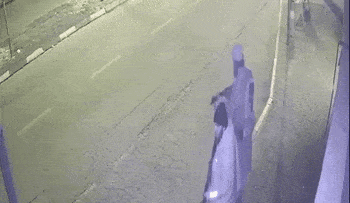 ISIS gunmen in the central Israeli city of Hadera. One of the terrorists had 'The Punisher' logo on his vest.
When ISIS sympathizers killed two Border Police officers in the central Israeli city of Hadera on Sunday, Gerry Conway says he was horrified to see that one of the gunmen was wearing body armor featuring the white skull logo of the Punisher – an antihero he helped create for Marvel Comics nearly 50 years ago.
In recent years, the imagery – a white skull with angry-looking eye sockets and extended teeth – has become increasingly popular among soldiers, police officers and militants. It has been seen on the uniforms of U.S. soldiers and Kurdish militiamen in Iraq, U.S. law enforcement personnel and even on the clothes of some of the January 6 rioters who breached the Capital.
"It's enormously dispiriting," says Conway, who, along with artists John Romita Sr. and Ross Andru, came up with the character as a Spider-Man villain in 1974.
A Marine veteran who lost his family to organized crime and began operating outside the law to execute his version of justice, the Punisher has become a "multivalent kind of free-floating symbol of violence done with some sort of honor code that is different from the law," comic book historian and journalist Abraham Riesman told Haaretz following Sunday's attack.
This view is seemingly shared by Conway, who, speaking with Haaretz via Zoom from his California home, says the widespread use of the Punisher skull "represents a fundamental misunderstanding of the character," which "in its best context is ambivalent," a representation "of the failure of social justice."
"And as such, he's a vigilante on the side of his version of what is good. But I don't think that holds up anymore, sadly," he adds. "I think that people need to recognize that it's become a symbol for a very disaffected, antisocial mind-set. And if you're using it to express some kind of unity with others of a similar ilk – the others of a similar ilk are bad people. That would be my bottom line: just stop. But nobody's gonna listen to me.
"I mean, if they were listening to me, none of this would have happened in the first place," Conway sighs.
Sunday's shootings were carried out by two Israeli Arabs from the city of Umm al-Fahm. One of the assailants had previously attempted to join the Islamic State, which took credit for the terror attack on its Telegram account.
The was not the first time the Punisher symbol has made headlines in Israel, however. Last May, it was sported by an undercover Israeli policeman involved in handling the riots that took place in mixed Jewish-Arab cities during the flare-up between Israel and militant groups in Gaza.
Asked about the shooters' use of the Punisher logo this week, Conway says it "makes sense, because the people who have been misappropriating it for the last five to 10 years have all been animalistic, mindless, contemptuous of human life."
"It doesn't strike me as something you should be proud to be wearing anymore. You have right-wing, authoritarian thugs in the United States, bigots and racists embracing it," he says. "It seems to be part of this nihilistic era that we're living through, where people just can't conceptualize others as human beings. And so, taking on the Punisher symbol in this era seems to be representing a very nihilistic, horrific view of humanity."
Conway calls the development "very disheartening to me as a guy who created the character but hasn't really had very much influence for what was done with it for the last 30 to 50 years. You know, it's just very sad."
According to Riesman, the Punisher symbol has largely "been drained of a lot of its specific ties to the character" and become a "symbol of nihilism," divorced from concepts of right and wrong.
"There's this illusion that the Punisher has a code and doesn't kill the innocent. But the fact is that there's no way you can determine what's good when you carry out a violent act. You are introducing chaos into the system," he said.
As for Conway, the storied comic book writer believes that the hero most worthy of emulation is Superman – a "gentle giant" who "could use his power to rule the world yet chooses to use his power to help others."
He adds: "That's the figure that comics present as the most hopeful answer to the human questions of existence."
Click the alert icon to follow topics:
ICYMI
What if the Big Bang Never Actually Happened?
Why Palestinian Islamic Jihad Rockets Kill So Many Palestinians
'Strangers in My House': Letters Expelled Palestinian Sent Ben-Gurion in 1948, Revealed
AIPAC vs. American Jews: The Toxic Victories of the 'pro-Israel' Lobby
'This Is Crazy': Israeli Embassy Memo Stirs Political Storm in the Balkans
Israel Rewards Hamas for Its Restraint During Gaza Op