'We Can Talk of the Palestinians' Pain Without Detracting From the Joy We Got a Land of Our Own'
His father was partisan and poet Abba Kovner, the man who coined the famous phrase 'Let us not go like sheep to the slaughter,' and a key witness in the Eichman trial. In an interview to mark the opening of his new solo exhibition, artist Michael Kovner discusses his parents' legacy, and explains what happened to his former army comrade, Benjamin Netanyahu
Michael Kovner. 'They always ask me what happened to Netanyahu.'
Credit: Emil Salman
Growing up, Michael Kovner had his own personal poet at home, but he always preferred painting. When he was 10-years-old, he painted a portrait of his father that still hangs in his studio in Jerusalem's Talpiot neighborhood.
"Dad studied painting in Vilna. Apparently he thought I would be the one to carry on his dream. He taught me how to stretch a canvas and mix oil paints," he says.
"Dad" was the partisan and poet Abba Kovner, the man who wrote the famous phrase in a manifesto to the Jews of the Vilna Ghetto, "Let us not go like sheep to the slaughter." Abba Kovner was an officer in the War of Independence and a key witness in the Eichman trial.
Michael Kovner was born in Hadera, during the first lull in the fighting of the War of Independence and raised in Kibbutz Ein Hahoresh. His mother was the partisan and psychologist Vitka Kovner Kempner, a native of Kalisz, Poland. When Michael was young, the country's leading political and cultural figures were regular visitors to the family home. His exhibition "Images II" is currently on view at the new Jerusalem branch of the Gordon Gallery, which was opened by Amon Yariv. Yariv's father, Shaya Yariv, worked with Kovner for a brief period in the 1980s.
Kovner was grinning from ear to ear at the opening of the new exhibition, but a lingering tension hung in the air. The debate over his father's legacy was recently reignited by Avi Nesher's film "Image of Victory," about the Battle of Nitzanim during the War of Independence. Dozens of the kibbutz's defenders were killed in the battle. The survivors surrendered and were taken prisoner by the Egyptians. In response, Abba Kovner, who was serving as the cultural officer for the Givati Brigade, wrote: "It is better to fall in the trenches of the home than to surrender to a murderous invader... To fall into the invader's captivity is shame and death!" Kovner later sought to apologize to the people of Nitzanim, but they refused to meet with him. More than 70 years after the events occurred, the film's release reopened old wounds.
Michael Kovner has not seen "Image of Victory." He says, "I have no criticism of the film. I listened to Yitzhak Noy's radio program 'Historic Hour' where people from Nitzanim spoke about what my father wrote in the Givati leaflet."
But in wake of the debate aroused by the film, Kovner published an opinion piece in Haaretz's Hebrew edition that elicited much reaction. "The 'commander's spirit' was clear to everyone at that time," he wrote. "You fight until the last bullet and do not fall into captivity. With the fall of Nitzanim, the military command felt that the need to boost that spirit. Hill 69 and Gezer also fell around the same time as Nitzanim, and there was a danger that the road to Tel Aviv could be taken by the Egyptians. The combat leaflet was intended to motivate the Negev's defenders and to root out any thoughts of defeat or captivity. Nitzanim's act was denounced and Negba's mighty endurance was lauded."
What about the discourse surrounding your father and the Battle of Nitzanim angers you, specifically?
"I understand the reactions, but some of them were extreme and harsh. I read the findings of the committee that investigated the battle and it's word for word what I wrote. What is real, of course, is the pain and sorrow of their sons. But at the same time there was a nasty debate, which was apparently political."
How so?
"The fight for the south was a battle of the few against the many. A great ethos could have been built upon that. Some wrote that we were raising our children to commit suicide. But they don't understand, or don't want to understand, that the War of Independence was a war for our soul. If a mother is playing with her two-year-old child and a cat comes along, she'll hiss at it. If a dog comes, she'll throw a stone at it. And if a tiger comes, she'll do whatever she can to fight it. Even if she knows she'll lose – she won't retreat. That's what the War of Independence was like – a war of survival."
Part of the renewed discussion about the war has dealt with the massacre at Tantura.
"At a certain point in the war, it seems there was a policy of expelling the Arabs. We shouldn't be afraid to look the reality in the eye. We should be able to say, 'The Nakba happened.' That doesn't mean we have to leave the country or deny that the War of Independence was a life-or-death war. Discussing the expulsion and the Nakba needn't take away from the belief that the Jews deserve to live in their land. We can talk of the pain of the Palestinian residents of Israel without detracting from the joy that we got to have a land of our own."
As a boy, did you see your parents as legends?
"That's how it looked from the outside. From the inside – Dad took care of me a lot because Mom was sick with tuberculosis. I wasn't allowed to see her when I was a toddler. My father was very devoted. Lots of people used to come to our house. Ben-Gurion, Yigal Allon, Shimon Avidan. There were literary evenings with Shlonsky, Moshe Shamir and Avot Yeshurun. The whole kibbutz was affected by it. I definitely felt that my father was special. My mother was a modest, very down-to-earth woman. She put a huge emphasis on education. Everyone came to ask for her advice."
Your mother is much less well-known, even though she lived 25 years past your father's death.
"My mother is not memorialized anywhere. She participated in many military operations during World War II. She was a communications operator in the Ghetto, she blew up train tracks that were used by the Germans, and after the war she took part in reprisal operations against the Germans. But she didn't promote herself. In the last 25 years of her life, after Dad died, she promoted him. I tried to get a museum built in Givat Haviva, where my father's archive is located. After Mom died, we made an agreement with Moreshet, the Mordechai Anielewicz Memorial, but it was never fully realized. There's an exhibit of two rooms and a living room. Poems and excerpts of essays are displayed there, but we had more planned."
Difficulty connecting
Kovner, 74, was drafted into the elite Sayeret Matkal commando unit and served there with Benjamin and Yonatan Netanyahu. He fought in the War of Attrition and the Yom Kippur War.
Between the wars, he moved to the United States with his future wife Mimi, a graphic designer. In 1972, he began studying art at the New York Studio School of Drawing, Painting and Sculpture with Phillip Guston. The prevailing style at the school was abstracted realism and Kovner was emerging from the Israeli scene known as "Want of Matter" – which was known for non-traditional materials and a sparse visual language. On his way back from New York, Kovner toured southern France and Italy. His encounter with the magnificence of Renaissance and Baroque art steered him back toward a figurative style, away from the simplified visual language that was fashionable at the time.
Back in Israel, Kovner had trouble connecting with the local art scene. "I went to exhibitions and it didn't matter what they were painting at all. All that was important was the concept, the idea. You could write a sentence on the wall and it would be considered art. I was in culture shock, it was alienating. I stopped going to shows and threw away everything I painted. I remember one retrospective exhibition for Arie Aroch that had a big impact on me and an exhibition of Pinchas Cohen Gan that was important for me as a young artist. But I still couldn't find that thing that I needed and wanted to paint. I had a crisis of faith in my ability to be a painter."
How did you get through it?
"I was on reserve duty in Sayeret Matkal. There was a map on the wall, an aerial photograph, and suddenly I had a flash of inspiration – that was what I needed to do. To paint from aerial photos. It connected the figurative and abstract. I painted dozens of paintings of the seam line, between the desert and the green. I looked for exhibition space. First I went to Gordon, but they were busy and told me to come back in six months. Then I went to Bineth Gallery, they said let's do it. And I stayed with them for 35 years."
And the paintings sold?
"All of them. Within two weeks I didn't have any aerial pictures left at all. At 30-years-old, I became a gallery-backed artist – every painter's wet dream."
During another stint of reserve duty, this time in the Gaza Strip, Kovner was inspired by the intense colorfulness of Palestinian homes. Avi Dichter, who was present as part of his role in the Shin Bet security service, was his go-between with the home owners. In Kovner's paintings, the Gazan homes exude happiness and optimism.
"That exhibition was a hit too, and everything sold again," he says. "But not everyone liked it. Raffi Lavie or Adam Baruch said that I was depicting Gaza like it was Disneyland, that I was avoiding the refugee problem. Today, I think maybe they were right, but you can interpret the houses in a number of ways. The paintings are about a love of life and people. It's not an Orientalist approach. And in general, I use that bright color palette in a lot of painting series."
Did you feel that your paintings made an impact, beyond the fact that people liked them?
"Actually, something happened recently with one of the Gaza paintings. After a gallery talk in Ein Harod, someone came up to speak with me. She told me that her daughter was a helicopter pilot. After looking carefully at one of my paintings of the houses, she realized that she had never really been able to see the refugees. That she had only seen Gazans as targets in the crosshairs. Because of my painting, she decided to quit the military."
After all the paintings sold, Kovner was not left with any works from those two series. About five years ago, he managed to buy one of the aerial paintings at auction. He didn't have the same luck with the Gaza house paintings. "There was a collector who died and his wife sold the collection. She wanted to sell me the painting for $5,000 and I almost bought it. But then someone told her it was worth $30,000, and I couldn't pay such a high price."
'I wanted to be a hero'
Kovner's colorful, pleasing to the eye, style might surprise some people considering his military past. "I missed out on the Six Day War and wanted to be a hero like everyone else. At first, I wanted to go to the Paratroop Brigade reconnaissance unit. I didn't know what Sayeret Matkal was. A friend at the induction center said they were selecting people for the unit and said I had to come. The commander, Uzi Yairi, asked if I knew what Sayeret Matkal was. I said no. I think I got in because of that."
How was your army service?
"It was hard physically, but mentally satisfying. I felt like the king of the world. Everyone respected me. You're in a sort of elite unit, one that no one knows anything about and it has a sort of halo. I didn't have time for anything. No time to paint, to read or to be with my girlfriend. I would come home and fall asleep. It was the War of Attrition, every week some 10 soldiers were killed."
How was Netanyahu as a soldier in the unit?
"They always ask me what happened to him. The answer is, in the unit he was fine. My analysis of the change he went through is that Bibi doesn't have an 'I' the way we all do. Each of us has a cricket inside us that tells us what's right and what's unacceptable. Bibi adopts whatever is around him. When he was in Sayeret Matkal he integrated into the standards of the unit. Now he has lived with Sara for a long time, so he has become like her. He always adopts the norms of his surroundings, that's why he's such a good politician. He has no internal conflicts, unlike Yoni, who I knew better. Bibi is much more problematic."
Like his entire generation, the Yom Kippur War was traumatic for Kovner. "We lost so many friends. It's not nice to say, but men like wars for some reason. At war, a man is revealed in all his glory. Or the opposite."
When did you realize there was a problem with the wars in the region?
"I was always on the left side of the map, but the crisis came during the Second Intifada and the Second Lebanon War. For some of it, I was in New York and saw what Israelis don't see from home. No one in Israel saw what dropping a ton-and-a-half bomb in the center of Gaza does. Suddenly, I realized we were killing just to kill. It took me a long time to understand it, and that was a deep inner crisis."
Don't you think there's fault on both sides?
"It's impossible to ask that question while you're killing so many children. If I was a commander in the army, I would go to the person above me and demand that he tell the politicians – if we go on this operation, this many children will die. Even if one child is killed, I would give back the keys, cancel the operation. When I was in Sayeret Matkal, we had endless arguments over everything – even whether to kill a donkey. In the First Lebanon War, at least there were people who objected and refused orders. In the Second Lebanon War, there was no one left who would refuse an order."
After his Gaza painting, Kovner began a series composed of cubes and lego figures. Bineth wouldn't exhibit the series and it was shown at Gordon, under the title "Images" (Tzalamim). His new exhibition there, "Images II," is another installment in the series. Unlike his previous exhibitions, this time, the collectors weren't buying. Kovner's Lego paintings may seem somewhat mischievous, but they are influenced by his experiences in the First Lebanon War. They deal with how evil often lurks behind things that appear good.
After the "Images" show at Gordon, Kovner returned to Bineth and landscape painting. "A 20-year bad period began, almost no one was buying. I'm a painter who only makes his living from painting. I don't teach, and I almost never give lectures. Rafi Lavie slayed me and wrote that I paint pictures from the central bus station. One time when I met up with him, I told him his paintings were wonderful. He told me: 'Kovner, I wish I could paint like you.' Young artists need to know that even the ones who are considered famous or successful have bad periods. It's like an accordion. My peak was when I worked a few months a year in New York and got myself a few good collectors. I sold works at prices between $10,000 and $30,000."
Kovner lives with his family in Jerusalem. "It was a wonderful city in the '80s. People came from all over for the various festivals. There was good integration with the eastern part of the city. There was real flourishing, without hostility. It began declining at the start of the 21st century. It's demographics, I don't think anyone's to blame. As the artists, creatives and secular population in general began to depart, the security situation also deteriorated."
Kovner's hard times ended when he met curator Meir Aronson. "In the 1990s he saw one of my paintings and wanted to put it in the Ramat Gan Museum. He set up a meeting and said, 'wow, there are so many beautiful paintings here. Let's do an exhibition all over the museum.'" The solo show took place in 2002, replete with a magnificent catalog. "Like in his military training, Kovner studies the terrain," Aharonson writes. "The terrain isn't a place. The terrain, or the landscape, if you will, is where things happen."
Optimistic view
Kovner's current show presents an optimistic view of Jerusalem, focusing on the Israel Museum, which despite a recent rough period, is still a rare jewel of Jerusalem. "Before COVID I saw two large exhibitions at the museum, one dealing with fashion and the other called 'Manifesto.' I came with a sketchbook and made sketches and watercolors. That's how I painted in New York too. Then I would go back to the studio and make larger versions in paint. Amon Yariv saw the paintings at the studio and decided to exhibit them. This is my second exhibition at the Jerusalem branch of Gordon, located in the not-too-welcoming industrial zone in Givat Shaul. Props to Amon for his daring."
This success comes on the tails of several significant projects Kovner produced in recent years. These include a staging of "Ezekiel" at the Khan Theater, a play based on Kovner's graphic novel "Ezekiel's World." In 2019, he participated in a large exhibition in Bochum, Germany, where Israeli and Palestinian artists displayed works about family stories. At the start of the pandemic he had a large exhibition at Ein Harod Museum, titled "Double Horizon Mirrors," curated by Dr. Galia Bar Or. Two years ago, he received a lifetime achievement award from the Artists' House. "It kind of surprised me. I hadn't received an award or a grant since 1984," he says.
In 2018, Kovner opened Maya Gallery along with a young artist Avner Levinson (the son of attorney Shmuel Levinson, whose August 1994 murder remains unsolved). The gallery has quickly become one of the most important endeavors in the local art scene, showcasing beginner artists, some from the periphery. The list of artists they have exhibited thus far includes Uriel Miron, Zvi Meirovitz, Maria Salah Mahamid, Tal Yerushalmi, Yaara Oren, Lilith Shimbon, and others.
"The choice to work with young artists was not without its concerns, because of the age gap and the fact that I'm not a very easygoing or tolerant person," he says. "To my surprise, I feel really good about it. I've met artists, particularly women, who are talented and crave artistic development. They are humble and serious about their work and the world they live in. I was afraid of capricious artists who would make trouble. But to my great surprise, the relationships are excellent. COVID kind of screwed us because we had to make it through another year before getting any support. We really scraped by."
How does it work in practice?
"We've shown 100 artists so far. In the large gallery, a young artist shows their work and we produce a catalog for each exhibition. So there are 12 large exhibitions per year, and artist wall exhibitions and another show in the small gallery. It comes out to 30 artists a year. Some sell, some don't. We also do online auctions. The Culture Ministry began offering us some support and there have been some donations. We're hoping for a property tax discount. We get hundreds of requests to display art and that shows that there's a thirst for it. Avner and I do the preliminary selection and then I pass it on to lectors who choose who to exhibit. We get a lot of good feedback."
So you're suddenly part of the "in" crowd?
"It wasn't sudden, and I don't think I'm really in the scene. I live in Jerusalem and I feel pretty cut off from what's happening. Maybe I'm making a comeback. Until now, I was on my own path. I didn't feel very accepted and now it doesn't matter to me at all. I chose to live in Jerusalem and stick to painting. I don't go to the Tel Aviv gallery openings. I have some painter friends. It seems enough to me. I don't need the whole world to love me. But yes, it feels a little odd for me to have a gallery."
Click the alert icon to follow topics:
ICYMI
Ken Burns' Brilliant 'The U.S. and the Holocaust' Has Only One Problem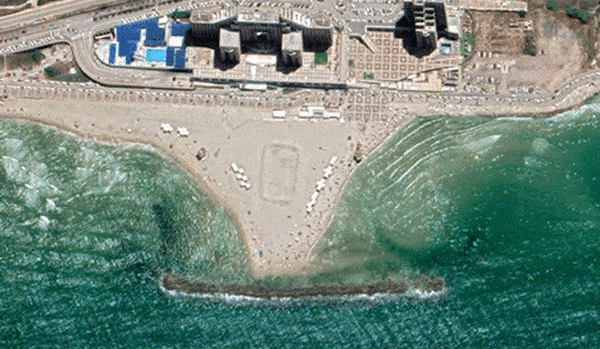 Facing Rapid Rise in Sea Levels, Israel Could Lose Large Parts of Its Coastline by 2050
As Israel Reins in Its Cyberarms Industry, an Ex-intel Officer Is Building a New Empire
How the Queen's Death Changes British Jewry's Most Distinctive Prayer
Chile Community Leaders 'Horrified' by Treatment of Israeli Envoy
Over 120 Countries, but Never Israel: Queen Elizabeth II's Unofficial Boycott