Israel's First Quantum Computer Developed at Weizmann Institute
WeizQC, one of only some 30 quantum computers in the world, introduces new technologies that help the system withstand environmental noise
The quantum computer at the Weizmann Institute. The system works using ions cooled to near absolute zero.
Credit: Tomer Appelbaum
Researchers from Israel's Weizmann Institute of Science announced that they have succeeded in developing a quantum computer – one of only about 30 such computers in the world. As a tribute to Israel's first computer WEIZAC, which was dedicated at the Weizmann Institute in 1955, the first Israeli quantum computer will be called WeizQC.
Despite enormous budgets devoted to the field, today's quantum computers are still a long way from harnessing the technology's full potential. One of the main obstacles is quantum computers' extreme sensitivity to environmental noise. The new quantum computer, developed in the laboratory of Prof. Roee Ozeri, includes several new developments to address this problem. A paper detailing these new innovations by Dr. Tom Manovitz and his research student Yotam Shapira was published in the journal PRZ Quantum on Tuesday.
Ordinary computers are bound to the laws of classical physics, limiting their capabilities. Quantum computers, on the other hand, obey the laws of quantum mechanics. In the world we know, every object, including a computer bit, is always in one state or position. Quantum bits (qubits), in contrast, can be located in more than one state or position simultaneously.
This phenomenon, called superposition, allows for far greater computing power than even the strongest existing computers. Quantum computers have a far greater number of possible states than an ordinary computer. Even a quantum computer with a few dozen qubits has more possible states than an ordinary computer with billions of bits. Quantum computing power is expected to enable applications including running powerful artificial intelligence or developing new drugs and materials.
There are several approaches to developing quantum computers, Ozeri says. "Any attempt to build such a computer starts by identifying a system that can be a qubit, and then the next step is to connect the qubits," he says. One approach is to cream man-made qubits – for example, using electrical circuits based on superconductors at very low temperatures. Another approach involves "natural" qubits – isolated atoms, photons or molecules.
The quantum computer at the Weizmann Institute uses natural qubits – ions (electrically charged atoms) that are cooled to a very low temperature, just a millionth of a degree above absolute zero. Each one of these atoms acts as a quantum bit. There are fewer than 10 quantum computers in the world that use this method, called an "ion trap."
"There are big advantages to using natural qubits," says Ozeri. "You don't need to create them, they're identical to one another and they're very precise. The issue is that they're not electrical circuits that can be controlled, you have to know how to work with isolated atoms," he says. For example, each atom must be placed in a vacuum to prevent them from colliding. Each one of the isolated atoms remains trapped in a vacuum for several days before computing activities are performed by means of laser beams.
However, multiple qubits are required for complex calculations. These operations, called logic gates, are very sensitive to environmental noise, which is likely to disturb the system's quantum state. In their new paper, the researchers describe a new technique that uses laser pulses to create quantum logic gates which are more stable in the face of environmental noise than existing computers. "These robust gates allow us to bring the computer we developed up to a level of operations similar to what can be found in the commercial world," Ozeri said.
Even though the logic gates are more robust, ultimately, the system's sensitivity leads to an accumulation of errors and a swift loss of the quantum advantage. Therefore, another important element is error correction. In order to correct an error, you have to identify it – meaning that you must be able to measure the qubits.
But the act of measuring also affects the system and leads to a loss of the quantum state. The solution is to measure only some of the qubits. In existing ion trapping computers, qubits are measured using optical systems: Ions are illuminated by a laser, and based on the scattering of light (or the lack thereof) the qubits' different states can be distinguished.
In the new computer from the Weizmann Institute, instead of the usual light detectors, which measure each ion separately, the scientists have implemented a new system that is based on a camera that allows all the qubits to be read simultaneously. In order to preserve the quantum nature of the system, the researchers concealed some of the qubits from the camera.
"Until eight years ago, quantum computing was only done in university labs," Ozeri says. "But in the past decade, commercial companies like Google, Amazon and IBM have joined the race to build a quantum computer. Meanwhile, the United States, China and the European Union instituted massively funded strategic programs to advance the field."
Israel has also recently allocated 200 million shekels ($62 million) to create a consortium of companies that will build an active quantum computer for research and development in academia, the local high-tech industry and the defense establishment. The project is part of the National Quantum Science and Technology Program, which was launched two years ago with a budget of 1.25 billion shekels.
"Developing quantum computers has commercial and strategic aspects," Ozeri says. "Companies and capital markets are investing a great deal in developing quantum hardware and software. National programs are also investing a lot of money to allow for technology and economics based on these systems to flourish in Israel."
Ozeri notes that the U.S. and EU have recently reinforced their regulation of the field: "They are trying to supervise the dissemination of this extremely powerful technology." Regarding this anticipated technological power, Ozeri says, "It's a computer, its capabilities can be taken in many directions – to develop pharmaceuticals and for military uses too. That's why it's important to have this capability in Israel."
Israel's first quantum computer includes five qubits – relatively few compared to other quantum computers. The researchers are now trying to develop a larger one that can demonstrate a "quantum advantage" – the ability to perform calculations that ordinary computers, no matter how strong, cannot perform. The next generation quantum computer, currently under construction at the Weizmann Institute, is designed to include 64 qubits. If the scientists succeed, this computer is expected to demonstrate a quantum advantage – something that has only been achieved in two computers so far: One developed at Google, and one in China.
Regarding the ties between industry and academia, Ozeri says, "The role of academia is to develop the knowledge that forms the basis for industrial growth. The world of quantum computing is now at a point parallel to the use of vacuum tubes in ordinary computers, in other words, where regular computers were about 70 or 80 years ago."
"In WEIZAC, Israel's first computer, they used thousands of vacuum tubes. Academia had to invent the transistor, and industry took it from there and built the next generation of technology."
Academia is also essential in training personnel, Ozeri says. "The biggest problem in the field today is that there are very few people who understand quantum technology. For the most part, these are the people with doctorates in the field, who have done many years of research in it."
Also participating in building the quantum computer were Lior Gazit, Dr. Nitzan Akerman and additional researchers and research students from Ozeri's lab in Weizmann Institute Department of the Physics of Complex Systems. The theoretical aspect of the project was led by Prof. Ady Stern from the Department of Condensed Matter Physics at the institute.
Click the alert icon to follow topics:
ICYMI
Ken Burns' Brilliant 'The U.S. and the Holocaust' Has Only One Problem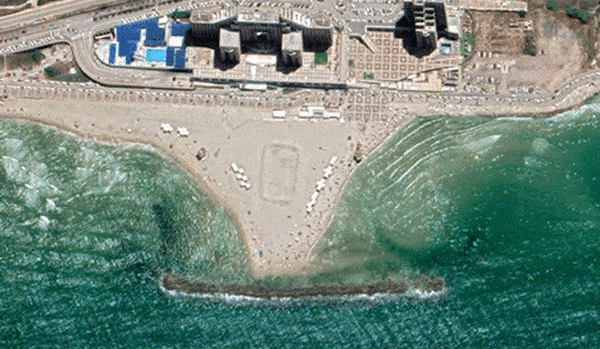 Facing Rapid Rise in Sea Levels, Israel Could Lose Large Parts of Its Coastline by 2050
As Israel Reins in Its Cyberarms Industry, an Ex-intel Officer Is Building a New Empire
How the Queen's Death Changes British Jewry's Most Distinctive Prayer
Chile Community Leaders 'Horrified' by Treatment of Israeli Envoy
Over 120 Countries, but Never Israel: Queen Elizabeth II's Unofficial Boycott