Opinion |
On Ukraine, Israel's Anti-occupation Left Is a Shameful Failure
Between blaming American imperialism, whataboutism and full-on indifference, the Israeli left is not standing with Ukraine. Does our commitment to freedom, self-determination, law and universal justice end at Palestine?
Protesters rallying in support of Ukraine, in front of the Russian embassy in Tel Aviv. What could possibly explain the absence of the Israeli left in these demonstrations?
Credit: Tomer Applebaum
Years from now, we will all remember where we were on February 24th, the day Russia invaded Ukraine.
That rainy evening, I joined a small clutch of people shouting at the darkened Belarus embassy in Tel Aviv, protesting the Lukashenko regime's collaboration in Vladimir Putin's war. The protestors barely spoke Hebrew, but I learned how to say "No war" in Russian, and figured my friends were at the larger demonstration outside the Russian embassy.
The next day I headed to the Russian embassy, and again the tiny cluster of people were all immigrants from former Soviet Union countries. It was late Friday afternoon, I reasoned, the special stay-home hour in Israel.
After three days of war, a large-scale protest was planned on Saturday evening – the traditional time for demonstrations in Israel. People streamed down Rothschild Boulevard towards the meeting point, bearing Ukrainian flags, signs and strong opinions about Putin's anatomy. Thousands flooded Habima Square in central Tel Aviv.
But other than some kind people who translated chants and speeches for me, I heard no Hebrew. There were no crowds of sabra Israelis; and after two decades of demonstrating against the occupation, for Palestinian self-determination, for democracy, against territorial conquest, I ran into none of my fellow lefties.
Frankly, I was floored. Where were the sabras, or immigrants from other places, like me? Lacking a poll, I asked a taxi driver, who sounded weary. "At last, something happens that's not all about us…" and he trailed off.
It turns out there's yet another cost of perpetrating a permanent, violent military occupation: Israelis are too tired to rally for other peoples' suffering. When Yeshayahu Leibowitz warned that occupation would corrupt Israeli society, this wasn't what he had in mind, but add it to the list.
But what could possibly explain the absence of the Israeli left?
Certain left-wing figures appeared to be competing in a global race for irrelevance. The Israeli Jewish-Arab party Hadash posted a text stating the position of Israel's historic Communist party Maki (a Hadash constituent party). The post was an indigestible prolix about NATO aggression, punctuated with the phase "American imperialism" at regular intervals.
The authors just about squeezed out a condemnation of Russia's aggression and urged diplomacy to end the "conflict between the two states." Hopefully no one needs me to debunk the bizarre implication that two equally matched sides entered a mutual or legitimate fight.
Hadash and Maki thus echoed the ossified international left, such as the Greek Communist Party, who voted against a European Parliament resolution condemning Russia, while employing the word "imperialist" even more than Hadash:
"[T]he imperialist war, which is the result of the imperialist competition for spheres of influence and wealth-producing resources that the resolution enhances, as it is moving in the dangerous direction of escalating the imperialist competition with EU-NATO military equipment and sanctions."
The Democratic Socialists of America published similar words in late January, also blaming America for provoking the war: "DSA reaffirms our call for the U.S. to withdraw from NATO and to end the imperialist expansionism that set the stage for this conflict." Individual Israelis bought it, recalling all of America's awful wars, apparently on the twisted logic that these somehow justify either Putin's rampage or left-wing acceptance.
But Israel's left-right axis will never comfortably overlap with the ideological axis of the West, and communist sloganeering doesn't explain the Israeli activist left's inadequate response. Left and right here is always, invariably, about Israel and Palestine. Indignant comparisons began to flow.
According to one view, Putin's language recalls Israel's justifications for occupation of Palestinians; according to another, Putin's actions are no different from what Israel does to Gaza, with U.S. backing but with much less global outrage or attention. Cartoons on Twitter speak loudly on this point.
Now, truly Israel-Palestine does not suffer from a lack of global attention. But they've got a point: residents of Shejaiya, the Gaza neighborhood Israel razed to the ground in more than one war (or for that matter, as an Israeli horrified by what my country has done), might relate to the scenes from Ukraine. A Gaza-based writer bitterly noted that Gazans fighting the IDF are considered terrorists, but Ukrainians fighting Russia are heroes.
And it is true that the world has not taken a course of punishment against Israel to resolve it. But for those left-wing activists who wish it would – indifference to Russia's atrocities hardly seems like a strategy to get there.
After a full tortuous week of war, left-wing Israeli activists from FSU countries began to notice the absence of their sabra counterparts. Filmmaker Lia Tarachansky pleaded on Facebook, to the Israeli left, asking why they were hardly visible.
Left-wing Russian speakers in Israel are vanishingly few; since I began polling in the late 1990s, the vast majority of FSU immigrants have been heavily right-wing and nationalist. And since that time, left-leaning Israeli parties and activists have been craving their support, mostly in vain.
The few FSU immigrants who work for liberal or left-wing causes in Israel need a steely character to buck their socialization, and lean on their adopted political community. Tarachansky had tagged about 50 people in her post; four days later, there were 10 "likes."
Still, ten days into the war, awareness seemed to be seeping through. On Saturday evening, the progressive activist network Zazim rallied for a demonstration at the Russian embassy.
This time, the crowd was dotted with sheepish Israelis trying to mouth dirty words about Putin in limping Russian or Ukrainian. I ran into smattering of individual friends affiliated with B'Tselem, Peace Now, the Alliance for Middle East Peace, Breaking the Silence but wondered about many who weren't there.
As the Israeli government has toed a line of near-indefensible ambiguity in terms of Putin's responsibility for the war, with tepid excuses that are already crumbling, left-wing parties finally began breaking their own equivocations.
Meretz has taken the strongest position so far: Its party leader and Health Minister Nitzan Horowitz consistently speaks out, fueled by moral fervor, in his notably noncontroversial role of overseeing humanitarian and medical aid to Ukraine. Mossi Raz of Meretz turned up at the demonstration this Saturday – the only politician to openly attend, as far as I know.
The entire Meretz Knesset faction signed a letter to the Prime Minister, Foreign Minister and Interior Minister calling to open Israel's doors to refugees, an implicit critique of the shameful policy of discouraging non-Jews from seeking shelter in Israel from the slaughter, by requiring a cash deposit to ensure their future exit.
Labor figures joined that very specific cause on Sunday, the 11th day of the war, with Diaspora Minister Nahman Shai passionately advocating to unlock quota limits on any Ukrainians seeking shelter. The Association for Civil Rights in Israel called on the government to allow Ukrainian refugees to enter "without imposing improper and illegal conditions."
It's high time, and still not enough. Hardly anyone on the left, let alone politicians, has challenged the government's tiptoeing around Russia. It's left to the media to ask politicians why Israel won't even send helmets to Ukraine, let alone defensive weapons systems.
Just what does the left stand for in Israel if it doesn't stand by Ukraine in full force? Does the lifelong commitment to freedom, self-determination, international law and universal justice end at Palestine?
Claims of liberal hypocrisy are dim-witted. The beauty of being on the progressive left is that we have criticized America's wars and Israel's aggression for years before anyone imagined Russia waging war on Ukraine. We stand for cross-cutting causes and values, and reject slavish devotion – or thoughtless opposition – to individual countries or geopolitical blocs.
We on Israel's anti-occupation left don't lose credibility by standing with Ukraine, we are vindicated by our commitment to the global norms and the international system. We must bring the "international" back to solidarity. Anyone who can't endorse that principle doesn't deserve to be identified as being on the "left."
Dahlia Scheindlin is a political scientist and public opinion expert, and a policy fellow at The Century Foundation. Twitter: @dahliasc
Click the alert icon to follow topics:
ICYMI
Ken Burns' Brilliant 'The U.S. and the Holocaust' Has Only One Problem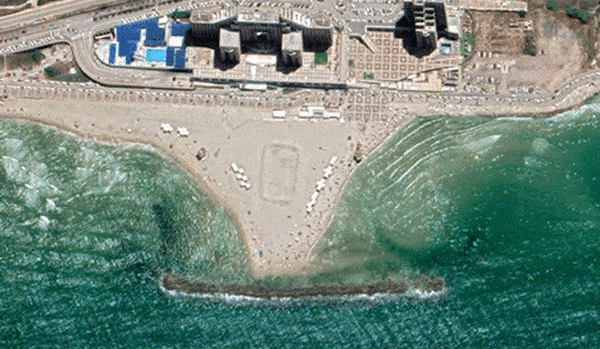 Facing Rapid Rise in Sea Levels, Israel Could Lose Large Parts of Its Coastline by 2050
Lapid to Haaretz: 'I Have Learned to Respect the Left'
The Mossad's Fateful 48 Hours Before the Yom Kippur War
As Israel Reins in Its Cyberarms Industry, an Ex-intel Officer Is Building a New Empire
How the Queen's Death Changes British Jewry's Most Distinctive Prayer