Analysis |
Bennett Watches His Words About Ukraine – and Watches His Coalition Act Up
Unruliness on domestic affairs spread from the United Arab List to the left to Benny Gantz's centrist party. Even tougher: expressing empathy for the Ukrainians without upsetting Syria's big-power patron Russia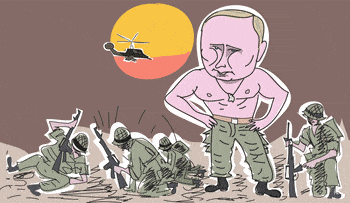 Two days ago, one day before Europe underwent a transformation, Naftali Bennett summoned the foreign, defense and finance ministers to discuss the government's reaction to Russia's invasion of eastern Ukraine. This response was late in coming, something that didn't boost Israel's reputation around the world.
The working assumption was that Israel must not irk the Russians, "our neighbors to the north," as Foreign Minister Yair Lapid put it. Opinions in the room were divided, but only in nuance. In the end, it was decided to express support for Ukraine's territorial integrity and sovereignty, without mentioning the country that was putting these values at risk.
During the meeting Bennett had an idea. He asked to see the wording of Israel's announcement in 2014 after Russia annexed Crimea. Foreign Ministry Director General Alon Ushpiz left the room and asked his people to find the document. When he returned, the cabinet members perused it. According to one of them, the text was "very similar" to what they had produced.
Obviously, on Thursday morning the response had to be sharper. Every normal country in the West, especially the United States, expected Israel to explicitly condemn Russia. Lapid as foreign minister knows more about diplomacy than Bennett as prime minister. He's in constant contact with his counterparts around the world. They made clear to him that condemnation was required.
So Lapid took on the role of good cop (or bad cop, depending on how you look at it): "The Russian attack on Ukraine is a serious violation of the international order. Israel condemns the attack," he declared.
A few hours later at a graduation ceremony at an army officer training base, Bennett sufficed with an expression of empathy with the Ukrainians and a few musings about the state of the world. Ultimately he's the one responsible for the country's security. Israel's intensive operations in Syria depend on Russia's goodwill.
Some people made a wry face when hearing the extremely different responses. But this is a luxury for armchair quarterbacks. Israel faces a diplomatic-security dilemma that no other country faces. The United States is our ally and it has its expectations.
On the other hand, the Russian military is also in Syria. Policymakers had to decide what was the cheapest price we could pay the West, compared with the possible disastrous damage inflicted on us by the Russians in the future. Walking on hot coals? This is a perfect example.
Consultations last month also included Finance Minister Avigdor Lieberman. Up to 12 days ago he sounded firm in his assessment that Vladimir Putin would not invade. A month ago, at a meeting of the leaders of the parties in the governing coalition, he made a similar forecast.
"Nothing will happen,' he predicted. Zeev Elkin, who also grew up in the Soviet Union, disagreed. "I'm not so sure," he said.
In general, our political and military leaders are handling things reasonably so far. The Foreign Ministry deals with foreign affairs. We've almost forgotten how until recently the ministry was a shriveled limb awarded as compensation to bored ministers.
We definitely haven't forgotten how before the 2019 general election, Benjamin Netanyahu hung banners spanning 10 floors outside Likud party headquarters. The wording: "Netanyahu, a different league." On one banner he was seen beside Putin, on the other, beside Donald Trump.
Everybody's right
Our "government of change" is a miracle (or an accident, depending on the observer) that happens once in a generation, maybe two generations. All its constituent parts realize this. It needs maintenance 24/7 and vast amounts of responsibility and goodwill.
If it falls apart, Israel will once again find itself on a deadly trajectory of endless elections. A nationalist/ultra-Orthodox government will wrench Israel from its democratic foundations.
Here's what Likud's Miri Regev said this week from the Knesset podium: "There are enough democratic countries. More democratic countries isn't what's needed. What we want here is the world's only Jewish state – which we need to defend."
For two weeks the governing coalition – as opposed to the cabinet – has been looking like a bunch of militias attacking each other. Bennett, the first person who should be keen on stability, hasn't been showing interest. He has been behaving more like a board chairman than a CEO.
Only lately has he come around. As one source said, he admits he was mistaken not to devote more attention to the Knesset. "I didn't honor the rules of the game, and without rules there's no coalition."
Within the government, it began with the United Arab List, which for a week didn't vote with the coalition because it felt its partners weren't advancing issues important to it. This worsened into a protest by the Labor and Meretz parties on the left, degenerating into a boycott by Benny Gantz's Kahol Lavan, which cited the delay in approving the bill to give retired military officers even fatter pensions, among other matters dear to Gantz.
What's nice here is that everybody's right; everybody involved has a case. If this government falls, each head of a coalition party will go into the election with the conviction that he or she is absolutely right – and righteous.
Gantz is right about the principle that cabinet decisions obligate the coalition's lawmakers to vote with the team. Labor chief Merav Michaeli and Meretz leader Nitzan Horowitz, who demand a higher minimum wage in return for cushy pensions for military officers, are right. The United Arab List is right in its demand that its situation be taken into account, considering that the other political power in the Arab community, the Joint List, is drinking its milkshake.
Let's return to the pensions bill, which Gantz and army chief Avivi Kochavi have made a linchpin of Israel's national security. To call it "unpopular" would be the understatement of the millennium.
But this story has another side, because even when something isn't popular with the public, it doesn't mean everybody is allowed to be a populist. The moment the bill overcomes the hurdles in the cabinet and the Ministerial Committee for Legislation, it's a done deal. All the lawmakers have to support it, even if this is hard for them, as it was for Yamina ministers to vote against connecting "young settlements" – unauthorized West Bank outposts – to the power grid.
Michaeli has decided that this approach doesn't suit her. For a while she has been telling her Labor colleagues that the future of their seats in the Knesset lies with the voters of Gantz's Kahol Lavan just to the right. Every time she has an opportunity to do a number on him, she leaps at it. Michaeli's partners have long been aware of her trick: She lights a fire, steps back and lets Meretz rush ahead and get burned.
This was the case with the Citizenship Law, the legislation that prevents Palestinians married to Israeli citizens from receiving Israeli residence permits. And this was the case with the minimum wage and also the pensions.
She assumes that her opinions are ideologically pure and other people's opinions are simply wheeling and dealing. In the cabinet, Bennett, Gantz, Yesh Atid leader Lapid, Yisrael Beiteinu head Lieberman and New Hope chief Gideon Sa'ar all agree that Michaeli has to be called to order. Before anyone else.
Some of them are trying to find partial justification for her behavior: She has never been in a governing coalition, she doesn't get it that the name of the game is compromise, compromise, compromise, a word that in the opposition is meaningless.
But the Meretz members in the cabinet – Horowitz, Tamar Zandberg and Esawi Freige who like their big sister to their right have never experienced a governing coalition – are showing a tad too much responsibility, even if they too are expected to rise to the significance of the times.
"They aren't used to swallowing frogs," Bennett said this week. "For us, who have been in coalitions, this was the daily special at nearly every meal."
The minister of nothing
Toward the end of last week, Lapid summoned Yisrael Beiteinu's Eli Avidar, a minister in the Prime Minister's Office, for a meeting on "an important issue." There are people in Europe aiming to declare Israel an apartheid state, the foreign minister said, and I want you to be the guy to deal with this.
Definitely, Avidar agreed. I'll need you to revive the Strategic Affairs Ministry. It has 30 jobs, and I'll be glad to take over.
I can't, Lapid replied. After all, he had made good on his promise to abolish it and return its responsibilities to the Foreign Ministry. I respect that, Avidar replied, but I too made a promise. A week later, he called a tumultuous press conference and resigned from the cabinet, "three months too late," he said.
Back on November 28, Avidar and Bennett clashed at a cabinet meeting over whether the Shin Bet security service should track the cellphones of people infected with the coronavirus. Avidar wanted to resign then and there. Lapid calmed him down.
In recent months a relationship has developed between Lapid and Avidar like a father and a son at home during the worst of the pandemic. The father is at pains to find something for the bored little tyke to do.
Avidar didn't want a made-up portfolio, a Ministry of Silly Walks. Besides, the cabinet is already bloated; he wanted a real, existing ministry. Oded Forer, also from Yisrael Beiteinu, is both agriculture minister and minister for developing the Negev and the Galilee. So Avidar kept telling Lapid to tell Lieberman to take one portfolio away from Forer.
If Lapid tried, he didn't succeed. Lieberman is no less proud and stubborn than Avidar. For the government to survive, the finance minister would compromise with the whole world, even with all the socialists and leftists in the cabinet and the Knesset. Just not with Avidar.
I made a mistake when I put him on the slate (on the eve of the 2019 election), Lieberman admitted at a private event not long ago. Somebody joked: Unlike with past troublemakers Esterina Tartman, Danny Ayalon, Sharon Gal and Orli Levi-Abekasis? There too I made mistakes, Lieberman muttered.
Avidar is convinced and is trying to convince everybody else that Bennett won't stick to the rotation agreement under which Lapid is due to replace him as prime minister halfway into the term. Instead, he'll resign when he completes his 22 months.
Maybe Avidar is right. This government won't fall because of the democratic camp, he says, but because of the conservatives waiting for the moment when Netanyahu leaves politics. Then it will be possible to realign with Likud under new leadership: current cabinet members Bennett and Ayelet Shaked from Yamina, and Sa'ar, Elkin and Yoaz Hendel from New Hope.
"I won't let this government fall apart," Avidar said. "I'm the last person who wants that." Well, he isn't going to topple it but he sure is going to troll it.
He says Lapid is the only person who hasn't lied to him. But he has harsh criticism for the Yesh Atid chief. Why did he support the Shin Beit tracking? He berated Lapid in their meeting: You back Bennett's stupid policy and can't understand that he isn't going to let you have the rotation.
"I met with Bennett twice," Avidar said. "After the first meeting his spokesman phoned my spokesman and asked me not to make it public. I said, 'No problem. I'm not a child. I'm not like those ministers who take selfies with him.' I stayed long enough. They wanted to etch into peoples' minds that I was the minister of nothing? Sure, great."
I asked him why he's still in contact with the anti-Netanyahu activists, of whom he was a leader. Is it nostalgia? Clinging to the past?
"No, not at all. It's because they're the only ones committed to democracy. The conservative camp is working all the time, between one election and the next, and doesn't yield anything. Look at Shaked, at Sa'ar," Avidar said.
"Our camp fell asleep the day after the election. If Benny Gantz supports a constructive no-confidence vote tomorrow in the Knesset, will anyone except those people bother to take to the streets and demonstrate?"
Another win for Sa'ar
It's not every day – actually it never happened before – that the significant other of a Knesset member becomes a Supreme Court justice. But this week Gila Canfy Steinitz, deputy president of the Jerusalem District Court, became one of four new justices.
She's also the first justice who's the daughter of parents from Casablanca. She's "considered conservative," even though, like her three colleagues – Chaled Kabub, Yechiel Kasher and Ruth Ronen – she hasn't dealt with constitutional matters but rather civil ones.
Monday was a day of celebration for the Likud caucus. I looked for a congratulatory statement from Netanyahu to his old friend, Yuval Steinitz, a minister in his governments. I didn't find it, not on Twitter, Facebook, Instagram or TikTok.
Does this silence somehow have to do with the fact that Canfy Steinitz was Justice Minister Sa'ar's candidate? No way. Does it stem from the fact that in today's Likud, a positive view of Supreme Court justices is perceived as ceding territories of the homeland, recognizing Hamas or handing the Golan back to Syria?
Of course not. Netanyahu has already gotten in trouble with one public statement about a phone call to Supreme Court President Esther Hayut in which he tried to distance himself from the sewage Likud's David Amsalem spilled on her in the Knesset. So does Netanyahu want to avoid Amsalem's wrath?
Nonsense. Yes, he waited a week in the hope that Amsalem would forgive him and be kind enough to meet with him, but no one can suspect that fear of the dirtiest mouth in his caucus prevented him from tweeting congratulations in a minor key.
I'll venture an assessment: If Netanyahu were prime minister and the justice minister were Amir Ohana of meager qualifications and many failures, Judge Canfy Steinitz would have stayed at the Jerusalem District Court.
Last week Sa'ar checked off another achievement on the to-do list that he drew up when he entered the Justice Ministry eight months ago. He appointed four justices to the Supreme Court in one go, two of them women. He appointed Israel's first female attorney general, a state prosecutor and deputies, a national public defender – also a woman, and another woman as legal aid chief.
In Israeli politics, Sa'ar is the sole ruler in the legal arena. "His" Supreme Court has moved to the right with the latest appointments, but a proper right, not the settler right, and not as far as Shaked and Religious Zionism's Simcha Rothman would have liked.
They thought he would give in to them and they, in their great beneficence, would grant him a kosher certificate. He didn't see himself as needing one, certainly not from them.
Rothman voted against all four of the new justices. Shaked voted against Ronen and abstained on Kabub. With Ronen, one of Israel's most brilliant judges, Shaked has a bone to pick. In the past, her husband donated to the New Israel Fund. This of course disqualifies her from serving as a judge, never mind a Supreme Court justice.
Kabub indisputably, and in Shaked's opinion as well, is the most worthy judge to replace George Kara as the "Arab" on the bench. He's also the first Muslim on the Supreme Court. An honor.
Why did Shaked abstain? Doesn't her move indicate racism? Heaven forbid, she protested when asked. If Sa'ar had brought in another judge from among the four candidates she and Rothman proposed, she would have voted for Kabub.
Exile to Shanghai
The appointing of Meretz's Ghaida Rinawie Zoabi as consul general in Shanghai was born in sin. Two sins, to be precise. The first was the need to get her out of the Knesset after she toppled the bill on drafting ultra-Orthodox men into the military. And there were also signs that she intended to make trouble in the future as well.
The second sin is the primal sin of political appointments in the foreign service. Every foreign minister gets 11 appointments that mainly go to friends looking for a job. (See Yesh Atid's Yael German as our ambassador in Paris.)
Every foreign minister has used this prerogative to the fullest, with the exception of Tzipi Livni. She canceled the custom in 2006 and Netanyahu revived it in 2009.
Shanghai is an international business center, one of the most important in the world. Nothing on Rinawie Zoabi's impressive CV attests to suitability for the position. It would have been better to send to Shanghai a diplomat experienced in international economics, or an economist of that specialty.
But Lapid isn't doing anything different from his predecessors. He attacked political appointments when he was in the opposition but now is aware of their importance.
That said, it's impossible not to take issue with the disgraceful shaming of the consul-to-be. This is the favorite ritual of Israel's nationalist right: Demand that every Arab appointed or elected to a high position recite the national anthem.
Anyone who fails at this, anyone who doesn't connect to the phrase about a Jewish soul yearning is stoned by right-wing politicians and journalists whose racism is their art. It's not enough for them that she stands up for the anthem. Her lips have to move.
From their perspective every racist, Kahanist, member of far-right group Lehava or hilltop bully is preferable to her (and any Arab Israeli diplomat serving abroad), as long as they're loud and clear with the anthem.
The tarring and feathering of Rinawie Zoabi is similar to what the right wing did to Ibtisam Mara'ana when she made it onto the Labor Party slate for the last election. The witch hunt against her was one of the ugliest ever seen in Israel. Her tears didn't help, nor her requests for forgiveness for a foolish statement from her distant past.
Click the alert icon to follow topics:
ICYMI
Netanyahu's Israel Is About to Slam the Door on the Diaspora
Head of Israel's Top Art Academy Leads a Quiet Revolution
Ken Burns' Brilliant 'The U.S. and the Holocaust' Has Only One Problem
Israel May Have Caught the Worst American Disease, New Research Shows
Why the Head of ACLU's Human Rights Program Has Regrets About Emigrating From Israel
Netanyahu's Election Win Dealt a Grievous Blow to Judaism