Two Israeli Military Officers Killed by Friendly Fire Near West Bank Army Base
Two company commanders in Israeli army's Egoz commando unit were shot dead after being misidentified by a fellow soldier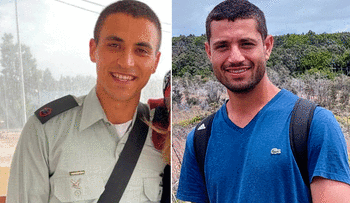 Maj. Itamar Elharar (left) and Maj. Ofek Aharon, who were killed in the accident.
Two Israeli military officers were killed on Wednesday by friendly fire during a security patrol near their base in the Jordan Valley, after they were misidentified and shot by a fellow soldier.
The two company commanders from the Israel Defense Forces' Egoz commando unit were identified as 28-year-old Maj. Ofek Aharon and 26-year-old Maj. Itamar Elharar.
Prime Minister Naftali Bennett expressed his condolences over the incident. "This is a very sad day," he said in a statement. "These two commanders gave their best years... to defend the homeland."
Defense Minister Benny Gantz said he felt "deep sorrow" at their death, and noted "a comprehensive investigation" was underway. "We will do everything to ensure that such a disaster does not repeat itself," he stressed.
Central Command chief, Maj. Gen. Yehuda Fuchs, said two groups of soldiers had set out separately from the Nabi Musa army base in the West Bank to look for stolen equipment without coordinating their operations.
According to Fuchs, the officers didn't follow the protocols of encountering a suspect that they are seeking to apprehend, and instead shot to kill.
During the night, the two groups left the base to find the thieves, which they suspect has stolen night-vision equipment, but neither took the relevant equipment – radios, helmets or vests – to make them identifiable.
According to Fuchs, the group of four, comprised of three company commanders and a lower-ranking soldier, identified suspects on a mound using night-vision equipment and managed to flank them. The group got within a few meters of the officers and yelled at them, apparently in Arabic, Fuchs reported.
After the officers fired warning shots, and the group realized they were armed, they exchanged fire at close range, although it was not clear who shot toward who first, Fuchs said. The two company commanders were killed, after which it became clear that the figures in the dark were Israeli soldiers and not thieves.
The military said it was looking into the incident, considered highly unusual for the Israeli military, at least for the past two decades.
The Central Command chief, Maj. Gen. Yehuda Fuchs, along with the IDF's chief of staff, Aviv Kochavi, are expected to commission a specialist team to investigate, headed by Major Gen. Noam Tibon.
The incident took place two months after the military announced it was loosening its rules for opening fire against people suspected of stealing weapons, which has been a persistent problem in that area of the West Bank. It said soldiers would be able to shoot when there are reasonable suspicions of weapons theft not only at bases and closed military zones, but also at training areas and anywhere there is a military presence.
The IDF's spokesman, Brig. Gen. Ran Kochav, told Army Radio that investigators will examine whether the new rules of engagement could have led to the deadly accident.
He later told Kan Bet public radio that "such a tragic incident occurs once every few years... but when it's commanders, officers, such a special unit... it hurts even more."
ICYMI
Gazans Are Tired of Pointless Wars and Destruction, and Hamas Listens to Them
Three Years Later, Israelis Find Out What Trump Really Thought of Netanyahu
The Rival Jewish Spies Who Almost Changed the Course of WWII
What Does a Jew Look Like? The Brits Don't Seem to Know
'I Have No Illusions About Ending the Occupation, but the Government Needs the Left'
Russia-Ukraine War Catapults Israeli Arms Industry to Global Stage