How to Recreate a Lost Moroccan Village in the Middle of Tel Aviv
The village of artist Efrat Hakimi's mother's family, in the High Atlas, no longer exists even on maps. With the opening of her new show she talks about migration, memory and her journey
From 'Efrat Hakimi: Looking for a Village,' a treated photograph based on photographs from the High Atlas.
Credit: Courtesy Israel Goldstein Collection, Central Zionist Archives
Visitors to Efrat Hakimi's exhibition, "Looking for a Village," at the Tel Aviv Museum of Art, may feel that they have stepped into another world. While the museum is bursting with grandiose, colorful works by the Japanese artist Yayoi Kusama, by comparison, Hakimi's photographic exhibition is mostly black and white and, like her earlier work, maintains a sense of minimalism.
Unlike her previous work, however, "Looking for a Village'' deals with Hakimi's personal Mizrahi identity and that of her family. From archival photographs of people and places in the Atlas mountains of Morocco, to contemporary images taken at Moshav Shokeda, in southern Israel, where immigrants, her own family among them, rebuilt their lost village, and back to the ship Jerusalem, which brought her family to Israel – Hakimi does not try to locate the physical village or to explain why her family left it. Her aim, she says, is to touch something personal that is related to place.
Hakimi, 39, embarked on her voyage into the past in the wake of receiving the Tel Aviv Museum's Lauren and Mitchell Presser Photography Award for a Young Israeli Artist, 2020 – a prize that is accompanied by a solo exhibition at the museum. After completing her last project, an exhibition titled "Zion," her twin sister, writer and poet Tehila Hakimi, shared an essay she had written about an attempt to locate their family's village, Assamer, in the High Atlas Mountains.
"Today not a trace of the village remains, the houses were demolished, the inhabitants abandoned it, it's not even marked on maps," Hakimi says. "But what interested me wasn't finding the village. It was the attempt to imagine what kind of place it was, to imagine a person, to imagine myself in a particular place. If my grandfather and grandmother told themselves a story, and my mother told herself a story, then I too want to tell myself a certain story. And I want to let other people tell themselves a story. So, from my perspective the works in the exhibition are both about a specific place, about Morocco, which I think is important to talk about in our culture – especially in the Tel Aviv Museum – but also about migration in general."
One of the first stops on Hakimi's quest to forge a story was the Harvard University Archives, where she found a group of photographs from 1955 captioned, "North African immigrants aboard the ship Jerusalem" – the very vessel on which her family reached Israel. Deeply moved, she thought for a moment that she would see her late grandparents. But the excitement waned very quickly when she realized that the pictures were staged.
"And then I found the [documentary] film 'The Lachish Story' on YouTube, produced by the United Israel Appeal, from which the photographs were taken," she recalls. "I watched it and was appalled by the racism, by the way the Moroccan consciousness is narrated. I muted the sound, sat in front of the images and tried to construct a different story of migration, to dismantle the ideology that was imposed upon it. To try to tell the story without Zionism, without the indoctrination of redemption. I focused on people's intimate moments with themselves on that ship that brought them to Israel. In the second half of the film they are documented in Israel, where the parents are 'taught' to wash the children and the violent father gradually comes to understand the rules. In the video work that is on view in the exhibition I set out to remove all those elements, which are imposed by an external gaze, and transform them into an experience from a different place, without the interpretation of the vested interests – after all, the purpose of the film was to solicit money from Jews around the world."
The story is also a universal story of colonialism, of East versus West. In that context, questions arise of who took these photographs, where are they stored or exhibited today, and why?
"It's both interesting and infuriating to see how materials are stored and handled. You scour the archives and find photographs from places like North Africa and there is no exact date, no exact place, no names of the subjects of the photographs or even the photographer's name. Most of the photographs that I found, not only in museums in Israel but also in the United States and France, are in file folders. For example, I found a photograph of a relative of mine in a folder in the Isidore and Anne Falk Information Center for Jewish Art and Life at the Israel Museum [in Jerusalem]. It's the only photograph I found on which the name of the village appears – in other words, the only one we know for certain is from Assamer. The name of the village appears in French on the back, though it's not documented in the museum's records. Whoever catalogued it didn't transliterate the name of the village. There might be many more photographs [of the village] that I missed, because nothing is written on the back."
That particular shot, which depicts a relative of the artist, and the only portrait in the exhibition, adds a gendered aspect that gives expression to the lost voice of the women from the Atlas Mountains. "It's a wrenching photograph. A woman is sitting on the floor with her child. Her gaze appears to be angry or frightened. The picture is taken from above, that's the point of view. There's no feeling that it's shot from closeness, trust, comfort, true consent, even though specifically this picture was taken by a Moroccan photographer named Elias Harrus. There is anger in it, fear."
"I see something immoral in presenting people when it's unclear whether they wanted to be photographed," Hakimi continues, "and I think that it's essential to recognize the balance of power that is created when a photographer takes a picture. I found a great many astonishing photographs from the region of my family's village, a great many photographs of women. But if I were to hang photographs of people whom I can't identify on the walls of the Tel Aviv Museum, I feel that I would be engaging in orientalism. From my point of view, I assumed the burden of telling the story, I'm not attempting to impose it on women who were photographed a hundred years ago without their consent. The only thing that gives me the right to use this photograph in particular is that I learned from people who knew my grandmother that the woman is a member of my family. So I felt that even if I can't give her a first name, I can at least give her a surname."
In their own language
After arriving in Israel in 1957 and settling in Moshav Shokeda, west of Netivot, the former residents of Assamer effectively refashioned their lost village. "The whole village copied itself to Shokeda," Hakimi relates, "and they reconstructed some of the conditions of their life in the Atlas Mountains, even though they changed their professions here. There, they were mainly merchants, and here they became farmers and afterward worked in jobs in the surrounding area. They went on living in the dynamics of village life. One can say that the village still exists. They were all living together, speaking their own language. A book [in Hebrew] has even been written about the community – 'The Generation of Transition: Continuity and Change Among North African Immigrants in Israel' – by a sociologist named Moshe Shokeid. He even changed his name to Shokeid following his encounter with these people."
Still, what was lost along the way?
"The material legacy, things you experience through the eyes, vanished. What did that place look like? What did people wear there? It's said that it was very cold there – my mother was born in the midst of a snowstorm. Hardly anyone remembers or wants to remember. There is something about coming here, leaving all that behind and deciding that it's no longer important. Even on the way, before they set foot in the ship, they grasped that it was better to leave that place behind. Very much like some sort of prerequisite for starting life in a new place."
How have the moshav and the village within it changed over the generations?
"In the first generation the village was preserved, and afterward only remnants were left. It's as though they created a transitional space for themselves in order to cope with the change. From the moment they arrived in Israel a gap began to emerge. That happens with many migrants: The children are agents of socialization. In the case of my parents, the state tore them from their parents and placed them into boarding schools for outstanding children in Jerusalem. In the text that Tehila wrote she relates that when my mother completed high school in Jerusalem, her parents tried to attend the party in the school but couldn't find the place. Those are people living in a country that is alien to them. There was a large gap between them and my mother in the depth of their assimilation into society. That notion of preserving the village left them in the village, disconnected in some way."
In Hakimi's exhibition Shokeda is embodied through the Moroccan stone taboon oven, the frena, which has the same name as the bread that is baked in it, and which Hakimi photographed and transformed into a huge wall design. "They built this thing for themselves in order to feel that they were at home," she says, and notes that she found the same feeling in a passage that the artist Yigal Nizri sent her from the poem "Al-Keskas ul-Ferran" by the Algerian-born Israeli poet Erez Bitton: "When first we arrived in Eretz Israel / My mother wanted to build a birth village in the yard."
She remembers the frena from the landscapes of her childhood, and the memory returned vividly when she saw the archival photographs of Maghreb villages. "I remember my grandmother making that bread, which we loved, and we children peeking into [the taboon] when it wasn't hot. It was the women who prepared the bread, ground the flour. It was a female space. On certain days they would bring their pots in order to cook in the oven. It interested me to recreate that in the exhibition and also to think about that space, to connect with that place through this familiar object, whose smell, taste and feeling I know."
No less than an object of memory and identity, for Hakimi the frena is equally a manifestation of creation and transformation. "Baking is a type of doing or creating, of partnership. I was there and photographed the frena in the home of a neighbor of my grandmother on Friday, right after they finished baking in the morning. So it's still a place where bread is baked for everyone."
First-person migration
Efrat Hakimi, a mechanical engineer by profession, was born and raised in the central Israeli town of Shoham. She attended the Midrasha Faculty of Arts at Beit Berl College, and completed her master's degree in the prestigious Art Institute of Chicago a year ago. She has exhibited in the Hyde Park Art Center and in 062 Gallery, both in Chicago, and at the Mana Contemporary cultural center in Jersey City, New Jersey. In Israel, her works have been exhibited in the Tel Aviv venues of Hamidrasha Gallery, the Nahum Gutman Museum and Rosenfeld Gallery. In 2019 she was the recipient of the Israel-based Katz International Photography Award.
Her art studies, which took her abroad – she has been living in the United States for four years, with her Israeli partner – meant that she herself underwent a first-person migration experience. "I see how difficult and destabilizing it is to return here," she says. "The family is here, familiar things. It's a lot of effort to live in a different place, in many ways, so to think about the place I came from is painful, difficult. In the case of our parents and their parents, it was an irreversible experience. The village has vanished, it no longer exists. They can't return to it, not even for a visit. But for me, it seems mentally irreversible, too."
People always try to locate the moment of migration, but migration is a process. It's a lifelong experience and has long-term implications, generations upon generations. Even we, the third generation of the migration from the lands of Islam, carry within us a deep experience of migration.
"That's true, migration is a multigenerational process. I ran across a report about a lawsuit by an African American woman named Tamara Lanier who demanded ownership from Harvard University of the Zealy daguerreotypes, the first photographs of slaves [in the United States], because one of the subjects of the photographs was her ancestor. The court ruled that, by dint of property law, they belong to Harvard and not to the descendants of the slaves. The issue of property is very interesting, but so too is the question of what you do when you have nothing physical, concrete, from these places. I think this is something that many descendants of migrants are coping with. The claimant is an American citizen, but she is the descendant of people who had no status. In that sense, it's similar to the migrants from the Maghreb countries and others. These are issues which have also become very important to me, because I myself am now a migrant and I am trying to understand my identity in a different place. It reconnected me with the generation before that of my parents."
It's no coincidence that you returned to the generation before your parents. The second generation is disconnected – disconnected from its parents, from its culture, from its history. In your case the establishment severed your parents from their family and created an unbridgeable gap. That has the potential to create a situation of a lack of identity.
"We had a conversation among the family about how disturbing it is for our generation. It's kind of an important question: Where did we come from? My need was sparked precisely by my work as an artist. Through my work, I gradually drew close to myself; I am not outside the frame in my work. And my mother always took an interest in everything I found and was my partner in the process. She helped me make contact with people from my grandparents' generation, traveled with me, organized and sat in on conversations with several women. In the end, despite our different conceptions of their migration story, it really connected us."
And the women you met – what prompted them to speak with you?
"The photographs were one of the main incentives for them to talk about the village. Suddenly, when there were photographs, they remembered so much. The visual tools, the physical materials, are fraught with meaning for us. Even if we say it's not important, it activates us. Among other items, I showed my grandmothers' friends in the moshav photographs of jewelry from the Atlas Mountains and I asked them where their jewelry was. They told me, first off, that it had been impossible to take everything. Second, people needed money for the trip. But while still in Morocco, in the passage from village to city – in the encounter with people from other places, from other countries, from the Jewish Agency – they understood that if they continued to dress in their clothing and wear that jewelry, they would be identified with that place in the mountains, that backward place. So some of them already got rid of their jewelry there. Today they have nothing."
In the exhibition you use light boxes to show X-ray-type photographs of objects that belonged to Maghreb women. What is the meaning of these objects from your perspective?
"We learn more about places and people from the objects they used than from photographs. When a man or a woman creates something, or uses it, there's something that's active in the thing itself."
Hakimi created one of these objects – an amulet to guard against miscarriage – inspired by an existing amulet which was used by women from North Africa and is on permanent display at the Israel Museum in Jerusalem. "Obviously it is something very intimate, which a woman made for herself," she emphasizes. "All the value it possesses is related to fears, to the body. What interested me about the amulet is that a woman's hands fashioned it. The amulet, too, is a type of village: It contains within it parts of a place, remnants of things. It's like if I walk in a forest and collect things from the forest floor, I'll have a map of the path I followed that day. A woman's praxis, universal, outside time and place."
And yet objects, just like photographs, are mediated through agents of culture and professionals, most of whom are Western men.
"Yes, and there's something painful there when you think about it. On the one hand, it ensures documentation, and the museum's important role lies in preserving culture and knowledge for future generations. On the other hand, these objects have been wrenched from their context, taken from the people who used them and who gave them meaning, and are now stored or exhibited behind glass in a museum. The Israel Museum, for example, has a large collection called the Zeyde Schulmann Collection. He was apparently a Jewish merchant from Poland who was interested in the [Jewish] communities in Morocco and collected items from them and photographed them. Many of the photographs of the communities that I viewed were taken by him. Zeyde Schulmann went to Morocco in the 1950s, traveled through the country and bought items. He photographed a great many women in their [traditional] clothing, with their jewelry. He bought everything imaginable: Hanukkah lamps, household items, clothing, even headstones. Apparently he had connections with people and he knew that these places were going to vanish in the wake of emigration."
You talked about the migration experience, which became more vivid for you when you moved abroad. How did the transition overseas affect your interest in identity?
"As artists or writers or creators we look for ways to express ourselves from an authentic place. It's possible that I never saw my true connection to this issue until now, beyond the automatic understanding that my father is from Iran and my mother from Morocco, and that people identify me as Mizrahi. As a girl, growing up, I had questions, like why did my grandfather speak Arabic? Why do people tell me that Arabs are bad when my grandfather is actually an Arab? That bothered me when I was young. So I can't say that I did not experience my Mizrahiness, but it seems to me that frequently we experience it through the gaze that is directed at us and the expectation that we should be one way or another."
"I know that in Israel people like to sneer at identity politics, but it's a very interesting discourse in the United States, especially in regard to the visual arts. There are a great many Black women, Latino people, Asians who are like us – third generation. The Chinese-American population, for example, is huge. They arrived during the Gold Rush, some of them before all those Europeans, and they are still marked as immigrants. So there is broad engagement, deep and real, with identity. In part through the way they are identified by white people, but also out of a desire to understand themselves, from within themselves, from within their families. So it's possible that something in that deeper engagement, in the freedom to think about these things and to look at them, influenced me."
"And I can also think of artists I met who influenced me. For example, the Jewish-American artist Michael Rakowitz, whose family came from Iraq. In his project 'Return,' a little after the invasion of Iraq in 2003, he reopened his grandfather's business – imports from Iraq – in New York. His attempt to revive elements from the past using the means he has now, from this place that is relevant to the present, is a viewpoint that interested me. In its wake I can say that I don't feel a need to be committed to authenticity of a particular kind; I approach things from a place that is authentic only to myself."
How do you feel about having a show in a museum that doesn't generally exhibit Mizrahi artists?
"I am delighted and thrilled. Since winning the prize, I thought this could be an amazing opportunity to speak about a Mizrahi presence in the museum, through my own work with identity. I was very happy to have the museum's full support, to work with Raz Samira, the photography curator, and with Mira Lapidot, the chief curator. While I was working on the project, I visited the museum's photography collection, where I saw Meir Gal's 1997 work, 'Nine Out of Four Hundred: The West and the Rest.' I didn't do an in-depth check, but I'm afraid that the statistics are problematic in the museum's collection, too. It feels like women, Mizrahim, Arabs, Ethiopians and other groups still have far less representation in collections and museum exhibitions in Israel. I hope that will change for the better."
Click the alert icon to follow topics:
ICYMI
Ken Burns' Brilliant 'The U.S. and the Holocaust' Has Only One Problem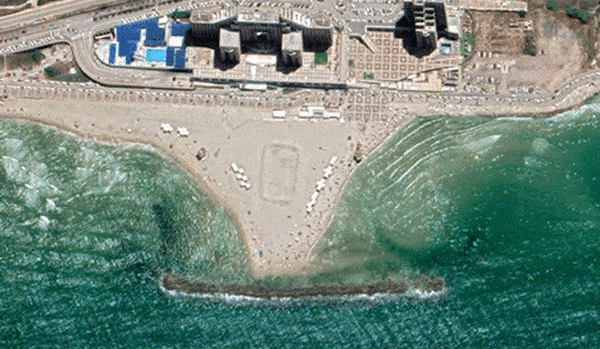 Facing Rapid Rise in Sea Levels, Israel Could Lose Large Parts of Its Coastline by 2050
As Israel Reins in Its Cyberarms Industry, an Ex-intel Officer Is Building a New Empire
How the Queen's Death Changes British Jewry's Most Distinctive Prayer
Chile Community Leaders 'Horrified' by Treatment of Israeli Envoy
Over 120 Countries, but Never Israel: Queen Elizabeth II's Unofficial Boycott