How the Coronavirus Redefined Home Design
Whether COVID lingers or disappears for good, it looks like Zoom is here to stay, having upended how interior designers and architects work. Welcome to the world of virtual design
A kitchen in a home in Herzliya, by Ron Shpigel Architects.
Credit: Elad Gonen
Interior designer Martyn Lawrence Bullard from Los Angeles is famous for designing a number of the most luxurious and expensive houses in the world, such as those of the Kardashian sisters and Cher. Bullard, along with the rest of the world, experienced a drop in orders during the coronavirus pandemic – but the picture changed when he discovered Zoom. Since then, he has been offering virtual design services, even for customers only a short distance away from his spacious Los Angeles office. He charges $1,500 for 55 minutes of consulting on Zoom – a bargain price for a famous interior designer such as Bullard, whose customers are scattered across 40 countries, from Qatar to Japan and Germany.
Bullard was featured in the New York Times a few months ago, with Zoom depicted as the technology that saved the world of interior design, turning it into a central tool in normal times, too. Remote design is now "totally mainstream," just like online dating, Ellen Fisher, the New York School of Interior Design's vice president for academic affairs and dean, told the New York Times. "The pandemic is obviously a terrible time for many of us, but it opened up tremendous opportunities for interior designers." The school's continuing education courses now include how to annotate shared screens on Zoom and follow up with meeting minutes after a video call – and then to bill the customers, Fisher told the Times.
Zoom is also the basis for an initiative by American interior designer Jake Arnold, 31, who founded The Expert website – a platform that connects customers and designers. Clients can schedule a virtual meeting for advice, paying between $400 and $2,500 for the service.
In October Arnold shared his concerns about the idea with The Hollywood Reporter: "E-design is normally so cheesy ... I was really apprehensive because I thought there's no way something effective can happen on one video chat." But "it turns out that everything that feels pretty standard to me is information the average consumer doesn't have," he said. Since the site went live in February, The Expert has connected designers to thousands of customers all over the world, and in March it raised $3 million from investors, including actress Gwyneth Paltrow.
To feel the customer
The work on Zoom, or other virtual meeting platforms, is challenging – and can be exhausting and filled with technical problems. It is especially challenging when you need to understand what the person on the screen is feeling, and in the world of interior design, "to feel the client" is the most important thing – but it is possible.
Interior designers in America have shared ways to make the Zoom experience better. For example, some designers send their clients samples before they start the video sessions, or send them to specific stores near where they live to check out what sitting on the sofa really feels like. To deal with the critical problem of measurements, clients can use companies that measure the space with lasers, and then provide a full and accurate plan of the house.
In Israel too, architects and interior designers were quick to adopt the new model. True, they say, this being Israel, the distances between places – even the farthest flung ones – are nothing like those abroad. But exhausting traffic jams have changed the work culture, and Zoom is here to stay, they say.
V5 Architects, based in the Tel Aviv suburb of Givatayim, says its firm has switched to working on Zoom with clients at almost all stages of the process. The company plans buildings and large projects, urban planning and construction, landscape planning and development as well as the interior design of public buildings, offices and commercial spaces. Except for the initial launch meetings with developers and a very small number of meetings with a large number of participants and consultants – all the rest of the meetings have moved to Zoom, including the various government committee meetings, said Tali Darel, an architect and partner at V5.
"Work on Zoom spares us travel and hours of traffic jams," said Darel. "Because most of our work is as a team, Zoom has made this more efficient. The minute work is more efficient, travel time can be saved and devoted to the project itself – and we are more profitable.
"We discovered a completely new world," she said. "[It's] much more effective, much more efficient and allows us to do our joint work in a way that is better than ever.
"Even if sometimes there is 'dead time' in those meetings – for example, in the case of a meeting on a large project where we are planning only one compound, and naturally our participation in it is limited – then during this time we continue to work on other matters, which is a much less polite thing to do at in-person meetings. Zoom opened up possibilities for us to take advantage of the available time and go home with our minds at rest."
Many of V5's projects are mixed use – that is, for example, a commercial compound alongside residential units and offices. When the project grows in size, so does the team working on it, as does the number of experts and consultants who need to participate. Since these large meetings have begun being held on Zoom, the availability of all those involved has also increased – and they can join in the meeting from wherever they might be, said Darel. "The [government] authorities have also become more efficient and all the licensing meetings are on Zoom. If once we used to wait outside the offices until our turn came, now we wait in the Zoom waiting room and continue to deal with other matters during this time."
The farther along the project advances in the planning stage, the more complicated remote work becomes. As an example, Darel describes a brainstorming session on planning sketches. "The customer and advisers dive deep into the sketch, but Zoom is not a pencil and sometimes it is not possible to make clear what we mean, or that we don't understand what the other side means. In a large commercial project, even though it is much more convenient for all of us to hold meetings on Zoom, it happens that after remote meetings we run into, for example, a transportation problem we can't solve. At this stage there is no choice but to have a frontal meeting of all involved, including in this case the transportation expert."
Nonetheless, Darel says Zoom is a very efficient tool when it comes to three-dimensional plans. "It does wonders: You can point out certain things, change and add, and all of it live – with all the eyes of the participants on the screen."
While the architectural firm is convinced that Zoom has changed work for the better, some customers have still not gotten used to the new normal.
"Some clients are more technologically inclined and others less so. We try to take into account where they are and be flexible," said Darel. "There are people for whom it is very important to sit next to the table with the sketches spread out in front of them. The problem is when it happens in a meeting that is done half on Zoom and half live, because the consultants are on Zoom – and then the interaction becomes unwieldy."
The way to use the hybrid model of remote work is by holding the first meetings with clients in person to feel the chemistry and study the customer. This initial dialogue is critical, said Darel. The moment the relationship exists and the project gets rolling, Zoom is very convenient, she added.
TheMarker spoke with a number of interior design and architectural firms to learn how they have included Zoom in their regular workflow.
'Work is more efficient – everyone benefits from it'
ReMa Architects, planning and building offices and private projects
Work model: 30 percent on Zoom, 70 percent face-to-face meetings
Architect Marina Rechter Rubinstein says that before the coronavirus pandemic, her firm ReMa Architects didn't use Zoom at all. "Now, we use Zoom mostly in the planning stage. The first meetings, the tours at the site, the choice of materials and colors have stayed the way they used to be and are held face-to-face with the customers," she said. The hybrid work model for the firm is now about 30 percent on Zoom and 70 percent face-to-face meetings.
"In projects overseas, even before the [pandemic], we used Skype a lot and photographs from the site that the clients would send us. Zoom raised the level of the connection with clients in faraway projects, in part because we can now talk with more than one person at a time. In projects our office did in Panama and Germany, we used video conference calls, but this is inaccessible compared to Zoom, and the equipment is expensive and impractical. Meetings with consultants for commercial projects, second planning meetings and budget meetings are also done on Zoom sometimes," she added.
During the COVID outbreak and the lockdowns, ReMa tried to do a project completely on Zoom. It was a project in the construction stage for clients who had worked with the firm before: "The two sides didn't want to stop the project, so we went along with the request, including the process of choosing the materials," said Rechter Rubinstein. "It was challenging, but in the end the project was a success."
Working on Zoom helps reduce the amount of time it takes to complete a project. "It is much harder to coordinate a physical meeting with a lot of participants than a meeting on Zoom," she said. "If in the past, it took two or three weeks for such a meeting to happen, now it is held within a week. Things aren't delayed, the decision-making process is quicker and that is how the projects finish faster and everyone saves money, time and effort."
Choosing colors for the project still remains the hardest task to carry out on Zoom. While the inspirational meeting for the colors for the project can be held remotely, the final choice will be made in a physical meeting, "because the pictures and colors on the screen do not show the shades precisely," she said. "Zoom requires a different culture from us that we still need to practice. To open the camera, put it on mute when necessary, not to talk on the phone in the middle and not to get sidetracked. On the other hand, in order to truly be effective, the meetings on Zoom need to be short so that we don't lose everyone."
The firm uses Zoom in all the stages involving planning, sketches and simulations, as well as for the licensing committees and regional planning committees. Face-to-face meetings are held at a later stage when it's time to get down to details, such as choosing materials, carpentry, ceramics and kitchens.
'You feel the material; there's no substitute'
Ron Shpigel Architects, renovations and new construction for private customers
Work model: 50 percent on Zoom, 50 percent face-to-face meetings
Architect Ron Shpigel says it's difficult to connect to a client remotely – "to their feelings, the ability to send a message with the body too, not just with the voice and head you can see on Zoom." But as the use of Zoom has grown, the better it works for everyone – because all those involved are making an effort to improve the interaction. "The hardest thing on Zoom is to show shades and colors – because their renderings can be very distorted and dependent on the device the person facing you is using," said Shpigel. "We don't do this."
The firm, which specializes in renovations and new construction for private clients, uses Zoom about half the time. The other half is face-to-face meetings.
Shpigel says that when you reach the stage of choosing materials, "we go with the clients to the showrooms. You feel the material with your hands and see it with your eyes, [an experience that] cannot be replaced – and that's a shame. Because with our clients overseas, a way to accurately show them the colors without distortion could have helped us a lot. Now clients either come to Israel to make the choices [prior to the newest COVID travel restrictions] or they send samples that we use to match the colors and materials here in Israel."
'Israel's infrastructure works partially with Zoom'
Nirit and Sarah Frenkel Architecture and Interior Design, does projects for individual and commercial clients in Israel and abroad
Work model: 100 percent face-to-face meetings with Israeli clients, 100 percent Zoom meetings with overseas clients
The firm has made major changes in their work with their overseas clients, said Yotam Birenboim, an architect with Nirit and Sarah Frenkel Architecture and Interior Design. Before the pandemic, the interface with these clients was mostly through emails and phone calls. Face-to-face meetings were held once or twice a year – when they came to Israel for a visit. "We didn't have a visual interface. Meetings with other consultants or the client's project manager were only done in Israel."
Since the coronavirus pandemic and the rise of Zoom, the firm has used the tool a lot. "We have a lot more meetings with foreign residents. Zoom allows us to see the people and hold brainstorming sessions online with various consultants. It's not just text and pictures like it was in the past," said Birenboim.
This way of working has also been co-opted for Israeli clients who don't live in the center of the country. "It saves clients regular trips to the center, which can take two or three hours," he added.
But in spite of the convenience involved in using Zoom, it still doesn't save time. "Because the time allocated for a digital meeting or a face-to-face meeting is the same, for us there is no change as far as the timing or volume of work is concerned. Meetings related to planning are done with the employees in the office in any case, and purchasing meetings and visits to the site are in any case outside."
Birenboim also agrees that choosing materials and merchandise will continue to be done with touch and feel. "There is no replacement for this. We even prefer to do meetings over three-dimensional plans in the office and not on Zoom, because Zoom makes it hard to stream media while maintaining eye contact. The bandwidth in Israel does not enable stable media streaming. Unfortunately for us, the infrastructure in Israel is only partially built to work with Zoom," he said.
Click the alert icon to follow topics:
ICYMI
Ken Burns' Brilliant 'The U.S. and the Holocaust' Has Only One Problem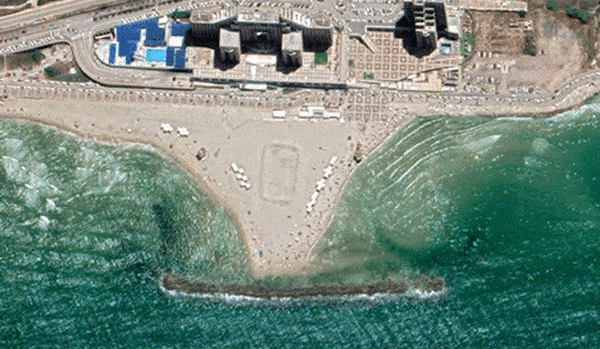 Facing Rapid Rise in Sea Levels, Israel Could Lose Large Parts of Its Coastline by 2050
As Israel Reins in Its Cyberarms Industry, an Ex-intel Officer Is Building a New Empire
How the Queen's Death Changes British Jewry's Most Distinctive Prayer
Chile Community Leaders 'Horrified' by Treatment of Israeli Envoy
Over 120 Countries, but Never Israel: Queen Elizabeth II's Unofficial Boycott