Analysis |
Putin, Xi and Khamenei All Know: America's 'Rules-based Order' Is Over
Putin has once again established the fact that invading his neighbors is his prerogative. China and Iran's leaders have learned this lesson well. In 2021, they all showed us what a world without American-set rules looks like
Russian President Vladimir Putin, left, and China's President Xi Jinping shake hands prior to their talks on the sideline of the 11th edition of the BRICS Summit, in Brazil in 2019.
Credit: Ramil Sitdikov /AP
Russian media announced on Saturday that 10,000 troops who were involved in exercises near the Ukrainian border are being redeployed to their bases. Of course, this doesn't mean that the prospect of a Russian invasion in early 2022 has diminished. The reports may be false, and even if they're accurate, the redeployed troops could be brought back to the border quickly. They also represent only a fraction of the forces Russia has amassed there, which are assessed at around 100,000.
But taking all those caveats into consideration, it is also plausible that Russia is beginning a slow de-escalation. There's no certainty that President Vladimir Putin intended for a full-blown invasion to begin with. And even without doing so, he has already achieved significant policy goals by exposing the weaknesses both of the Ukrainian government and the western NATO alliance, which was embarrassingly frank in its statements that it wouldn't come to Ukraine's aid.
This was the second time in 2021 that Russia concentrated large numbers of units on the border. Back in April, they were all redeployed without a shot being fired, and this very well may be what happens in the coming weeks. But even if the Russian combat brigades will not make their way into the Donbass, tearing away Ukraine's industrial heartland and capturing its main port of Odessa on the Black Sea – as they have been training for years to do – their maneuvers will not have been a failure.
Whether or not Putin actually intends to take the risk of launching an all-out war, he certainly wants his neighbors, and the rest of the world, to believe he is capable of doing so. Like all Russian nationalists, he doesn't believe Ukraine is a nation or country in its own right, but was – and should once again be – part of the Russian empire. That doesn't mean he's prepared to take the risk right now of carrying what will obviously be a much more costly move than occupying and annexing Crimea was back in 2014. It depends on the price.
The balance of military power is no doubt on Russia's side, but the Ukrainians would fight fiercely, and the popularity of an invasion may fade quickly once body bags begin returning home. Neither is a war what the failing Russian economy needs right now, before it has even begun to recover from the COVID-19 pandemic.
But even without giving the order, Putin has not only notched some gains by having banished any notion of the West intervening militarily on Ukraine's side (as NATO's leaders have made clear that it won't) and dramatically weakening the standing of the Zelensky government in Kyiv. He's struck another blow against what Barack Obama liked to call the "rules-based order."
Putin has once again established the fact that invading his neighbors, as he first did in 2008 in Georgia, is his prerogative. It was true then in the twilight of George W. Bush's administration, it was true under Obama in Crimea, and when Obama himself reneged on his "red-line" commitment on responding to the use of chemical weapons in Syria, only to see Russia deploy its forces there and preserve the Assad regime's hegemony. It was certainly true under Donald Trump and when America abandoned any semblance of commitment to the "rules," and remains true now with Joe Biden in the White House. And Russia isn't alone in flouting the rules.
Putin will have lost nothing if all the Russian forces redeploy in the coming weeks. He will have already proven that he can choose the time and place for an invasion. And the same goes for China, which has increased the tempo and scale of its incursions to the airspace and sea around Taiwan in 2021.
President Xi Jinping has plenty of good reasons not to gamble on an invasion of the neighboring island, but he is also making the point to the world that it is up to him. The Taiwanese can remain independent only so long as China is prepared to allow them to be so. The Chinese message is that Taiwan is not a separate entity and is living on borrowed time and there's nothing anyone else can do about it. No matter what some of its leaders may say, the post-Afghanistan-retreat United States is not going to go to war on behalf of a distant country. Certainly not under its current president.
And while Iran has nowhere the global power of Russia and China, it has adopted very similar tactics this year in its slow and tough negotiations over a return to the nuclear agreement. For the last three-and-a-half years, since Trump withdrew from the Iran deal and slapped "maximum pressure" sanctions on Iran, it has proved (with no small help from Russia and China) that it can withstand the pressure and continue both developing its nuclear capabilities and arming its proxies throughout the region. Supreme Leader Ali Khamenei is no longer worried that his representatives to the talks in Vienna may give a bit too much away, now that he has his hand-picked president Ebrahim Raisi selecting and directing the negotiators to make no compromises while the centrifuges keep spinning.
Iran doesn't have to go all the way and cross the nuclear threshold. It doesn't have to enrich its uranium stockpile all the way to weapons grade. It has already shown that despite the sanctions and the sabotage and assassinations attributed to Israel, it can get to the point where it is only a couple of months away from those capabilities. It can hover on the threshold and choose its timing. The United States isn't going to stop it and Israel, despite the cocksure proclamations of some of its leaders and generals, probably doesn't have the full capability to deny it either.
Of course, Israel doesn't have much of a case to complain about this lack of rules; after all, it has successfully been flouting the rules and disregarding any pressure to end its own military occupation of the Palestinians for 54 years now. Now that pressure has all but disappeared.
If anyone had any illusion that all it would take for the rules to be restored was a return to the Oval Office of a president who was not Trump, 2021 was the year that the absence of any Western-imposed rules became fully apparent. Putin, Xi and Khamenei have all seen to that.
ICYMI
Ken Burns' Brilliant 'The U.S. and the Holocaust' Has Only One Problem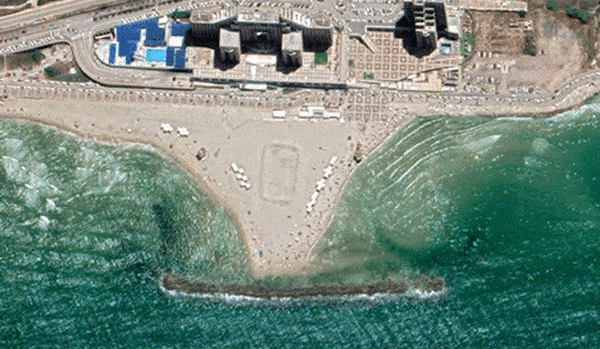 Facing Rapid Rise in Sea Levels, Israel Could Lose Large Parts of Its Coastline by 2050
As Israel Reins in Its Cyberarms Industry, an Ex-intel Officer Is Building a New Empire
How the Queen's Death Changes British Jewry's Most Distinctive Prayer
Chile Community Leaders 'Horrified' by Treatment of Israeli Envoy
Over 120 Countries, but Never Israel: Queen Elizabeth II's Unofficial Boycott