Analysis |
Striking Iran's Nuke Sites Is an Impossible Mission for Israel. Here's What It Must Do
Israel needs to muster the courage to propose a bold and creative move, beyond a return to the Iran nuclear deal or a one-and-done strike likely to fail
An Israeli jet takes off in a drill.
Credit: IDF
As the nuclear talks with Iran resume in Vienna, Israel must try to reach an agreement with Washington, by which the U.S. will extend it a nuclear umbrella and openly acknowledge it.
This is the necessary strategy as Iran sits down with five powers (The U.S. is involved, but not sitting in the conference hall). All sides are pessimistic about the chances of obtaining a deal, and it is clear that Israel lacks any real and credible capability of taking military action. The proposal could be extended to Washington and Jerusalem's allies – such as Saudi Arabia, Bahrain and the United Arab Emirates – if they so desire. The deployment of a nuclear umbrella is the ultimate guarantee of deterrence in the face of Iran's nuclear program and, if Tehran succeeds in assembling a nuclear weapon, the possibility that Iran will threaten Israel in order to extract concessions from it.
The declarations by Prime Minister Naftali Bennett, Defense Minister Benny Gantz and IDF Chief of Staff Aviv Kochavi about Israel's readiness for a military strike are empty and pointless rhetoric, as they well know. They are playing pretend. All the relevant parties – Iran, Russia, China, the EU and the U.S. – are quite aware of this. A leader who toys with the enemy and employs deception and psychological warfare is considered clever. A leader who toys with the public is a schemer. A leader who deludes himself is dangerous.
You don't have to be a general or a military strategist to understand. It's enough to look at the map, at the forces operating in the area and to read about the air force power from available sources.
Here are the facts. In order to strike in Iran, by the shortest route, Israel Air Force planes would have to pass over two countries – Iraq and Jordan. It's also possible to operate over Saudi Arabia, but that would lengthen the route.
Whichever route they take, the planes would have to carry the maximal load of bombs and missiles. Fully laden, even the brand new F-35 stealth aircraft, which were designed precisely for the mission of carrying out an airstrike in Iran, would need to refuel midair – slowing down the operation and increasing the danger of exposure.
Theoretically, there is another possibility for an alternative attack route: Taking off from Azerbaijan, which shares a border with Iran. Jerusalem and Baku maintain very close intelligence and military cooperation. There were once reports that Azerbaijan set up, or put at Israel's disposal, an airfield from which Israeli fighter jets could take off on their way to Iran. It's unclear how accurate these reports were.
What has definitely been reported is that Israeli UAVs have carried out intelligence missions to Iran from Azerbaijan. In one incident, an Israeli UAV fell and the Iranians collected the pieces.
In any event, the odds of Azerbaijan allowing Israeli jets to operate in its skies against Iran are slim to none. Secret intelligence cooperation is one thing. An Israeli act of war against Iran from Azerbaijani territory is something else. It would change the rules of the game between the two countries and across the region. It would provoke an Iranian response against Azerbaijan and Baku has no desire to get caught up in a war for Israel's sake.
Let's say that the Israeli planes manage to pass over Jordan and then Iraq or Saudi Arabia without being detected, or that those countries cooperate with Israel from the start. We still must consider the massive military presences of the U.S., Russia and Britain throughout the Middle East – air forces, naval fleets, aircraft carriers, military bases, radar and intelligence stations. And of course there's Turkey, which is hostile to Israel and whose intelligence agency has a history of handing Israeli intelligence agents over to Iran. In short, the chance that the Israeli planes will be able to operate quietly, in secret, without being detected – literally fly under the radar – is about nil.
If such a miracle does occur, and if Israel sends all of its aerial combat forces on this mission, it would have to be a one-time operation. In contrast, an American offensive could be carried out in several waves and spread over a number of days or weeks – an offensive that the Obama, Trump and Biden administrations all opposed or didn't dare to order.
Presuming the air force is able to deceive, "blind" and disrupt Iran's air defense systems, during the one-off strike, attack jets and bombers would have to reach and destroy dozens of nuclear sites that Iran has wisely scattered throughout the country – including some places beyond Israel's reach. The Israeli planes will also have to strike – either before striking the nuclear sites or in tandem – command and control centers, communications centers and anti-aircraft systems.
All in all, it is a hugely complex and practically impossible mission that is too big for the Israel Air Force to take on. Remember, too, that some planes would almost certainly be lost during the sorties. Their pilots would be killed or taken prisoner, which is essentially the same thing.
It's a shame that tens of billions of shekels are being wasted readying the air force for an attack that will not happen. The same thing happened under former Prime Minister Benjamin Netanyahu.
Even if, by some miracle, Iran's nuclear sites are entirely or partially destroyed, Iranian scientists have stored away the know-how and plans, and that cannot be destroyed. We've already seen Iran use this knowledge to rebuild facilities that were sabotaged in operations ascribed to Israeli intelligence. There is nothing to stop it from rebuilding again in the future. So, what is the benefit of setting back Iran's nuclear program for just a year or two at such a high price and with so many risks attached?
Moreover, an Israeli military operation will invariably draw international condemnation and perhaps even lead to sanctions on Israel. More importantly, Iran will have legitimate justification for rebuilding and redeveloping a military nuclear program and quickly assemble nuclear weapons, which it has refrained from doing so far. In such a case, the world could no longer oppose it, and certainly couldn't impose sanctions on Iran.
There is an even greater potential danger: If Israel somehow does manage to strike Iran's nuclear sites, instead of rebuilding, Iran could demand the nuclear disarmament of the entire Middle East – i.e., demand that Israel dismantle the nuclear weapon that everyone believes it has.
In such a scenario, would the U.S. be able to go on defending Israel – as it has done up to now in every international forum including the UN Security Council – and enable it to hold onto its nuclear weapon? Israel's political leaders, military commanders, those involved in its nuclear program, and all those who support its continued existence must be aware of this danger.
The decision to establish a nuclear program for military purposes under David Ben-Gurion, as foreign press reports have long asserted, was one of the boldest and most important decisions in Israel's history. The decision not to confirm or deny its existence – the ambiguity policy – is also extremely wise and allows Israel to rebuff international pressure. Most importantly, the policy gains the protection of the U.S., which turns a blind eye. Contrary to what certain analysts and experts say, including my colleague, Haaretz Editor-in-Chief Aluf Benn, Israel must continue with the existing ambiguity policy. It should not announce to the world that it is a nuclear power.
Israel does not really have any good options. It is at a historic crossroads. An Israeli military strike is not practical for all the reasons listed above. Iran's purpose at the Vienna talks is to gain time to continue accelerating its program until it becomes a nuclear threshold state or even assembles a nuclear weapon, though that possibility remains in doubt.
On the other hand, the weakness of the Biden administration and it's lack of desire to confront Iran mean that even if a new deal is obtained, it will be as laden with holes as Swiss cheese. This will enable Iran to continue shoring up and advancing its nuclear program.
If no deal is reached and the sanctions are not lifted – as is the expectation in Washington, and the lesser evil as far as Israel is concerned – the status quo continues and Tehran continues to advance a nuclear program. This also portends great instability.
Under these circumstances, Israel needs to muster the courage to propose a bold and creative move. It must open a dialogue with the Biden administration in hopes of reaching an agreement – ideally, an open one – in which Washington pledges to grant Israel and other allies in the region (if they so wish) a nuclear umbrella.
This would force Iran to recognize that if it develops a nuclear weapon, it cannot use it to threaten Israel or its neighbors. The merest hint of such a threat would be met with an American threat of retaliation. The nuclear balance of power between Iran and the United States requires no further elaboration.
An American nuclear umbrella could allow Israel to maintain its nuclear program and neutralize the festering fear and uncertainty.
A nuclear umbrella agreement between Washington and Jerusalem must apply solely to the nuclear realm and not to conventional warfare. In other words, such a deal should not weaken Israel's freedom of military action. It should allow Israel to continue operating against Iran by conventional means and through secret operations, with the aim of weakening and setting back the nuclear program and opposing Tehran's efforts to expand its regional hegemony.
Click the alert icon to follow topics:
ICYMI
Ken Burns' Brilliant 'The U.S. and the Holocaust' Has Only One Problem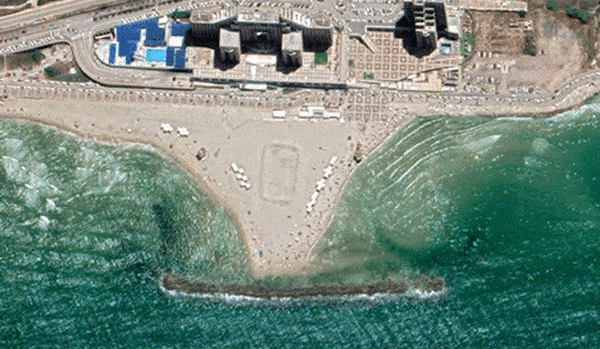 Facing Rapid Rise in Sea Levels, Israel Could Lose Large Parts of Its Coastline by 2050
Lapid to Haaretz: 'I Have Learned to Respect the Left'
The Mossad's Fateful 48 Hours Before the Yom Kippur War
As Israel Reins in Its Cyberarms Industry, an Ex-intel Officer Is Building a New Empire
How the Queen's Death Changes British Jewry's Most Distinctive Prayer