Analysis |
Biden's Got No Leverage, Israel's Impotent. Iran Has Nothing to Fear From Nuke Talks
The United States is not enforcing sanctions and is allowing Iran to export oil, limiting its options, while Israel struggles to devise a persuasive strategy
Centrifuge machines line the hall at the Natanz Uranium Enrichment Facility, last April.
Credit: IRIB / AP
When the negotiations over the nuclear deal resume next week, Iran can pat itself on the back because October was a very good month for its sanctions violations.
Tankers in its service delivered some 170,000 tons of crude oil without any disturbance. That translates to about 1.2 million barrels, whose price has soared in the past six months from $25 to $76 per barrel. Iran's gross income from the sale of oil last month totaled some $90 million. It earned similar sums in August and September, and the same will be true this month, bringing in a grand total of about $1 billion for 2021 – which is equal to Hezbollah's annual budget. Not bad for the regime of ayatollahs amid its efforts to patch up a damaged economy.
Following U.S. pressure, a few months ago Israel stopped attacking Iranian tankers delivering oil to Syria, after almost three years. About 60 percent of Iran's oil goes to China, about a quarter is smuggled to unknown destinations, and the rest is sold mainly to Venezuela and Syria – each of whom receives about 6 percent – and Russia.
What should be of greater concern to the decision-makers in Jerusalem is the fact that even the United Arab Emirates has no qualms about buying Iranian oil.
Implementing existing policies
The group that tracks, warns and reports on these issues is a nonprofit called United Against Nuclear Iran (UANI), a U.S. organization with an international presence. Its directors and members include former ambassadors, senators and senior CIA officials. For some reason, Israel has only one representative on the board of directors: ex-Mossad chief Tamir Pardo.
For years, the organization has been calling for a tightening of the economic and diplomatic siege against Iran while it continues its pursuit of achieving nuclear capability. In order to achieve this goal – preventing Iran from becoming a nuclear threshold state, not to mention in possession of nuclear bombs – there is no need, at least at this stage, to use military force and attack its installations. It would be sufficient if the United States were to impose sanctions on any individual, entity, company or country that trades with Iran and buys oil from it. To do that, there is no need for legislation or regulations. All that is required is implementation of the policies the U.S. administration itself adopted.
Before the signing of the nuclear agreement (JCPOA) in July 2015, the United States exerted tremendous pressure, with the help of intelligence from Israel, on every company or state that traded with Iran and violated the sanctions. These were secondary sanctions. Almost all the countries in the world, including China, refrained at the time from maintaining commercial ties with Iran or providing blacklisted services, for fear that their trade ties with the United States would suffer.
But since the United States' withdrawal from the treaty in 2018, Washington has refrained from enforcing the secondary sanctions. Both former President Donald Trump and his successor, President Joe Biden, avoided doing so.
Thus, for several years the United States has been ignoring Iran's violation of the sanctions. Former U.S. ambassador to the United Nations Nikki Haley, who is a member of the UANI board, has called on the administration to simply carry out its decisions – and to reimpose sanctions on China and other countries that purchase Iranian oil. There is no doubt that if that had happened, the socioeconomic situation in Iran would have deteriorated even further and might have forced the regime in Tehran to be more flexible.
But Biden has other international priorities and, thus, is not focusing his attention on the nuclear project and Israel's problems. As a result, Iran is allowing itself to harden its stance. The result is an increase in the rate of uranium enrichment, with the help of improved centrifuges and centrifuge clusters (cascades), which spin faster and enrich uranium with incomparably greater efficiency than in the past.
These activities violate Iran's promises to the International Atomic Energy Agency and – more importantly – the nuclear deal to which it is still a signatory.
On the threshold
An analysis of the IAEA report published a few days ago indicates that the Iranian enrichment of uranium to levels of 20 percent and 60 percent places it on the threshold of reaching the amount of fissile material required for nuclear weapons.
At present, Iran has a quantity of enriched uranium that would enable it to reach the 25 kilograms (55 pounds) of uranium at the 93-percent level required for one bomb within three weeks, another two months for a second bomb, three and a half months for a third, and six months for a fourth. This is all based on the present rate and pace of enrichment.
Obtaining the fissile material is just one component on the path to assembling nuclear weapons. Complex engineering works are also required to build a bomb, install the optic lenses and nuclear chain reaction, and assemble it as a warhead on a missile – and Iran still lacks those capabilities.
The assessment of the intelligence communities in Israel, the United States and Western Europe is that the Islamic republic will need about another year and a half for that. Even then, if Iran is able to assemble a nuclear weapon, it will still be an untested bomb.
All the countries that possess nuclear weapons or previously possessed them (the five major powers plus India, Pakistan, North Korea and South Africa) conducted nuclear testing. According to foreign reports, the only country with untested nuclear weapons is Israel, though foreign reports claimed in the past that Israeli scientists were present at a South African nuclear test in 1979. South Africa eventually dismantled its nuclear weapons.
Iran's determination to continue to develop its program is also reflected in the swift rehabilitation of at least four nuclear sites that were damaged in the past 20 months in operations attributed to the Mossad. Washington has no desire to take military action, or at least even threaten to do so. It is also opposed to an Israeli attack, and even to sabotage operations and assassinations like the one attributed to the Mossad in which Iran's top nuclear scientist, Dr. Mohsen Fakhrizadeh, was assassinated last year.
According to The New York Times, "American officials have warned their Israeli counterparts that the repeated attacks on Iranian nuclear facilities may be tactically satisfying, but they are ultimately counterproductive." In such a situation, the range of options open to the Biden administration is quite limited.
In effect, the only official demand by the United States in advance of the resumption of negotiations is that, in exchange for lifting the sanctions, Iran will return to the original 2015 agreement.
The thing is that Tehran has no such intention. Iran has made it clear it will not accept any deal – neither a return to the original agreement nor a limited agreement with fewer conditions – unless the United States first lifts all sanctions. With such a huge gap in positions, there is little chance of a compromise and a huge chance of continued attrition from Iran.
Israel is completely alone in such a situation, with limited options and the scorched earth left by the Iranian policies of Benjamin Netanyahu. Prime Minister Naftali Bennett is proving to be a weak leader who lacks an orderly plan. Netanyahu may have a one-track mind on the Iranian issue, but Bennett lacks even that. He doesn't have a clue what to do. Together with Defense Minister Benny Gantz and IDF Chief of Staff Lt. Gen. Aviv Kochavi, he repeats the moldy mantra that "All options are on the table." What options are they thinking of? A military operation? The Israel Air Force lacks the ability to move the Iranian program back several years.
Bennett, Gantz and Kochavi's lack of creativity on the matter is evident, for example, in their desire to increase the arsenal of missiles and rockets. The idea of establishing a "missile corps" in Israel is nothing new and was first raised by then-Defense Minister Avigdor Lieberman. It is a good but very expensive idea, which would cost billions of shekels. Its purpose is to strengthen the Israel Defense Forces firepower without relying solely on the air force.
At the same time, it is not the answer in the event of a conflict with Iran. Firstly, according to foreign reports Israel already has "Jericho" missiles that can hit any point in Iran. Second, the mid-range missiles and rockets that Bennett hopes to increase are meant for arenas such as Syria, Lebanon and perhaps even Iraq, but certainly not Iran.
The only person among the decision-makers and advisers around Bennett who has proven knowledge, understanding and experience regarding Iran is the head of the National Security Council, Dr. Eyal Hulata, who until recently headed the Mossad's Strategic Planning and Policy Division, and also handled issues relating to the United States and Iran. But Hulata alone cannot fight the ineffectiveness and impotence of Bennett, Gantz and Kochavi. Apparently, this triumvirate is coming to terms with the fact that Iran will soon be a nuclear threshold state, ready for a bomb breakout within a short time if it so desires.
The situation is far from encouraging, as Israel then becomes dependent on Iran's good graces. Israel's political, intelligence and military leaderships must come to their senses and think outside the box, some of which has been formulated already. That will be mainly the task of Mossad chief David Barnea.
Click the alert icon to follow topics:
ICYMI
Ken Burns' Brilliant 'The U.S. and the Holocaust' Has Only One Problem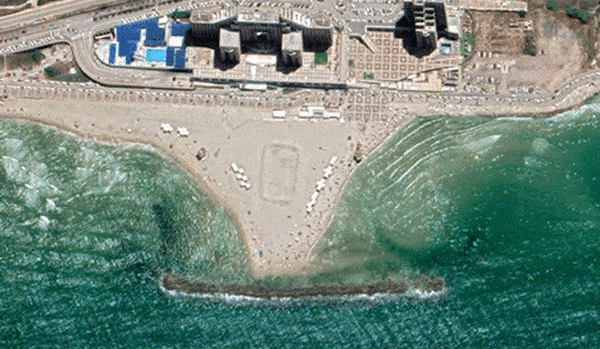 Facing Rapid Rise in Sea Levels, Israel Could Lose Large Parts of Its Coastline by 2050
As Israel Reins in Its Cyberarms Industry, an Ex-intel Officer Is Building a New Empire
How the Queen's Death Changes British Jewry's Most Distinctive Prayer
Chile Community Leaders 'Horrified' by Treatment of Israeli Envoy
Over 120 Countries, but Never Israel: Queen Elizabeth II's Unofficial Boycott