Is Gal Gadot a Good Actress? Some Day We May Find Out
Gal Gadot gets to do her kick-ass supermodel shtick, again, in the mega-budget 'Red Notice,' but another Netflix film, 'Found,' is far worthier of your attention
Gal Gadot as the Bishop in "Red Notice."
Credit: Frank Masi/Netflix © 2021
Director:

Rawson Marshall Thurber

Rating:

2 Stars

Click here to rate 1

Click here to rate 2

Click here to rate 3

Click here to rate 4

Click here to rate 5
A very scary sentence was buried in a recent report about Israeli actress Gal Gadot being cast as the Evil Queen in an upcoming live-action version of "Snow White and the Seven Dwarfs."
The Hollywood Reporter nonchalantly informed us the latest take on the Disney classic will also "feature songs" from the team behind "Dear Evan Hansen." This came right after it shared the news that Rachel Zegler – the young American-Colombian actress set to star in Steven Spielberg's incoming version of "West Side Story," meaning she can actually sing – will play the title role.
My suspicion is that the casting of Gadot as the villain will only truly start to make sense when she opens her mouth and murders the music. I mean, can you imagine?
It won't be the first time she'll have been cast as a villain, of course. Just this year she managed to inflame the Twitterati by posting a kumbaya message during May's Israel-Gaza flare-up. It says something that of all the vile responses she received for her "Why can't we all just get along?" post, Sen. Ted Cruz still managed to produce the most odious with his "God bless @GalGadot" response.
Her biggest production this year actually happened away from a movie set: In June, she gave birth to her third daughter, which she soon shared with her 66.7 million Instagram followers (earlier this year it was 66.6 million, thus confirming in their minds what those Twitter haters all suspected).
Gadot's last screen appearance, "Wonder Woman 1984," feels like a lifetime ago to me, but it was only last December. But even this comparatively short absence from our screens until the recent arrival of "Red Notice" will feel like a long stretch if all of the projects she's currently attached to eventually materialize.
She'll definitely be seen next February in the murder mystery "Death on the Nile." How long has that Agatha Christie adaptation been gathering dust? Well, director-star Kenneth Branagh has enhanced his career in the meantime with an acclaimed film about his Northern Irish childhood, "Belfast." And co-star Armie Hammer has managed to completely destroy his career in the same time (see the National Enquirer, TMZ et al for further details).
Gadot is also set to star in a third "Wonder Woman" movie, a potential spy franchise ("Heart of Stone"), and biopics of Polish war hero Irena Sendler, actress-slash-inventor Hedy Lamarr and – no explanation required – Cleopatra.
This little lot should see her into her, ahem, Gadotage. But first up is the mega-budget Netflix movie "Red Notice" – and I for one will be disappointed if she doesn't start referring to her "Snow White" movie as "Red Apple Notice."
The actioner's title comes from the Interpol term for its most-wanted suspects – you know, warlords, mob bosses, CEOs of Israeli spyware firms – and the film feels like it's been around forever, ever since Universal won a bidding war to make the Rawson Marshall Thurber blockbuster back in February 2018. Is it just me that finds it impossible to say the name "Rawson Marshall Thurber" without automatically adding "the third" after it?
When Universal balked at the ballooning costs and, maybe, at the direction the script was headed, Netflix swept in and picked up the tab: $200 million is the most commonly bandied-about figure, with $20 million of that reportedly going straight into Gadot's bank account. (One of the many reasons Netflix is an attractive proposition for talent is that it pays up front and no one is left waiting around for a percentage of the back end that will never, ever arrive.)
Strange soullessness
So, what has the streaming giant got for its hefty investment? Well, it's got three of the biggest stars on the planet in Gadot, Dwayne Johnson and Ryan Reynolds, and a director who theoretically knows his way around a blockbuster. Thurber's previous film, for instance, was "Skyscraper," another Johnson movie in which special effects did most of the heavy lifting.
You can't deny the film's ambitious scale. It boasts more locations than a Bond movie; more stunts than a "Mission: Impossible" flick; and more wisecracks than a Jim Carrey-in-his-prime comedy. Yet none of that can save it from being anything other than a cookie-cutter action movie, in which the world's least likely FBI profiler (Johnson) teams up with a master art thief (Reynolds) to catch another thief known only as the Bishop (Gadot).
The trio traverse the planet in search of three artefacts know as, um, "Cleopatra's eggs," but the constant nods to earlier, way superior movies (the "Indiana Jones" franchise, "Jurassic Park" and "Pulp Fiction," to name but three) do not reflect well on Thurber's latest effort.
I'd be lying if I said I didn't laugh at some of Reynolds' insults to Johnson, such as when, as they're about to pick up a heavy boulder, he advises him "Lift with your neck," or, when he sees him in a suit, "You're like a well-dressed wall."
Otherwise, there's a strange soulnessness to all of this, despite the best efforts of the game cast. It's like watching the world's longest, most extravagant Super Bowl commercial, except it's never clear what's being sold.
No one ever said you have to be a good actor to be a movie star. Clearly, you can be as wooden as the old Hollywood sign itself as long as you convincingly play a version of yourself that people want to see, and you look great on a giant screen while doing it (even if those are increasingly hanging from our living room walls rather than in movie theaters). And of course, the requirement to wear a mask has long been a mandate in Hollywood, ever since the dawn of CGI and the MCU.
Watching "Red Notice," I really wanted all three stars to try playing a normal person for once and not an implausible "movie character," one whose only frame of reference appears to be other films.
That's especially true for Gadot, who has carved a niche for herself as an action heroine with comedy chops who can be relied upon to bring the sizzle to PG-13-rated family movies. The big question is: What else she can do now she's made her fortune and can presumably make choices based on artistic rather than commercial concerns?
Blockbusters clearly bring their own challenges, but most of them revolve around the physical demands of playing a superhero or acting opposite a tennis ball in front of a green screen – or whatever color they use these days. By the way, the special effects in "Red Notice" are surprisingly average and look more like a computer game than a movie, which is my common "Grandpa Simpson shouting at cloud" gripe with most films these days. Oh for the days when a sunset was a genuine one rather than something created by someone on Sunset and Vine.
I know she has a lot of young fans thanks to her Lasso of Truth, but I can't wait to see Gadot playing actual, flesh-and-blood characters like Hedy Lamarr and Irena Sendler (the Poles are really going to flip when a Jewish Israeli plays their Roman Catholic national heroine), not a two-dimensional thief who doesn't even have a name and whose dialogue consists of lines like "Don't miss me too much – ta-ta!" You know, roles that might actually stretch her.
Gadot has proved that she can play fearless, flawless avatars: Her character in "Red Notice" is just her latest beauty queen who turns men's heads faster than a Ferrari speeding down the street. Now it's time for her to prove whether she can genuinely act, much like another model-turned-actress, Charlize Theron, has done over the past few decades.
The Israeli superstar actually sings for a few seconds in "Red Notice" – yes, that sound you've been hearing all weekend is Petula Clark spinning in her grave after Gadot's rendition of "Downtown." And while I may live to regret this, maybe it's not such a bad idea that Gadot might get to sing in "Snow White." If nothing else, it might take her out of her acting comfort zone.
'Found' (Netflix)
Food critics often warn of restaurants that feature endless menus where the chef seems to tackle every style of cuisine known to humankind. There are times I get that same feeling whenever I'm doomscrolling – or is it joyscrolling? – the Netflix homepage.
Thankfully, this is where recommendations come in handy. "Have you tried 'Squid Game'? It's got quite the kick," someone will say. Or they'll rave about this tasty French show called "Lupin" – and before you know it, your "My List" is longer than the wait-list to join the Robinhood crypto wallet.
A colleague took the unusual move of getting in touch last week to say he thought I should watch a new Netflix documentary called "Found." In fact, he felt so strongly about it, he said he'd kidnapped my children and wouldn't be returning them until I'd reviewed it. (I jest, of course: He only took my dog.)
Well, after watching it, I can only thank director Amanda Lipitz (and, of course, my colleague Steve) for making me cry like a baby throughout this inspiring and heartwarming film.
"Found" is about three American teenage girls who were all adopted from Chinese orphanages as infants, and who connect with each other thanks to ancestral testing site 23andMe. That's touching enough, but then they reach out to a genealogist in Beijing to see if she can help them find their birth parents. If you have tear ducts, prepare to have them overworked.
If you can imagine another powerful documentary, "Three Identical Strangers," but with a breathtakingly cruel psychological experiment replaced by a Chinese mandate that saw over 50,000 babies (mainly girls) abandoned – that gives you a hint about the drama contained herein.
While watching "Three Identical Strangers," you're overwhelmed by a sense of indignation that someone could conduct such a horrible, heartless experiment. Watching "Found," you're overwhelmed with admiration for all of the people you see on screen.
There are the three girls themselves: Sadie, Chloe and Lily, one of whom is met with incredulous responses when she says she's Jewish – or as her dumb tennis coach in Seattle told her, "You're not Jewish, you're Asian." (Chloe is also the niece of the director, who got the idea for this beautiful film when her brother told her Chloe's bat mitzvah was going to be at Jerusalem's Western Wall.) They're each exploring, to various degrees, some fundamental questions about who they are and why they were given up.
There are also the adoptive parents – it's mainly mothers – who have given the girls so much unconditional love over the years; the Chinese genealogist with her own painful backstory who is doggedly trying to connect them with their past, even though it's like searching for a needle in a paddy field; and the Chinese parents who once gave up daughters and might be the genitors.
Then there are the remarkable nannies who effectively raised the girls after they were left abandoned in cardboard boxes on busy thoroughfares and taken to their orphanages. These women offer a fascinating snapshot into rural Chinese life, with one of the "aunties" memorably explaining, when asked what she wanted to be when she was younger: "People from the countryside don't have dreams."
"Found" is a powerful and moving documentary about motherhood, about cousinhood (which I didn't even think was a thing until now), about identity, about abandonment issues, about China, about America and, always, about love.
I found it thanks to a colleague, and am now paying it forward for you. And don't worry, I'll return the family pet as soon as you've told me you've seen it.
"Red Notice" and "Found" are both available on Netflix now. One of them is really worth seeing.
Click the alert icon to follow topics:
ICYMI
Ken Burns' Brilliant 'The U.S. and the Holocaust' Has Only One Problem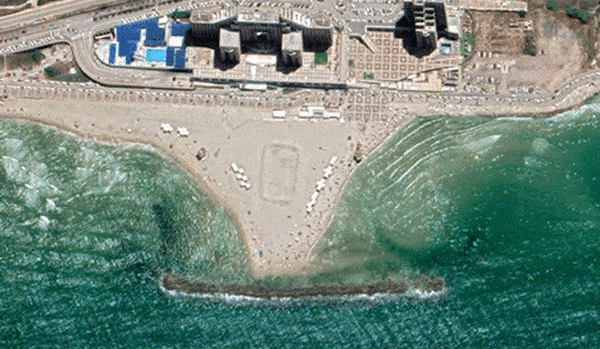 Facing Rapid Rise in Sea Levels, Israel Could Lose Large Parts of Its Coastline by 2050
As Israel Reins in Its Cyberarms Industry, an Ex-intel Officer Is Building a New Empire
How the Queen's Death Changes British Jewry's Most Distinctive Prayer
Chile Community Leaders 'Horrified' by Treatment of Israeli Envoy
Over 120 Countries, but Never Israel: Queen Elizabeth II's Unofficial Boycott