The Strange Case of Israel's Top Energy Official
Under his conflict-of-interest agreement, the Energy Ministry's new director general will need permission to pick up his pen in his own office
Lior Schillat. 'Lior who?'
Credit: Dor Pazuelo
Energy Minister Karin Elharrar (Yesh Atid) spent three months searching for a new director for her ministry. A double-digit number of candidates were considered, most of them with significant background in the energy industry. Some were interviewed by the minister. And then two months ago, on Yom Kippur Eve of all days, it was reported that the minister had finally chosen one of the candidates for the position: Lior Schillat.
"Lior who?" many in the energy industry wondered. A quick check showed that this was an wonderful guy – a talented, smart and well-liked 43-year-old who had recently served as director of the Jerusalem Institute for Policy Research (and was also on the board of a number of social organizations, including a foundation dedicated to commemorating Ariel Sharon, who was once Schillat's political patron).
Despite all his virtues, Schillat also brought with him three disadvantages in terms of his suitability for the role: First, he has no background in the energy industry; second, he has no business background or experience in a senior public position; and third – he has a family connection that could pose a serious and risky conflict of interest.
Until a few months ago, Schillat's brother, Yaniv Shvinkelstein, worked in the finance department of Noble Energy, which holds the monopoly on natural gas in Israel, and subsequently for the American company Chevron (which acquired Noble). Shvinkelstein also represented the monopoly in several of the negotiation meetings the Americans held with the Israel Electric Corporation concerning the sale of more gas to Israel.
Shvinkelstein has since left Chevron, but did not stray far from the field. He was appointed VP of business development, financing and sales for Rapac Energy, the company that won the bid to privatize the IEC's Alon Tavor power station and which currently operates four more private power stations in Alon Tavor, Ramat Gavriel, Sorek and Ashkelon.
In all, Rapac has a production capacity of 960 megawatts – approximately 9 percent of the production capacity for electricity from natural gas – and for this purpose it holds gas contracts with the Tamar and Karish gas fields. The company has also declared its intention to dive into the cogeneration field (the use of a power station to generate both electricity and heat at the same time), and also has signed contracts for collaborations with producers of solar electricity.
In other words, nearly every decision that Director-General Schillat makes in his role as the senior regulator in the electricity and gas markets in Israel will directly impact the profits of his VP brother's employer. So how did we get into this absurd situation, and what is being done in the energy and justice ministries to resolve it?
Permission to lift a pen?
We may have thought we'd seen it all when it comes to convoluted and impractical conflict-of-interest agreements, but now it turns out that the sky is in fact the limit.
In the agreement signed with Schillat and made public on Tuesday – only after his appointment was brought up for cabinet approval – he pledged to refrain from any direct or indirect involvement in matters that could pose any suspicion of conflict of interest "on any matter on which he has special influence on the field of producing electricity from natural gas at cogeneration plants."
In addition to being prohibited from involvement in the developing field of cogeneration, Schillat also pledged that in dealing with any matter on which he has "special influence on the field of electricity production from natural gas, by private electricity producers" – he would first consult the Energy Ministry's legal advisor to obtain approval for doing so. And that he would do the same with anything having to do with the sale of the IEC's power stations.
In other words, the director-general of the Energy Ministry will have to obtain prior approval for practically any decisions related to the natural gas sector, since his brother's employer is a major client of that sector; he will have to obtain prior approval before anything involving Israel's future fuel mix, as well for how it handles the climate plan, since, for example, his brother's employer has an interest in the continued production of electricity from natural gas; he will have to obtain prior approval before dealing with anything related to the reform in the electricity sector, since Rapac is also a major player in the privatization of power stations; and if any of the aforementioned subjects has any connection whatsoever to the cogeneration field – then the Energy Ministry director-general will not be able to be involved in the matter at all and will have to leave the conference room immediately.
In other words, the Energy Ministry director-general will need permission just to lift a pen in his office, and will not be able to work at all on some of the core responsibilities of the position.
Which raises some inevitable questions: Will Schillat be the ministry's director, or will the ministry's legal advisor be the de-facto director? And, after a three-month search, was there really no one else who could have been selected to be the Energy Ministry's director-general, someone who might actually have been able to fulfill their designated role?
For what is the Energy Ministry director-general supposed to work on if not the natural gas contracts of electricity producers, and the opening of the electricity market to competition? And how will he be able to make a decision regarding the gas monopoly or the IEC, if every significant decision in that area will have direct implications for Rapac's business?
And how will Schillat deal, for example, with an issue that was discussed only the other day in the Knesset – moving up the shutdown of the coal-fired power stations to 2022 – if the shutdown means extended (and more profitable) operation of Rapac's gas power stations? Will Schillat's decision on this question have "special influence" on private electricity production or not?
Shareholder updates from the brother
Six years ago, then-Energy Minister Yuval Steinitz insisted on appointing Shaul Meridor as director-general of his ministry. This, despite the fact that his brother, attorney Mattan Meridor, represented Noble Energy in legal cases.
The ministry jumped through hoops to get the appointment approved, as Meridor had a rich background in the public sector and was already acquainted with the energy industry. A complex and convoluted conflict-of-interest arrangement allowed him to be appointed – but only after his brother left the law firm and stopped representing Noble Energy.
In the current case, not only does Schillat have no known background to justify the insistence on his appointment – it turns out that while he was appointed to the sensitive post, his brother will also continue in his own post at Rapac.
In the conflict-of-interest agreement, Schilatt promised that once every six months, his brother will file an update on Rapac's holdings in various markets, and also provide regular updates on the company's controlling shareholders, officers and main clients.
Rapac Energy is held, among others, by Yossi Singer and Erez Balasha's Generation Capital – which has an additional slew of interests in the energy field. And if all this wasn't enough, it turns out that Schillat's significant other is Noa Heymann, deputy budget chief at the Finance Ministry (Social Team) – which would prevent Schilatt from dealing with anything pertaining to healthcare, welfare or education.
There are legitimate arguments that Schillat is qualified for the job, that he brings a fresher approach and a more innovative perspective, that no one is more qualified to serve as director-general – and that the conflict-of-interest agreement he was forced to sign is draconian and unfair. If so, why has the agreement remained? And if it does remain, why won't Schillat or his brother quit? Appointing a director-general to the Energy Ministry under such an arrangement, regardless of who the person is, creates a problematic reality that will eventually wrong him personally, but most of all jeopardizes the public interest.
The Energy Ministry said in response that "The director-general's core activity is the advancement of renewable fuels. The topics excluded under the conflict-of-interest agreement are not the core of the Ministry's activity. The issue was examined by all relevant agencies, including the Justice Ministry, even before the government's approval and that of the Appointments Commission. Most issues related to the private production of power are handled by the Electricity Authority, and in certain cases by the minister. Should the ministry's involvement be required, the director-general will be replaced by a professional deputy director-general from the ministry."
Click the alert icon to follow topics:
ICYMI
Ken Burns' Brilliant 'The U.S. and the Holocaust' Has Only One Problem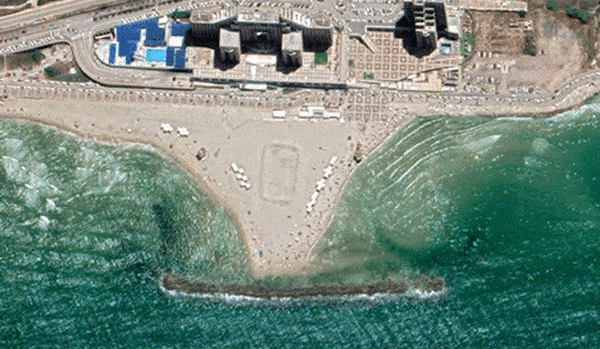 Facing Rapid Rise in Sea Levels, Israel Could Lose Large Parts of Its Coastline by 2050
As Israel Reins in Its Cyberarms Industry, an Ex-intel Officer Is Building a New Empire
How the Queen's Death Changes British Jewry's Most Distinctive Prayer
Chile Community Leaders 'Horrified' by Treatment of Israeli Envoy
Over 120 Countries, but Never Israel: Queen Elizabeth II's Unofficial Boycott