Analysis |
Netanyahu Is Dragging the Opposition Into an All-out War, and His Party Colleagues Are Fed Up
Bennett's Yamina party has no desire to mollify the ultra-Orthodox ■ Bibi's challenger Yuli Edelstein shouldn't be expected to deliver statements with any cogency ■ Yair Lapid has to deal, again, with a scandal in his party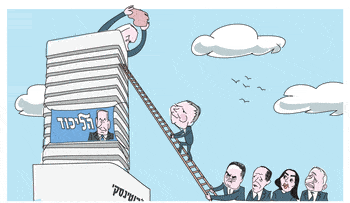 The Knesset and the country outside of it seem to be heading in opposite directions. Likud's fortunes are rising in the polls – the latest one from Channel 12 News gave the party 34 Knesset seats, four more than it has today. In the political-parliamentary stratosphere, opposition leader Benjamin Netanyahu is adhering to the strategy of burning his bridges that has characterized him since he had to hand over the keys to Prime Minister Naftali Bennett in June. A direct result of this is the former prime minister's weakness in the only arena that could change his situation.
Every speech he makes has the opposite effect of what his interests require. Instead of seeking paths into the hearts of the (real or imagined) weak links in the coalition, he is reinforcing them, soldering them ever more tightly to their parliamentary seats. Netanyahu is the only lawmaker who can disturb the equanimity of Mansour Abbas. The head of the United Arab List is an unruffled individual who seems to be constantly hooked up to an infusion of a mild sedative. The provocations of Religious Zionism party chairman Bezalel Smotrich, the incurable racist, or Likud MK David Amsalem, who this week crudely mocked Abbas' commitment to Islam (because of the UAL's support for New Hope MK Sharren Haskel's medical marijuana bill), leave him indifferent and somnolent.
Netanyahu is a horse of a different color. When he mocks Abbas from the Knesset dais, or attacks Bennett for his coalition's dependence on the Islamic Movement in Israel, whose name he literally spits out, Abbas goes bananas. He never had a suitor like Netanyahu during the period that the now former prime minister was trying to form a government. "I can tell him what the rooms look like at Balfour," he used to say, referring to the prime minister's residence in Jerusalem. What did Netanyahu want from him then, if not the UAL's abstention from the vote to approve the government as well as its eventual support, active or passive, in the Knesset? The UAL's rebellions have been diminishing. The maintainer of the coalition, Justice Minister Gideon Sa'ar, sent Abbas a message: A second objection to the cannabis law (once again contrary to the position of the Ministerial Committee for Legislation), will have repercussions. The UAL is unaccustomed to coalition discipline, but it's learning. It will count the money on the steps of the Knesset when the final version of the state budget is approved.
In the meantime, Abbas is dealing with Netanyahu's taunts and the lies of the Likudniks behind him. A responsible and balanced leader of the opposition, who isn't fueled by base instincts and revenge, has to focus on identifying cracks on the other side and trying to widen them. Ultimately, governments fall from within, like rickety and poorly maintained buildings. From the inception of the government of Naftali Bennett in the coalition forged by Foreign Minister Yair Lapid, Netanyahu has been taking the opposition on a crooked path of all-out war: automatic opposition. Even to legislation at the core of right-wing ideology: filibusters until the wee hours of the morning, piling up obstacles to establishing committees and hovering over all of that – the capricious refusal to recognize Bennett as the prime minister or his government as legitimate.
This didn't really bear fruit in the Knesset summer session, which lasted about two months. The coalition passed some 95 percent of the laws that were important to it. Since the start of the winter session, chaos has been rampant. The fatigue is obvious. Votes in support of the government end up with a majority of much more than two. This is the power of governmental fragility and glue but it is also a counterreaction to the other side's bullying and scorn for the rules of the game.
Trouble with a silver lining
The Likud lawmakers are beginning to get fed up. They were disgraced in the amendment to the cannabis law Wednesday, when their leader, who demands iron discipline, didn't bother to show up for the vote. The ultra-Orthodox lawmakers, who think more highly of Netanyahu than they do of his party colleagues, were enraged by that, and hell hath no fury like a Haredi scorned. In the depths of the Knesset, Likud scrapper MK May Golan was heard moaning about having to vote against the bill, and where the hell did everyone go? As she put it: Isn't there coalition discipline here? (Okay, if the leader of the opposition still called "Prime Minister" by his gaggle of sycophants, Golan is entitled to count herself as a member of the coalition. After all, everything there is shambolic.)
On the other side, the coalition is also not evincing illusions of expansion in the foreseeable future. A fascinating demonstration of this can be seen in Bennett's volatile relationship with the Haredim. He sent the politician who is closest to him, Religious Affairs Minister Matan Kahana, into a daring combat maneuver deep inside the Haredi kashrut yakuza. This, in an attempt to dismantle one of their nodes of power, with bold moves (as well as the astounding statement "It is impossible to force people to marry in the Rabbinate." Bennett kept mum on the issue but this week he stunned the ultra-Orthodox leaders when he declared at The Jerusalem Post Conference that the Haredim have (or rather, had) excess political "sway." Which needs to be reined in.
The Bennett-Kahana axis seems to be declaring, in both words and deeds, that their Yamina party has no desire to mollify the Haredim. This, incidentally, is in stark contrast to Bennett's exhausting, fancy footwork in the courts of the rabbis – after the "brotherhood covenant" with Lapid in 2013 (which damaged him in their eyes significantly less than what seems to be the case now, going by the emotions flowing among the Haredi politicos).
The prime minister and his religious affairs minister aim to redraw Israel's power map so that non-Haredi Jews will gain and the ultra-Orthodox will finally learn a little humility. As Lapid once told Moshe Gafni of United Torah Judaism from the floor of the Knesset: "Rabbi Gafni, we have stopped taking orders from you." The quirks of our impossible politics have made Bennett the executor of the Lapidarian sting.
In contrast to them, their party colleague Interior Minister Ayelet Shaked is following a path of her own, both in her relations with Likud and in the religious arena. On Thursday she toured the Haredi bastion of Bnei Brak. She was greeted by Mayor Avraham Rubinstein, whose other hat is secretary of the UTJ's Council of Torah Sages. She was received with all the honor due to the interior minister by the notables of a poor city for which government aid is a lifeline.
In any even, the coalition is on a knife's edge, and its members recognize this. It is heterogenous, complicated and painfully narrow. It has also internalized the fact that the only thing that could save it is some outside event that descends to create a serious breach between the heads of the coalition's right-wing and left-wing parties.
This brings us back to Netanyahu and his apparently destructive approach. With all his extremism and the demons he is fighting, he is still a very smart man who usually considers his actions well. If he does so as the head of the opposition, he is the first to realize that there really is no scenario in which the budget will not be passed or, for example, in which he can break up New Hope, a party that broke from Likud to join the coalition (not that he hasn't tried).
He's ready!
This brings us, of course, to what has been dubbed "the wars of succession in Likud." Before this week it had been conducted as a passive-aggressive event. On one hand, the soi-disant Diadochi, six or seven of them, declare their intentions before immediately hedging, in alarm: "Only after Netanyahu!" When he wanted to call a snap primary, they had a panic attack and swallowed their tongue; hesitant rumblings of independence from the direction of Nir Barkat and Yisrael Katz were replaced by renewed oaths of loyalty to the leader. If need be, they will follow him, meek as sheep, into a fifth election, after which the likelihood of them regaining power is slim.
Yuli Edelstein has declared, "I am ready!" He was the first to challenge Netanyahu outright since Sa'ar, and this has shifted the atmosphere among the Likud lawmakers. It is not entirely clear why he chose to make his move now. There are a number of possible explanations: He wants to be first at the starting blocks, in the event the leader steps down after the budget is approved; he is planning to defect; he wants revenge on Netanyahu, who is trying to thwart his wife's Irina's candidacy for chair of the Jewish Agency. ("The linkage is hallucinatory," says Edelstein, but in his close circle they are hearing that in recent days, with or without any connection to the developments in the Intelligence Affairs Minister Elazar Stern front, Netanyahu has been phoning committee members and talking up former Likud MK Uzi Dayan.)
According to Edelstein, he made his declaration because he simply felt blocked. Silenced. Every time he is interviewed about the coronavirus pandemic, he is asked if he's planning to run. At every meeting with party activists, he weighs his words for fear he is being recorded. Incidentally, now the wheel has turned. His opinions on the pandemic, as a former health minister, won't interest anyone. His main argument is a technical one: With Netanyahu, we won't be able to form a right-wing government. What Sa'ar was saying about two years ago, on the eve of the third election, Edelstein is saying today. Why does he think his fate will be different? When Sa'ar challenged Netanyahu in the Likud primary, Likud was in the government. A total loss of ruling power seemed unlikely, even after two attempts. It was hard to persuade the membership that the apocalypse was around the corner. Edelstein believes that in the current circumstances, with the party in the opposition and without any polls showing Netanyahu getting the 61 Knesset members needed for a coalition, his job will be easier.
And now we come to the manner of positioning. Likudniks find Edelstein congenial. But he isn't seen as a leader, or as prime minister material. In polls he trails far behind Barkat and Gilad Erdan (and of course behind former Mossad chief Yossi Cohen, who also sometimes appears in the polls. In some surveys he is even behind secondary figures such as Avi Dichter and Miri Regev.
A future race that might also include Cohen will bring strongly to the fore the concept "male model." In his youth, the former health minister earned some money as a nude artist's model. Male Model – a single word in Hebrew – was Cohen's nickname in the Mossad because of his meticulous and dishy looks.
Edelstein's move is very risky. It is more likely that it will end his political career, in Likud and in general, than in chants of "Three cheers for the next prime minister!" at the convention of the Likud Central Committee. But he had no choice. At 63 he, like his colleagues in the party leadership and the previous government, is losing relevance. Like old photos, they are fading into the leather chairs in the Knesset. The tone is being set by the shouters. What is a person like him to do? Shriek louder than Galit Distal Atbaryan? Sprout racism more than Amsalem? Make more of a fool of himself than Shlomo Karhi? Curse more than Golan? Grow thicker skin than Yoav Kish? It is not by chance that these luminaries, the backbenchers, were the only ones to accede to the Likud chairman's request to give interviews, to express support for him and to castigate the candidate who had the temerity, like the boy in the story of the emperor's new clothes, to say outright what everyone can see with their own eyes.
Just as Edelstein apparently doesn't really expect to win, don't expect accordingly to hear statements with any value cogency from him; about a prime minister with a grave indictment against him concerning his actions while in office, about the person who deceived his partners and broke up his government with his own hands, about the person who prevented the passage of a national budget, about the culture of lies, incitement and hatred that nearly caused democracy to crumble. He knows the souls of the registered party members. He will warn of another political failure in establishment of a government and will say good things about himself. In Bibistan, do as the Bibis do.
You shred, you pay
Elazar Stern's problem is that people don't understand him. A short circuit connects his mind and his lips, a wiring problem. He says he didn't shred any complaints about sexual harassment back in the army, but that's exactly what it sounded like in his downfall interview on 103FM.
He didn't mean to imply that Likud MK Miri Regev made her way up the ranks in the army on her back, but that's exactly how it was understood. There have been other instances (which he reconstructs in private conversations) where others – according to him – attributed to him a meaning other than what he meant.
"A wrong choice of words," is how he summed up the latest screwup, which quite possibly cost him the leadership of the Jewish Agency.
Before he withdrew his candidacy, it was believed he had the best chance of winning the most prestigious, remunerative and superfluous sinecure in the world of Jewish schmoozing – a glamorous job with no content in an archaic organization. And he would have been gliding into this office as the intelligence affairs minister; well, that's not a real portfolio.
His string of pratfalls on the way to his bow-out and the public shaming are entirely his own handiwork. He asked for that radio interview because he wanted to protest the injustice done to the new chief of the Shin Bet security service, Ronen Bar, due to the anonymous letter going around about him (which was rejected outright by the Goldberg Committee on top civil service appointments).
In Stern's agitation, he confirmed with a contemptuous snort that he destroyed anonymous complaints when he was chief education officer and head of a training camp – including complaints of sexual harassment. Then he retracted that, in interviews with the main television news programs, where he was faltering and unconvincing.
Then two news programs on Channel 13 reported on two testimonies – both were from women who served under him and who say they suffered his dismissive attitude (at best) when they complained about sexual harassment on base. There is no reason not to believe the two women, who are now in their mid-40s. You can tell a true statement even when someone's face is blurred and voiced distorted.
Stern isn't attributing to them any evil intentions against him. He realizes he won't win this battle and he beat a tactical retreat when he announced his withdrawal from the Jewish Agency race.
He says he did this not because he thought he would lose; he simply didn't want to embarrass the committee members who would have voted for him. An altruist. He probably figured it was better to forgo a bird in the bush to keep his two positions in the cabinet and the Knesset.
As often happens to people who find themselves in a similar situation, Stern is snuggling into the robes of the victim. He tells of two very senior security figures who have encouraged him.
"Thank you for draping yourself over the barbed wire fence for the sake of us all," one of them told him. "Public cowardice encourages public shallowness," the other said.
That has a lot of truth to it. The media's take on Stern has been defective in its shallowness, populism, self-righteousness and harshness. Articles have depicted him as the devil incarnate.
But even if he made a bad mistake when he was a young officer, 25 or 26 years have gone by without any similar complaints. A bit of perspective wouldn't hurt. In the Twitter culture, sometimes a person who has whitewashed something or been negligent becomes a de facto rapist in a toxically extremist climate.
I've been slaughtered, Stern complained in those conversations. He said, more or less: Before the broadcast they didn't give me a chance to check what had happened, who was in question. After all, a quarter century has gone by. Regarding one of the complaints, I clearly remember that the officer in question, my second in command, had ended his service four months earlier. They went through me with a fine-tooth comb and except for those two things didn't find anything. I'm clean.
His personal entanglement snowballed into political embarrassment for the chairman of his party, Lapid. Every time he's in power he has to deal with another top person in his party. He decapitated Jacob Perry, who lied about his military service, as revealed on the investigative news program "Uvda."
Meir Cohen, the labor and social affairs minister, was also the subject of an investigative report (a much flimsier one) on that show, but he escaped unscathed. And now Stern. Lapid's support for him was a collegial move; on the moral level, he would have been expected to say harsher things, in his own voice.
Stern isn't going to be "the leader of the Jewish people." No big loss. This nation that has known great suffering will survive. But his political fate is hanging by a thread. If there's another convincing testimony, he can kiss intelligence affairs goodbye.
Click the alert icon to follow topics:
ICYMI
Netanyahu's Israel Is About to Slam the Door on the Diaspora
Head of Israel's Top Art Academy Leads a Quiet Revolution
Ken Burns' Brilliant 'The U.S. and the Holocaust' Has Only One Problem
Israel May Have Caught the Worst American Disease, New Research Shows
Why the Head of ACLU's Human Rights Program Has Regrets About Emigrating From Israel
Netanyahu's Election Win Dealt a Grievous Blow to Judaism