The New Frontier: Israeli Hospitals Contend With 'Long COVID' in Children
The assumption that children are protected has informed the medical and public discourse concerning vaccinations in Israel and around the world, but COVID has long-term effects, the extent and severity of which are not yet clear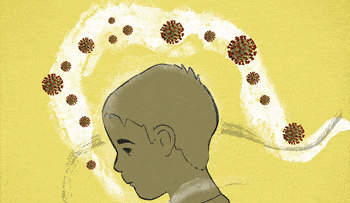 At the "long COVID" clinic at Schneider Children's Medical Center in Petah Tikva, about 150 children are being treated, but several hundred more are on a waiting list. "Demand is high and the wait is more than half a year, because we monitor and test everything for each patient," says Dr. Liat Ashkenazi-Hoffnung, an infectious-disease specialist.
The clinic began operating in November, several months after similar clinics were opened for adults. The symptoms the doctors see are varied, from shortness of breath (the most common complaint), muscle pain, headaches, fatigue, disordered sleep, chest pain, hair loss, and digestive disorders, to the loss of taste and smell, weight loss, difficulty concentrating, memory loss and the exacerbation of tics in children who suffered from them previously. About 60 percent report reduced daily functioning because of the symptoms.
"What's interesting, is that in some of the children, it really appears as a direct continuation of severe illness but in very many of the children, there is a severe illness, followed by a lull of several months and only then do the symptoms of long COVID begin," says Ashkenazi-Hoffnung.
According to her, the persistence of the symptoms varies. "There are children for whom it takes half a year or more. For example, we had a boy here who was a competitive swimmer and came down with long COVID and was very anxious and in pain. After half a year he went back to swimming and even broke a personal record."
However, she also says that there are "a few children here who, a year after the illness, haven't recovered, and they have symptoms that are affecting their day-to-day functioning. There are cases in which it lasts for more than a year."
She adds that about 15 percent of the children treated at the clinic have been found to have no antibodies, even though they tested positive on a PCR test.
Underestimated
Coronavirus infection in children has been considered to be mild since the start of the pandemic. Less than 1 percent of children who have been tested have required hospitalization, and cases of severe illness are rare and appear mainly in those with pre-existing conditions. The assumption that children are protected has been part of the medical and public discourse concerning vaccinations.
However, the illness has long-term effects, known as "long COVID," the extent, severity and persistence of which are not yet completely clear.
A recently published Health Ministry survey of 13,000 children who contracted COVID has found that 11.2 percent of them suffered from at least one symptom after recovering and 1.85-4.6 percent still had symptoms after six months.
One of the limitations of the ministry survey is that the answers were based on asking the children's parents and their recall of how their children's symptoms were first noticed or perceived. Experts believe that there is under diagnosis of the phenomenon both on the part of parents as well as doctors.
"I think there is an underestimation," says Ashkenazi Hoffnung, "even in the research studies, because of their methods, and the numbers are higher. That said, not all symptoms have the same significance. The essential question is whether it affects functioning. If, for example, a child loses the sense of taste and smell for eight months and that leads to picky eating, this is not necessarily clinically significant compared to symptoms that damage functioning and prevent the child from doing the things he loves."
For example, there are children for whom physical activity was an important part of their lives. "Fifteen percent of the children who come to us trained in various sports for three or four hours a day six days a week, and after the coronavirus they can't even walk for five minutes. Their parents and sometimes the doctors don't always connect this to the coronavirus."
"These children aren't spoiled or depressed – they are dealing with physical damage that is part of long COVID and they want to go back to their activities. I am sure there are other children who suffer from the same phenomenon, but it isn't noticed because it doesn't affect their routine. Some of them are sitting at home playing Fortnite and don't know they are incapable of walking for five minutes, that they have these symptoms."
No clinical definition
The process of researching and understanding the phenomena of long COVID is only in its earliest stages and even the World Health Organization does not yet have a final diagnostic definition.
According to Ashkenazi-Hoffnung, the lack of recognition and awareness of the syndrome among doctors in the community is leading to two phenomena.
On one hand, "doctors are telling parents it's psychological, or the child is spoiled, or they should wait and it will pass and they aren't diagnosing the symptoms," she notes. But on the other hand "it is leading to children being tested extensively and unnecessarily. For example, a child who was experiencing dizziness came to us after a series of tests and was diagnosed as suffering from vertigo and was sent to an ear, nose and throat doctor. The doctors aren't managing to put their finger on the correct diagnosis and the parents tend to interpret it as being spoiled or something psychological. I have children coming in with chest pains and shortness of breath and their mother is whispering 'I think it's psychological, he's having a panic attack.'"
Because of lack of familiarity with the symptoms, children often come to the clinic due to one of the symptoms, but then it turns out they are suffering from additional ones. "A teenager comes in and says he is suffering from shortness of breath and pains in his chest. And only after I ask," she says, "it turns out he has difficulty falling asleep and has tingling in his extremities."
Another phenomenon, which was first reported in April of 2020 is multisystem inflammatory syndrome in children, of which about 100 cases have been reported in Israel. The syndrome usually appears eight to ten weeks after the illness, even among children who had light cases. It starts out as stomach aches, a rash and a fever and can develop into life-threatening damage to the heart. It requires hospitalization, and in most cases cardiac damage remains after recovery.
There is also treatment for long COVID in children available at Ichilov Hospital in Tel Aviv (Sourasky Medical Center) and at Shaare Zedek Medical Center in Jerusalem, where Prof. Yechiel Schlesinger is head of pediatrics.
"A year ago we opened a clinic that treated the continuing symptoms in children. With the waning of the third wave, it hardly operated at all, but in the fourth wave with the extensive infection rate among children, it is back in action," he says.
While all of the cases "ended well," Prof. Schlesinger says that they now have cases of children coming "long after they had fallen ill, with the most prevalent symptom being severe difficulty in breathing, damage to the nervous system and the brain, very severe pains and neurological phenomena, alongside dermatological problems like rashes and problems with the digestive system."
Iron, physiotherapy and an inhaler
"We are seeing children coming in with very significant nutritional deficits because of the loss of the sense of taste or its incomplete return," says Ashkenazi-Hoffnung at Schneider. "There are children who smell the smell of burning or for whom the tastes of foods that had been familiar to them have completely changed. This is a common phenomenon, and it leads to very picky eating and weight loss. In the wake of that, we are seeing, among other things, iron deficiency, which exacerbates exhaustion and hair loss."
"We have found that many of the children, at least a third of them, suffer from shortness of breath and giving them an inhaler, even if they don't have asthma, helps some of them."
The clinics also provide physiotherapy for pain and for improving breathing techniques, as well as psychological support for children with post-trauma and anxiety and medicinal treatments for damage to the peripheral nervous system, along with therapies for sleep disturbances by means of medications or at sleep clinics if needed.
Click the alert icon to follow topics:
ICYMI
What if the Big Bang Never Actually Happened?
'Strangers in My House': Letters Expelled Palestinian Sent Ben-Gurion in 1948, Revealed
AIPAC vs. American Jews: The Toxic Victories of the 'pro-Israel' Lobby
'This Is Crazy': Israeli Embassy Memo Stirs Political Storm in the Balkans
Israel Rewards Hamas for Its Restraint During Gaza Op
Gazans Are Tired of Pointless Wars and Destruction, and Hamas Listens to Them