Opinion |
Why Does Israel Get Such Bad Press?
Israel's awful media coverage abroad is blamed on antisemitism or the futility of prettifying bad policies. But there's another factor, a dysfunction so deep it qualifies as a complete breakdown, which makes the whole debate preposterous
An Israeli flag flutters in Evyatar, a newly-built settler outpost overlooking the Palestinian village of Beita, south of Nablus in the occupied West Bank this month
Credit: AHMAD GHARABLI - AFP
In Israel, the debate over foreign media coverage goes more or less like this: According to the right, Israel receives terrible international coverage because the media is anti-Israel, antisemitic, or both, whereas for the left, Israel's terrible international media coverage is a result of the country's terrible policies.
In truth, the debate itself is preposterous. Until the State of Israel decides to put in place a professional-level national communications structure, the discussion itself is farcical – and for the last dozen years, Israel, with its uniquely complex and constant media exposure, has presented itself to the world via individuals who would not qualify for a mid-level comms job at an international company.
Three years ago, the Israeli army was held responsible for the catastrophic media messaging surrounding the Gaza border's March of Return, in particular the failures of May 14, when in one afternoon the United States embassy in Jerusalem was inaugurated and over 60 Palestinians were killed in clashes with the IDF.
The shocking fact is that even in a crisis, the Israeli prime minister, his ministers and his entire government had no official representative to explain their actions to the world.
The task of explaining government policy was delegated, inappropriately, to the IDF, and then-spokesman for international media, Lt. Col. Jonathan Conricus, and his boss, IDF spokesman Brig. Gen. Ronen Manelis, both relatively new to their jobs, with zero (0) previous media experience, failed to make the case.
That led to accusations that the IDF presided over a PR fiasco – a fair assessment, but misplaced, because the wrong people were doing the wrong job within a botched framework.
The recent furore over the IDF's inability to explain why, during airstrikes on Gaza, it bombed the Al-Jazeera Tower, and whether it intentionally or not misled foreign journalists into believing that IDF ground troops entered Gaza, are actually symptoms of a government-wide breakdown in basic public communications norms and practices.
So deep is media dysfunction in this country that the same officials who led Israel's failed media "strategy" are now successfully repurposing themselves as media experts. Without a word of criticism for the prime minister who prevented him from carrying out his duties, Yarden Vatikay, who headed Israel's National Information Directorate for over 11 years, has just published an instruction manual about – yes – national strategic communications.
Manelis, who retired from the army, is analyzing "Israel and the media" for Israel's Kann News TV channel. Conricus, who retired last week, left a farewell message saying it was "important for me that the next International Spokesperson would be someone who also came from the field."
As he wished, his successor, Amnon Shefler, an experienced field officer, has never before worked with the media.
It is no secret that Israel handles foreign media at a remedial level. When the new IDF nominations were announced, Jerusalem Post's editor-in-chief Yaakov Katz stated the obvious in an exasperated thread: "Public diplomacy is no less a front than the Home Front or the battlefield in Gaza... Just as we would not accept a situation in which an untrained officer would command a squadron or a paratroop battalion, we should not accept this... Until the situation changes," he said to Israel's leadership, "stop accusing the international media of being antisemitic and biased."
Last weekend's rumors that Prime Minister Bennett had offered Vatikay's old job heading the National Information Directorate to Aryeh Deri's onetime spokesman, Barak Seri, and that incoming President Yitzhak Herzog was considering appointing the Likud's Naor Ihia, who has faithfully lied to journalists on behalf of Netanyahu for years, as his spokesman, should worry us all, because it indicates that this one-time opportunity to rebuild Israel's national communications array is being squandered. (It bears mentioning that neither Seri nor Ihia have experience with the foreign media.)
Israel's Government Press Office operates as if it were a rogue department forgotten by the Prime Minister's Office. Turning it into a professional operation should be a top priority for the new government.
For foreign journalists covering Israel, the GPO looms like a sort of supra-government. Israel's interior ministry does not consider visa requests from journalists that have not been approved by the GPO – but gaining approval is a mysterious and arbitrary process.
Recently, the GPO began demanding that freelance journalists present proof of a steady minimum income in order to apply for a press card. Freelancers, by definition, don't have a steady minimal income. Yet when the Swiss portal Heidi News, a sort of Helvetic Daily Beast, acquiesced and agreed to guarantee their freelancer a steady basic income, they were turned down.
When I asked Ron Paz, who directs the GPO's foreign press department, why this happened, he said couldn't recall the incident, "certainly not recently, and in any case I don't owe you an explanation about the applications of others."
Absurdly, the GPO in general offers no explanations.
Other than handling foreign journalists, the GPO appears to exist mostly in the sphere of the culture wars that obsessed the Netanyahu government.
Last September, in breach of the regulations which forbid state agencies from granting favors to commercial enterprises or individuals, the GPO invited journalists to a book launch for "The War of Return: How Western Indulgence of the Palestinian Dream Has Obstructed the Path to Peace," and "Academia: All the Lies: What Went Wrong in the University Model and What Will Come in its Place." Why? This was never explained.
In October, for the fourth year running, the GPO organized a "Christian Media Summit" in which its director, Nitzan Chen, welcomed "Christian journalists from all over the world."
This was one month before the U.S. election, and the GPO's Twitter feed, representing the State of Israel, posted a statement by 'Friends of Zion' founder Mike Evans, a member of Trump's evangelical 'cabinet,' saying "the wars of the 21th century are media wars, and there is no group of people that has been a greater supporter of the State of Israel than the Christian media associations around the world."
Evans has since been in the news for comparing the Bennett-Lapid government – for whom the GPO now works – to "rabid dogs" who wanted to "crucify" Netanyahu, for blaming Jews for the Holocaust, and for threatening to revoke Evangelical support for Israel if it were not led by Netanyahu himself.
In December 2020, the GPO hosted its fourth Jewish Media Summit, offering the summer-camp-like singalong of "One Nation, One Song...aimed to unite and sense of mutual responsibility between Israel and world Jewry" (sic) amid personal homages to Chen.
It goes without saying that these sectorial events do not advance Israel's true communications needs, are not organized for real journalists, and should never have been funded by Israeli taxpayers' shekels.
Ofir Gendelman, a Netanyahu holdover who remains in place as the prime minister's "spokesperson for the Arab media," appears to view his role as a multilingual anti-Hamas troll.
While there are myriad serious avenues for the Israeli government to address Hamas crimes, Gendelman, in mid-June, came perilously close to implying all Palestinian fathers are terrorists.
Above a picture of a father with his arm slung over the shoulder of a young boy, Gendelman wrote, in English, "Don't cry, son. You're just too young for our terrorist training camps in Gaza. But next year, I and my Hamas buddies will train you how to murder people and build IEDs, so we can send you to carry out attacks."
When asked, both Gendelman and Bennett spokesman Matan Sidi described the fantasy dialogue as part of the government's anti-Hamas messaging.
It came fresh off the back of another Gendelman tweet of a video purporting to show "evidence" of Hamas war crimes - rockets fired from a residential area in Gaza. It was actually an old clip originating elsewhere.
Last Wednesday, Gendelman, who regularly tweets misinformation on behalf of the Israeli government, posted pictures of "Swastikas…photographed today by a Palestinian news agency in Gaza," before adding "#Hamas, just like the #Nazis, seeks complete annihilation of Jews everywhere."
It is clear that Bennett and Lapid are not well served by comparing Hamas to Hitler. In fact, it is difficult to imagine who, apart from Hamas, who must have enjoyed the comparison to the mighty Wehrmacht, benefited from this tweet.
It would be wrong to laugh these off as trivial slipups. They represent the foundational tenet of the Netanyahu government's contempt and open derision towards the media – in which Israel's national interests were betrayed on the altar of narrow political alliances, sanctifying trashposting over engagement and information.
The harm to Israel has been immeasurable. So, yes, let's talk about antisemitism and/or bias in the foreign press corps (it exists) and let's debate Israel's inexorable flaws (they also exist) but first, let us urge the new Israeli government to engage with the media as it should: as a functional sovereign state, not as a troll or a fawning sycophant.
Noga Tarnopolsky is a Jerusalem-based correspondent whose work on the region, the Israeli-Palestinian conflict and American diplomacy in the Middle East has appeared in numerous publications. She also reports extensively from Argentina. Twitter: @ntarnopolsky
Click the alert icon to follow topics:
ICYMI
Ken Burns' Brilliant 'The U.S. and the Holocaust' Has Only One Problem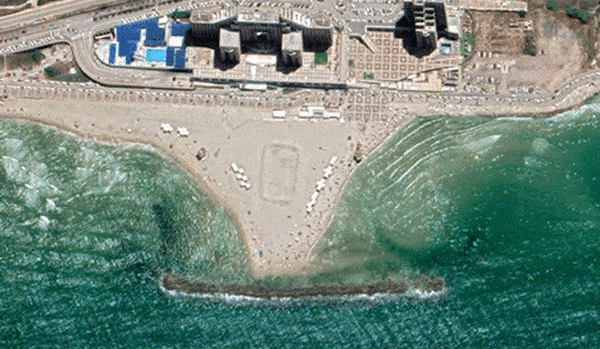 Facing Rapid Rise in Sea Levels, Israel Could Lose Large Parts of Its Coastline by 2050
As Israel Reins in Its Cyberarms Industry, an Ex-intel Officer Is Building a New Empire
How the Queen's Death Changes British Jewry's Most Distinctive Prayer
Chile Community Leaders 'Horrified' by Treatment of Israeli Envoy
Over 120 Countries, but Never Israel: Queen Elizabeth II's Unofficial Boycott