Earliest Stone Tools Linked to Modern Humans Outside Africa Found in Israel
Stone tools dating to 50,000 years ago found in the Negev desert signal the arrival of our ancestors from Africa and of a new technology that would spread with humans as they took over the world
Marks of modern humans: Upper Paleolithic flint tools at the site of Boker Tachtit in the Negev
Credit: Elisabetta Boaretto
For hundreds of thousands of years, hominins made pretty much the same stone tools: rough scrapers, heavy triangular spearheads, and other fairly sophisticated but unchanging artifacts. Suddenly, around 50,000 years ago, the utensils abruptly changed. Spear-points became sharper and lighter, while slender and deadly blades started to appear. Within a few millennia, a heartbeat in prehistoric terms, this new technology had taken over the world.
This is what archaeologists call the transition between the Middle and the Upper Paleolithic in Eurasia. Experts have long wondered if this technological revolution could be linked to the spread of modern Homo sapiens from Africa, which occurred roughly around the same time.
Now, archaeologists digging in Israel's Negev desert have identified the earliest appearance of the so-called Initial Upper Paleolithic tool culture. Indeed, they link its emergence to the last great migration of our human ancestors out of Africa.
A team of experts successfully dated archaeological layers containing cutting-edge stone tools at the site of Boker Tachtit to 50,000-49,000 years ago, the researchers report in a study published Monday in PNAS.
They used radiocarbon dating of charcoal remains as well optically stimulated luminescence, a technique that shows when sediments were last exposed to sunlight, explains Prof. Elisabetta Boaretto of the Weizmann Institute of Science in Rehovot, the lead researcher on the study.
Boker Tachtit is an open-air site along the banks of the Zin seasonal river and was probably used as a hunting base camp by prehistoric hominins. The site was first investigated by archeologists in the 1980s. But dating techniques were not sufficiently advanced back then, so archaeologists conducted new excavations in 2013-2015 to determine the age of the remains more precisely, Boaretto explains.
Competing with Neanderthals
No human remains were found at Boker Tachtit, which is frequently the case with prehistoric sites and the reason why researchers often have trouble identifying which group of hominins wielded a particular set of tools. (The tools are still there but the human remains are long gone, whether because of decay or hyenas.)
But in the case of Boker Tachtit, the new dating of the site coupled with the nature of the tools does point to a clear link to Homo sapiens, Boaretto says.
That's because there are several other prehistoric sites nearby also from around 50,000 years ago, and the hominins who lived in those other sites still used the more archaic tool technologies from the Middle Paleolithic. At least some of the inhabitants of these other sites have been clearly identified as Neanderthals, says Omry Barzilai, head of the archaeological research department at the Israel Antiquities Authority.
The sudden appearance of the more advanced tools of the Initial Upper Paleolithic in the Negev suggests this was a novel technology brought in by newly arrived Homo sapiens, who coexisted for a time with the older culture of the Neanderthals in the Levant, Boaretto and Barzilai say.
The Neanderthals are believed to have reached what is today Israel from the north about 70,000 years ago and to have disappeared just after 50,000 years ago.
"We see the entrance of a non-local population in the Negev at the time when Neanderthals are still here," Barzilai tells Haaretz. "If it was something developed locally by the Neanderthals we would see a slow transition. Instead here we have evidence of two cultures, the older native one and the new one, coexisting at the same time."
Moreover, the "new culture" of more advanced stone tools evolved very fast compared with the glacial pace of earlier technological transformation, Boaretto says. A later phase of occupation at Boker Tachtit, dated to between 47,000 and 43,000 years ago, already displays a more advanced version of the early Upper Paleolithic stone tool culture, she notes.
"This gives us precious information about the speed and pace of technological change, which was clearly very rapid," she says.
Early human migrations
It remains unclear where exactly Homo sapiens developed their new stone tool technology. The closest and more obvious regions would be the Arabian Peninsula and the Nile Valley – but neither have so far yielded sites showing clear precursors of the Initial Upper Paleolithic toolkit, Barzilai says.
Wherever this new toolkit came from, it is clear that it signals a key step in human evolution, researchers say.
Archaic Homo sapiens was already roaming across Africa 300,000 years ago and began making brief forays outside the continent relatively early. Sapiens remains dating to nearly 200,000 years ago have been found in a Mount Carmel cave in Israel, and there is some evidence – although it is hotly contested – that these early human migrations may have even reached southern Europe.
In any case, the first humans to leave Africa don't seem to have made much of a splash in Eurasia, says Professor Jean-Jacques Hublin, head of the Department of Human Evolution at the Max Planck Institute for Evolutionary Anthropology in Leipzig, Germany. They stuck close to environments similar to those found in Africa, while Neanderthals continued to be the dominant group of hominins throughout western and central Eurasia, including the Levant, he adds.
Genetic research has shown that modern humans today have no connection to those early sapiens migrants, he adds. Instead, we all descend from that last great move out of Africa that began around 60,000 years ago, a migration whose earliest move into Eurasia has now been recorded in the study by Boaretto and colleagues.
And now for something completely different
This time there was clearly something different about the humans who left Africa. Within a few millennia, advanced tools similar to the ones found at Boker Tachtit had spread as far Mongolia and Eastern Europe, says Hublin, who has previously excavated one such site in Bulgaria. Successive waves of migration would then go on to settle the entire globe.
"Something happened with these groups, something that rather rapidly changed their way of interacting with the environment, exploiting resources and competing with other groups like the Neanderthals, something that allowed them to spread everywhere," Hublin says. "So the question is what this innovation was."
One possible answer is that their hunting weapons gave them an edge. The spearpoints of the Upper Paleolithic stone culture are sharper and lighter than their archaic predecessors, Barzilai says. These could be used for javelins, although they were not yet dainty enough to be mounted on arrows, which already existed in Africa but would reach Eurasia only later.
Even before arrows, the use of projectiles such as spears and javelins gave human hunters greater range while staying at a safe distance, and the ability to fell smaller, faster prey, Barzilai argues.
"The spear becomes lighter and more elegant and is transformed from a stabbing weapon into a projectile, giving Homo sapiens a key advantage over other hominins in Eurasia," he says.
However, technology was probably only one part of the story, notes Hublin. At Initial Upper Paleolithic sites in Eurasia, and even earlier ones in Africa, archaeologists have been unearthing large amounts of symbolic, apparently non-utilitarian objects, such as perforated shells that were used for ornamentation, he says. They have also found inexplicable collections of seemingly non-utile crystals dating half a million to 105,000 years ago. "This signals a change in the social complexity of these groups, in terms of individual status and identification of the group vis-a-vis other groups," Hublin says. "It's something we don't have before in Eurasia."
Know who you are
To be clear, there are signs that early hominins, including Neanderthals and even possibly Homo erectus, occasionally engaged in symbolic behavior, making some form of art or collecting pretty things.
But those cases are few and far between, and outside of Africa the use of symbolism becomes widespread only amongst the sapiens of the Initial Upper Paleolithic, Hublin says.
"Humans are good at networking, creating very large coalitions of people, and we have signs that in the Initial Upper Paleolithic people knew they belonged to a specific group," he says. "What makes you belong to a group is not the tools you make but the things you believe in, the shared stories about gods or mythical animals, and this is what is going to fix your identity."
In other words, the increase in symbolic behavior created shared identities and larger societies. This in turn gave individuals a greater support network and allowed humans to expand beyond our native ecosystem and adapt our technologies to pretty much any environment we encountered.
"The culture of the Middle Paleolithic was quite static, it didn't change for a long time," Hublin concludes. "But starting with the Initial Upper Paleolithic, new technologies are constantly supplanting each other, and we enter into a cycle of innovation and change that is very fast, and will never stop."
Click the alert icon to follow topics:
ICYMI
Ken Burns' Brilliant 'The U.S. and the Holocaust' Has Only One Problem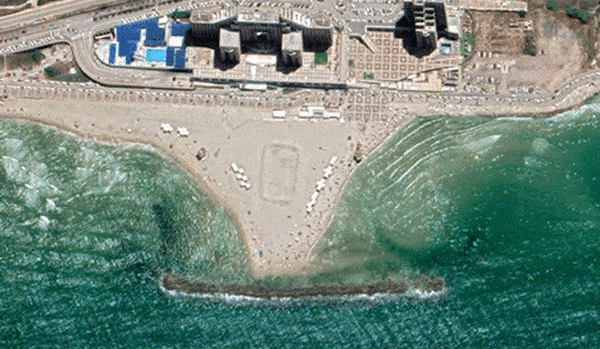 Facing Rapid Rise in Sea Levels, Israel Could Lose Large Parts of Its Coastline by 2050
As Israel Reins in Its Cyberarms Industry, an Ex-intel Officer Is Building a New Empire
How the Queen's Death Changes British Jewry's Most Distinctive Prayer
Chile Community Leaders 'Horrified' by Treatment of Israeli Envoy
Over 120 Countries, but Never Israel: Queen Elizabeth II's Unofficial Boycott