Breaking the Code: Meet the Bedouin Women Breaking Into Israeli High-tech
'I wanted to enter a field where there weren't a lot of women from my community,' says Ameera Abu Jafar, who will be among the first Bedouin women to join the Israeli high-tech scene
Israeli Bedouin taking part in the high-tech training course.
Credit: Eliyahu Hershkovitz
From the get-go Ameera Abu Jafar said she refused to have her picture taken. She's 26, from the Bedouin town of Rahat, and she adheres to religious conventions, including the hijab covering most of her head. Yet she is considered a pioneer in her society. Abu Jafar will be among the first Bedouin women to join the Israeli high-tech scene. She's in the final stretch of a software development course; placement with an employer in Be'er Sheva is being arranged in parallel.
"I wanted to enter a field where there weren't a lot of women from my community," she says. "I took responsibility for myself. I decided to be one of the first women to get into this field and be an example to the other girls. I want very much for women, Jews or Bedouin, to know that they can do it. Every woman can do it. I want to demonstrate this to my surroundings."
Abu Jafar's path to high-tech wasn't smooth. Back in high school she liked math and intended to get into computers, but her high school didn't offer advanced math or computer studies. After high school, due to financial stress, she gave up her dream of going for a bachelor's degree and instead enrolled in a practical engineering course in the Technological College of Be'er Sheva. "I worked while I was in school; I was a teacher's aide in math and also worked as a supermarket cashier," she says.
The course she's taking now is a special one designed to bring people into the high-tech industry. It is run by Code:Negev, an initiative of the East Negev Cluster of local authorities, which is funded by the Periphery, Negev and Galilee Development Ministry. She is one of 76 young people in southern Israel, half of them Bedouin, who are undergoing six months of intensive training that will lead to software development jobs in the Negev. The course is being run in conjunction with high-tech companies that will hire the graduates when they finish.
When she was extended the invitation to attend the course, the reason cited was the effort to emerge from the coronavirus crisis. But if anything the pandemic simply highlighted a huge problem Israel faces: poor human capital, leading to low productivity, which in turn hampers growth.
The productivity of the average Israeli worker is 24 percent lower than the OECD average, according to a Bank of Israel study from 2019. Experts at home and abroad have repeatedly urged the government to invest in training weaker populations to give them digital skills. Yet before the pandemic, the Bedouin community wasn't part of this endeavor.
Only 7 percent of Bedouin men have academic degrees, compared to 33 percent of the Jewish, non-Haredi population, while 16 percent of Bedouin women have degrees, compared to 46 percent of women in the Jewish, non-Haredi population. Only 20 of the 280,000 Bedouin in Israel work in high-tech, according to estimates.
Over the years, the government gradually diminished funding from "Z'roa Ha'Avoda," the state employment agency meant to provide the Bedouin community with programs to give them tools and skills to integrate into high-tech. Within the coronavirus stimulus, in 2020 the state allocated 700 million shekels to training. At this point however a spat ensued between Finance Minister Yisrael Katz, who insisted on establishing the professional training administration within the Finance Ministry, and Social Affairs Minister Itzik Shmuli, whose ministry is responsible for Z'roa Ha'Avoda. Valuable time passed, and it was only in the last few months that initiatives began to get off the ground.
Nowhere to go but up
One problem with training courses in Israel is the cacophony. Some are provided by the Periphery, Negev and Galilee Development Ministry, others by the Labor and Social Affairs Ministry's Vocational Training Division, yet others by the Finance Ministry's Training Administration, and still more by the Innovation Authority. Experts agree that the government really needs to place all professional training courses under one roof, governed by an orderly policy.
As for the development ministry, it adopted a model even before the coronavirus pandemic, and it's looking like the right one. The politicians elsewhere could bicker on but this model involves the local councils in areas with communities excluded from high-tech. The local councils know the people and work with local agents – nonprofit organizations familiar with the Bedouin community. The development ministry's model is based on an intensive course in high-tech followed by the possibility of immediate job placement.
The importance of these East Negev cluster activities became all the clearer with the outbreak of clashes and rioting, which happened among the Negev Bedouin as well. Suspects were arrested after shots were fired at a driver along Route 264.
The key to calm, many believe, is to improve the Bedouin standard of living and break the glass ceiling. The high-tech training project, an official state initiative, is perceived as key to building a common future for Israel's many communities.
To what extent does the Bedouin situation require greater attention from policymakers? The numbers spell it out. According to a report by the Negev Coexistence Forum for Civil Equality and the Sidreh Association, based on National Insurance Institute data from 2018, about 66 percent of Bedouin families in the Negev live in poverty, compared to the national average of 18 percent.
Eighty percent of Bedouin children live below the poverty line, compared with a national average of 30.2 percent.
This poverty is caused mainly by employment difficulties, especially among Bedouin women. Only 25 percent of Arab and Bedouin women in the south are employed, compared to 83 percent of Jewish women in the south. Those Bedouin women who are employed are typically paid a fraction of what women in the general population earn. The average monthly salary of a woman in the Bedouin town of Kseifa is only 4,300 shekels ($1,322). There's almost nowhere to go but up.
The WeWork compound in the Be'er Sheva high-tech park houses many start-ups run by locals. It looks like similar shared workspaces in central Israel. But in the course given by the development ministry, the people at in the compound were more diverse, and Arabic could be heard in many of the workspaces. Eman Bin Nasir, 26, from the unrecognized Bedouin village of Wadi el Naam, who completed the ministry's first course, lives in conditions more suited to the Third World. Her village isn't on the national electricity grid. They get power from solar panels or batteries, but there's no internet line. For that she has to use her mobile phone, which has a slow and unstable connection. "Throughout my studies I would stay at WeWork late, sometimes until night," she says.
Bin Nasir is married and well aware that compared to other Bedouin women, she is lucky that her family allowed her to invest in studying. Now that she is working for a software firm, it will be easier for her to influence the rest of her family. "My cousin asked me what I'm doing and how much I'm earning. I told him that at my work the minimum salary is 10,000 shekels a month. He immediately said: Too bad I didn't come study too. That's what's most important to me," she says.
Tempting salaries are one way to attract young Bedouin to technology, but it isn't that easy. The course's director is Fahima Alatawna, CEO of the Siraj Association, which runs the course. She's the one on the ground who recruited the youngsters to the project. A chemical engineer with a master's degree in public health, she worked for the Environmental Protection Ministry, in the toxic substances branch. Following that she pursued public activism, and now runs the association seeking to integrate Bedouin into high-tech.
"A young Bedouin man doesn't want to go to high-tech. He figures nobody will give him an opportunity anyway," Alatawna says. "I, for example, studied chemistry because there was potential to find a job in the field. The perception in our society needs to change. Many young Bedouin study medicine, but there is an oversupply in that field. Some have to wait years for an internship. There's enormous potential for high-tech in the Bedouin community, which could benefit both high-tech companies and the state."
Indeed it has been hard to enroll Bedouins to the project and in fact, is feels like the course is somewhat missing its target. The original goal was to recruit young people with no background in high-tech, not people with a BA or training in practical engineering. But young Bedouin didn't show up, so most of the participants in the course are older and have some advanced education; many have degrees in relevant fields from the Sami Shamoon College of Technology, and others are practical engineers or participated in bootcamps (intensive study tracks) sponsored by various associations, like Appleseeds Academy.
"Six hundred people enrolled in the corresponding course in Dimona, but in the Bedouin sector we couldn't get things going based on those with no background. We realized we had to start from the top, and then it would seep down," says Yoel Rubin, the director of the regional economic development unit in the East Negev authorities cluster.
Othman Alshekh, CEO of Siraj Technologies and not yet 30 years old, had worked for high-tech companies in Tel Aviv but decided to go back home in the last year. He believes that integrating the Bedouin population in the Negev will primarily help the companies themselves.
Israeli high-tech is short 13,000 jobs, he says simply. "The most recent report by the Innovation Authority about human capital in Israeli explicitly states that the manpower among the general population has been maxed out, and we need to approach new populations – more women, and more people from the Arab and Bedouin communities. The shortage of high-tech workers is a national problem, and we're trying to solve it."
Alshekh acknowledges that he hires people based on talent and their potential contribution to the company he runs. He says the students he's taken on "are indeed the best, but that's who I want. I want to be the light at the end of the tunnel that shows the next young people what to aspire to," he says.
Sometimes these young people make extraordinary efforts to get into high-tech. In parallel with the course, Khaled Abu Sabih, 26, is studying biology and works in the garage of a earth removal company. "From here I go to the garage to work. There I have some free time so I study the material in biology," he says.
Not all the attendees prioritize pay above all. Yehea Abu Hdaed, 25, had until recently been working as a gas station attendant. He took a quick course high-tech, but no job ensued. "I'm not interested in the pay slip, but a job in the field," he says. "My father suggested I study medicine and promised to pay for everything. I refused. It doesn't interest me. My dream was to work in what I love, in high-tech, and I was able to fulfill it."
Click the alert icon to follow topics:
ICYMI
Ken Burns' Brilliant 'The U.S. and the Holocaust' Has Only One Problem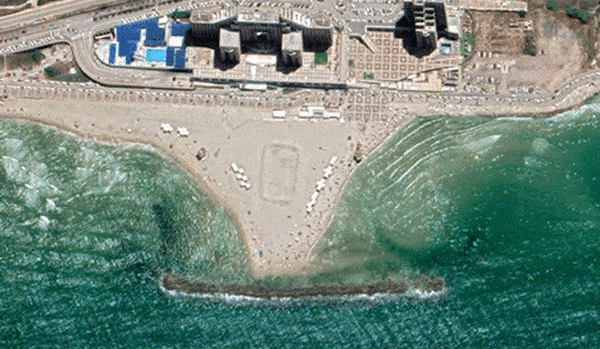 Facing Rapid Rise in Sea Levels, Israel Could Lose Large Parts of Its Coastline by 2050
As Israel Reins in Its Cyberarms Industry, an Ex-intel Officer Is Building a New Empire
How the Queen's Death Changes British Jewry's Most Distinctive Prayer
Chile Community Leaders 'Horrified' by Treatment of Israeli Envoy
Over 120 Countries, but Never Israel: Queen Elizabeth II's Unofficial Boycott