Jerusalem Clashes: Contentious Jewish March Canceled After Gaza Rocket Fire
The flag march through Old City was redirected at the last moment, then broken up
Israelis celebrating Jerusalem Day today in Jerusalem.
Credit: Ariel Schalit / AP
LIVE UPDATES: Over 200 Gaza rockets fired at Israel; 24 reported dead in IDF strikes
Israeli police decided to break up a contentious Jewish march in Jerusalem on Monday after rocket fire from the Gaza Strip, as tensions in the city are running high after days of violent clashes involving Israeli police, Muslim worshippers and both Jewish and Palestinian protesters.
Clashes which unfolded Monday morning on the Temple Mount compound left more than 300 Palestinians wounded, according to the Palestinian Red Crescent, prompting an Israeli decision to bar Jews from entering the holy site, one of several flashpoints in the city, as Muslims mark the final days of Ramadan and Jewish Israelis celebrate Jerusalem Day.
LIVE UPDATES
6:19 P.M. Knesset evacuated, flag march dispersed after rocket fire
Israeli lawmakers were evacuated from the Knesset and taken to shelters after reports of rocket fire at the Jerusalem area.
Police decided to break up the Jewish flag march, which started only moments earlier. (Noa Shpigel and Josh Breiner)
6:06 P.M. Rocket sirens sound in Jerusalem area
Rocket sirens sounded Monday in the Jerusalem area, moments after a 6 P.M. ultimatum issued by Hamas for Israel to remove its forces from Jerusalem's Temple Mount.
Residents of Israeli communities near Jerusalem reported hearing explosions.
The Israeli military confirmed alert systems were activated in Jerusalem and Beit Shemesh. (Almog Ben Zikri)
5:20 P.M. Hamas issues 6 P.M. ultimatum to 'clear all Israeli forces from Al-Aqsa'
A spokesman for the Hamas militant group said the leadership of a joint command of armed movements in the Gaza Strip had given Israel "an ultimatum until 6 P.M." to withdraw its security forces from Jerusalem's Al-Aqsa mosque compound and the city's Sheikh Jarrah neighbourhood. (Jack Khoury and Reuters)
>> Click here to read the full report
5:18 P.M. Protestors congregate in Umm al-Fahm, Jaffa
Hunderds of protesters gathered in several locations across Israel in solidarity with East Jerusalem's Palestinians.
Protests began in the northern Arab city of Umm al-Fahm and the nearby Wadi Ara, as well as in Jaffa, which has seen demonstrations over the past week against plans to take over Arab-owned houses for a Jewish yeshiva. (Jack Khoury and Bar Peleg)
4:51 P.M. With half an hour to go, organizers call off Jerusalem Day flag march, 'ceding responsibility' to police
Organizers of the Jerusalem Day flag march say they have decided to call off the march, after a day of violent clashes have rocked the Old City.
The event spokesperson told police that they are ceding responsibility for the march.
With half an hour until the flag march is scheduled to begin, thousands of Jewish Zionist youth have already gathered to march as planned.
Earlier, Israel decided to divert the march away from flashpoint areas in the Old City, including Damascus Gate and the Muslim Quarter. (Nir Hasson, Hagar Shezaf)
4:37 P.M. IDF Chief of Staff delays large scale military drill due to Jerusalem tensions
IDF Chief of Staff Lt. Gen. Aviv Kochavi has delayed an IDF drill called 'chariots of fire' on the back of rising tensions in Jerusalem. (Yaniv Kubovich)
4:33 P.M. Netanyahu calls to convene security cabinet over Jerusalem violence
Prime Minister Benjamin Netanyahu has called for a national security cabinet meeting to take place in the coming hour regarding the latest developments unfolding in Jerusalem. (Yaniv Kubovich)
4:28 P.M. International figures urging Netanyahu to reroute march, stop violence
Israeli Prime Minister's Office has been inundated with messages from international figures, urging Israel to stop the violence in Jerusalem and to change the route of the scheduled Jerusalem Day flag march, Haaretz has learned from a Palestinian source.
"It's in Netanyahu's hands, it's up to him to stop the violence spreading to the West Bank," the source said. (Jack Khoury)
4:20 P.M. Iranian Foreign Minister slams Israel for 'shooting innocent worshippers'
In a scathing tweet, Iranian Foreign Minister Javad Zarif condemned Israel's actions at the Al-Aqsa compound.
"It wasn't enough for the Israeli regime to steal people's land and homes, create an apartheid regime, refuse to vaccinate civilians under illegal occupation - it had to shoot innocent worshippers inside Islam's third holiest mosque upon Islam's holiest Eid," Zarif tweeted. (Haaretz)
4:07 P.M. In last minute reversal, Jewish flag march won't pass through Damascus Gate, Muslim Quarter
Israel decided that the annual Jewish flag march will not pass through the Damascus Gate and the whole Muslim Quarter of the Old City, following a day of intense clashes between Palestinian worshippers and police.
The decision was made just one hour before the march was scheduled to begin. Haaretz has learned from several police sources that Prime Minister Benjamin Netanyahu made the decision to reroute the march.
In recent days, security officials warned against the march's route, which typically starts in the western parts of the city then enters the Muslim Quarter, due to violent clashes which have consumed Jerusalem in recent days.
Depsite the warnings, Israel Police was ready to facilitate the march on its original route, offering thousands of officers to escort those marching.
Public Security Minister Amir Ohana was also in favor of keeping the march on its original route, a police source told Haaretz. (Josh Breiner)
3:48 P.M. 331 Palestinians injured, 250 hospitalized
331 Palestinians are injured in clashes in Jerusalem, 250 have been hospitalized, the Palestinian Red Crescent says. Seven are in serious condition. Among the injured are Red Crescent paramedics. (Nir Hasson)
3:30 P.M. Far-right lawmakers tour Sheikh Jarrah neighborhood
Religious Zionism chairman Bezalel Smotrich and other party lawmakers toured Sheikh Jarrah on Monday, where he called on New Hope and Yamina lawmakers to end coalition negotiations with United Arab List chairman Mansour Abbas.
"History is repeating itself. Every time that Israel negotiates and surrenders to the demands of Arabs that are infringing on our right to exist; the terror, that results from hope, gets out of hand. That's how the Oslo Accords resulted in a wave of terror attacks against us, and today, it's how supporters of terror are tipping the scale, and ended up as the kingmakers. The legitimacy that Mansour Abbas and other terror supporters have today is turning against the citizens of Israel."
"Whoever lends legitimacy to a supporter of terror to be a part of an Israeli government shouldn't be surprised when the terrorists revolt against the State of Israel," Smotrich said.
Appealing to Gideon Sa'ar and Naftali Bennett, chairmen of New Hope and Yamina respectively, Smotrich appealed to them not to "throw your right-wing ideology away by joining the ranks of those who are inciting violence against Jews. We have to construct a strong, right-wing Jewish Zionist government that will reform the justice system, where we can bring together the whole country without security threats from both right and left. Put them [Arab lawmakers and the left] outside the border and reinforce that Jews will manage the Jewish state."
After speaking, Smotrich and his companions attempted to enter the neighborhood, but were blocked by local activists. They then entered a home of a local Jewish family, but a group of Palestinians is gathered outside, chanting: "Settlers, leave." (Hagar Shezaf)
2:37 P.M. Arab lawmaker in Sheikh Jarrah: It's an attempt to transfer Palestinian population
Arab Joint List chairman Ayman Odeh and other party lawmakers visited the flashpoint East Jerusalem neighborhood Sheikh Jarrah Monday morning.
"Everything that's happening here is part of the nefarious occupation. There is a nation of people here that deserve self-determination – the establishment of a Palestinian state alongside Israel.
"What has happened in the past month constitutes a direct attack on the worshippers – disconnecting the speakers and the roadblocks constitute an attempt to transfer the population of Sheikh Jarrah," Odeh said.
Odeh emphasized that Prime Minister Benjamin Netanyahu is fanning the flames of the conflict, which serves his personal goals "at the expense of the Palestinian population; basically at the expense of two people."
Turning to Israel's Jewish population, Odeh added "whoever wants to live in peace needs to see themselves as part of the just struggle of East Jerusalem against this nefarious occupation. There is nothing that justifies the control of a whole people. The Palestinian people are a people like any other people in the world."
Hamas is also closely watching all Jerusalem developments, its leaders say. "The resistance is ready for any incident, and will not sit idly by if Israel does not curb aggression and stop all plots against the Palestinian people and against the Al-Aqsa mosque," director of Hamas' political wing Ismail Haniyeh said. (Jack Khoury)
2:20 P.M. Police sources: Jerusalem Day flag march to go ahead as planned
The traditional Jerusalem Day flag march will go ahead as planned at 5:30 P.M. on Monday, police sources told Haaretz.
According to the source, police entered the Temple Mount compound Monday morning as threats arose that the Palestinian worshippers may throw rocks at the Western Wall.
"We tried not to enter the compound. The goal of breaking into the Al-Aqsa compound was to enforce the safety of worshippers at both the mosque and the Western Wall when the situation got out of hand," the source told Haaretz.
The march, which has been a tradition for religious Zonist youth for the past three decades, typically runs through the Old City of Jerusalem. The route, which begins in the western part of the city and ends at the Western Wall, splits into two: The women march through the Jewish Quarter and the men through the Muslim Quarter. (Josh Breiner)
>> Far-right Israeli Lawmakers Visit Jerusalem Flash Points Ahead of Contentious Jewish Flag Parade
2:10 P.M. 305 Palestinians injured, 228 hospitalized, Red Crescent says
305 Palestinians have been injured, 228 hospitalized and seven are in serious condition, the Palestinian Red Crescent ambulance service said. (Jack Khoury)
1:30 P.M. Islamic Jihad: Israel's 'criminal aggression' will not go unanswered
The Islamic Jihad said on Monday that "Israel's criminal aggression against worshippers at the Al-Aqsa Mosque will not go unaswered," and called on Palestinians in the West Bank and Jerusalem to increase their presence at the compound. (Jack Khoury)
12:47 P.M. Police say 21 officers wounded
Of those, three have been hospitalized, police said. (Josh Breiner)
12:31 P.M. Red Crescent says 278 Palestinians injured, 205 hospitalized
278 Palestinians have been injured in Monday's violence, with 205 hospitalized, according to the Palestinian Red Crescent. Five are in serious condition.
Sixteen Israeli police officers have also been injured, and two were hospitalized, Israel Police said. (Jack Khoury)
12:28 P.M. Police retreat from Al-Aqsa mosque
The Israel Police havew withdrawn from the compound, and the hundreds of Palestinians who barricaded themselves inside the mosque emerged, with some chanting nationalist cries, such as praising Hamas.
The police remain in the courtyard of the Temple Mount compound. (Nir Hasson)
12:25 P.M. Islamist party calls on Israel to pull police from Al-Aqsa
The United Arab List party released a statement condemning the violence on the Temple Mount: "We condemn the attacks on worshippers at the Al-Aqsa mosque, and we bless the resilient worshippers.
"We call on the Israeli government to act and remove the law enforcement officers from the site, and not to give in to the extremist figures that are working to change the status quo and change the facts about Al-Aqsa, which is a fundamental site for Muslims." (Jack Khoury)
12:14 P.M. Five people treated at Hadassah hospital, including infant
A seven-month-old baby girl sustained light injuries after she was hit in her head with a stone. She was treated at the Hadassah University Hospital in Jerusalem.
Five people arrived at the emergency room at Hadassah, all of whom suffered light injuries; they include the 28-year-old driver who was attacked by protesters near Jerusalem's Old City, a 16-year-old that was hit by a rubber bullet, and two men who sprayed with tear gas, and a law enforcement officer who was hit in the hand by a stone. (Nir Hasson)
12:07 P.M. Police foil attempt by Jewish rioters to break into Al-Aqsa
Dozens of Jewish Israelis tried to forcibly break into the Mughrabi Bridge, the entrance to the Temple Mount compound. The police stopped them, and arrested a few of the rioters. (Nir Hasson)
11:38 A.M. Israeli police filmed beating and arresting journalist
Israeli security forces were filmed beating and arresting a journalist working for Turkish Anadolu news agency in East Jerusalem. The name of the journalist is Fayez Abu Ramila, who holds a press card issued by Israel. (Nir Hasson)
>> Click here to read the full report
11:24 A.M. Over one hundred Palestinians wounded, Red Crescent reports
The Palestinian Red Crescent said 153 people were evacuated so far for medical attention, and that four were in serious condition. (Jack Khoury)
11:21 A.M. Thousands of Palestinians locked inside Al-Aqsa mosque
Hundreds of Palestinians are locked in the Al-Aqsa mosque, and according to sources inside, including dozens of wounded who cannot be evacuated. (Nir Hasson)
11:11 A.M. Palestinians attack Jewish driver, causing car-ramming
Palestinians threw stones at an Israeli driver near Lions Gate in East Jerusalem, causing him to lose control of the car and ram into a group of people.
The driver was then attacked by several bystanders, before an Israeli police officer intervened. The officer fired several rounds into the air and called on the attackers to back away. (Nir Hasson)
>> Click here to read the full report
11:02 A.M. Sixteen police officers injured in clashes; two hospitalized
Sixteen police officers have been injured, two of which were evacuated to the hospital for treatment.
"While working to restore calm against rioters in the Temple Mount compound, nine police officers were injured," a statement from the police read.
Since the statement was released, Haaretz has learned that more police officers have been injured in the violent clashes. (Josh Breiner)
10:04 A.M. Palestinians deny report of casualty
The Palestinian Red Crescent said there was no truth to reports claiming a man was killed during clashes with Israel Police on the Temple Mount.
According to the organization, there are currently 180 wounded, one of whom is in serious in condition. Thirteen people suffered light-to-moderate wounds from rubber-tipped bullets and the rest are said to be in lightly wounded, most from tear gas inhalation. (Jack Khoury)
9:32 A.M. Palestinians report 180 wounded
So far, of those wounded, 80 were taken to hospitals in East Jerusalem as well as a field hospital that was set up near the compound, according to the Palestinian Red Crescent. (Jack Khoury)
9:27 A.M. Israel Police blocking medical teams, Palestinians say
Israel Police are preventing the entry of Red Crescent medical teams into the compound, where dozens are wounded, some in serious condition, the organization's spokesman said. (Jack Khoury)
9:05 A.M. Palestinians report dozens wounded
Dozens of Palestinians were wounded in clashes with Israel Police, the Red Crescent and the Waqf, the Islamic custodian of the Temple Mount, reported.
The Red Crescent said it was unable to determine the number of those wounded at this point.
Witnesses have also told Haaretz that police used tear gas, stun grenades and rubber-tipped bullets. (Jack Khoury)
8:00 A.M. Police clash with Palestinians at Temple Mount
Police officers have since forced their way into the compound and are clashing with Palestinians, firing stun grenades. Police have since said they were engaging "hundreds" with crowd-dispersal methods. (Nir Hasson)
7:45 A.M. From TikTok to clashes: A timeline of recent violence in Jerusalem
7:00 A.M. As Jerusalem violence escalates, Israel tries to put genie back in the bottle | Analysis
After some incendiary moves and belligerent declarations, it's time for calming efforts. Israel is now trying – rather late – to stuff the genie back into the bottle and reduce the violence that has erupted in Jerusalem and the territories which is to some degree its own fault. (Amos Harel) Read the full analysis here.
Tensions in Jerusalem and the south
The Jerusalem Day march, which brings flag-waving crowds to Old City's Muslim quarter, is set to take place on Monday, despite warnings by security officials that it could escalate the situation in East Jerusalem.
The events include a march, whose participants are usually overwhelmingly religious Zionist youth, marking the 1967 capture of the Old City.
Violent clashes between Israeli police and Palestinians in Jerusalem resumed for the third consecutive night on Sunday and police arrested 18 at protests around the country showing solidarity with protesters in East Jerusalem, following days of violence and unrest in the city.
Over 300 Palestinians and at least 20 Israeli police forces were injured in clashes during the weekend.
Meanwhile, a total of seven rockets were fired from Gaza between Sunday evening and Monday morning, adding to the tensions between Israel and Palestinians.
Click the alert icon to follow topics:
ICYMI
Ken Burns' Brilliant 'The U.S. and the Holocaust' Has Only One Problem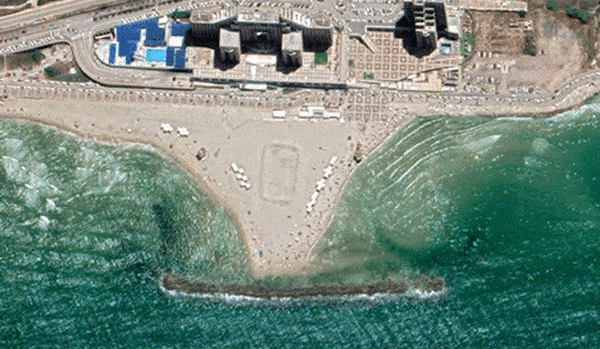 Facing Rapid Rise in Sea Levels, Israel Could Lose Large Parts of Its Coastline by 2050
As Israel Reins in Its Cyberarms Industry, an Ex-intel Officer Is Building a New Empire
How the Queen's Death Changes British Jewry's Most Distinctive Prayer
Chile Community Leaders 'Horrified' by Treatment of Israeli Envoy
Over 120 Countries, but Never Israel: Queen Elizabeth II's Unofficial Boycott