Once Bullied for Her Weight, This Israeli Judoka Is Heading to the Olympics
Her path to the Games has been paved with hurdles, starting at adolescence and continuing with the choice of a tough weight category. Now Raz Hershko, aka 'Hershkules,' just won her first gold in a Grand Slam event
Israeli judoka Raz Hershko, aka 'Hershkules,' in the sports documentary '17 Seconds.'
Credit: Kan public broadcaster / Alon Marom, Idit Dolev
Before heading to the mat at the 2021 Judo Grand Slam Antalya competition earlier this month, Raz Hershko promised herself that if she won the gold – she would jump into the pool there. "I told myself that I'm going to do it, there's no chance that I won't go in. I told myself that I would succeed," she says in an interview with Haaretz. "On the morning of the competition I had a different kind of feeling, I felt good."
By the end of the day she found herself in the water. "It was cold, wow, it was really cold," the 22-year-old Israeli judoka adds.
The gold medal she won in Turkey on April 3 marked the climax so far of Hershko's adult career, but more important, it determined that she'll be flying to the Olympic Games in Tokyo in July as the Israeli representative in the open weight category: over 78 kilograms (172 pounds).
"I knew it was a crucial competition and it was my chance, because not all the good competitors were there and it was a competition that could advance me," says Hershko, who is also the niece of Shani Hershko, coach of the Israeli national judo team.
"After every match that I won, Shani told me: 'It's another chance, and another step toward the goal that we want to reach.' Before the finals he said to me: 'We did it, we're in the finals, but now let's go for the gold – that will give us another bit of a safety margin.' He put the idea of the Olympics into my head, but I didn't think about it, because I wanted to concentrate on the [Antalya] competition. Only after I won – I had forgotten about the ranking points and the Olympics – did he tell me that I had done it," Hershko says.
For about two years Hershko has been moving toward a ticket to the Olympic Games. It was clear that she was capable of it, but the way she received the final seal of approval surprised even her and the team's professional staff. The original idea was for her to enter various competitions in the coming months, on the assumption that Hershko – who until last month had never reached the medal stage in a Grand Slam event – would have to strive for that Olympic ticket until the very last moment. She had also had a long recovery from an injury and elbow surgery, about three months before February's Tel Aviv Grand Slam, so it wasn't clear when she would return to total fitness.
But suddenly something came together: At the Tbilisi Grand Slam in March, Hershko excelled and ended up in fifth place, after a loss in the battle over the bronze; in Antalya she already jumped into the water as a gold medalist.
It is not surprising that Hershko discovered judo thanks to her uncle the coach. "I came to judo thanks to Shani. All my cousins were doing judo at one point or another in their lives. I'm simply the only one who stayed with it," she says jokingly. Judo stopped being an after-school activity and became the center of her life in junior high. Although she practiced in Hershko's club, he didn't coach her personally until she officially joined the team.
"In seventh or eighth grade I won the Israel youth championship, in the over-78 kilogram weight class," Hershko explains. "Today it seems like only a competition, but I was in the clouds. They let me join the team, I was thrilled. I realized that this is what I want to do in life."
Teasing teens
It wasn't always easy to live with such knowledge. Children – certainly in junior high school – can be very cruel, certainly when they encounter others who don't toe the line or do what's expected of them. Hershko was one of those kids.
Hershko: "In the State of Israel – and I assume everywhere else – it's very hard to grow up and be teenagers because there are so many stigmas, so many labels. They label you and you just don't belong at all. The others didn't always accept me as I am. I was a little plump, and that didn't suit the build of other girls my age. I was also into judo, and they used to say – 'Ah, that's a sport for men, man. You're fat.' The way teens tease people, you know."
Until sixth grade, she says she hung around mainly with boys – she liked judo, and soccer, and that's what suited her. She was considered a tomboy. "I was really hyperactive, I would go from here to there, from this garden to that tree and all that – and be less with the girls," she recalls, but stresses, "But I also played with Bratz dolls! And I had Barbies too."
Adds Hershko: "When you're a teenager, it's not easy to accept the fact that people label you. It wasn't pleasant – I was doing something I liked, and they'd tell me: 'That's not how it should be, you should do something else entirely. It doesn't suit you.'"
That was when she developed her thick skin, she says, which today enables her to overcome many obstacles. "My close surroundings embraced me and enveloped me, and explained to me that it's all right to do what I want and what I love – that what I am is what's special," she says. "I may be a fatty – but that's all right. Everything is all right. There are thin girls and there are also fat girls. It makes no difference: Your weight isn't what defines you, what you do isn't what defines you.
Hershko's rivals in the over-78 kilo class often weigh 30, 40 and even 50 kilos more than she does
"What defines you is you, yourself. Stay a human being, be who you are, and that's it – let them continue to say whatever they like. Yes, it was hard for me; for three years I was very hurt by many things. I would go to my mother and she would always strengthen me. Only with time did I develop immunity."
Her situation, during those years in junior high, became more complicated when she began to pursue her dream of being an athlete. "I would hardly attend school, because I would train in the morning, and then I would rush [to school], and by the time I arrived – people didn't really pay attention to me," she recalls. "It was tough. During recess I didn't always sit with friends, I would stay in the classroom. I had one or two girlfriends."
All that changed when Hershko transferred to the Academy for Sports Excellence at the Wingate Institute for Physical Education and Sports, in 10th grade.
"That was a crazy change in my world because everyone there is into sports: judo, basketball, swimming, triathlons – everything. We were one class," she says. "They didn't make fun of me; on the contrary, they embraced me. Being different is being special there. I made lots of friends and had lots of experiences. It was tough, but not socially. It was really fun, it was like home."
At the academy she also got her great nickname: "After winning the European Championship for athletes up to age 18, I attended the [Wingate] summer boarding school, and one of my friends from basketball said something like, 'Hey, Hershko, you did great, you were just like Hercules … You were Hershkules!" she recalls with a smile. "She put the words together like that – and it stuck. Instead of Hershko everyone called me Hershkules." For a while, she adds, even her mother used the nickname, but today it's reserved mainly for friends from the academy.
While Hershko came into her own socially at Wingate, it took her a while longer to find herself professionally. At first she tried to advance in the under-78 kilogram category. "Once, when I was in the under-78 class, I had to lose weight all the time," she says now. "It was very hard for me psychologically, because I'm a person who loves to eat. I had to lose a lot of weight at times, it took a while until things balanced out. It was hard."
'Not one of the big ones'
It was just as hard to decide to switch to competing in the heaviest category, over 78 kilos: "It was tough because I'm not one of the big ones – I think I'm among the smallest if not the smallest in this weight class. Not tall, not fat. I also think there are women who are stronger than I am, although now I'm really becoming stronger."
Hershko's rivals often weigh 30, 40 and even 50 kilos more than she. At first she was at a loss in her matches, she admits. "During the first two years it was very hard to make the switch. I wasn't very successful, I lost often, I would get injured."
But she overcame that obstacle too.
"I didn't give in to myself. Even when things were hard, the support I got and the coaches helped me understand the situation. If I hadn't grasped it by myself I probably wouldn't be here," she says. "When I started competing at this weight, there were two years of losses and it was a real downer. As someone who used to stand on the podiums and win all the time at younger ages, suddenly to arrive in the big leagues where you're supposed to prove what you did as a child and a teenager and to explode, and it doesn't happen – that really got me down. But each time the staff gave me a wake-up call: 'Everything's fine,' they would say. 'Let's continue to work, it will happen when it happens.'
"And now it's happening," Hershko says. "I have no words. It's great fun."
And at the Olympic Games in Tokyo, Israeli judo fans will have fun along with her.
Click the alert icon to follow topics:
ICYMI
Ken Burns' Brilliant 'The U.S. and the Holocaust' Has Only One Problem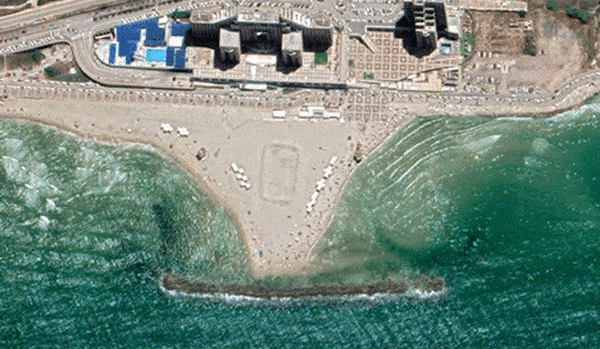 Facing Rapid Rise in Sea Levels, Israel Could Lose Large Parts of Its Coastline by 2050
As Israel Reins in Its Cyberarms Industry, an Ex-intel Officer Is Building a New Empire
How the Queen's Death Changes British Jewry's Most Distinctive Prayer
Chile Community Leaders 'Horrified' by Treatment of Israeli Envoy
Over 120 Countries, but Never Israel: Queen Elizabeth II's Unofficial Boycott