Lizards Eaten by Prehistoric People in Today's Israel Were Unknown Subspecies
There are three types of Pseudopus legless lizards, not two, and the Levantine one is the biggest – and the oldest, says new zoological study
Legless lizard
Credit: TimVickers (Tim Vickers) / Wikimedia Commons
When one's favorite food becomes unavailable, one eats other things. Clearly when mega-fauna existed, we prehistoric humans ate them with gusto, but as the giant animals vanished from the landscape, we had to settle for smaller ones. This may explain the unexpected prevalence of reptile remains in late prehistoric archaeological contexts in Israel, which was reported last year – including a lizard that has only now been identified properly.
Yes, our predecessors during the Natufian period in Israel, from about 15,000 to about 12,000 years ago, ate many squamates, including snakes and lizards. Now a new paper published in Vertebrate Zoology by an international team of researchers reveals that one of these prehistoric suppertime squamates, a legless lizard, was not the same as its peers in Eurasia. It is a sister species endemic to the Levant – Israel, Lebanon, and the coasts of Syria and southern Turkey, explain Daniel Jablonski of the Comenius University in Bratislava with an international team of colleagues.
The completley separate archaeological study by Ma'ayan Lev, Mina Weinstein Evron and Reuven Yeshurun published in Scientific Reports last year offered evidence that in the Natufian period, which is the late Stone Age culture in Israel during the transition from hunting and gathering to agriculture, people ate whip snakes and European glass lizards, among other things. The Vertebrate Zoology article is about that glass lizard.
The legless lizard of the Levant
Glass lizards aka legless lizards are legion, and the European glass lizard, which looks like a snake with earholes but is not a snake, scuttles leglessly from the Balkans through the Mediterranean coastal regions all the way to central Asia. There are other morphological differences between snakes and limbless lizards, one being that, counterintuitively, legless lizards have longer tails than snakes.
But the researchers explain in Vertebrate Zoology that the glass lizards in Israel, the type barbecued by the Natufians, aren't the same as the two recognized subspecies of glass lizard: Pseudopus apodus apodus, which lives in Crimea, the Caucasus, the southern Caspian Region, and Central Asia; and Pseudopus apodus thracius, which dwells in northern and western Anatolia and the Balkans.
They propose a name for this newly acknowledged one: Pseudopus apodus levantinus.
The Levantine is the biggest of the three. It is also genetically different from the two recognized subspecies, Jablonski and the team explain. The Levantine legless lizard seems to have split from its northern sisters early on, which they deduce from its high genetic diversity. The other two are less genetically diverse, indicating they had less time to become so,; and it seems they expanded to their present geographical range quite recently.
It could be that the Levantine legless lovely and its Eurasian sister species were isolated from one another by inhospitable environments between them, Jablonski and the team explain.
Israel is famously the land bridge between Africa and Eurasia. Truth is that over the eons, depending on the timing and sea levels, species could have exited Africa in a few ways. For some time, the Mediterranean Sea even dried up about 5.5 million years ago, then refilled in a mega-flood.
In any case, the Levant is famed for the endemism of its amphibians and squamates. Local subspecies abound. So, their paper describes the Levantine population of legless lizards. One conclusion is that the prehistoric people of northern Israel were eating P.a. levantinus.
Say my name
Why, though, is the lovely levantinus not called a separate species, but a subspecies? It's complicated, Jablonski tells Haaretz, but basically, it doesn't quite meet the criteria for classification as a whole new species.
Pseudopus was first classified by Peter Simon Pallas in 1775: ergo the species has been known for almost 250 years, he explains. Then, 40 years ago, Fritz Jürgen Obst described the P.a. thracius subspecies.
Until now two subspecies had been acknowledged: P. a. apodus and P. a. thracius. These two evince a clearly differentiated evolutionary lineage, in looks and in genetics. And now Jablonski and the team have discovered the third evolutionary lineage in the small area between southern Turkey and Israel, hence the name P. a. levantinus. The first two subspecies have far larger territories.
How different are they and when did these lizards diverge? "The genetic distances between these three lineages of Pseudopus are around 2.6 percent to 4.0 percent, with the time of the divergence from 3 to 8 million years ago," he explains. "This supports the subspecies status of the Levantine population, because it is in accordance with the subspecific taxonomy of the closely related genus Anguis. Simply, the current research supports subspecies for this evolutionary lineage rather than species."
The new subspecies' classification and identification are very important, because if a population has a name, it's better for conservation activities and further research, Jablonski says.
It is not unthinkable that prehistoric people in today's Israel ate snakes and lizards, especially since many people still do. But back in the cave, the archaeologists had to prove that the squamate bones identified at the site in question, el-Wad Terrace on Mount Carmel in northern Israel, had been eaten by humans, not some other predator. There is scant evidence of prehistoric and ancient human subsistence of lizards and snakes, though they note a 2014 paper on the consumption of spiny-tailed lizards in medieval Saudi Arabia during the Late Pre-Islamic/Early Islamic site of al-Yamâma. Show it they did: The "signals" that human digestion leaves on micro-mammal or reptile bone are not the same as the signals of digestion by other forms of life.
Ancient and archaic hominins had also been eating turtles and tortoises, also reptilians, since time immemorial. In Israel, there is evidence of tortoises roasted in their shell 400,000 years ago in Qesem Cave, before modern humans even existed. On the banks of the Jordan River, Neanderthals ate turtles.
On a final note: the glass lizard and whip snake are not poisonous. In 2019, a report in the Journal of Archaeological Science described the discovery of a viper fang in fossil feces in Texas, which the archaeologists decided probably stemmed from a ritual involving the consumption of venomous snakes. "Ancient peoples of North America routinely ate snakes, even poisonous ones, usually after they removed the scales and head," wrote Elanor Sonderman at Texas A&M University and colleagues, but the coprolite they studied shows a diamondback rattlesnake had been swallowed whole. And unskinned, they add.
The fossil poo also contained a whole, unskinned rodent, but they acknowledge that they can't tell if the paleo-American swallowed that too (e.g., on purpose) or if the snake had eaten it. Shrew-swallowing manhood rites are not a thing.
So, whip snakes in Israel are not venomous, just impressive, able to reach a length of about 160 centimeters. Here is a picture of a whip snake eating a glass lizard whole and unskinned in the Elah Valley, Israel. Enjoy.
Click the alert icon to follow topics:
ICYMI
Ken Burns' Brilliant 'The U.S. and the Holocaust' Has Only One Problem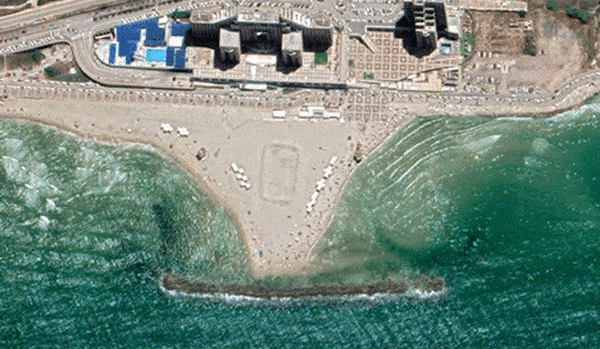 Facing Rapid Rise in Sea Levels, Israel Could Lose Large Parts of Its Coastline by 2050
As Israel Reins in Its Cyberarms Industry, an Ex-intel Officer Is Building a New Empire
How the Queen's Death Changes British Jewry's Most Distinctive Prayer
Chile Community Leaders 'Horrified' by Treatment of Israeli Envoy
Over 120 Countries, but Never Israel: Queen Elizabeth II's Unofficial Boycott