This Arab Israeli Leader Could Decide if There Will Be a Fifth Election
In his hometown of Maghar in the Galilee, Mansour Abbas is no hero, but not a bogeyman either, as Arab Israelis yearn for politicians who will secure what their community needs
United Arab List chief at an event last month.
Credit: Yossi Zamir / GPO
One might expect that Mansour Abbas, the leader of the Islamist United Arab List party currently turning Israeli politics on its ear, would hail from an intensely Muslim enclave.
But a day spent in Abbas' hometown of Maghar, a small city stretched across a Galilee hilltop, where most of the locals know Abbas as a dentist and the son of a shopkeeper, explains many of his contradictions.
Abbas, whose socially conservative party is changing the dynamics of Israeli politics by warming up to right-wing parties – and possibly offering a safety net for Prime Minister Benjamin Netanyahu to remain in power – grew up in a town that has been dealing with mosaic politics for centuries. In 1887, for example, a census showed that the then-small village contained 625 Druze, 420 Christians and 180 Muslims. Today, with over 23,000 inhabitants, the proportions are roughly the same: It remains a "mixed Druze city" with 57 percent Druze, 23 percent Christians and 20 percent Muslims.
Inside the Maghar Community Center, this diversity was on display a week before Israel's fourth general election in less than two years. A world away from political bickering, a celebration of "Good Deeds Day" had just taken place in one room, while in the next, a small group of hearing-impaired women were cheerfully arriving for their weekly get-together, quickly getting busy peeling potatoes and chopping vegetables for lunch.
A smiling young Christian woman was clad in tight jeans and a sweater with a gleaming cross around her neck, her Muslim friend was in full hijab, and another woman wore a traditional Druze white veil. The leader of the group, Liora Azrayev, a Jewish woman who commutes 12 miles from Tiberias to work at the community center as a sign-language instructor and counselor, said everyone was thrilled to be able to meet up again as the country eases out of COVID-19 restrictions.
"I feel like it's a different world here," Azrayev said. "The election feels very far away."
Indeed, election posters in the town are sparse, mainly hanging from people's homes. The exception: A massive Netanyahu billboard at the entrance to town, evidence of Likud's aggressive push in the Arab community, seeking direct votes for the ruling party and indirect support through Abbas' United Arab List.
Voter turnout, never particularly strong in the Arab community, is expected to be low this time around. A combination of election fatigue, coronavirus weariness and disappointment that Abbas' party split from the wider Joint List alliance will take its toll. In Maghar, turnout in the last election was already only 54 percent. If the mood is any indication, this number will drop even lower.
Among the Maghar residents who aren't planning a trip to the polls is the community center's art teacher, Siham Muadi, 67, who spends her days running workshops on knitting, crochet and flower arrangements. She notes proudly that some of her students are Jewish, hailing from the town of Migdal 7 miles away.
While she likes Jewish Israelis as neighbors, she has had enough of their politicians, she says. She hasn't been motivated to vote since the passage of the 2018 law declaring Israel the nation-state of the Jewish people. She says the law made her feel like a second-class citizen.
"I used to like Bibi. I even used to vote for him," said the Druze grandmother of 10. Muadi's sons served in the army, and a grandson "is headed for the paratroopers," she said proudly. But her "heart was broken" when the law was passed, she said.
"You know how when you go to the vegetable market and there are the grade A products and then, on the side, you have the lesser, flawed products? Grade B? That's how this law has made us feel," she said. "Our sons fought to protect the country, some of them died for it, and then the country's leaders threw us in the garbage."
Rather than vote against the parties responsible for the law, she feels demoralized and disgusted enough to stay home, she says.
No more powerhouse
Muadi isn't alone. A new survey by Prof. Arik Rudnitzky, a research fellow at the Israel Democracy Institute and Tel Aviv University's Moshe Dayan Center for Middle Eastern and African Studies, predicts that turnout in the Arab community will drop to 59 percent, down from 63 percent.
Rudnitzky foresees Arab voters awarding 8.3 seats to the Joint List (the Hadash, Balad and Ta'al parties) led by Ayman Odeh and four to Abbas' United Arab List – Abbas is fairly confident his support is high enough to get him over the 3.25-percent electoral threshold and into the Knesset. If Abbas succeeds and Netanyahu teeters on the brink of being able to form a government, he may, as an act of self-preservation, bring United Arab List into his coalition or accept its support from outside the government.
Abbas split with the Joint List after concluding that his party's conservative religious direction made it impossible to coexist in the same bloc with the more progressive Arab parties; he particularly took issue with LGBT rights. His withdrawal put an end to the Joint List powerhouse of 15 seats, four of which came from Abbas' party. But he opened the door to a different kind of power when he declared last fall that he would be willing to support any coalition – even on the ideological right – that committed to meeting the Arab community's immediate needs.
High atop a hill with a breathtaking view of the valley where the community center sits, Pnina Ghanem, a lifelong Maghar resident, is also cooking. A 62-year-old widow who has raised three children on her own, she normally makes a living hosting workshops for tourists on traditional Druze cooking. But because COVID is keeping foreign visitors away, she's spending a day filming a Hebrew-language promotional clip for the company she works with, Galileat, hoping to attract Israeli tourists as the spring approaches.
The pandemic year has been "very hard, economically, and mentally" Ghanem says, and a fourth election feels like yet another burden. While she plans to vote, she's undecided. She may vote for the Joint List or a left-wing equality-oriented Zionist party – her grown children lean toward Labor and Meretz.
One of them, Ghanem's bespectacled daughter Rajaa, 27, is a student at the Open University. She's in her bedroom listening to her computer science lectures on a rose-tinted laptop as her mother prepares grape leaves and lentils.
Rajaa recently returned home after living independently in Haifa for seven years. Like many 20-somethings, living with a parent in a spacious home has been a comfortable place to ride out the pandemic, and her fiancé is also from Maghar – they plan an August wedding, when they expect to be free of COVID restrictions.
Reasons to be indifferent
While Rajaa considers herself a politically engaged citizen, she admits to feeling tired as the election approaches. Many of her friends are even more apathetic, she says.
"I feel a lot more indifference this time around, maybe because we're doing it for a fourth time, or maybe because everyone is exhausted because of the coronavirus," she said. "I even see that there is less talking and arguing about politics on social media than there was in the past."
And she's worried about the low turnout. "Not voting is basically voting for Bibi," she said. "And people here really don't understand that."
Last time around, 53 percent of Maghar residents voted for the Joint List. But 27 percent chose Benny Gantz's Kahol Lavan, support that was bolstered, according to Rajaa, by the presence of Druze newscaster Gadeer Kamal Mreeh on the slate.
This time around, the backstory is different. "After this year of corona, we all have less money, we've lost businesses, the kids haven't been in school," Rajaa said. "We want a functioning government. At the very minimum, we want to get back what we had before COVID. We hope for even better, but we don't expect it. Slogans don't excite anybody anymore. We want parties that function and that will work for the people."
Despite being a hometown boy, the 46-year-old Abbas isn't a popular choice in Rajaa's circles. "Younger people here don't like his extremism or conservatism," she said.
Still, his practical approach seems to reflect the mood she describes. After the election in September 2019, Odeh, the Joint List leader, broke a barrier by recommending Gantz for prime minister and showing a willingness to join a governing coalition led by Kahol Lavan.
"Abbas is merely taking things a step further," Rudnitzky told Haaretz. "He's saying: Why not play the full game and be willing to do this with any government? After all, if Netanyahu wins the election, at the end of the day we still have to take care of the well-being of Arab society."
This means, as Abbas has put it, refusing to "be in the pockets of the Israeli right or left" but be willing to make a deal to secure legislation and funds that benefit Arab Israelis, much as the ultra-Orthodox parties use their leverage to get what their community needs.
According to Rudnitzky, by taking this position, Abbas picked up on an evolution in the Arab community's take on electoral politics. And this outlook has intensified during the pandemic and as the problem of violence in Arab society has grown.
According to Rudnitzky's new survey, 46 percent of Arab Israelis say an Arab party should be willing to join any governing coalition if this means securing policies that benefit the Arab community. Only 18 percent said they would insist the coalition be a center-left one – the Joint List's position.
"Arab society suffered a great deal over the past year; I heard some opinions saying it will take two to five years to regain the same economic status and labor power, and recover from the level of unemployment in the Arab community," Rudnitzky said. People are going to the polls concerned about "economy and jobs, personal security, and laws and legislation involving building permits in the Arab sector .... Day-to-day issues are absolutely the most important thing. People are living in the here and now."
According to Gayil Talshir, a political science lecturer at Hebrew University, "The kind of game that Abbas and his party are playing right now is fascinating. They're saying: 'We're not part of the center-left bloc. We're conservative Islamists – we aren't part of the egalitarian, liberty-oriented equal rights agenda that the other Arab parties bring to the table. And most importantly, we're opportunistic. We want to take care of the Arab population. Give us the funds and the policies.'"
As Talshir puts it, Abbas' party believes that regardless of ideology, "we'll support the candidate that assures us that they will give us what we need."
Click the alert icon to follow topics:
ICYMI
Ken Burns' Brilliant 'The U.S. and the Holocaust' Has Only One Problem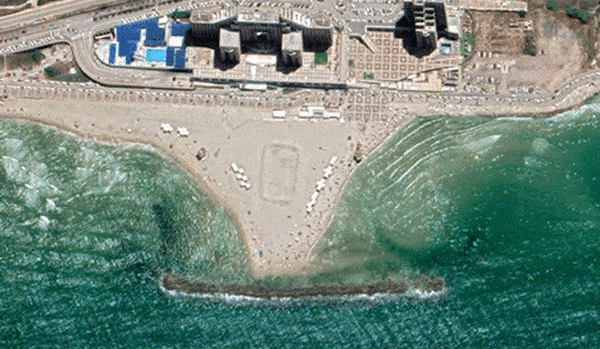 Facing Rapid Rise in Sea Levels, Israel Could Lose Large Parts of Its Coastline by 2050
As Israel Reins in Its Cyberarms Industry, an Ex-intel Officer Is Building a New Empire
How the Queen's Death Changes British Jewry's Most Distinctive Prayer
Chile Community Leaders 'Horrified' by Treatment of Israeli Envoy
Over 120 Countries, but Never Israel: Queen Elizabeth II's Unofficial Boycott