Coronavirus Live: Limiting Entry to Israel Before Election May Be Illegal, AG Says
Knesset passes law allowing disclosing identities of unvaccinated to authorities ■ Netanyahu aims to complete vaccination campaign by April ■ Cabinet approves Purim curfew
A passenger at Ben-Gurion International Airport, in January.
Credit: Ronen Zvulun/Reuters
>> This story is no longer being updated. Follow live updates here
Israel is in the midst of an extensive vaccination campaign, and is beginning to see a drop in COVID infections and severe cases. Israel exited its third nationwide lockdown, but inbound and outbound flights remain suspended except for special cases. So far, 5,660 Israelis have died of the virus.
Meanwhile, Palestinians in the West Bank and the Gaza Strip have received 30,000 doses of the Russian Sputnik V vaccine, and 2,000 doses of the Moderna vaccine donated by Israel. It may take a while still for a mass vaccination campaign to get under way, and many months for it to reach enough members of the population. 1,659 people have died so far in the West Bank, while 546 have died in Gaza.
>> How many have already been vaccinated
>> Israel approves night curfew over Purim weekend amid fears of renewed COVID surge
>> Israel reopens, with more COVID rules relaxed: Here's everything you need to know
LIVE UPDATES
9:36 P.M. Attorney general: Plan to limit number of Israelis returning could face legal challenges
Attorney General Avichai Mendelblit told cabinet ministers their plan to limit entry of Israelis returning from abroad to only 200 faces legal difficulties, Justice Ministry officials told Haaretz. Mendelblit's argument is that Israelis who aren't able to return to Israel under these restrictions before the end of March won't be able to vote in Israel's upcoming election.
Mendelblit and his deputy, Raz Nizri, explained to ministers that in the case that a new nationwide lockdown is announced, a measure to limit entry to the country may be constitutional, but this is not the case. (Netael Bandel)
>> Click here to read the full report
8:33 P.M. 11 major cities defy government, hold classes for 7th- through 10th-graders
Seventh- through 10th-graders in 11 large Israeli cities returned to school on Wednesday, defying the government's decision that these grades should resume in-person learning only on March 7.
Forum 15, an association comprising most of the country's biggest cities, had announced on Sunday that its 15 members would return 7th through 10th grades to school in defiance of the regulations. On Wednesday, it announced that these grades in fact returned to school in 11 cities, including Haifa, Tel Aviv, Herzliya, Rishon Letzion and Givatayim.
"The principals and teachers are happy to see their students again," its statement said.
But a few of the forum's members backtracked on their decision to reopen school for these grades, including Be'er Sheva and Netanya. The Be'er Sheva municipality said the principals had decided to postpone reopening these grades until Monday, while Netanya said it's obeying the cabinet's decision. (Or Kashti)
>> Click here to read the full report
8:23 P.M. Netanyahu: Israel has 'more than enough' vaccines
Prime Minister Benjamin Netanyahu acknowledged sharing coronavirus vaccines with a number of friendly countries that have given favors to Israel in the past.
Speaking to reporters, Netanyahu said that Israel has "more than enough" vaccines for its own population, and that he had personally decided to share what he called a symbolic number of doses to reward allies.
"It was done in return for things we already received, through many contacts in various areas that I will not detail here," Netanyahu said. "I think it absolutely buys goodwill."
Israeli public broadcaster Kan reported a total of roughly 100,000 Moderna vaccines are being shipped to some 15 allies. They include countries that have recognized contested Jerusalem as Israel's capital, including Guatemala and Honduras, as well as a number of countries in Africa that have strong or budding ties with Israel.
Israel has shared just 2,000 doses of vaccines with the Palestinian Authority to innoculate West Bank medical workers. Otherwise, the Palestinians have struggled to procure their own vaccines. (The Associated Press)
8:04 P.M. Health Ministry decision makes vaccines off limits to thousands of foreign residents
The Tel Aviv facility where foreign migrant workers and asylum seekers have been receiving coronavirus vaccinations this month will stop administering the shots to new patients as of Tuesday and will only be providing the foreign residents second vaccine doses, the Health Ministry has decided.
The decision leaves tens of thousands of foreign residents who do not have official status in Israel without a way of getting vaccinated. (Lee Yaron)
>> Click here to read the full report
7:17 P.M. Netanyahu aims to complete vaccination campaign by April
Prime Minister Benjamin Netanyahu said he aims to complete Israel's vaccination campaign by the end of March, and fully reopen the economy in April – just after Israel's election, set for March 23.
Speaking at a press briefing, Netanyahu said 81 percent of Israelis 16 and older are already vaccinated. According to Health Ministry figures, about 4.5 million Israelis received the first dose of the vaccine so far, and about 3.2 million of them got the second and final dose. Netanyahu said he wants 6.2 million people vaccinated by the end of March.
"We're still with several thousand [new] confirmed cases a day," he said, warning of a renewed outbreak after Purim, which starts on Thursday, and calling on Israelis to follow restrictions and avoid parties and large gatherings over the holiday.
"If we all do what we should, we'll be able" to fully reopen in April, Netanyahu said. (Haaretz)
5:21 P.M. Israel launches pilot program to track returning passengers using electronic bracelets
Health Minister Yuli Edelstein, along with lawmaker Yakov Asher, chairman of the Knesset's Constitution, Law and Justice Committee, announced a pilot program to monitor Israelis returning from abroad using electronic bracelets, to ensure they comply with quarantine regulations.
MK Asher said they would advance "very" urgent legislation on the matter. Another lawmaker on the committee, Yoav Kish, argued the move requires willingness by citizens to cooperate, as enforcement would be practiaclly impossible. (Jonathan Lis)
>> Click here to read the full report
1:15 P.M. Knesset passes law allowing disclosing identities of unvaccinated to authorities
The Knesset approved in a third and final vote a law allowing disclosing personal details of Israelis who have not been vaccinated.
The information will be given to local authorities, the Education Ministry and officials in the Welfare Ministry.
The emergency regulation will be in effect for three months and could later be extended. Thirty Knesset members backed the law, while 13 opposed it.
According to the new law, the Health Ministry will be permitted to share names, ID numbers, addresses, and phone numbers of unvaccinated Israelis with local authorities, and the Education and Welfare Ministries to help promote and increase the coronavirus vaccinations. (Jonathan Lis)
>> Click here to read the full report
8:52 A.M. Israel set to reinstate mandatory quarantine at state-run facilities for all arrivals
The coronavirus cabinet approved two-week mandatory quarantine at state-run facilities for all those returning from abroad.
The regulation will go into effect after being approved by the Knesset's Constitution, Law and Justice Committee and will be in effect until March 9.
It is still unknown when the committee will convene on Wednesday.
The directive to quarantine upon arrival in Israel expired on Monday at midnight, after committee head Yakov Asher refused to extend it and called on the government to come up with alternatives.
Those who have been tested negative twice for the coronavirus will have to quarantine for 10 days, the Prime Minister's Office, and health and transportation ministries said in a joint statement.
The statement added that special cases will be reviewed by a Health Ministry committee at Ben-Gurion Airport.
Those who hold a vaccination certificate or have recovered from the virus are obligated to undergo a coronavirus test prior to their arrival in Israel, but are not obligated to enter quarantine. (Jonathan Lis)
TUESDAY
9:40 P.M. Health Ministry backtracks on decision to close Tel Aviv facility vaccinating undocumented migrants
Authorities previously announced that the center would close Wednesday, despite the high response to the vaccination campaign, and even though tens of thousands of foreign workers and asylum seekers are yet to be vaccinated.
Under the new decision, the clinic will close on Wednesday, but will resume vaccinating locals on Thursday though Monday. From Tuesday on, only second jabs will be administered, and the provision of first doses of the vaccine will likely cease.
Most of Israel's undocumented population lives in the Tel Aviv area. Another facility has been set up in the northern port city of Haifa. It will be in operation on Wednesday between 2 P.M. and 7 P.M.
>> Click here to read the full article
9:00 P.M. Israeli ministers approve night curfew over Purim weekend
Ministers approved on Tuesday a nightly curfew for Thursday, Friday and Saturday in the hopes of deterring people from holding parties for the Purim holiday.
The curfew will last from 8:30 P.M. until 5:00 A.M. each day. Culture and Sports Minister Chili Tropper was the only cabinet minister not to vote in favor of the curfew and abstained. (Judy Maltz)
7:30 P.M. Health Ministry orders closure of Tel Aviv facility for vaccinating undocumented population
The Health Ministry ordered on Tuesday the closure of a dedicated coronavirus vaccine center for asylum seekers and migrant workers set up in Tel Aviv, although demand has been high and there are still tens of thousands of undocumented people who haven't been vaccinated.
The ministry made the unexpected announcement that the facility would not operate beginning on Wednesday, but that undocumented individuals who have received one dose will be able to receive the second. The ministry told health workers that the "opening and closing of facilities are [the result of] the supply of vaccines, prioritization of personnel, and public demand," but has not provided an official comment on the matter.
According to sources, the ministry said that it was out of vaccines allocated for the undocumented population, and that it promised to open a facility for undocumented people in Haifa, likely just for one day. The majority of this population lives in Tel Aviv and surrounding towns. (Lee Yaron)
7:20 P.M. Israeli doctors' association blasts bill that would hand over details of unvaccinated to government
The Israel Association of Public Health Physicians called on lawmakers on Tuesday to vote down a bill that would hand over the details of people who haven't received the coronavirus vaccine to the authorities, saying that it would violate the principle of patient confidentiality.
Ahead of a hearing by the Knesset Labor, Welfare and Health Committee, which allowed the bill to go ahead for a vote in the full Knesset, a letter by the association said that while was important to encourage vaccination against COVID-19, "an unprofessional action could possibly cause serious harm" and damage the public's trust in government authorities.
The doctors argued that the exposure of confidential medical information to local authorities would undermine trust in them and violate the principle of medical privacy. (Jonathan Lis)
6:26 P.M. Israel revokes license of doctor who issued fake vaccination certificates
The Health Ministry announced Tuesday that will permanently revoke the medical license of Dr. Arie Avni, who has forged vaccine certificates.
Avni, one of Israel's most renowned coronavirus deniers, heads a political party which is running in the upcoming elections on March 23. One of the party's goals is to establish a new Health Ministry called 'hugging not forcing', which would give parents the rights to exclusively determine every medical decision for their child, including decisions regarding vaccinations and surgeries.
Avni has an established online presence, and a Facebook page called 'Medicine the Right Way – Dr. Arieh Avni', where he uploads different articles. He also calls on the public to breach the Health Ministry's coronavirus regulations, and uploads articles that allegedly defame and denounce doctors in the public health service. (Tali Heruti-Sover)
5:38 P.M. Hundreds vaccinated at Jerusalem checkpoint as cases skyrocket in East Jerusalem's Palestinian neighborhoods
Hundreds of people were vaccinated on Monday at a center set up at the Qalandiyah checkpoint north of Jerusalem in order to provide shots to those unable to enter Israel for them. But the line between those who are eligible changed over the course of the day.
The center was opened as part of a vaccine drive by emergency services in East Jerusalem in light of worrying statistics. Recently, Palestinian neighborhoods in the city have overtaken ultra-Orthodox ones in terms of new case. On Monday, the rate of positive coronavirus tests was a staggering 31 percent in East Jerusalem. The rate of vaccination in East Jerusalem is meanwhile significantly lower than in the rest of the city. In East Jerusalem, 27 percent of residents have received the first dose of the vaccine, compared to 57 percent city-wide. Only 12 percent of East Jerusalem residents have received the second dose, compared to 37 percent city-wide. (Nir Hasson)
2:10 P.M. Israel to transfer 'symbolic amount' of COVID vaccines to Palestinians, other countries
Prime Minister Benjamin Netanyahu's office said that Israel had decided to transfer a 'symbolic amount' of coronavirus vaccines to the Palestinian Authority to vaccinate Palestinian medical staffs.
The transfer of COVID vaccines, the statement said, was made possible after Israel had "accumulated a limited amount of vaccines that were not used." The statement did not mention however the amount of vaccines in the shipments.
Israel will also send a few thousand doses of the vaccine to the Czech Republic, Guatemala, Honduras and Hungary. Honduras has announced its intention to move their embassy in Israel to Jerusalem, while the Czech Republic has said it plans to open a 'diplomatic office' in Jerusalem. (Judy Maltz)
>> Click here to read the full article
12:20 P.M. Israeli scientists warn Pfizer CEO: Netanyahu may exploit your visit for election campaign
Senior Israeli scientists and academics have asked the CEO of Pfizer, the manufacturer of the main coronavirus vaccine used in Israel, to postpone his visit to Israel due to fears that Prime Minister Benjamin Netanyahu will exploit his arrival for his campaign ahead of the country's March 23 election.
Albert Bourla is scheduled to arrive in Israel on March 8 at the invitation of Netanyahu. The trip has been coordinated by the National Security Council. (Amos Harel)
>> Click here to read the full article
1:04 P.M. Netanyahu promises 'continuous supply of Pfizer vaccines'
Prime Minister Benjamin Netanyahu said that "I spoke to my friend, the CEO of Pfizer Albert Bourla, and we agreed there will be a continuous supply of Pfizer vaccines."
"Go and get vaccinated. We are also receiving more and more and more Moderna [vaccines]," added Netanyahu, who was speaking at the official ceremony in memory of Joseph Trumpeldor and his comrades who fell in the defense of Tel Hai in 1920. (Haaretz)
>> Click here for previous updates
Click the alert icon to follow topics:
ICYMI
Ken Burns' Brilliant 'The U.S. and the Holocaust' Has Only One Problem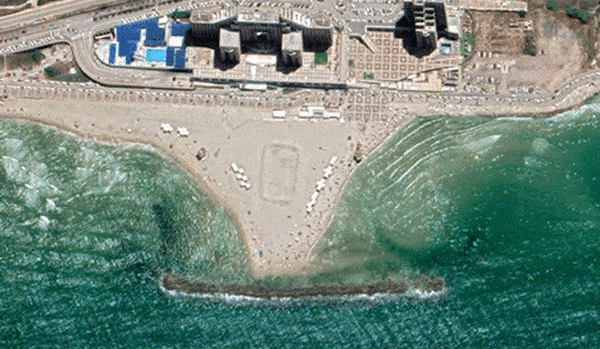 Facing Rapid Rise in Sea Levels, Israel Could Lose Large Parts of Its Coastline by 2050
As Israel Reins in Its Cyberarms Industry, an Ex-intel Officer Is Building a New Empire
How the Queen's Death Changes British Jewry's Most Distinctive Prayer
Chile Community Leaders 'Horrified' by Treatment of Israeli Envoy
Over 120 Countries, but Never Israel: Queen Elizabeth II's Unofficial Boycott