Neanderthals in West Bank Had 'Homo Sapiens' Technology
Neanderthals hadn't been thought capable of fashioning clever 'Nubian Levallois' tools. Now a tooth found with such tools in a West Bank cave has been identified as Neanderthal
Shukbah Cave: View from the inside
Credit: Amos Frumkin
A single child's tooth found along with advanced stone tools made using a technology associated only with Homo sapiens may have put the kibosh on a pet theory. The snag is that the tooth, found in Shukbah Cave in the West Bank, has been identified as Neanderthal.
The technology in question is called Nubian Levallois, so named because it was first discovered in Sudan. In the last decade or so this particular style of knapping was thought to be the sole fief of Homo sapiens. In fact its existence at any given site was thought to be the hallmark of sapiens occupation: Modern humans were there.
But maybe it isn't so, suggests the report on the tooth, published Monday in Scientific Reports, Nature by James Blinkhorn at the Max Planck Institute for the Science of Human History with Clément Zanolli, Tim Compton, Huw S. Groucutt, Eleanor M. L. Scerri, Lucile Crété, Chris Stringer, Michael D. Petraglia and Simon Blockley.
Generally, a given archaeological site without telltale bones cannot easily be identified as sapiens or Neanderthal. Proving anything categorically in human evolution is difficult, and both Neanderthals and sapiens used much the same tools; both also used Levallois knapping techniques. Art is one possible key to identification: Neanderthals have yet to be clearly associated with any. Nubian Levallois knapping technology has been considered another key. But is it?
The enigmatic Layer D
Shukbah Cave (alternatively spelled "Shuqba") lies above Wadi en-Natuf, which is the origin of the name "Natufians": modern humans who lived in today's Israel during the Neolithic period. There were Natufian remains in Shukbah in layers above the older remains that included the tooth, which by the way came from a child aged somewhere between 7 and 12.
Shukbah's value to posterity was discovered almost a century ago. It was initially excavated by the famed archaeologist Dorothy Garrod, who identified four archaeological layers. The one that concerns us is the one she called Layer D – a messy affair. Part of Layer D seems to have eroded away, and its dating never was clear and still isn't, Blinkhorn confirms.
During the excavations, which Garrod published in 1942, tools were found that could have been associated with either Neanderthals or sapiens. But the archaeologists also found Nubian Levallois-type implements, which, taken alone, would have indicated that Level D had been occupied by Homo sapiens. The tooth had also been found earlier but remained unidentified.
Now the new paper identifies the tooth as Neanderthal. Asked if other hominin remains were found in Layer D, Blinkhorn notes the fragment of a shoulder blade, also identified as Neanderthal.
"There is no direct age on the tooth, or for Layer D; however, the faunal remains from the site point to the assemblage post-dating the return of glacial conditions, so after 70,000 years ago," he tells Haaretz – which is consistent with the presence of Neanderthals, who appeared in the Levant some 70,000 years ago.
Critics tell Haaretz that it is extremely hard, even impossible, to identify the species of a hominin from a single tooth. "We are very confident in the attribution to Neanderthals for this tooth," Blinkhorn rebuts. "Our comparative study includes other southwestern Asian Neanderthals, early southwestern Asian Homo sapiens [younger than 70,000 years ago] and Upper Paleolithic southwestern Asian Homo sapiens, with the Shukbah tooth clearly showing affinity to the Neanderthal group and distinct from Homo sapiens."
Alternating occupation
Our understanding of human evolution has profoundly changed in the last decade. It now seems that Homo sapiens and the ancestor of the Neanderthals split over half a million years ago (purists point out that if we interbred, which we clearly did, we are the same species; Denisovans and a few others would be too; we won't get into that futile argument). Anyway, the Neanderthals' ancestor went north and occupied Eurasia. To oversimplify somewhat, that line developed into Neanderthals in Europe and into Denisovans in Asia, and apparently went extinct in Africa.
Our line stayed in Africa but began to exit much earlier than had been once thought. A jaw found in Misliya Cave in Israel and modern human remains found in Greece show that early Homo sapiens began leaving Africa at least 200,000 years ago.
From then, we stayed in Israel for about 100,000 years, confirms Prof. Israel Hershkovitz of Tel Aviv University, an expert on hominins in Israel. Then from that point of 100,000 years ago, sapiens in Israel vanishes from the record. Why, we do not know.
Time passed. For some 30 millennia there were no hominins in the Levant, based on the evidence to date.
Then, 70,000 years ago, Neanderthals descending southward from Europe arrived in the Levant. They stayed for about 20,000 years. Then they too disappeared from the Levantine archaeological record. We don't know why.
But we do know that Homo sapiens newly arriving from Africa, in the course of the Great Exit From Africa that Created All Extant Non-Africans, and Neanderthals living here, met in Israel 50,000 years ago. They interbred. Remains of hybrid sapiens-Neanderthals have been found. (They also crossed paths in Europe but that's another story.)
Anyway, from about 50,000 years ago sapiens ruled the Levantine roost alone. The Neanderthals were gone from Israel, though they would hang on in Iraq for at least another 10,000 years.
O the humanity
It begs adding that there are arguments over pretty much every aspect mentioned here, from the modernity of the Misliya jaw to the dating of archaeological layers to the provenance of knapping technology. A paper published last week in Nature on "Origins of modern human ancestry" by researchers at the Max Planck Society stresses that we don't even know how many species of hominins existed, let alone at any given point in time. Nor can we pinpoint some specific point in time when modern human ancestry was confined to a limited birthplace, or where that birthplace may have been. They also argue that the appearance of anatomical or behavioral traits often used to define Homo sapiens fit a range of evolutionary histories.
And now doubt has been cast on the humanity of Nubian Levallois. Stone the crows. Whatever next.
Again we stress that both Neanderthals and Homo sapiens used a range of general Levallois knapping technologies. Nubian Levallois was just one style. The oldest known incidence of Nubian Levallois was actually found not in Sudan but in Ethiopia, and dates to about 280,000 years ago, Blinkhorn explains (shortly after the start of the so-called Middle Pleistocene). Its appearances were spotty; the technology only became common in the Late Pleistocene, dating to as recently as 15,000 years ago in eastern and northeastern Africa, and in southwest Asia.
But new studies suggest that Nubian Levallois technique arose independently in southern Africa. And that, Blinkhorn sums up, indicates that it was not linked to sapiens' dispersal at all. It's a case of convergence: a good technology that was invented more than once.
He also adds that there is exactly one controversial association between sapiens fossils and Nubian Levallois, in Egypt. In other African contexts, it is assumed that sapiens were the only population producing Middle Paleolithic tool assemblages and using Nubian Levallois technology, an assumption then extended to sites in southwest Asia. Yet, he says, we know there were two distinct populations that produced Middle Paleolithic assemblages.
So if archaeologists have been taking Nubian Levallois as a "smoking gun" for sapiens, they might want to rethink that approach.
All this begs a lot of questions, which can only be answered with speculation.
Could the Shukbah tooth have belonged not to a Neanderthal but to a hybrid sapiens-Neanderthal? "The Levant is a potential site for interbreeding between populations, but there is no evidence of this from the Shukbah tooth," Blinkhorn says, "and I'll note that two of the co-authors on the paper have only just published an article on the teeth from La Cotte de St Brelade, which were originally identified as Neanderthal but they describe features pointing towards potential shared ancestry with sapiens. Such shared ancestry is not apparent at Shukbah (or as far as I am aware with other southwestern Asian Neanderthals at present)."
Maybe the technique was taught to the Levantine Neanderthals by a passing sapiens? "We can't exclude this – but it is a more complex scenario than what I've suggested above and there is no direct evidence to support it. Ultimately, our results suggest that a simple, unique link between Homo sapiens and Nubian Levallois can no longer be assumed, and should be demonstrated before we use the appearance of one to track the other," Blinkhorn sums up.
So, if the tooth is Neanderthal, and shows that Shukbah Cave's Level D was occupied by Neanderthals, and Nubian Levallois technology was found there, the inference is that Neanderthals could make Nubian Levallois too, which they developed independently, as did the prehistoric southern Africans. That is the most parsimonious explanation at this point. We just aren't that special after all. Though we still have art. The earliest painting found to date, in a cave in Indonesia, is of a pig.
Click the alert icon to follow topics:
ICYMI
Ken Burns' Brilliant 'The U.S. and the Holocaust' Has Only One Problem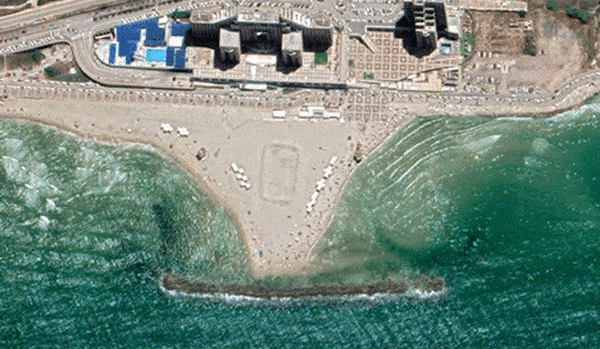 Facing Rapid Rise in Sea Levels, Israel Could Lose Large Parts of Its Coastline by 2050
As Israel Reins in Its Cyberarms Industry, an Ex-intel Officer Is Building a New Empire
How the Queen's Death Changes British Jewry's Most Distinctive Prayer
Chile Community Leaders 'Horrified' by Treatment of Israeli Envoy
Over 120 Countries, but Never Israel: Queen Elizabeth II's Unofficial Boycott