Coronavirus Israel: After Tense Government Meeting, Israel Extends Lockdown Until Sunday
Israel marks grim milestone of 5,000 deaths ■ Netanyahu warns of 'massive and rapid spread' of British coronavirus variant ■ Palestinians start vaccination campaign ■ Israel expected to sign tourism pact
Jerusalem stores closed for business under Israel's coronavirus lockdown this week.
Credit: Ohad Zwigenberg
This story is no longer being updated. Follow live updates here.
Despite an extensive vaccination campaign, coronavirus cases in Israel remain high and show little sign of decreasing. Israel is in the midst of a third nationwide lockdown, and has halted inbound and outbound flights and closed down its overland border crossings. 5,001 Israelis have died so far of the virus.
Meanwhile, Palestinians in the West Bank and the Gaza Strip await vaccines, though it may take at least a few more months for their campaigns to reach enough members of the population. 1,516 people have died so far in the West Bank, while 526 have died in Gaza.
>> Israeli health officials fear worse COVID outbreak if schools reopen too quickly
>> How many Israelis have already been vaccinated for COVID
>> As Israel passes 5,000 COVID deaths, strains and anti-vaxxers lurk around the corner
LIVE UPDATES
12.28 P.M. Gov't extends closure of Ben Gurion airport, land crossings
The government extended the closure of Ben Gurion International airport and land crossings into Israel for two weeks until February 21.
It was also decided that Settlement Affairs Minister Tzachi Hanegbi will head the committee handling requests by Israelis requesting to either fly abroad or return to Israel from abroad. (Judy Maltz)
2:00 A.M. Government votes to extend nationwide lockdown until Sunday
The government has approved the extension of the lockdown by two days, ending on Sunday, February 7, at 7 A.M. The government has also voted on the prime minister and health minister's suggestion to begin gradually lifting restrictions.
On Sunday, the following restrictions will be lifted:
1. Travel limit of one kilometer from one's home
2. Ban on visiting the house of another person
3. Closure of national parks
4. Ban on workplaces that don't receive customers
5. Ban on one-on-one services, such as beauty salons
6. Ban on picking up takeaway from restaurants
Regarding education, the health and education ministries will decide on reopening schools in separate talks. As of Sunday, Israelis will also be allowed to travel within Israel with their nuclear family.
The government is set to reconvene on Sunday to discuss formulating a more detailed exit plan from the lockdown. (Judy Maltz)
12:36 A.M. Attorney General squashes government decision to extend lockdown; government has until 7 A.M. to decide terms of proposed extension
Attorney General Avichai Mendelblit has disqualified the government's decision to extend Israel's nationwide lockdown, minutes after they decided to extend it from Friday at 7 A.M. till midnight between Sunday and Monday.
He did so as the vote Mendelblit based his decision on the coalition agreement that remains between Likud and Kahol Lavan, which states that no party can approve a governmental decision that isn't agreed on by both parties. Kahol Lavan and Labor ministers had opposed the extension voted on by their Likud and Haredi counterparts.
In this instance, Netanyahu made the decision without receiving approval from his Kahol Lavan coalition partners. The government has until 7 A.M. to make a decision regarding the status of the lockdown.
According to Israel's Basic Laws which were adapted to the coalition agreement, if the number of ministers between the coalition blocs aren't equal, a mechanism that will enforce equal votes must be put in place. This law provided the foundations for Mendelblit's decision to cancel the government's decision regarding the lockdown, his office clarified in a statement. (Judy Maltz, Netael Bandel)
12:13 A.M. Government decides to extend lockdown until midnight between Sunday and Monday
The cabinet decided to extend the nationwide coronavirus lockdown until midnight between Sunday and Monday. The lockdown was set to end on Friday at 7 A.M. (Judy Maltz)
THURSDAY
11:50 P.M. Israel passes grim milestone of 5,000 coronavirus deaths
The Health Ministry reported on Thursday night that 5,001 people had passed away in Israel after being infected with the coronavirus. Israel currently has 1,040 seriously ill patients, 364 of whom are in critical condition, and 307 are on ventilators. So far, 3,369,379 Israelis have had at least one dose of the vaccine, with 1,965,657 Israelis receiving both doses. (Haaretz)
6:15 P.M. Cabinet approves reinstating 14-day quarantine for all travelers
All travelers entering Israel will now be required to quarantine for 14-days at government run hotels. The quarantine rule approved by the government on Thursday is set to expire on February 21.
Travelers who can provide two negative COVID-19 tests within 10 days will be permitted to leave the hotel. Travelers who have been vaccinated will be exempted from quarantine, according to the Health Ministry guidelines. (Judy Maltz)
5:38 P.M. Cabinet approves new regulations specifying fines for violations
The cabinet approved on Thursday new regulations proposed by the Health Ministry, which specify the amounts of fines to be given out for violations, which will go into effect within 24 hours.
According to the regulations, operating a business or other place open to the public against regulations will result in a fine of 5,000 shekels (about $1,500) for a place with an area of 100 meters of less, 7,500 shekels for a place with an area between 100 and 500 meters, and 10,000 shekels for a place with an area over 500 meters.
For holding a banned event or one with a higher number of attendees than is allowed, the fine is 5,000 shekels if the event is outdoors and 10,000 shekels if it is indoors.
Fines for educational institutions open in violation of lockdown can be fined 5,000 shekels if the number of students is 35 or less, and 10,000 shekels if there are more than 35 students. (Haaretz)
4:32 P.M. Health Ministry announces new vaccine certificate
The Health Ministry has announced a new campaign to provide a certificate of vaccination for all those who have been inoculated.
This certificate will exempt people from quarantine, the Ministry said, adding that it can be obtained seven days after receiving the second dose of the inoculation. It will be available in Hebrew and English in accordance with international standards.
As of Thursday all those above the age of 16 are eligible to receive the vaccine.
Health Minister Yuli Edelshtein said of the expanded vaccine drive: "There are no excuses. Everyone is coming to get vaccinated. Together we will defeat COVID."
4:22 P.M. Gantz: We must begin gradually lifting the lockdown
Defense Minister Benny Gantz said it was necessary to begin lifting the lockdown as he addressed a cabinet meeting on Thursday. Reopening the economy and schools should be done gradually, with consideration of infection rates in different locations, and with strict regulations inside spaces that are reopening. "In my view, lockdown has stopped being a working plan and a single solution, and we must begin reopening the economy gradually and with oversight," he said. (Judy Maltz)
4:10 P.M. Netanyahu: Get vaccinated and we can reopen economy, vaccinating those over 50 will protect us all
Prime Minister Benjamin Netanyahu urged Israelis to get vaccinated on Thursday as he addressed a cabinet meeting, saying it was particularly important for every Israeli above the age of 50 to receive the vaccine and that this would allow the government to reopen the economy. "Go get vaccinated," he said. "The vaccines work. So if you go and get vaccinated, we will be able to gradually exit the coronavirus [crisis] and open our economy carefully and responsibly."
Netanyahu also claimed that vaccinating people over 50 would protect all other Israelis. Vaccinating those over 50 "must be our most important goal," Netanyahu said. "We need to turn to looking at the percentage of those vaccinated in the critical age groups – and if they are protected, then we are all protected." (Judy Maltz)
3:15 P.M. After several delays, cabinet opens meeting on extending lockdown
The cabinet has opened its meeting on potentially extending Israel's nationwide lockdown beyone Friday at 7 A.M.
The meeting, initially planned for Wednedsay, was delayed several times throughout Thursday. (Judy Maltz)
1:37 P.M. Cabinet postpones meeting on lockdown extension
The cabinet was set to meet at 2 P.M. to discuss a proposal to extend Israel's nationwide lockdown beyond Friday, but the meeting has been pushed forward by an hour, for the third time.
It is now expected to be held at 3 P.M., hours before the current measures expire at 7 A.M. on Friday. (Judy Maltz)
10:07 A.M. Knesset ratifies restrictions on international travel
The Knesset has retroactively approved the cabinet's decision to limit to international entry into Israel.
The restrictions, put into place by the cabinet and authorized by the Knesset in a second and third reading, stipulate that passengers and crew will be required to present a negative coronavirus test before boarding a plane to Israel.
The legislation allows the government to install coronavirus testing centers on its land borders, and to condition entry upon the presentation of a negative test.
The government will also be authorized to block the entry of citizens who have tested positive for coronavirus into Israel, except in special circumstances and with the approval of the director general of the Health Ministry.
Israelis who have a permanent place of residence abroad will be permitted to leave the country, but anybody who has two permanent residences in Israel and abroad will not be able to move between them.
The travel restrictions have been implemented in a bid to halt the entrance of new variants of coronavirus into Israel, which could pose a significant risk to the country, according to Health Ministry professionals. (Jonathan Lis)
9:05 A.M. Palestinian Health Ministry: 10,000 Sputnik V vaccines arrive in West Bank
The Palestinians will receive 10,000 doses of Russia's Sputnik V vaccine on Thursday, enough to cover 5,000 people, Palestinian Health Minister Mai Alkaila told Voice of Palestine radio.
The vaccines were transferred from Ben-Gurion Airport to the Palestinian Authority in coordination with the IDF.
The Palestinian Authority launched its vaccination campaign on Tuesday after a delivery of 2000 doses for medical staff arrrived from Israel. (Jack Khoury and Reuters)
>> Click here to read the full report
7:32 A.M. 3.3 million Israelis vaccinated against COVID-19
Israel has inoculated 3.3 million against coronavirus, with 1.9 million receiving their second dose, the Health Ministry reported on Thursday morning.
On Wednesday, 107,000 Israelis received the jab, though this represented a slowdown in the uptake of the COVID-19 vaccination.
The vaccine is officially extended to anybody aged 16 and over from Thursday. (Ido Efrati)
WEDNESDAY
10:36 P.M. Tel Aviv suburb to give tax incentive to vaccinated households
The town of Givatayim, just east of Tel Aviv, is planning to offer municipal tax rebates for residents who get vaccinated, mayor Ran Konik said on Wednesday.
"Some might call it populism, but I believe in vaccines and not in lockdowns," Konik wrote.
The plan comes on the back of a decision by Israel's health ministry to link the crucial 'traffic light' rating given to each local authority to the percentage of residents that have received the COVID-19 vaccine.
Although Israel is vaccinating at breakneck speed, the shot is not compulsory, which is the reason for the incentive: Givatayim currently has a 'yellow' rating - turning 'green' would allow it to reopen more things, more quickly.
On Monday, the central city of Lod went for the stick instead, annoucing that those who do not get the jab would not be allowed to access certain municipal services. (Ido Efrati and Bar Peleg)
10:30 P.M. Government meeting on lifting lockdown to be held at 1 P.M. on Thursday
The government meeting to discuss an exit strategy for Israel's current coronavirus lockdown will be held at 1 P.M. Thursday.
The meeting had been slated for 6 P.M. Wednesday, but had been cancelled and postponed. (Judy Maltz)
8:47 P.M. Netanyahu expected to sign 'green passport' tourism deal with Greece
Greek Prime Minister Kiryakos Mitsotakis will be arriving on a visit to Israel this coming Monday, during which Israel and Greece are scheduled to sign an agreement for mutual recognition of vaccine certificates that will make it possible to renew tourism between the two countries.
Israel is already holding discussions with a number of countries about such agreements, and this one will apparently be the first to be signed. The agreement will only come into effect when Ben-Gurion International Airport reopens. (Judy Maltz)
8:00 P.M. Gantz to present plan calling for swift exit from lockdown
Benny Gantz is expected to present a plan that would see large sectors of society lifting lockdown regulations beginning on Friday.
Gantz's plan calls for allowing restaurants to reopen for take away, the opening of one-on-one services, allowing Israelis to stay at bed and breakfasts with their nuclear family, the reopening of nature reserves, allowing professional athletes to train and cancelling the 1,000 meter distance restriction from people's homes.
Gantz will demand that the education system reopen a week later, as well as all workplaces that do not serve customers. Gantz will ask that stores reopen with stricter social distancing measures.
Gantz's plan also calls for reopening all sectors for those who have already been vaccinated. (Jonathan Lis)
5:15 P.M. Government debate on lifting lockdown delayed to unknown time
The government debate, which was set to take place at 6:00 P.M. Wednesday evening, has been delayed. A new time for the meeting has yet to be scheduled.
The government was set to discuss a plan for lifting the lockdown, and the Health Ministry was expected to push for a gradual reopening beginning Monday. (Judy Maltz)
3:17 P.M. Health Ministry to recommend partial reopening starting Monday
As the cabinet is set to debate lockdown extension later on Wednesday, Health Ministry officials say they plan to recommend partial reopening starting Monday.
The ministry plans to call for the reopening of preschools and elementary schools up to grade 4, as well as grades 11 and 12, only in localities with a relatively low infection rates.
It would also ask to limit business reopening only to ones that offer one-on-one services, such as beauty salons. (Ido Efrati)
3:04 P.M. Pfizer vaccine is just as effective against U.K. strain, Israeli data shows
The coronavirus vaccines administered in Israel are effective at curbing infection rates, the incidence of serious COVID-19 cases and at protecting against the British variant of the coronavirus, according to new studies conducted by an Israeli health maintenance organization based on real-world data and reported here for the first time.
The first study, conducted by Leumit Health Services on the basis of patient data collected since Israel's vaccination campaign began in December, provides invaluable insight into the effectiveness of the vaccine in the real world, as opposed to efficacy rates measured in the course of controlled experiments in laboratories. According to the second study, the Pfizer vaccine is similarly effective at affording protection against the U.K. variant – which is becoming the dominant strain – as it with respect to the original coronavirus. (Ronny Linder)
>> Click here to read the full report
11:09 Health Ministry: Vaccines will be available to all age groups starting Thursday
The Health Ministry told Israeli health care providers to prepare to expand the vaccination campaign on Thursday, to include Israelis of all age groups.
So far, vaccine eligibility has been limited to people 35 and older, or those in specific priority groups, such as medical workers and educational staff. (Ido Efrati)
>> Click here to read the full report
10:35 A.M. Ultra-Orthodox Hasidic schools continue to stay open, flouting lockdown restrictions
Dozens of ultra-Orthodox Hasidic educational institutions are continuing to operate on Wednesday in violation of lockdown restrictions requiring schools to remain shuttered.
The schools, associated with the central Hasidic movement, have stayed open since the lockdown began in late December.
Over the past few days, there has been a marked decrease in the number of new confirmed coronavirus cases among students. In Jerusalem, for example, where about three weeks ago, there were about 500 new coronavirus cases per day among ultra-Orthodox students, in recent days that figure has dropped to roughly 150. (Aaron Rabinowitz)
8:35 A.M. Health minister says looking into expanding vaccine eligibility, reports 'slight decrease' in demand
Health Minister Yuli Edelstein said his ministry is looking into expanding vaccine eligibility age groups to younger populations in a radio interview on Wednesday morning.
According to the ministry's guidelines, those between the ages of 18 and 35 are generally not yet eligible to receive the coronavirus vaccine.
The Health Ministry will run calculations regarding coronavirus vaccine inventories on Wednesday with the aim of ascertaining when "younger populations" will be eligible to receive the coronavirus vaccine, said Edelstein said.
"Yesterday I met with all the CEOs of the health maintenance organizations and my impression is that they are currently ready to both meet the task of prioritizing those ages 50 and up and also give quite a few more shots to the younger population," said Edelstein.
The health minister noted "a slight slowdown, due to a slight decrease in demand," in terms of the numbers of those receiving the vaccine, but also said that almost everyone who received the first dose also received the second and final dose.
Almost 3.25 million Israelis have received the first dose of the coronavirus vaccine, of whom almost 1.9 million also received the second dose, according to Health Ministry figures. On Tuesday, 100,000 doses were administered, of which 70,000 were first doses. (Haaretz)
6:19 A.M. Israel has not indicted anyone for holding illegal gathering during pandemic
Since the outbreak of the coronavirus pandemic, there hasn't been a single indictment against organizers of illegal gatherings, despite a new procedure that should make this easier. Police have launched hundreds of criminal investigations along these lines, but closed most of the cases, transferring less than a third of them to the State Prosecutor's Office.
The organizers of gatherings can be charged with "an act liable to transmit a disease," but the sole indictment filed for this violation was against a young man who attended a party after he'd been diagnosed with COVID-19. (Netael Bandel)
>> Click here to read the full report
6:18 A.M. Israel's vaccine drive losing steam as number of daily jabs drops by half in one week
The message emanating every morning from Health Minister Yuli Edelstein's bureau is to maintain the battle spirit and vaccination momentum. Tuesday morning it was: "We'll vanquish the virus because we're waging the best vaccination campaign the world."
The minister has been meticulously issuing similarly spirited messages every morning for the last 42 days, ever since the national vaccination campaign began with a storm. The data attached to these messages is less consistent. It points to the fact that the campaign, labeled "lending a shoulder," is losing momentum and has apparently entered a new phase, a more complex and challenging one. (Ido Efrati)
>> Click here to read the full report
TUESDAY
9:46 P.M. U.S. Democrats 'heartened' by Israel's vaccine delivery to Palestinians, urge further cooperation
Several Democratic lawmakers who raised concerns about Israel's vaccine distribution to Palestinians in the West Bank have hailed the Monday delivery of 2,000 doses to the Palestinian Authority.
Rep. Jamaal Bowman, who tweeted then deleted his concerns, sent a letter to Israel's Acting Consul General in New York Israel Nitzan questioning why Israeli settlers in the West Bank were receiving vaccines while Palestinians were not.
"I was heartened to read that the Israeli government has recently agreed to transfer 5,000 doses of the vaccine to Palestinians to immunize front-line medical workers, but the entire population in the West Bank and Gaza must also be covered," Bowman wrote. (Ben Samuels)
>> Click here to read the full report
9:16 P.M. Palestinians give first vaccines after Israel shares supply
The Palestinian Authority administered its first known coronavirus vaccinations on Tuesday after receiving thousands of doses from Israel, which has already inoculated more than a third of its population.
The Palestinian Health Ministry announced the start of the campaign in a statement, saying Health Minister Mai al-Kaila received a first dose along with several front-line medical workers. The statement did not acknowledge that Israel provided the vaccines.
Israel, which launched its own vaccination campaign in December, began transferring 5,000 doses of the Moderna vaccine to the Palestinians this week, and the first doses will go to medical workers. The Palestinians hope to acquire tens of thousands more doses in the coming weeks through a World Health Organization program. (The Associated Press)
>> Click here to read the full report
7:00 P.M. Health minister pushes to extend lockdown through Sunday
Health Minister Yuli Edelstein said he would seek to extend Israel's nationwide lockdown, set to expire on Friday, through Sunday, arguing that lifting restrictions over the weekend would lead to mass gatherings that might put more people at risk of getting infected.
"I hope my fellow cabinet members will understand this simple issue," he said at a press briefing at the Health Ministry in Jerusalem, ahead of a cabinet meeting set for Wednesday.
Benny Gantz's Kahol Lavan party said in a Tuesday statement they would seek to lift some restrictions on Friday. This would include removing the 1,000 meter curb on the movement of people, as well as bringing back one-on-one service, allowing restaurants to give take-away, and bed-and-breakfasts to provide accommodation to nuclear families. (Judy Maltz)
6:57 P.M. Netanyahu says won't seek delay to corruption trial hearing
During a press briefing at the Health Ministry, Prime Minister Benjamin Netanyahu denied he would seek any further delay to his corruption trial, of which the next hearing is set to take place on Monday.
"We decided the courts would be open in any situation... the trial will take place just as it did when the lockdown was in effect," Netanyahu said. (Judy Maltz)
6:55 P.M. Netanyahu: We aim to vaccinate 90 percent of over-50s within two weeks, 'gradually' repoen next week
"We're in a race between our tremendous vaccination campaign and the [British] variant," Netanyahu told a press briefing at the Health Ministry in Jerusalem. About 80 percent of new cases this week have been linked to the British variant, the prime minister said, calling it "a massive and rapid spread."
The major concern are people 50 and over, Netanyahu said, as they represent 97 percent of deaths and 93 percent of serious cases. "If we manage to bring the disease under control for this age group, if we manage to vaccinate these people, we're on our way to victory in the fight against the coronavirus."
The government's strategy is to vaccinate at least 90 percent of Israelis 50 and older within the next two weeks. "It's attainable. 77 percent of them are already vaccinated," Netanyahu said.
Israel will start "gradually" reopening next week regardless, he added. (Judy Maltz)
6:30 P.M. U.K. virus variant has developed concerning new mutation
The U.K. variant of the coronavirus has developed a new, concerning mutation in a small number of cases, which scientists said makes it similar to the South African and Brazilian variants and could reduce the efficacy of vaccines.
The emergence of the mutation to the variant first discovered in Britain highlights how complicated exiting COVID-19 lockdown will be even once vaccines are rolled out.
Public Health England said there had been 11 reports of the UK variant which feature the E484K mutation, mostly in south-west England.
The E484K mutation, which occurs on the spike protein of the virus, is the same change as has been seen in the South African and Brazilian variants that have caused international concern. (Reuters)
>> Click here to read the full report
5:38 P.M. Study finds that of 1,800 haredi Orthodox Jews in London, most have caught and beat COVID-19
In a study of 1,800 people from a single Jewish Haredi community in London, 64% of those tested appeared to have contracted and beat the coronavirus, researchers said.
The study, which researchers from the London School of Hygiene and Tropical Medicine conducted at the request of the community in question, looked into seroprevalence, which is the rate of past infection, the Financial Times reported Tuesday.
Among working-age adults tested in the sample, seroprevalence was at 74% compared to 64% overall, according to the report, which has not been peer reviewed.
Haredi Jews display a higher seroprevalence rate because they have larger families than the average Briton, with closer contact between family and community members. The average number of children in haredi communities is more than twice the 2.3 national average, the researchers said. (Cnaan Liphshiz, JTA)
2:20 P.M. In worrying trend, number of Israelis each coronavirus patient infects on the rise
The COVID-19 infection rate known as the R number – the average number of people each coronavirus carrier infects – has climbed in recent days and is now reaching 1.
This measure had fallen and stabilized last week at 0.9, but on Tuesday morning, it had risen back to 0.97. At the same time, the daily number of confirmed COVID cases remains high; on Monday 8,811 people tested positive for the virus. About nine percent of coronavirus tests returned positive.
A report released by the Research Center for the Fight against the Coronavirus on Tuesday said that "Infection is continuing at very high rates, and a renewed increase [in infection] may be beginning." It added, "The rate of positive tests continues to be very high, and in practice has not fallen during the entire lockdown period."
As of Tuesday, 1,094 COVID patients are hospitalized in serious condition, with 316 of them on ventilators. In addition, the age distribution of these patients has changed; the number of those over 60 has dropped, as has the severity of their conditions, most likely as a result of the vaccination campaign. (Ido Efrati & Yaniv Kubovich)
>> Click here to read the full report
1:03 P.M. Ultra-Orthodox schools continue to open despite nationwide lockdown, police presence
Dozens of Haredi schools are still operating today in violation of the coronavirus regulations. These schools, both boys' and girls' schools, belong to the most extreme Haredi factions and the more mainstream Hasidic communities, and are the same ones that have stayed open since the beginning of the present lockdown.
Over the past two weeks, some of the boys' schools affiliated with the mainstream Lithuanian community have also reopened, with the approval of community leader Rabbi Chaim Kanievsky.
The police have been operating in the Haredi neighborhoods identified with the extremist factions in Beit Shemesh, Ashdod and Jerusalem during the past few weeks of the lockdown – but most of the schools still remained open despite police presence.
Over the past few days, there's been a noticeable decline in the number of confirmed COVID-19 cases among ultra-Orthodox students. In Jerusalem three week ago, about 500 students were found to have COVID-19 every day; yet in the past few days this figure has fallen to about 150 a day.
Nonetheless, principals of Haredi institutions affiliated with the Lithuanian community have told Haaretz that the patience of parents in the community is wearing thin, and it is only a matter of time before these schools are reopened completely. (Aaron Rabinowitz)
10:21 A.M. Leave cancelled for IDF soldiers due to high infection rates
IDF Chief of the General Staff Lt. Gen. Aviv Kochavi has cancelled leave for soldiers who serve on closed bases – those who do not leave for home at the end of the day – starting Tuesday, due to the increase in coronavirus infection, the IDF Spokesperson's Unit said.
This applies to all of the military's units, except for those in which the vast majority of soldiers are vaccinated and those in which no cases of COVID-19 have been reported, which will operate and take their leave as usual.
Soldiers serving on closed bases, or those who commute to their job each day, will continue working in capsules, which will not have physical contact with each other. (Yaniv Kubovich)
8:10 A.M. Over 3 million Israelis have been vaccinated
Israel has now inoculated 3.2 million people (34.3 percent of the population) after 117,000 people received the vaccine on Monday, Health Minister Yuli Edelstein said.
Of this figure, 1.8 million (19.8 percent) received the second dose of the vaccination.
Nearly 5 million doses of the coronavirus vaccine have been administered in Israel, when taking into account both first and second doses, Edelstein said. (Haaretz)
MONDAY
11:50 P.M Gov't lists conditions for Israelis who want to fly home
Since the government halted passenger flights in and out of Ben-Gurion International Airport last week, thousands of Israelis around the world have been stuck outside the country. On Monday, a week later, the government drafted criteria for who will be given permission to return.
Israelis who meet the criteria and have tested negative for the coronavirus in the previous 72 hours will be allowed to return, and will need to commit in advance to spending at least 10 days at a government-run quarantine facility, according to the Health Ministry's criteria. (Rina Rosenberg Kandel)
>> Click here to read the full report
8:04 P.M. Palestinians to be among first to receive vaccines from COVAX scheme
The Palestinian territories and Tunisia will benefit from a first wave of coronavirus vaccines from the COVAX scheme, but poorer states in the Middle East face a big gap in early vaccine provision, a World Health Organization (WHO) official said on Monday.
The Palestinian territories are expected to receive 37,000 doses of the COVID-19 vaccine made by Pfizer and BioNTech starting in mid-February through COVAX, while Tunisia is due to receive 93,600 doses, said Rick Brennan, emergency director for the WHO's Eastern Mediterranean region. Two doses of the vaccine are recommended per person.
The WHO set up COVAX along with the GAVI vaccine alliance to ensure equitable access to COVID-19 vaccinations globally. (Reuters)
>> Click here to read the full report
7:55 P.M. Genetic sequencing identifying more cases of U.K., South Africa variants, Health Ministry says
The Health Ministry is continuing to conduct genetic sequencing to identify cases of the COVID-19 variants that first emerged in the United Kingdom and South Africa, the ministry said in a statement Monday. Eighty people have been confirmed to have tested positive for the South African variant, the ministry said. Sixteen out of 20 pregnant patients whose virus was sequenced were found to have the U.K. variant. (Haaretz)
6:30 P.M. Israel issues new guidelines, recommending vaccination at all stages of pregnancy
Israel's Health Ministry has issued new guidelines, saying that vaccines can be administered during all stages of pregnancy.
In a joint statement with several groups representing gynecological and reproductive medicine specialists, the ministry said "There is no proof of any damage to the fetus or risk the to pregnancy as a result of the vaccination, and no known biological mechanism could point to such a possibility."
However, the new guidelines say the women who are breastfeeding should not get the vaccine, and those planning to become pregnant should get both doses beforehand. (Ido Efrati)
>> Click here to read the full report
6:25 P.M. Israeli mayor says unvaccinated won't be allowed to get city services
The mayor of Lod said on Monday that the city will bar residents who do not get vaccinated from receiving municipal services and enrolling children in school, among other punitive measures.
"Those who have not been vaccinated or recovered from the coronavirus will not be able to receive services," Mayor Yair Revivo said.
Lod is a mixed Jewish and Arab city. Arab vaccination rates have been significantly lower than Jewish ones across the country. (Bar Peleg)
5:15 P.M. Coronavirus czar says number of serious cases declining, health system preparing for end of lockdown
The number of serious coronavirus cases is steadily declining and the health system is preparing for the current lockdown to be lifted, Nachman Ash, the government's coronavirus czar, said Monday. He cautioned that hospitals remain heavily burdened, however.
Ash also criticized mass funerals held in Jerusalem and illegal social gatherings reported around the country, calling on authorities to prevent such incidents.
He noted that the R number – the average number of people each infected person goes on to infect – has recently reached between 0.9 and 0.95, evidence that the spread of the virus is being halted.
Ash added that Ben-Gurion International Airport will remain closed at this time. "Israel's skies will remain closed until we have more information about the new COVID strains and whether they are resistant to the vaccine. We're gathering this data from all over the world," Ash said.
He added that inbound and outbound flights will resume once it becomes possible to ensure that those returning from abroad enter quarantine.
Ash also said that Israel has decided to transfer a relatively small number of Moderna's coronavirus vaccines to medical staffs in the Palestinian Authority in the West Bank. (Ido Efrati)
12:30 P.M. 50,000 vaccines to arrive in West Bank mid-February, 15,000 arriving in Gaza soon
The Palestinian Authority will receive 50,000 vaccines in mid-February and an additional shipment toward the end of the month, Palestinian Prime Minister Mohammad Shtayyeh announced Monday.
The vaccines will come from several different sources, including the World Health Organization and the global COVAX initiative.
Meanwhile, Dr. Majdi Dahir, a senior health official in the Strip, announced that the the first shipment of 15,000 vaccines will arrive soon.
The batch will prioritize at-risk medical staff and those who come into contact with coronavirus patients, as well as other at-risk groups and those with a background of health conditions.
The Health Ministry in Gaza also called upon the public to register for the vaccine via a new app called "Sihti" ("My Health") with the aim of establishing an organized waiting list for the vaccine when it arrives.
According to Dahir, the shots are expected to reach the enclave in stages and will cover approximately 60 percent of the population in the Gaza Strip. (Jack Khoury)
11:59 A.M. Israel delivers 2,000 COVID vaccines to Palestinian Authority
Israel delivered 2,000 coronavirus vaccines to the West Bank on Monday, the first batch of 5,000 inoculations intended for Palestinian medical staff.
The decision to dispatch vaccines to the Palestinian Authority came after a recommendation from the Defense Ministry and the Coordinator of Government Activities in the Territories.
The Moderna vaccines were delivered via the Beitunia crossing in the West Bank. (Yaniv Kubovich)
9:50 A.M. Experts warn against uncontrolled exit from third COVID-19 lockdown
A panel of experts who advised the National Security Council at the beginning of the coronavirus crisis is warning that an uncontrolled exit from the third lockdown could lead to a severe outbreak of the virus in Israel.
The findings were presented by Prof. Eli Waxman, a physicist at the Weizmann Institute, to the cabinet on Sunday.
The report said that Israel is in a "new era" in its fight against the coronavirus, pointing to the vaccination drive and the new variants of the virus. It stated that "the country is not on its way to a victory over the virus."
The recommendations included setting rates of morbidity that would trigger the lifting of restrictions, as well as ensuring proper social distancing among the public.
Waxman slammed "the lack of long-term policy" and the "failure" to deal with coronavirus hot spots, speicifically mentioning the high rate of infection in the ultra-Orthodox community. (Amos Harel)
9:10 A.M. Three million Israelis vaccinated, health ministry says
Israel has surpassed the 3 million mark for inoculations after 131,000 more people were vaccinated on Sunday, Health Minister Yuli Edelstein said.
Out of this figure, 1.8 million received the second dose of the vaccination. (Ido Efrati)
8:55 A.M. Daily rate of new COVID cases falls for fourth consecutive day
The number of new COVID cases has fallen for the fourth consecutive day, Israel's Health Ministry reported.
On Sunday, the number of daily cases fell to 4,646, representing an almost 50 percent decrease from the middle of the preceding week.
The total number of active patients is currently 68,331.
With Israeli hospitals under increasing strain, the number of patients in a serious condition also fell to 1,140, with 315 patients on ventilators.
On Sunday, 31 additional deaths were reported, taking the total death toll from coronavirus in Israel to 4,796. (Haaretz)
12:01 A.M. Cabinet extends lockdown through Friday morning; airport to remain closed for one more week
The cabinet decided to extend Israel's third nationwide lockdown through Friday at 7 A.M, while Ben-Gurion International Airport will remain closed for another week. Israel's border crossings will remain closed until Tuesday at midnight.
Netanyahu and Health Ministry officials initially sought to extend the lockdown by one week, but Defense Minister Benny Gantz and ministers from his Kahol Lavan party pushed to end it on Wednesday at midnight and partially open the economy as soon as Thursday. (Judy Maltz)
>> For the full report click here
SUNDAY
10:08 P.M. Second funeral of the day attended by thousands of ultra-Orthodox takes place in Jerusalem
Thousands of people from the ultra-Orthodox community attended the funeral of Rabbi Yitzhak Scheiner on Sunday night in Jerusalem, hours after the city played host to the funeral of Rabbi Meshulam David Soloveitchik.
Rabbi Scheiner, who died from Covid-19 at the age of 98, was the dean of the Kamenitz Yeshiva and a member of the Degel Hatorah party's Council of Torah Sages. Scheiner took a very strict stance regarding the coronavirus guidelines.
In his last public letter, written at the start of the third wave of the pandemic, Scheiner encouraged the public to observe the coronavirus restrictions and to get vaccinated.
In contrast to the first funeral, which was attended mostly by people affiliated with the more extreme Haredi elements who don't wear masks or observe social distancing, the second funeral was attended by a more centrist element and a large number wore masks. Social distancing was not observed. (Aaron Rabinowitz)
>> Click here for the full report
9:57 P.M. Israeli military holds event for senior officers, flouting COVID restrictions
The military held an indoor event last week in Jerusalem, with the attendance of dozens of participants, including senior officers, and in violation of coronavirus restrictions.
A civilian, who was able to easily join the event and was even served a meal, said the noise was deafening and could be heard in streets outside the building.
Many of the participants did not wear masks or observed social distancing rules, but the military said COVID restrictions were not violated. (Yaniv Kubovich)
>> Click here for the full report
7:40 P.M. This picture shows how Israel's COVID battle is spiraling out of control
Despair is neither a plan of action nor an option in a state of national crisis, but the pictures from the mass funeral in Jerusalem, amid a national coronavirus lockdown, fill one's heart with anguish. Israel is now at the height of a social crisis rooted in a medical and political crisis – and this could cost lives, disrupt public order and perhaps even destabilize our fragile democracy.
Israel is on the edge of a lose-lose situation, while every solution is terrible in its own way. On the one hand, the extension of the lockdown alongside footage of a mass rebellion in the ultra-Orthodox autonomy in Jerusalem could lead to the brink of civil war and anarchy by those who can't stand the injustice and weakness of Israel's leadership.
Israel managed to go through an entire year of pandemic, in a fragile political situation, with polarized tribes fighting each other and general despair – without ending in anarchy. The vaccines seemed like a light at the end of the tunnel. But on Sunday morning, with the footage from Jerusalem coming after a long period of growing public frustration, a loss of control seems closer than ever. In fact, it's already here. (Ronny Linder)
>> Click here for the full report
4:27 P.M. Knesset approves increasing fines for COVID violations
The Knesset approved a law allowing increasing fines for violating lockdown restrictions, after Defense Minister Benny Gantz said that he would not support extending Israel's nationwide lockdown if the parliament does not pass the legislation.
The law raises the maximum fine for violating coronavirus regulations from 5,000 shekels ($1,500) to 10,000 and also allows issuing closure orders for institutions that violate the regulations, including schools.
Knesset Speaker Yariv Levin criticized Gantz for "putting an ultimatum" on his desk. Thirty-nine lawmakers voted for increasing fines, while 18 voted against. (Jonathan Lis)
1:50 P.M. Thousands attend mass funeral of revered rabbi despite lockdown restrictions
Thousands gathered to participate in the funeral procession of Rabbi Meshulam Dovid Soloveitchik, the leader of the Brisker Yeshiva in Jerusalem. Police knew about the procession, yet did not enforce the lockdown regulations, which include a ban on large gatherings.
Leading rabbis and yeshiva leaders called on the public to attend the funeral as a final gesture of respect to Rabbi Soloveitchik, nicknamed "the elder of the yeshiva leaders."
Israel Police spokesperson for the ultra-Orthodox public, Shabtai Gerberchik, said this morning in an interview with Kan's Moreshet radio station that "I won't go and confront 20,000 people because I'm not capable of it." He continued, saying that the police cannot enforce coronavirus restrictions at an event like this one.
"Violations of the law are violations, but with what's happening on the ground, you can't decide what's good and bad, you have to decide what's bad and worse," Gerberchik said. (Aaron Rabinowitz)
>> Click here for the full report
12:30 P.M. Schools in ultra-Orthodox cities remain open despite restrictions
Dozens of educational institutions have opened Sunday in ultra-Orthodox cities across Israel against the government's coronavirus regulations.
These schools belong to extreme streams of ultra-Orthodox society, as well as the centrist Orthodox stream, which have continued to open in spite of the regulations since the start of the lockdown in December 2020.
Over the last two weeks, a number of boys' schools associated with the Lithuanian stream of ultra-Orthodoxy have reopened, following the approval from community leader Rabbi Chaim Kanievsky.
In recent weeks, police have been operating in cities with a high ultra-Orthodox population including Beit Shemesh, Ashdod and Jerusalem, yet most institutions in these cities remain open.
In recent days, records show a noticeable drop in the number of ultra-Orthodox students that have contracted the coronavirus. Three weeks ago in Jerusalem, around 500 yeshiva students were testing positive every day. In recent days, there are around 200 ultra-Orthodox students testing positive for the coronavirus each day. (Aaron Rabinowitz)
10:45 A.M. Over third of Israelis received first COVID vaccine dose
More than one third of Israel's population (33 percent) has received the first dose of the vaccine against COVID-19, according to data released by the Health Ministry Sunday.
"More than 3 million people have been vaccinated in the State of Israel," Health Minister Yuli Edelstein wrote in a Facebook post.
"That's one third of Israelis! 1,729,000 of those have received their second vaccine," Edelstein added.
According to the Health Ministry data,19 percent of Israelis have received the second vaccine.
Over the weekend, 178,000 Israelis were vaccinated against the coronavirus.
Israel currently has 72,026 active cases; 4,745 people have died. In the West Bank, there are 4,451 active cases and 1,473 deaths, and in Gaza 4,616 active cases and 520 deaths.
Click the alert icon to follow topics:
ICYMI
Ken Burns' Brilliant 'The U.S. and the Holocaust' Has Only One Problem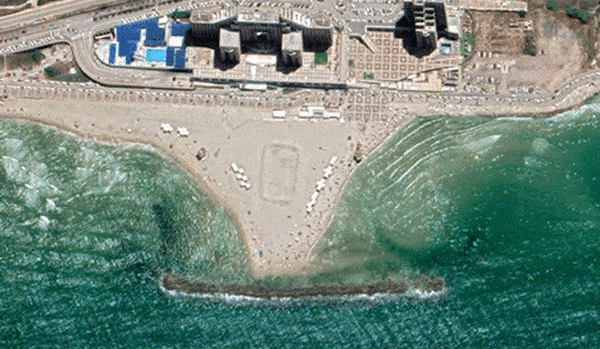 Facing Rapid Rise in Sea Levels, Israel Could Lose Large Parts of Its Coastline by 2050
Lapid to Haaretz: 'I Have Learned to Respect the Left'
The Mossad's Fateful 48 Hours Before the Yom Kippur War
As Israel Reins in Its Cyberarms Industry, an Ex-intel Officer Is Building a New Empire
How the Queen's Death Changes British Jewry's Most Distinctive Prayer