Under the Gun: The Crime Epidemic Overwhelming Arab-Israeli Society
With a long-standing mutual distrust between the community and local police, Israel's Arab towns are desperate to find a solution to a rocketing murder rate
Mourneers at a funeral for an Arab man shot dead in his car last December.
Credit: Tomer Appelbaum
On January 23, the day after 21-year-old Mohammed Agbaria was shot to death in Umm al-Fahm after participating in a combination prayer-protest against violent crime, the Abraham Initiatives foundation issued an unusual press release.
The Israeli NGO, which seeks to advance the cause of Arab-Jewish shared society, called for the Shin Bet security service to employ its "intelligence-technology tools" to fight the crime epidemic afflicting Arab society. Though conditioned on the agreement of Arab leaders, and on being time-limited, the proposal was a radical one.
The Shin Bet is supposed to prevent terror and root out subversion. The idea of inviting the agency into the Arab community – so many of whose members already feel they are by default presumed to be disloyal until they can prove otherwise – was met with immediate and significant opposition.
How much opposition? Enough that on January 25, the Abraham Initiatives issued another press release, this time withdrawing its recommendation. "After renewed consideration," read the announcement, the NGO had determined that its proposal was "mistaken, in that it serves to give legitimacy to the Shin Bet, as a security body, to operate within Arab society."
The event barely made the evening news, but it embodies a paradox that's at the heart of the crisis facing Arab-Israeli society. Deadly violence has become a daily phenomenon in most Arab towns and villages, and its victims are more often than not average citizens who have fallen foul of the crime organizations that now control many aspects of life in their neighborhoods.
However, while members of the community hold the state responsible for finding the antidote to this plague – as demonstrated, for example, in the angry protests held across the country's north after one bystander, Ahmad Hijazi, was killed and another wounded during a shootout in Tamra between police and several criminal suspects on the night of February 1 – they also have so little trust in state institutions that they are reluctant to turn to them for help. That goes not just for the Shin Bet but also for the Israel Police, whose job actually is to prevent, fight and solve crimes.
When the shooting starts
A few statistics about the scale of the problem: In 2019, 89 Arab citizens were murdered, compared with 36 Jews, even though Jews make up about 80 percent of the country's population. Last year, the number of homicides in the Arab community rose to 113, according to Aman: the Arab Center for Safe Society. No less shocking is the fact that the murder rate in Arab society has risen by some 50 percent over the past four years. The vast majority of these crimes remain unsolved and rarely result even in indictments.
Umm al-Fahm, a socially and religiously conservative place, offers a good case study. With a population of nearly 60,000, it is Israel's second-largest Arab city (after Nazareth), and is the unofficial capital of the so-called Triangle of Arab communities situated in the southern Galilee. Although it is the birthplace of the now-outlawed Northern Branch of Israel's Islamic Movement, whose leaders ran city hall for many years, it is today led by a nonpartisan mayor, Dr. Samir Mahamid.
But the residents of Umm al-Fahm, like those of dozens of other Arab towns and villages in the center and the north, no longer feel safe at night, when the shooting starts.
Mohammed Agbaria was the fourth member of his extended family to be shot to death in 18 months. On the day he was killed, Mayor Mahamid threatened to resign his position if, within a month, the state did not approve and initiate a comprehensive program to fight the crime epidemic.
Just a few weeks earlier, on January 7, Dr. Suleiman Agbaria (no relation – the surname is common in Umm al-Fahm because it belongs to one of city's four founding clans) was shot and seriously wounded by anonymous shooters who had no obvious motive. Now undergoing rehab for his injuries, Agbaria is himself a former mayor of the city as well as a former deputy head of the Islamic Movement, northern branch.
It would not be a gross exaggeration to say that shooting, often with military-grade automatic weapons, has become a standard means of communication in many Arab towns, as more facets of daily life become controlled by criminals. When you fall behind on your exorbitant monthly payments on a black market loan, the lender hires a couple of unemployed locals to shoot up your house or car, or threaten your child. Although a good percentage (maybe a majority) of such attacks have intimidation as their goal, they often have fatal results for their targets, or even bystanders. And it's getting worse.
When I asked Said Abu Shakra, the founder and director of Umm al-Fahm Art Gallery (the country's first Arab-owned art gallery), and a former senior police official, if the deterioration is palpable, he seemed surprised that it was even a question. "Of course. It's worsening by the day. Once, maybe it took five years to feel a change. But now it's from day to day."
The lost decade
Arab political leaders are demanding action from the government, and in recent months Prime Minister Benjamin Netanyahu has begun to evince demonstrative interest in the problem. And ahead of the March 23 election, he is openly courting Arab citizens to vote for his Likud party.
That idea may sound counterintuitive to an observer who is aware mainly of Netanyahu's noisy incitement against the Arab population during election campaigns. However, over the past decade, his governments have also been generous and creative in devoting public resources to rectifying disparities between Jewish and Arab communities.
In any event, there is no doubt that there is political will across the board to spend time and effort on contending with the problem. Which may lead one to wonder: Why do Arab Israelis seem so wary of trusting the authorities to work on their behalf?
To answer that, we need to return to what some refer to as "year zero" – October 2000, when the outbreak of the Palestinian second intifada sparked violent demonstrations in Israel's Arab communities, which resulted in the killing by the police of 13 protesters, all but one of them Israeli citizens.
The center of those demonstrations was along Road 65, with the turnoff for Umm al-Fahm being one of the hot spots. Three of those killed by police in 2000 were from the city, and anyone visiting today passes through three consecutive traffic circles, each with a monument commemorating one of those victims.
For Arab Israelis, the impact of the "Events of October 2000" was devastating. The Israel Police had employed lethal power to put down demonstrations that, even if not peaceful, were not seen as life-threatening. They don't do that when the demonstrators are Jewish, as Arab commentators observed during the recent riots in ultra-Orthodox neighborhoods. And although a judicial commission had plenty of criticism for the authorities and recommendations for police reform, the government of then-Prime Minister Ariel Sharon basically ignored those recommendations. Neither were any criminal charges brought against the police officers who killed the demonstrators.
"Everyone knows that after the Events of October 2000, the police basically withdrew from Arab society," says Ola Najami, the co-coordinator of the Abraham Initiatives' "Safe Communities" project (which serves as a liaison between Arab locales and government institutions like the police).
In fact, the disengagement between the police and the Arab community was mutual.
According to Dr. Yael Litmanovitz, a researcher at the Institute of Criminology at the Hebrew University, what followed October 2000 was a bilateral breakdown of trust and cooperation.
"On the one hand, the Arab citizens of Israel said, 'No, we don't want the police, we don't trust the police – look at what they did.' At the same time, the police said, 'Look at how you behaved. If you don't want us, we don't want to be here either.'"
In 2017, Litmanovitz participated in a study looking at how members of the force viewed their work. She says that commanders who had assignments in Arab towns in the years following 2000 often referred to the period as a "lost decade." Even today, she notes, "there can still be resistance just to having police give lectures in public schools" in Arab towns, though such visits are standard in the Jewish community.
The Abraham Initiatives' Najami is representative of many within the Arab community who complain that, to this day, "the police wear two different hats" in their interactions with Arab society. While they are supposed to be providing a service to the citizenry, when it comes to the Arabs they also "look at them as a security threat," she says.
They seem to have more interest in being security watchdogs, she adds: "The police know how to be present at demonstrations, and to control young people who come out to protest on the street, but they aren't able to enforce the regular criminal laws intended to prevent violence."
In its most recent annual survey of citizens' attitudes toward law enforcement, the Abraham Initiatives found that whereas 41.3 percent of Israeli Jews said they trust the police, only 17.4 percent of Arab citizens agreed with that statement.
To understand, one need only compare the number of tickets distributed during the past year to residents of Arab locales and Jewish towns who were stopped by police for not wearing masks or for breaking coronavirus restrictions in other ways. Figures released by the police last month showed that far more fines were levied in Arab towns than in Jewish – even ultra-Orthodox – or mixed ones, proportional both to population size and incidence of infection. "You see that it's Arab society that paid the price for the violations," Najami says. "The police invested most of its enforcement effort in the Arab towns."
Victims of success
Two other major developments were taking place in Arab-Israeli society while it and the police disengaged from each other. This hierarchical society was becoming less traditional, less patriarchal. In the past, when the men were in charge, the elders of the clan were at the top of the pyramid and would resolve disputes as they saw fit. That sense of order has broken down, to a large extent, and though that has positive consequences (for women, for example, who are more likely to appeal for help outside of the family when subjected to violence by spouses), the absence of a clear source of control has also left Arab society prey to criminal elements.
Anyone can become a victim. It can be someone who has fallen behind on loan payments; a store owner who refuses to pay protection money to a local crime gang; a city official who insists on conducting a legitimate tender for local waste-collection services, rather than assigning the contract to a member of a local clan; it can certainly be a young woman who has offended family propriety by being seen in the company of a man she is not betrothed to.
Perhaps most unsettling, the victim may simply be related to one of the above, or even just be someone who happened to be in the vicinity of the intended target when the assassin's motorcycle slowed down for him to fire at the latter in the street.
The common denominator is that disputes of all kinds are being settled with firearms.
If some 400,000 illegal weapons – a Knesset estimate of the number of firearms in circulation last year – appear on the mantle in the first act of a tragedy, one shouldn't be surprised to find the stage covered with bodies by the time the curtain falls. Approximately 70 percent of those weapons are thought to have been stolen from either the army or the police.
"If you're wondering what happened to the 93,000 bullets that were stolen a few weeks ago from the Tze'elim army base" in the Negev, says Najami, you need only look to the Arab communities in the north, where 13 people were murdered in January alone.
When all the criminals can buy and use guns with impunity, law-abiding citizens will feel compelled to arm themselves too, even if that means breaking the law. What they won't do, "if they don't think they are going to be protected, is go to the police to report crimes," Litmanovitz says. "Certainly, they won't be willing to give testimony in the police station."
Fortunately, one of the top priorities in a set of proposals from an interministerial committee for dealing with crime in the Arab community is a serious program to collect illegal weapons. But this has to go beyond announcing an amnesty to people who turn in their black market rifles by a certain date, and include operations that locate and arrest the dealers.
One irony, notes Amnon Be'eri-Sulitzeanu, co-director of the Abraham Initiatives, is that much of the violence comes, "tragically, from the economic development in Arab towns in recent years, and the growth of the middle class.
"There are people with money. Towns are being developed, and businesses and industrial zones opening up," he says. "All of this causes a rise in crime that is no longer the crime that we used to know – street crime or road violence, or within families – but rather violence with its origins in economic issues, in money, with families that are crime families."
It is not only the police who have neglected Arab society for decades, contributing to a vacuum of institutions that makes so many towns ripe for organized crime gangs to come in and take over.
Israel's financial institutions are not built to serve traditional Arab communities, and a lack of availability of legal credit ensures the existence of an extensive range of black market lenders. Protection rackets extort money from owners of legitimate businesses. In both cases, unpaid debts are collected at the end of a gun. High unemployment rates, particularly among young men, mean there are plenty of "soldiers" available as enforcers for the gangs.
Many city governments, flush with funds from the state to improve local infrastructure, for example, find themselves under siege by local crime families that want to secure lucrative contracts for themselves. (In 2019, I described the grim situation in Kalansua, whose local government, according to some of its leading residents, was in the grip of criminal organizations.)
Lack of action
Last November, a high-powered committee, comprised of the directors general of all the relevant ministries, presented their recommendations to the prime minister for a comprehensive program, estimated to cost 5 billion shekels (about $1.5 billion). At the time, making a rare appearance before the Knesset Special Committee for Eradicating Crime in the Arab Sector, Netanyahu promised to bring the plan to the cabinet for approval within two weeks.
Two months later, on January 24, when a delegation of Arab mayors and local council heads met with the premier, the plan remained unapproved. Nor had the government responded to a wide range of demands recently presented by the mayors related to the need for legislation in areas such as education, social services, housing and financial services, in addition to law enforcement.
At the meeting, which occurred two days after the shooting death of Muhammad Agbaria in Umm al-Fahm, Mayor Mahamid informed Netanyahu of his intention to resign because of the government's lack of action on the violence question.
When I checked in with Mahamid this week, he and his colleagues were still in office. On Wednesday, Netanyahu had presented the government's updated plan to Mahamid and his fellow mayors. At the same time, he announced the appointment of Maj. Gen. Aharon Franco, former police commander of the Jerusalem District, as the officer charged with overseeing the effort. Mahamid told me that the mayors planned to "study it in depth, to see if it answers our demands," adding that the threat of collective resignation was still on the table.
In the meantime, Umm al-Fahm Art Gallery director Abu Shakra reports that Muhammad, one of his two sons living in Germany, recently had his application for citizenship there approved.
Abu Shakra is deeply connected to his family, to his city and to the land. As he told me, "As a father, I should be angry with my son. Why should he be in Germany," instead of returning to Umm al-Fahm following completion of his architecture studies in Munich?
Abu Shakra reminds me that both Muhammad and his younger brother, Bashir, are avid mountain climbers. Bashir's short films depict his adventures in the Alps and have won him a variety of prizes at international festivals. They are breathtaking, but also somewhat terrifying to view. But, says his father, "I don't worry when he's climbing. When he's in Umm al-Fahm – that's when I worry."
Twitter: @davidbeegreen
Click the alert icon to follow topics:
ICYMI
Ken Burns' Brilliant 'The U.S. and the Holocaust' Has Only One Problem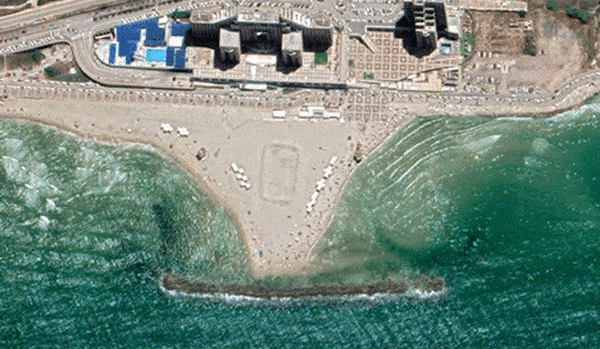 Facing Rapid Rise in Sea Levels, Israel Could Lose Large Parts of Its Coastline by 2050
Lapid to Haaretz: 'I Have Learned to Respect the Left'
The Mossad's Fateful 48 Hours Before the Yom Kippur War
As Israel Reins in Its Cyberarms Industry, an Ex-intel Officer Is Building a New Empire
How the Queen's Death Changes British Jewry's Most Distinctive Prayer