Archaeologists Find Oldest Picture in the World. It's a Pig
Early modern human art turns out to abound in Southeast Asia. The artists painting the Sulawesi cave wall over 45,500 years ago may have been depicting a whole social interaction between warty pigs
Closeup of the pig painting at Leang Tedongnge, done in dark red/mulberry colored ocher.
Credit: Maxime Aubert
A painting of a warty pig found in a cave in Indonesia is at least 45,500 years old, making it the earliest known figurative cave art in the world, archaeologists reported on Wednesday.
Put otherwise, the oldest picture ever painted by humans was a pig, the evidence so far shows.
The extraordinarily well-preserved porcine portraiture was found at the rear of the Leang Tedongnge cave, on the Indonesian island of Sulawesi.
In fact, the whole area has been discovered to abound with prehistoric art in caves and rock shelters, going back tens of thousands of years. In 2019, a spectacular mural of a hunting scene was found in a nearby cave, Leang Bulu' Sipong, that was dated to about 44,000 years ago – and that's just the art that has survived tens of thousands of years.
"To our knowledge, the animal painting from Leang Tedongnge is the earliest known representational work of art in the world," write the researchers, Adam Brumm of Griffith University, Australia, and colleagues reporting in Science Advances.
The age of the Tedongnge pig painting was estimated by uranium-series dating minerals that had encrusted over the drawing i.e., the drawing has to be older than the encrustation.
The authors also describe another newly discovered painting of a pig that's at least 32,000 years old, found in a cave called Leang Balangajia, and qualify that there's no reason to suppose that the 45,500-year-old Tedongnge pig is unique in the islands of Southeast Asia or the region. Prehistoric rock art has been found at around 300 caves and shelters in the area of Sulawesi.
By the way, "newly discovered" – the pig paintings were found in 2017 and 2018, but are only being reported now.
Pig paintings and the migration conundrum
The discovery of the early art in Indonesia put paid to the theory that the earliest figurative art was in Europe. Indeed, there are magnificent paintings, and sculptures too, going back over 30,000 years, such as the evocative animals painted at Chauvet and Lascaux caves in France, figurines found in Germany and more; as well as rock art in the Basque country, Spain and more.
To be clear, cave-wall daubings found in Spain and Portugal dating back roughly 65,000 years may be art and they include hand stencils, but they aren't figurative and their finders think they were made by Neanderthals anyway, not early Homo sapiens (mainly on the grounds that Neanderthals were known to be there at the time and modern humans were not known to be there).
There is an argument over whether lines engraved onto ocher found in South Africa from 73,000 years ago is abstract art ("world's earliest hashtag").
Actually, the early figurative art found in Indonesia doesn't really help resolve a key controversial issue: when modern humans reached Southeast Asia.
Rock art is the earliest dated proxy evidence for modern humans in Sulawesi – valid because so far in the annals of prehistory, art is the fief of Homo sapiens, if we leave the hashtag in South Africa out of it.
Homo sapiens began evolving in Africa over 300,000 years ago or more, well before which Eurasia was reached by pre-sapiens hominins – who reached there at least 2 million years ago. Hominins also reached Southeast Asia at least hundreds of thousands of years ago.
As for our species, Homo sapiens, we now know that exits from Africa began at least 200,000 years ago, based on evidence found in Israel and Greece. But when anatomically modern humans reached Southeast Asia is, in particular, heatedly debated.
We know that Sulawesi, situated between Asia and Australia, had been colonized at least 200,000 years ago, going on stone tools found there together with the remains of now-extinct megafauna. But we don't know who made those stone tools: likely it was a type of archaic hominin – types of which thronged the area. Note the existence of diminutive archaic humans in the region, such as the 3-foot-tall "hobbit" on the island of Flores and another species in the Philippines. These species are not known to have created art.
Some believe evidence indicates the arrival of Homo sapiens itself in Southeast Asia and Australia over 70,000 years ago, but others argue that evidence for any date over 50,000 to 55,000 years ago is tenuous at best.
What can be said is that the early modern occupants of Indonesia were artistic: note the abundance of sites found so far (and these are just the ones that survived). The ancestral artists seem to have been enamored of the spike-haired warty pig, Sus celebensis, which is no doubt tasty and constitutes a hefty 81 percent of the animal representatives.
The 44,000-year-old narrative mural, 4.5 meters wide (15 feet), shows what seem to be humans hunting Sulawesi warty pigs and anoas.
Other early pictures found in the area include hand stencils, another pig species and a banteng (wild ox), to name but a few subjects. Many of the paintings are as old as about 40,000 years; and in separate work, archaeologists detected evidence for pigment processing in that time, the late Pleistocene, on the island. Borneo also features rock art going back some 40,000 years.
A social interaction between pigs
Both the newly declared oldest painting, found at Leang Tedongnge, and the later pig drawn at Leang Balangajia, were executed using dark reddish-mulberry colored ochre for the outline and a filling of irregular painted lines and dashes.
At Tedongnge, the prehistoric porker was painted on the rear wall of the cave, and it's not small – 136 centimeters in length and 54 centimeters high. It bears adding that warty pigs are hefty beasts with shortish legs. There seem to be at least two or three other pigs on the same panel, but they weren't as well preserved. It seems the pigs were confronting one another and the authors suggest that like the extraordinary hunting narrative panel, here too the ancient artists were portraying a scene – a social interaction between multiple warty pigs.
Behaviorists explain that some adult male warty pigs may be solitary and bellicose, but others live in groups that may number as many as a dozen individuals. They're smart, too. In 2019, warty pigs (albeit captive ones) were observed digging in the dirt using sticks and bark as a shovel. It was the first tool use reported among pigs.
Back in Indonesia, the "younger" pig at Leang Balangajia was drawn in a side chamber of the main cavern, and this pig is a monster – 187 centimeters in length and 110 centimeters in height. It too was not alone; there seem to be two or more other figurative animal motifs on the wall and ceiling of the chamber, the authors say. Four hand stencils were superimposed on the pig we do see.
Apropos seeing, how were the pigs – which were drawn in profile – identified as warty pigs, as opposed to some other species of swine?
Warty pigs have telltale protuberances ("warts") on their face. The archaeologists contend that the depicted swine do have two telltale features of the warty as opposed to any other pig: spiky head crests, represented by dashed lines; and, mainly, horn-like protrusions in the snout area that could well represent said facial bumps. Or ears, but the authors feel they're not positioned appropriately for ears and are positioned appropriately for the hallmark "warts" of the species. The protuberances are also too big to be ears, they feel, nor do they likely represent tusks – which is definitely a feature of the greater porcine set.
Now, although the animals' genitalia are not drawn, or did not survive, relatively respectable facial warts are a male characteristic (really).
And there it is, the earliest known figurative painting in the world was an adult male warty pig.
Warty pigs still exist on Sulawesi and so does another species of pig, the lovely babirusa (aka deer-pig). The island also used to have giant pigs, but they seem to have gone extinct before modern humans arrived. It did overlap with archaic humans, but that's another story.
The bottom line is that if the oldest known art in Sulawesi is 45,500 years old and it's also the oldest known in the whole region, and if we assume figurative art is the domain of modern humans, then modern humans reached there at least 45,500 years ago. But more than that we cannot say. Stone tools on the island date back almost 200,000 years ago, but their provenance is unknown and they are assumed to have been made by an archaic hominin that went extinct. Is it impossible that early modern humans were there that long ago? No, but there's no evidence for it.
Nor, the authors caution, can they definitively state that the rock art pigs and friends are definitely the handiwork of modern humans – but that seems to be the most parsimonious explanation. For all the evidence of our commonalities with Neanderthals, including it seems a penchant for personal adornment, the truth is we do not have any evidence they could or did paint pictures.
Click the alert icon to follow topics:
ICYMI
Ken Burns' Brilliant 'The U.S. and the Holocaust' Has Only One Problem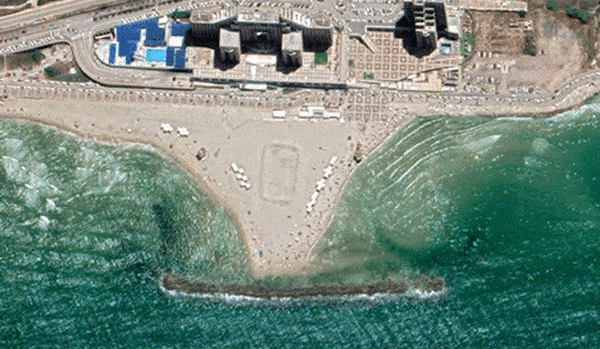 Facing Rapid Rise in Sea Levels, Israel Could Lose Large Parts of Its Coastline by 2050
Lapid to Haaretz: 'I Have Learned to Respect the Left'
The Mossad's Fateful 48 Hours Before the Yom Kippur War
As Israel Reins in Its Cyberarms Industry, an Ex-intel Officer Is Building a New Empire
How the Queen's Death Changes British Jewry's Most Distinctive Prayer