Buying Hanukkah Candles in Ramallah
'I'm a Jew married to a Palestinian,' I told him, with a smile that I hoped was courteous, pluralistic and also conversation-ending ■ Post #27
A supermarket in Ramallah.
Credit: Umm Forat
I'm an Israeli lawyer, Jewish, married to a Palestinian resident of Ramallah. After years of wandering throughout the world, we returned to the West Bank with our two children, 6-year-old Forat and 3-year-old Adam. We are trying to lead ordinary lives in an extraordinary and unforgiving reality, one that I will share with you here. (Click to read all previous posts.) I have changed the names of people in the blog, including my own. "Umm Forat" means "Mother of Forat" in Arabic. I invite you to visit my website: www.ummforat.com
I picked up Forat and Adam from school and preschool. My ultra-Orthodox nieces and nephews had asked me to call them on Skype, so that we could light the first Hanukkah candle together virtually, but between the lockdowns in Israel and the lockdowns in the West Bank, I hadn't had a chance to go to Tel Aviv to buy candles. My partner, Osama, insisted that I would find Hanukkah candles in Ramallah – he remembered them from his childhood, in the shops in the Jabalia refugee camp in Gaza, and if Hanukkah candles made it to Jabalia, they must be in Ramallah, too. I stopped at the supermarket. Three-year-old Adam announced that he had to poop but promised he could wait until we got home. Six-year-old Forat was excited about helping with the shopping.
"I'll put the tomatoes in the bag," she said and also dragged the heavy carton of milk into our basket. When she saw me go to the cheese counter without her, she yelled, "Ima! I want to put it in the basket!"
A forty-something man approached me and said in Hebrew: "What good Hebrew those children have!" I returned his smile and tried to get my cheese from the employee behind the counter, but the man continued: "Where did the children learn Hebrew?" he asked, still speaking Hebrew.
"From home," I said.
"Where are you from?"
"We live here," I said. He didn't understand and then asked: "What do you all work in?" I knew what he was trying to ask, but I wanted to buy the cheese and candles and get home before Adam lost control of his bowels.
"They're children, they don't work," I started to say. But then I decided to be direct, hoping to end the conversation before Adam managed to grab the Spiderman water bottle he was trying to knock off the high shelf by poking it with a package of spaghetti. "I'm a Jew married to a Palestinian," I told him, with a smile that I hoped was courteous, pluralistic and also conversation-ending. Lately I have decided to answer questions about my identity in Ramallah by pretending that people were actually asking, "Wait, weren't you in that movie, 'Black Swan'?" I decided I would then smile graciously, as if I love the attention, and confirm that I'm an Israeli Jew, as if I were actually saying, "Yes, you're right, I am Natalie Portman."
"Ooh, ah!" said the man, and he didn't want to let Natalie Portman get away so quickly. "How is Ramallah?"
"Lovely," I said. Adam plucked a container of hummus from our basket, placed it on the floor and tried to stand on it. I pulled him down. He screamed.
"Ima, I want to put something in the basket!" Forat yelled.
"Yes, Ramallah and Tel Aviv are similar," I said, and asked the cheese seller for a package of the grated cheese they were selling at half-price. I said goodbye to the man and raced after Adam, who had found the toy aisle. Forat and I searched for something that resembled Hanukkah candles, but the store only had wide tea lights that wouldn't fit into the holiday candelabra.
"Do you need help?" asked the Hebrew-speaking man, who had joined us in the household goods aisle.
"No, thank you," I said, and pulled Forat in the direction of the checkout line. "Adam!" I called, because I hadn't seen him since the cheese counter.
"Ima, can we buy the Frozen bubbles?" Forat asked. "As a Hanukkah present?"
"We're flying to the U.S. in another two weeks, sweetheart," I reminded her, even though the Israeli military hadn't yet responded to our request for a permit for Osama to travel via Ben-Gurion Airport, so I didn't actually know if we would travel in another two weeks. "We'll buy you presents there." We were hoping to travel for Osama's sabbatical year.
Everyone is looking at me
In the checkout line, Forat and Adam found a wire cage full of stuffed cats, the kind that supermarkets put there to torture parents of small children. They brought me every cat in the cage, one by one, and pleaded to buy it, meowing and saying, "Please, Ima!"
"No bag, please," I told the cashier, and I gave her a cloth bag. When she handed me the receipt, I saw that there was a mistake.
"Excuse me," I said, but she had already started ringing up the next person in line. "I think the discount for the cheese didn't come off the bill."
"Wait," she said. In the meantime, the ex-Tel Avivian joined the rapidly growing checkout line and began talking to Adam and Forat in Hebrew. Adam showed him a stuffed cat, and Forat pointed to me: "Our mother won't buy it for us." All the people in line, who were already annoyed with me because of the delay I was causing, turned their heads to stare at the children and me.
Natalie Portman. I am sure that Natalie Portman smiles graciously when people stare at her in the supermarket.
Fixing the mistake in my bill required the intervention of a supervisor who apparently had to reprogram the cash register. Finally, the cashier handed me three shekels.
"Why three?" I asked. "The discount was five shekels."
"Fine," she said, anxious because of the growing line of people. She gave me another shekel from the cash register.
"Why four?" I asked. She added a shekel.
"Take as much as you want," she said angrily, as if we were haggling over the price of cucumbers in an open-air market.
"Hag sameach!" the Hebrew-speaking man called out, which means "happy holiday." Adam returned the greeting in Arabic: "Eid Saeed!"
An answer from the military
In the car, Adam's face looked contorted, but he assured me that the poop could wait until we got home. I knew I should leave immediately, but I couldn't resist – I checked my email on my smartphone. The Israeli military was to have sent an answer that day regarding Osama's permit. I saw a message from the Civil Administration on the phone's screen.
"We inform you that the request has been granted." I gasped and then started to cry. My body went limp. I hoped the reception from the Israeli company Cellcom would be good enough to call Osama, even though I wasn't close to any Israeli settlement.
"We got the permit," I told him in a choked voice. "We're going to travel, Osama," I said. Then I added: "I love you."
"I can't believe it," he said. "Do you realize we'll all fly together, on the same plane?"
Click the alert icon to follow topics:
ICYMI
Ken Burns' Brilliant 'The U.S. and the Holocaust' Has Only One Problem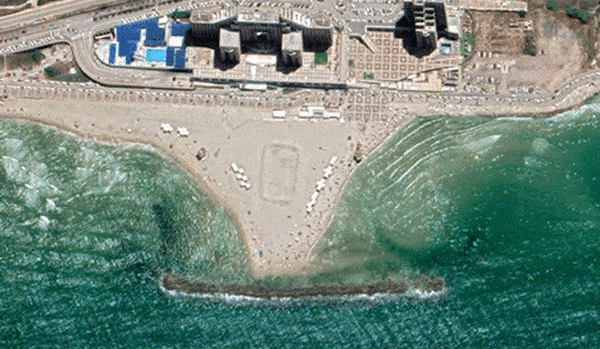 Facing Rapid Rise in Sea Levels, Israel Could Lose Large Parts of Its Coastline by 2050
As Israel Reins in Its Cyberarms Industry, an Ex-intel Officer Is Building a New Empire
How the Queen's Death Changes British Jewry's Most Distinctive Prayer
Chile Community Leaders 'Horrified' by Treatment of Israeli Envoy
Over 120 Countries, but Never Israel: Queen Elizabeth II's Unofficial Boycott