Despite More Arabs at Israeli Campuses, Cooperation With Jewish Students Remains Rare
First-of-its-kind study shows that fear and barriers prevent Jews and Arabs from cooperating in coursework and research, but there's also a reason to hope
Students at the opening of the academic year at the Hebrew University of Jerusalem, 2019.
Credit: Olivier Fitoussi
Hitham Al-Nabari, a third-year social work student at Sapir Academic College in the Negev, can count on one hand the number of times he wrote a collaborative paper with his Jewish classmates. "In group work, I always submitted work with a Bedouin friend," he says. "I actually wanted to work with other students, but nobody asked me." But he didn't try to initiate any joint projects, either. "Why? Because I'm afraid that they'll say 'no,' and that's a bad feeling," he explains.
In his opinion, the Jewish students were afraid that his level of Hebrew would affect the level of writing, resulting in a lower final grade. Only in larger group projects did he have a chance to work with Jewish students. "Simply because there's no choice – we're always two or three Bedouin students, so if we have to work in groups of five, clearly there will be mixing," he says. But even then, the cooperation is very limited. "They distribute tasks, everyone does something and in the end we put it all together. That's it."
Al-Nabari is not alone. A comprehensive study – the first of its kind – conducted among about 5,000 Jewish and Arab students from 12 different academic institutions shows that many barriers prevent Jews and Arabs from cooperating in the course of their studies. The study was initiated by the Abraham Initiatives NGO, an organization that works to promote equality between Jews and Arabs, and the Rothschild Foundation. The study was conducted by the aChord Center for Social Psychology at the Hebrew University in Jerusalem. It examined the degree of motivation of members of the groups to pair up on group projects and get to know one another, as well as issues like stereotypes and the sense of belonging in the academic institution among Jews and Arabs.
"This is the first place where Arabs meet Jews, and there's a lot of fear," says Al-Nabari. "People don't let themselves get close. Now everything is on Zoom in any case, but when we were on campus it was very obvious: During the break on the lawn, Arabs sit with Arabs, Jews with Jews."
"When I first started studying on campus, I was afraid to talk to the Jewish students," recalls Hadil abu Owida, a pedagogy student at Achva Academic College. "I understand [them] well when they spoke to me in Hebrew, but it was hard for me to speak. I was afraid they wouldn't understand what I want to say, that they might not understand me properly. What if I say something offensive by mistake, unintentionally?"
The percentage of Arab students in Israel's institutions of higher learning has been steadily increasing in recent years, across all courses of study. In the past academic year, Arabs constituted 18 percent of undergraduate students. This is almost on par with the percentage of Arabs amongst the overall population and reflects an increase from a decade ago, when Arabs constituted 11 percent of undergraduate students. In graduate programs, Arab students represent 15 percent of students, but Arabs comprise seven percent of doctoral candidates, which is significantly lower than the percentage of Arabs in the general population.
Despite the significant increase of Arab students in institutions of higher learning, the study indicates that Jewish and Arab students rarely cooperate in the course of their studies, and their motivation to connect socially hasn't seemed to increase very much over the years. Only 15 percent of Jews reported that they often participate in group projects (such as seminar papers and other academic tasks) with Arab students, compared to almost 60 percent who reported little or no such cooperation. As might be expected given their smaller numbers, Arab students cooperated with Jews at a higher rate: 37 percent cooperated with Jews often, and still, about a third reported having done little or no collaborative work with Jewish students.
Nahawand Samari, a third-year student of information systems at the University of Haifa, provides a partial explanation. When asked about forming relationships with her Jewish peers, she says that she has quite a few: "I'm a social person. I've never had a problem forming relationships." But when it comes to academic cooperation with Jewish students, the picture becomes more complex, and she admits that it's lacking. "I simply always chose to submit assignments with people I already knew, and they were Arabs," she says. Next semester, she'll have an opportunity to form new ties. "I have one course where I don't know anyone, so maybe."
No miracles
"Although the number of Arab students has grown, this situation, which presents an opportunity to improve relations between Jews and Arabs in the country, is under-utilized," says Yael Maayan, director of the Department of Education and Training for a Shared Society at the Abraham Initiatives nonprofit organization. This is a missed opportunity, she says, because research studies throughout the years have demonstrated that working toward a common goal has a positive effect on the formation of relationships among members of groups that are in conflict with one another.
AChord director Prof. Eran Halperin says that being together on the same campus is an essential but insufficient condition. "Once it was thought that if you took people from conflict groups and brought them together in the same place, that it would miraculously improve relationships among them – but social psychology research reveals that this is simply incorrect," says Halperin.
Not only does the study indicate that students' motivations to form social ties has not increased by much despite the increase of the proportion of Arab students on campus, it also shows that the students are not particularly keen on collaborating in the real world later on. As part of the study, the students were asked whether they were interested in working, studying or living among Jews or Arabs (depending on their own identity) in the future. Among Jewish students, motivation was lower from the start, and over the years even declined somewhat. The same was true of Arab students, but the decline was more moderate.
"We see it in the field," says Amar Azbarga, director of the unit for access to education in Arab society at Sapir. "Almost no social and academic ties are created between the groups, and you have to work hard in order for that to happen." In the context of his job, Azbarga has experience accompanying Arabic-speaking students and is very familiar with the difficulties they face.
"Most of the Arab-Bedouin students have never met Jews before arriving at the college, and vice versa. The cultural gaps are huge. Inside their communities they are familiar with certain behavioral codes and suddenly everything is different. In relations between the sexes, for example: Is it legitimate to ask a female Jewish student to do a joint project together? They don't know, nor do they have anyone to ask, because [some of] their parents didn't attend college. There's a lot of fear, and that creates avoidance."
The Council for Higher Education and the academic institutions are now devoting considerable efforts to accompanying Arab students throughout their years of study. One reason is an attempt to reduce dropout rates – which are still high compared to those of the other students – for example, in a program like "Gateway to Academia," which accompanies Bedouin students during their first years of study. According to the researchers, these efforts are important, but insufficient.
"There's a system of stipends and loans, lots of things designed to help minority group students," says Halperin. "But they don't pay enough attention to the encounter between the groups. If a student comes to class and feels that he's not part of the class and nobody wants to work with him, that indicates that there are issues that aren't being addressed.
"Despite the pessimistic findings, the study also gives reason for hope. When the participants were asked how they felt about the other side, most gave fear a low grade (and yet, Jewish fear of Arabs is greater than Arab fear of Jews), and anger a medium grade (3 out of 6, both sides equally). The emotion that received the highest grade among both groups is hope for coexistence."
The participants were also asked about their number of friends from the other group during various stages of their studies. Jewish students reported that before starting college they had almost no Arab friends – 0.6 on average. After completing their degree, they had 1.1 friends - an average of one Arab friend per Jewish student. The Arabs reported a higher number of Jewish friends before the start of studies (1.3 on average), with the number increasing to 2.2 by the end.
However, the researchers stress that even after completion of studies, there are still very few friends from the other group. What may improve motivation for mutual ties between the groups is collaborative work during academic courses. On the basis of the study's findings, the Abraham Initiatives and the Rothschild Foundation recommend creating opportunities for learning in smaller groups, and active encouragement by administrations to bring members of the groups together.
"Collaborative projects between Jewish and Arab students in courses and seminars have the greatest potential for increasing motivation for social proximity," the researchers write. "The administration must foster this type of cooperation, examine how to encourage joint work among Arab and Jewish students in courses and pinpoint the difficulties involved."
In the field, that does seem to be the most effective solution. "In practical courses, when students are required to speak to one another, there's an opportunity to meet people beyond the stereotypes," says Azbarga. This especially happens during practical training in the field – for example, when two students, a Jew and an Arab, are sent to do an internship together in a workplace outside the academic institution. "Suddenly you talk about family, future plans. It's an opportunity to meet people outside the stigma, and it has added value. They should construct an organized program – for example, bonus points for a joint academic project between Jews and Arabs, and incentives to strengthen ties."
Sapir Academic College formed an initiative last year to bring groups together outside the classroom. "We bought violins, flutes and ouds, and wanted to initiate a joint project to bring students together through music." COVID-19 disrupted the plans, but Azbarga hopes that the pandemic will end and the melody will continue. "The encounter brings potential for both sides," he says. "We only have to construct an organized policy that will make this connection possible."
Click the alert icon to follow topics:
ICYMI
Ken Burns' Brilliant 'The U.S. and the Holocaust' Has Only One Problem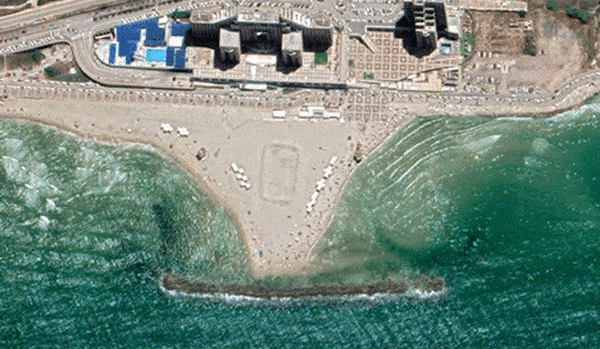 Facing Rapid Rise in Sea Levels, Israel Could Lose Large Parts of Its Coastline by 2050
As Israel Reins in Its Cyberarms Industry, an Ex-intel Officer Is Building a New Empire
How the Queen's Death Changes British Jewry's Most Distinctive Prayer
Chile Community Leaders 'Horrified' by Treatment of Israeli Envoy
Over 120 Countries, but Never Israel: Queen Elizabeth II's Unofficial Boycott