In Israel, You Can Open a Daycare Center in Just Two Minutes
Three journalists from TheMarker opened a fictitious daycare center. All it took was ID card and a basement. It took 18 months for a government inspector to finally check up on them
The three journalists who carried out the investigation
Credit: Eyal Toueg
The phone call we received in the afternoon, three weeks ago, from the Labor and Social Affairs Ministry, surprised us. After all, 18 months had passed since we – three journalists from TheMarker with no experience or training in running a daycare center – applied to open one in south Tel Aviv. Until that phone call, we had heard nothing.
Even though we had no intention of opening a daycare center – all we wanted to do was to check the level of supervision and oversight on the registration and approval of private daycare centers – as far as the Labor Ministry was concerned the center existed and was in operation the entire time.
During the phone conversation, the young woman who called sounded a bit hesitant. At first she asked about the center's address and after a few minutes she called back to say she couldn't find it. "There's no daycare center there," we told her. "It never existed."
Hundreds of thousands of children up to the age of three spend their days in privately owned and managed daycare centers that are by law supposed to be supervised by the Labor Ministry. But our investigation revealed how easy it is for anyone who wants to to open a daycare center for toddlers, charge parents thousands of shekels a month and put children in danger without any state supervision or enforcement.
Only 25 percent of children under age four are in daycare frameworks supervised and subsidized by the government, for example those of WIZO, Na'amat, Emunah and other big organizations. Because public spending is so limited, subsidized daycare centers can only accept a limited number of children, so most parents have no choice but to rely on costlier private sector facilities.
In October 2018, following a decade-long public campaign and repeated cases of violence and abuse of children in private centers, legislation was passed on supervision. The law went into force in September 2019, but only 22 inspectors were hired to supervise thousands of private facilities attended by hundreds of thousands of children. (The Labor Ministry says it asked for additional funds to hire dozens more inspectors, but it never got the budget.)
No regulations to enforce
In any case, the regulations that these inspectors are supposed to enforce have yet to be issued, so they have no authority to close down a facility except under extreme circumstances. Even after the law was passed, the government has yet to systematically collect information on what goes on in private centers and in particular who is taking care of the children.
"The daycare supervision law is very important because it is supposed to prevent a situation in which anyone can open a facility for children. Unfortunately, this is still happening. It's negligence," says Yaara Shilo, an expert on early childhood at Jerusalem's Efrata College of Education and founder of the non-profit Chinuch M'ledah. "There's no place in the developed world in which children spend time in facilities without trained staff."
To get a sense of how serious the problem is, at the beginning of 2019 TheMarker decided to open a fake facility inside an old industrial building clearly inappropriate for such a purpose. We registered with the Labor Ministry as operators even though we had no experience or basic professional training in childcare. We named it "Duboni Ichpat Li" (the Hebrew name for the Care Bears).
We three journalists used our own names, so that a simple Google search would have revealed our true identities. The address provided to the ministry was the newspaper's address in the Kiryat Melacha industrial neighborhood in south Tel Aviv. The daycare center did not meet the very lenient requirements for safety and training of the staff to be granted a license. Nonetheless, the ministry division responsible for daycare supervision did not stop the fake center from opening and operating. Only three weeks ago, after the center had supposedly been operating for 18 months did an inspector arrive for a surprise visit and discover that the site was unused.
Due to the lack of oversight, many centers have substandard conditions or no supervision of the food they serve children. Sometimes children are left unsupervised in the care of untrained staff. Over the past two years, there have been cases of child abuse, including one in Petah Tikva two years ago in which an assistant was convicted of killing a child. In October, the Labor Ministry reported that it had found that about 100 daycare workers had criminal records that included violent crimes (some against minors), soliciting for prostitution, pimping and drug use.
No wonder. Even though daycare center operators have been required get a temporary license since the first phase of the law took effect, it is very easy to get one: All that is needed is to provide some basic information about the manager and the staff, affirm that at least a third of them have passed a course on first aid for small children and completed an online course in daycare safety, and that they allow the ministry to verify that they have no criminal record.
Somewhat stricter regulations were supposed to be added that set standards for how big the center is and how many staff it employs and criteria for training. But these regulations have yet to be approved, and in October the Knesset postponed issuing them by another four months.
By comparison, to work as an assistant in Education Ministry-supervised preschools for children aged three to six, you need to have completed high school and a training course. To be a preschool teacher, you need a college degree with additional studies for a teaching certificate with a specialty in early childhood, as well as a full year of work as a trainee.
The Labor Ministry allows private daycare centers to have as few as one caregiver for every five to 10 children, depending on the children's age. It even allows the centers to exceed this ceiling by 10 percent. Safety requirements are quite basic: the absence of hazards that could endanger children's safety, locked doors to prevent children from leaving without supervision and windows that children can't fall out of. As for the staff, the law only states that they must not have a criminal record for crimes against children. But you are allowed to hire a caregiver who has been charged with negligence or violent crimes against children – but has not been convicted.
Filing an application for TheMarker's fictitious daycare center took only a few minutes. The process, done on the ministry's website, allowed us to apply as individuals (without establishing a nonprofit or corporation) and without registering with the tax authorities. We were not asked to say how many children we would be enrolling or any of their names. Nor did we have to supply the names of all the staff, meaning that the authorities would not be able to check everyone employed by our center for criminal records.
On the online form we wrote that the center's staff had only three people: TheMarker's education correspondent Lior Dattel and consumer reporter Hadar Kane were listed as caring for the children and advertising and digital reporter Refaella Goichman was listed as the cook. We "confirmed" that at least a third of the staff had passed the first aid course and the rest would do so within two years. In fact, none of us had taken the course, but we were never asked to provide proof that we had. We also reported on the website that we had taken a training session on "safe behavior," but were not asked to provide any proof of this either.
Appropriate place
We were asked to state that the center was "a place appropriate for young children," but at no point were we asked to demonstrate that. We weren't even asked to upload a picture of the facility. In fact, our daycare center is located in a commercial and industrial area, not in a residential neighborhood.
Be that as it may, at the end of the registration process we received an email asking us to declare that none of us had a criminal record,and that we agree to allow the government to verify that.
This is where the application process ended. A year later, we were notified that we needed to renew our license and update information on the operators and staff. We ignored the notice, which meant that our fake daycare center was now operating without a license.
In September 2020, we received another notice telling us that a new law required us to install closed-circuit cameras if our center had more than seven children. We ignored this too. Finally, four months after the center's license had expired, we received the call from the ministry after inspectors had come to the address we gave them in the application but had failed to find the center.
Parents can check a ministry website to see whether their child's daycare center has a permit or has at least submitted a request for one that is being processed. But the site does not have any other useful information. Even after the inspectors discovered that our center was a fake, it continued to appear on the website as being in the process of being licensed.
There are an estimated 6,000 private daycare centers in Israel, and some say the number is actually much higher. As of August, however, only 2,300 of them had registered with the ministry. Many operators choose not to register them because they are afraid they will not be able to meet rules that are expected to become stricter over time. With today's very limited supervision they can operate under the radar and avoid any scrutiny.
"The legal situation in Israel leaves regulation of private daycare centers at nil," says Anat Dayagi, who heads Parents for Infant Care, a forum of parents seeking to tighten the rules. "Opening a daycare center in Israel is child's play. Anyone can do it, but it's a dangerous game." She knows how dangerous: Three years ago, her son, David died at a daycare facility. " "Every time an abuse case surfaces, I look anxiously at the photos and count how many children are in them and how many caregivers have been entrusted to them."
The Labor Ministry says they are very aware of the past problems, citing the new rule requiring cameras in daycare centers that was put into effect immediately and budgeted for. "In recent months, since Labor Minister Itzik Shmuli deemed early childhood education an urgent priority, unprecedented actions have been taken to regulate it. Among other things, the number of inspectors has been doubled and thousands of inspections have been conducted all over the country, and cooperation has been created with the supervisory units of many local governments."
Click the alert icon to follow topics:
ICYMI
Ken Burns' Brilliant 'The U.S. and the Holocaust' Has Only One Problem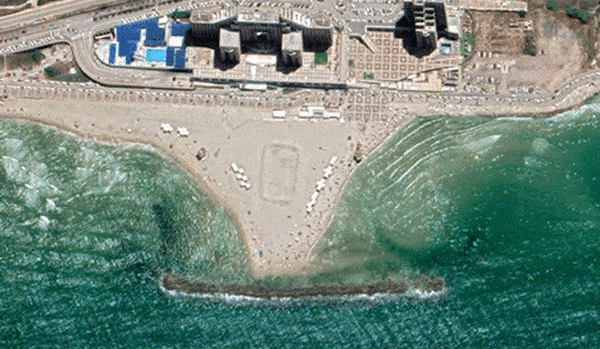 Facing Rapid Rise in Sea Levels, Israel Could Lose Large Parts of Its Coastline by 2050
As Israel Reins in Its Cyberarms Industry, an Ex-intel Officer Is Building a New Empire
How the Queen's Death Changes British Jewry's Most Distinctive Prayer
Chile Community Leaders 'Horrified' by Treatment of Israeli Envoy
Over 120 Countries, but Never Israel: Queen Elizabeth II's Unofficial Boycott