In Secret Meetings, anti-Netanyahu Activists and Police Talk Arrests, Undercover Cops and Inflatable Submarines
While the leaders of the regular anti-Netanyahu protests have refused to meet with the police, under the radar, others have meet with Jerusalem station commander Kobi Yaakobi, in an atmosphere of surprising candor
Cmdr. Kobi Yaakobi standing among demonstrators in front of the Prime Minister's Residence in Jerusalem.
Credit: Tomer Appelbaum
Not far from Jerusalem's Paris Square, opposite the Prime Minister's Residence, there's an apartment that some of those regularly attending protests against the prime minister know well. Four meetings have been held there in recent weeks about the protests. More surprising is that those in attendance have included a senior Jerusalem police officer, Cmdr. Kobi Yaakobi, and another officer.
So while protest leaders refuse to engage in dialogue with the police, under the radar, other protesters have agreed to do so in talks mediated by a social activist who hosts the talks at her apartment in Jerusalem's Rehavia neighborhood. The atmosphere at the meetings is relaxed, perhaps in part because the police sometimes come in civilian dress.
A recording obtained by Haaretz sheds light on what has been going on there and particularly what Yaakobi, the commander of the Moriah police station, has been saying there. "I'm the one who has made all the tough decisions with regard to the protests," he said at one meeting. "The arrest of Shoshke, [of] Amir Haskel, that was me," he said.
Shoshke is a reference to Ze'ev Engelmayer, an artist who has come to the protests in his signature drag costume and Haskel, one of the leaders of the protests, is a retired air force brigadier general.
Yaakobi is aware of the impact of Engelmayer's arrest in the Shoshke costume. "It was seen as if we were suppressing art – stupid police who are not familiar with artists," he said, noting that initially he had not been familiar with Engelmayer. "What do you know? I'm not familiar with Shoshke, and when I came to the station, I didn't like standing next to her when I saw the costume."
One of the topics that has come up repeatedly in the talks has been the failure of the police to take responsibility for senseless or at least controversial actions such as the case of Shoshke. Yaakobi said the talks were aimed at getting to know the other side. ("Suddenly you find out that the guy who blocked the van at the protest was a teacher"). But there was no remorse.
Just as he justified Engelmayer's arrest, he also supported the confiscation of the inflatable submarines from demonstrators and the use of force by police, including that used by Niso Guetta, an officer who was filmed beating protesters.
At one of the discussions, Yaakobi suggested a meeting between Guetta and the protesters. One of the participants thought this would be a good opportunity for Guetta to take responsibility for what he had done, but Yaakobi disagreed. "Absolutely not," he replied, insisting the incident was staged.
"There's a slow-motion video clip that shows the deliberate provocation," he said. "Niso will be acquitted by the police misconduct unit. I say that with absolute certainty. Niso was teased while the camera was waiting to film it. He did nice work there and it was a success, and it was edited …. I'm standing my ground on Niso because he's so sensitive," Yaakobi said, adding that Guetta wouldn't hit anyone.
What his remarks didn't include was mention of the fact that Guetta was filmed assaulting at least three protesters. It wasn't an isolated single incident.
Yaakobi said he also wanted to listen to the protesters. "I'm looking for those with the most anger," he on another occasion. "I came here to dispel the stigmas, the stories and the movies about cops who make people disappear – and the commanders who take orders from Amir Ohana," a reference to allegations that Public Security Minister Ohana ordered a crackdown on the anti-Netanyahu protesters.
Those remarks were met by a response from a demonstrator who said he had been arrested by an undercover policeman after he stood in the way of a police cruiser and tried to prevent the leader of a march from being arrested. The protester made reference to "political arrests."
"That sounds like a terrible story from another country," replied Yaakobi, who disputed the allegations. "I want to make it clear. There are no undercover police at the protests," he said. "An undercover policeman would never arrest anyone, would never expose his identity like that."
But in recent months Haaretz has obtained a number of eyewitness accounts alleging the use of undercover police officers. And there is film footage of arrests carried out by people in civilian dress. Not all of those present were convinced by Yaakobi's remarks.
"The undercover cops cherry pick people and these are political arrests," one protester claimed. "People are arrested for no apparent reason, without [following] procedure. I've never seen a protester assault an officer. I have seen people arrested and left at the station without socks."
Again the issue of who gives the orders came up. The claim that Public Security Minister Ohana is behind the arrests is a "legend," Yaakobi said.
"If we accept the assumption that there is a 'Ohana police force,' that Ohana is sitting and giving the police a list of people the regime wants us to have disappear and then undercover police come and make them disappear, then I can understand the feeling. If I were to believe such tales, it could be that I would also act like that," Yaakobi said, referring to the demonstrators.
"If I were to believe that a corrupt regime was deliberately directing things here, making such use of undercover police in making people disappear into basements, then well maybe I would think about carrying something out [myself]."
With few exceptions, the talks themselves have proceeded calmly.
"I ask myself what brings a teacher, an educator who comes to demonstrate at the most legitimate protest in the world, to set out on an illegal march, preventing a police cruiser from proceeding," the other police officer remarked. "I see that as anarchy."
The demonstrators at the meeting saw things differently, interpreting his statement as an attempt to undermine the legitimacy of the protests. "We're protesting because what's happening in the country pains us, and all of a sudden, we see violent arrests, that people are being arrested for no reason …. It's impossible to sit by quietly," one person said.
"People don't take to the streets because they're bored. They go because they see that the world they live in is becoming immoral," said another.
Yaakobi didn't tell them not to demonstrate. To some extent, he even demonstrated a sense of identification with them, but he added that he simply feared for their lives, and that the main concern of the police has been that a demonstrator would be killed.
"I'm very worried at every demonstration that somewhere in some alley there would be an incident like at the Gay Pride parade," he said, referring to a fatal stabbing at the 2015 parade in Jerusalem.
"That's what worries me most … because there are extremist right-wing figures busying themselves with this protest. I'm less worried about a march of one kind or another. When I go back to the station to deal with the detainees, I'm on a high, relieved that it's over."
"I want to ask about the inflatable submarines," said one participant, referring to props at the protests highlighting the investigation into alleged corruption involving Israel's purchase of submarines from Germany. "I feel that there's a desire to silence and repress this affair and that the police have been ordered to get rid of the submarines at all costs. I asked some Border Policemen, 'Tell me, are you even familiar with the case?' And they stammer."
To that, the other officer replied, "Do you think they are really listening to you? This is a Border Policeman who has been told that he's working on Shabbat. You come at 6. He has already arrived at 2. In the winter, he's cold. In summer, the commander has him under pressure for the entire protest. I, his superior, tell him when he can eat, drink and smoke. The last thing that interests him now is the submarine affair," he says. "He wants to complete the mission … He wants the time to pass. He doesn't want to silence you."
Yaakobi has a different answer. "I'm not prepared to see submarines. Do you know why? Because they run over policemen with them."
Later he explained: "There are submarines weighing dozens of kilograms that have already hurt policemen. I have a feeling there's a guiding hand that wants more detainees and exceptional incidents because that attracts more demonstrators. One time it's Niso Guetta. Another time it's Shoshke. Whatever can help."
Some see these meetings as significant dialogue sessions that can improve relations between the police and the demonstrators. But others view them as an attempt by the police to take the wind out of the sails of the protests and gather intelligence along the way.
"We feel that it's impossible to rely on the police and that these meetings in Jerusalem are a new technique to silence the protests. That's their only purpose," a prominent activist told Haaretz.
"The fact that they take place in secret says everything."
Even if at first there was still some trust in the police, it evaporated "after we saw violence initiated on their part time after time," the activist said. And what about the protesters who have participated in the meetings? They're not representative, came the response. "This protest has no leaders, so nobody can go and talk to the police on its behalf."
In response for this article, the police said: "The Jerusalem District Police hold talks with all the groups participating in the protests. The purpose of the meetings, which have been approved by the district command, has been to permit protest according to the law. We've had important discussions the only purpose of which have been to create trust between the two sides. Beyond that, we have no intention to comment on gossip and the content of internal discussions and the things that have been said."
Click the alert icon to follow topics:
ICYMI
Ken Burns' Brilliant 'The U.S. and the Holocaust' Has Only One Problem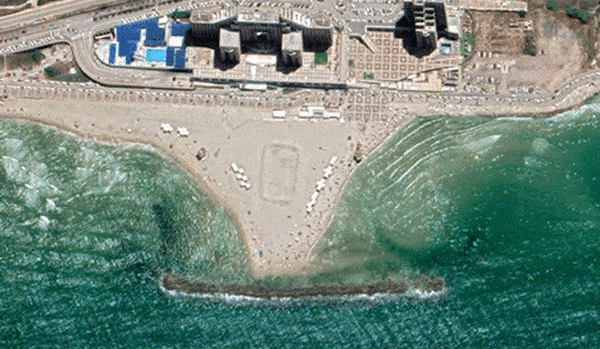 Facing Rapid Rise in Sea Levels, Israel Could Lose Large Parts of Its Coastline by 2050
As Israel Reins in Its Cyberarms Industry, an Ex-intel Officer Is Building a New Empire
How the Queen's Death Changes British Jewry's Most Distinctive Prayer
Chile Community Leaders 'Horrified' by Treatment of Israeli Envoy
Over 120 Countries, but Never Israel: Queen Elizabeth II's Unofficial Boycott