Analysis |
Israel's Five Betrayals of Jewish Spy Jonathan Pollard
The U.S. decision not to extend restrictions against Jewish American spy Jonathan Pollard is the correct one. Israel now has the chance to do likewise for Mordechai Vanunu. An epilogue to the affair that shook Israel-U.S. relations in the 1980s
Jonathan Pollard exits following a hearing at the Manhattan Federal Courthouse in New York City, U.S., May 17, 2017.
Credit: BRENDAN MCDERMID/REUTERS
>> UPDATE: Former Jewish American spy Jonathan Pollard lands in Israel
Five times. That's how often the Israeli government and its intelligence community betrayed Jonathan Pollard, the American-Jewish spy who over the weekend finally became a completely free man, 35 years after his arrest in Washington.
Due to those betrayals, Pollard received a life sentence for spying for Israel. He served 30 years in prison and another five years under harsh restrictions that confined him to living in a specific part of New York, a nighttime curfew and regular monitoring.
The original sin was when Rafi Eitan – who in the 1980s headed Lakam, Israel's Scientific Liaison Bureau – decided to activate Pollard. The second betrayal took place when Eitan and his assistants handled their asset negligently and didn't prepare an escape plan for him in case the operation went wrong. Then Israel's governing coalition betrayed him when it lied to the Reagan administration by claiming that activating Pollard was a "rogue" operation. The fourth time was when Israel agreed to cooperate with the U.S. authorities, but did not condition this on the demand that Pollard not receive a life sentence.
And the fifth came after Israel had already agreed to cooperate and return to the U.S. authorities all the secret documents Pollard had transferred to his handlers – but then the political leadership and defense establishment tried to outsmart and deceive the U.S. legal and intelligence establishments, thereby adding insult to injury.
All these activities took place during the period of the rotation government of prime ministers Shimon Peres and Yitzhak Shamir (1984-1988) and defense ministers Yitzhak Rabin and Moshe Arens. The other main players directly or indirectly involved at the time were Eitan, Yosef Yagur and Ilan Ravid – Lakam agents who operated under the diplomatic cover of "scientific attachés" in the Israeli consulate in New York and the Israeli Embassy in Washington; Col. Aviem Sella, the Israel Air Force pilot who introduced Pollard to Eitan; IAF Commander Maj. Gen. Amos Lapidot; Israel Defense Forces Chief of Staff Moshe Levi; Military Intelligence head Ehud Barak; and Mossad chief Nahum Admoni.
Heroic stories
Jonathan Pollard was born in 1954 to a Zionist-Jewish family in Galveston, Texas. The family later moved to South Bend, Indiana, where his father, Morris, became a world-renowned microbiologist. Pollard was attracted to heroic stories about Israel from his childhood, and one summer, when he was in a summer science camp for teenagers at the Weizmann Institute in Rehovot, he asked to be recruited to the Mossad.
He studied at Stanford University and later at Tufts University, Boston. His teachers and peers were exposed to his overactive imagination and heard from him that he was a colonel in Israeli intelligence. Already then, he was infected by the Zionist-intelligence-adventure bug.
After completing his studies, in 1977 Pollard applied for a job with the CIA. A polygraph test found him untrustworthy and he was rejected. But surprisingly, due to a lack of coordination between agencies in the U.S. intelligence community, he was found suitable for a job in the U.S. Naval Intelligence Command (NIC) as an intelligence specialist. As a result of another U.S. intelligence screwup, which failed to ensure proper compartmentalization, Pollard received access to almost all the top secret material held by the 16 U.S. intelligence agencies.
In 1981, Pollard lost his security classification due to what was described as "strange behavior" after he had offered to spy on South Africa. Although he refused to receive psychiatric treatment, his high security classification was restored to him shortly afterward.
In the spring of 1984, Pollard had a chance encounter in New York that changed his life. At a social event, he met a Jewish businessman who told him about Col. Sella, an outstanding pilot and commander who three years earlier had participated in the attack on the nuclear reactor in Iraq, and was studying at Columbia University while taking a year's sabbatical from work. Pollard was enthusiastic, and the businessman promised to introduce them.
About a month later, Sella contacted Pollard, flew to Washington and met with him. Pollard told him he was angry at the United States because it didn't share its intelligence information with Israel. Sella listened to Pollard with great interest, returned to New York and wrote a memorandum. He sent it through the entire command chain of the Israeli defense and intelligence establishments, including Lapidot and Levi. In Israel, they decided to recruit Pollard.
During discussions that took place at the time, it was decided that the Mossad – which is in charge of recruiting spies outside of Israel – would not make contact with Pollard, due to its good connections with the CIA. The mission was given instead to Eitan, who operated with the authorization and permission of Peres, Shamir, Rabin and later also Arens.
Lakam was a secret unit in the Defense Ministry that was established in 1957. Its task was to prevent information leaks from the nuclear reactor in Dimona and to supply it with secret equipment and materials. It later turned into an espionage organization that was involved in gathering technological-scientific information for Israel's entire intelligence community and its defense industries.
Lakam, which operated out of offices on Tel Aviv's Carlebach Street, had "scientific attachés" in Europe and the United States. In 1981, then-Defense Minister Ariel Sharon appointed his confidant, Eitan, as head of the unit. He replaced its founder and first director, Benjamin (Vered) Blumberg, who was said to be too close to the leadership of the Labor Party, Peres in particular.
Diamond ring, Swiss bank account
In the first months of handling Pollard, Sella flew to Washington several times and received secret documents from him. Sella was assisted by Yagur and Ravid, but unlike them he had no diplomatic immunity and was aware that if he was caught in the United States, he would be accused of espionage and severely punished. He deemed it a risk worth taking.
In November 1984, Eitan flew Pollard and his fiancée, Anne Henderson, to Paris at Lakam's expense. He introduced them to Yagur, who would be their handler from then on. Sella had concluded his sabbatical year and returned to Israel, but to Pollard's delight he was also present at the meeting. The Israelis took the couple to high-class restaurants and even bought them an expensive diamond ring that cost $10,000. Shortly afterward, the couple got married.
There was another reason for the visit to the French capital: to tie the couple's hands and prevent them from having any option of reneging. Eitan knew the difference between a "walk-in," a volunteer spy, and one who got paid – the latter would find himself the victim of extortion if he didn't satisfy his handlers. From Paris, Eitan sent the couple – again at Lakam's expense – on a three-week tour of Venice and Israel.
In Tel Aviv, Eitan issued an Israeli passport, featuring Pollard's photo, in the name of "Danny Cohen" – a reference to Mossad spy Eli Cohen ,who was hanged in Damascus and was admired by Pollard. He told the couple they would receive a monthly salary of $1,500. He also promised them another $200,000, which would be deposited in a secret account to be opened for them in Switzerland.
Jonathan and Anne worked as a team, the former in the U.S. Navy and the latter in a public relations firm. They provided information to Israel, and at a certain point offered to provide information to China, South Africa, Australia and apparently Pakistan as well.
The information Pollard sent to Lakam was outstanding. At the end of every week, he took a suitcase full of documents from his office, hid it in the baggage compartment of his car and traveled to a car wash, where his handlers would collect the documents and photocopy them in an apartment that served as a "safe house."
Upon completing the weekly mission, they returned the original documents to Pollard, who brought them back to his office. The papers dealt with Syria's chemical weapons programs, Iraq's efforts to revive its nuclear program, Soviet arms shipments in the Middle East, and almost every U.S. secret cable or intelligence assessment dealing with the region.
The most desirable documents were those that included satellite images, since Israel didn't have its own satellites as yet. Such photos were used by Israeli intelligence for the attack on the Palestine Liberation Organization headquarters in Tunisia in 1985.
In November 1985, Pollard's supervisor, Jerry Agee, began to suspect what was happening and installed a hidden camera on Pollard's desk and ordered that he be kept under surveillance.
On November 20, after realizing he had been exposed, Pollard twice called the Israeli Embassy in Washington from a public phone and spoke to an Israeli security employee. The conversations were short and it was evident that he was desperate and afraid. He identified himself by name, whispered the names of his handlers and hung up, fully aware that the FBI was eavesdropping.
The security employee, who also knew the embassy was wiretapped, ordered Pollard to come in – on condition that he could shake off the surveillance. The next day, Jonathan and Anne Pollard collected their birth and marriage certificates, their vaccination records and their cat, and got into their Ford Mustang. Though they knew they hadn't managed to lose their trackers, they nevertheless drove to the Israeli Embassy.
When the steel gates opened in order to allow another car to enter, the Pollards' car burst into the courtyard. An Israeli security guard with a cocked pistol came out to them. "I'm a Jew, I need help! The FBI is after me," Jonathan Pollard said. The embassy staff, badly shaken, contacted Israel and after a while received instructions to expel the Pollards from the compound. They left and were quickly arrested by FBI agents.
Israeli and the U.S. media spread a false version of events, to the effect that the diplomatic envoy in the embassy, Elyakim Rubinstein – who later became Israel's attorney general and a Supreme Court justice – was the one who ordered the couple's expulsion from the embassy. In fact, the person who gave the order was Rafi Eitan.
Eitan passed away in March 2019, but about three years ago he confirmed in a conversation with me that he was responsible for Pollard's eviction. He also repeatedly stressed that in all his actions – from the recruitment to the handling, right up to the eviction from the embassy – he acted with permission and authority.
He was referring to the fact that the two prime ministers and two defense ministers during that period knew that a spy worked on U.S. soil, and they – like the involved actors – realized, or should have realized from the quality and unique nature of the information that was sent, that there was a spy in the United States.
Hanging in the lobby
Despite the massive temptation, Israel should never have recruited Pollard – not only because the two countries were allies and had already reached an understanding in the early 1950s not to spy on each other, but also – and mainly – because Pollard was Jewish and a U.S. intelligence operative.
A day after Pollard's arrest, President Ronald Reagan said Israel had stabbed him in the back, and eventually Pollard's picture was hung in the lobby leading to the guest room at CIA headquarters. It was as if to say: "You've been warned; don't dare recruit spies in the United States."
The Pollard case was not the first time Israeli intelligence recruited and activated spies and stole information and equipment from the United States – and on its own soil. Military attaché Chaim Herzog was forced to leave the United States because he was suspected of doing just that in 1949. In the late '60s, the Americans suspected Rafi Eitan (in the Mossad at the time) and the Lakam staff of stealing uranium from the United States with the help of Zalman Shapiro, a Jewish businessman and scientist.
In the '80s, Israel Air Force and Artillery Corps officers who were attending study courses in the United States smuggled out U.S. equipment and know-how. In 1985, the FBI exposed "Milcho," a U.S. company owned by businessman and Hollywood producer Arnon Milchan, which smuggled switches used for medical equipment – but also for the production of nuclear weapons at the reactor in Dimona. Milchan was ran by Lakam during Blumberg and Eitan's tenure. He was outed about six months before Pollard's arrest.
Despite this, Eitan was not alarmed and exhibited complacence with Pollard, as he continued to place the operation in the hands of Lakam personnel who weren't professional handlers of agents. The result was criminal negligence and the absence of an escape plan.
When Pollard was first activated, Eitan instructed him that in the event of a problem, he should board a bus and travel to Canada. He failed to prepare Pollard and his wife for knowing if they were being surveilled and teaching them how to shake off a tail.
Israel apologized for the Pollard affair and disbanded Lakam, though there was still a national security need to obtain technological and scientific information. Israel also promised not to spy on the United States again and – as far as we know – this promise is being honored by the entire Israeli intelligence community.
However, the U.S. administration and intelligence agencies knew that Peres and Shamir had lied when they claimed that the Pollard affair was an exception and a rogue operation. The two premiers should have demanded that in return for Israel's full cooperation, Pollard would not receive a heavy sentence. But in their haste – and perhaps due to the cynical approach of "sacrificing" someone for the sake of the national interest – they refrained from demanding what any decent lawyer would have done for their client.
More scheming
In the context of cooperation for ending the affair, the United States demanded that Israel return the thousands of documents Pollard had stolen. The Americans weren't fools. They assumed that Israel would have made copies, but they needed the papers in order to assess the extent of the damage, and to minimize it. They needed to know what Pollard and Israeli intelligence had known. Avraham Shalom, the head of the Shin Bet security service, and attorney Ram Caspi were assigned for the collaborative mission.
Even then, Israel started scheming anew – and the Americans were furious. Then-U.S. Secretary of Defense Caspar Weinberger gave the court a memorandum in which he wrote that Pollard had caused major damage to U.S. national security, estimating the cost at about $1 billion. In a private conversation, he even said the Israeli spy "should have been hanged."
Weinberger's memorandum and Israel's continued scheming only added to the heavy sentence imposed on Pollard, and to his wife's five-year prison sentence. She was released after about three years and immigrated to Israel. Jonathan Pollard divorced Anne and soon after married Esther, and together they embarked on a decades-long struggle for his release.
Every request to the U.S. administration by Israeli prime ministers, cabinet ministers, lawmakers and Jewish VIPs from all over the world encountered a flat-out refusal from the U.S. intelligence community. It found it almost impossible to forgive Pollard.
The decision by the U.S. administration – though President Donald Trump himself wasn't involved – not to extend Pollard's restrictions, and as a result allowing him to immigrate to Israel, was the correct decision. It's true that Pollard betrayed his homeland. But he paid a sufficiently high price for his love for Israel, his adventurousness, his willingness to receive money for it – and he also paid a sufficiently high price for Israel's betrayal of him.
His release now provides Israel with an opportunity to take a similar step and lift the restrictions on Mordechai Vananu, which would enable him to leave the country as he wishes. Vanunu, who was a technician at the Dimona reactor for seven years, revealed Israel's nuclear secrets to British newspaper The Sunday Times in 1986. He was abducted by Mossad agents in Italy that September, almost a year after Pollard's arrest. He served an 18-year prison sentence but is still subject to severe restrictions.
Click the alert icon to follow topics:
ICYMI
Ken Burns' Brilliant 'The U.S. and the Holocaust' Has Only One Problem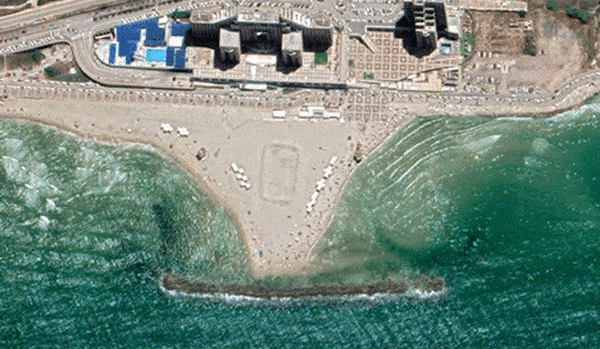 Facing Rapid Rise in Sea Levels, Israel Could Lose Large Parts of Its Coastline by 2050
As Israel Reins in Its Cyberarms Industry, an Ex-intel Officer Is Building a New Empire
How the Queen's Death Changes British Jewry's Most Distinctive Prayer
Chile Community Leaders 'Horrified' by Treatment of Israeli Envoy
Over 120 Countries, but Never Israel: Queen Elizabeth II's Unofficial Boycott