Chateau Occupation: How Settlers' Red Wines Are Blurring the Green Line
U.S. Secretary of State Mike Pompeo's visit to a settlement winery this week reflects how the humble grape has proved an unlikely secret weapon in settlers' efforts to normalize the occupation. Plus, how good are Psagot wines? Five wine aficionados put four of them to the test
Psagot Winery.
Credit: Alex Levac
Five years ago, the European Union finally announced that products manufactured in Jewish settlements in the occupied West Bank would need to be labeled as having come from there rather than from Israel.
It was a move coordinated with the Obama administration in the United States and a diplomatic blow for the Netanyahu government, which complained that the decision was reminiscent of "dark times" when Jewish businesses were boycotted in Europe. Not that the settlers' produce was to be prevented from making its way to European markets; it was just to be labeled as such.
Not all Israelis were angry, however. Psagot Winery CEO Yaakov Berg, whose vineyard in the Psagot settlement overlooks Ramallah, saw this as a marketing opportunity. "The labeling doesn't change anything for us," he explained. "We proudly note our location on our label anyway, and most people buy us because of that." He was already planning for the upcoming Hanukkah and Christmas holidays to market gift packages of Psagot's wines together with other products like honey and olive oil.
While most businesses don't want to be identified with politically controversial issues, as far as Berg was concerned, European and U.S. politicians and activists trying to push back against settlement expansion and the theft of Palestinian land in the West Bank were only helping his brand.
In the five years since the EU published its guidelines, Psagot has doubled its output of wine – much of it exported abroad – and in early 2020 relocated to much bigger premises in the nearby Sha'ar Binyamin industrial zone. This space includes both the winemaking facility, a large wine store and visitors center for tasting events, and a hall for weddings and other functions. "It doesn't look anything you've ever seen on a settlement," said one person who attended a wedding there a few months ago. "You could have transplanted it anywhere within Israel."
Business isn't the only thing that's been good for Psagot. Politics has worked for it, too. In today's Israel, with the right wing in power for nearly 12 years, no one is talking anymore about moving settlements like Psagot – which is not located in any "settlement bloc" that could conceivably be part of a two-state solution. And exactly a year ago, U.S. Secretary of State Mike Pompeo announced in Washington that the Americans no longer consider the settlements "illegal."
Following Pompeo's announcement, Psagot named a wine – a blend of Cabernet Sauvignon, Syrah and Merlot – for him. It's unclear how many bottles of the "limited edition" were actually made. Inquiries with the winery this week elicited the response that "it's run out," but at least Pompeo seems to have got a bottle, as his wife was later photographed boarding a flight at Andrews Air Force Base holding a Psagot shopping bag.
Pompeo is back in Israel this week, on his final visit as President Donald Trump's secretary of state. He's scheduled to make a stop at the winery, which will also be a precedent-shattering first visit by a senior U.S. diplomat to a West Bank settlement.
If five years ago Psagot seemed destined to be ostracized as a global pariah, now it's an international destination. Peak normalization for the settlements.
I'd tasted Psagot wines a few times in my brief forays into the world of wine journalism. Back then, a decade and a half ago, the idea of hard-core ideological settlers tending vines and crafting vintages on the hills of Judea and Samaria still seemed more a curiosity than a political issue. Like most settler wines I tasted at the time, Psagot's were mostly subpar, unbalanced, badly matured and with way too many heavy fruit flavors up-front. The last time I tasted them, when I interviewed Berg at the winery in 2015, didn't do much to change my impression.
Not having tasted Psagot for the past five years (obligatory virtue signal: I don't buy settlement produce as a personal choice) and seeing that Pompeo was about to award them his personal imprimatur, the time had come to find out whether this settlement wine was just a political gimmick or whether it been normalized quality-wise as well.
Since I was coming with a preconceived impression, I convened a panel of five lovers of Israeli wine – including two former wine writers – for a blind tasting session in which a selection of Psagot wines would be compared with similar ones from less controversial Israeli wineries. Those tastings are featured below in four separate sections assessing how good Psagot wine is nowadays.
***
How good is Psagot wine? 1: Chardonnay
Writing up one's own tasting notes is much easier than representing the impressions of others – especially when it's five different people, each with their own taste. That's why we asked each of our panel members to rank four wines in each group, in a blind tasting session. These are the combined rankings, with a selection of our panelists' thoughts.
We kicked off the tasting with four reasonably priced (by Israel's overpriced standards) Chardonnays. The cheapest in the group, from Dalton in the Upper Galilee, was the overwhelming favorite, being "well-balanced" with "plenty of fruit notes and a clean finish." The most expensive of the bunch, Bravdo, from Karmei Yosef in central Israel, did well but was judged "a bit sour on the aftertaste."
Odem Mountain and Psagot came joint third – which will thrill leftists as one is from the Golan Heights and the other from the West Bank. Odem's was judged "over-dry," while Psagot's was "plain and lacking in any interest." These were also the two Chardonnays from the highest altitudes, which often do not yield the best results for this grape.
***
A Zionist industry
Modern Jewish winemaking is an integral part of the story of the return to the biblical homeland. In fact, it was the first major industry of the Zionist project, actually preceding the birth of political Zionism at the First Zionist Congress in 1897 by 15 years.
Baron Edmond James de Rothschild, who had funded the first Jewish agricultural settlements on the coastal plain of Ottoman Palestine, was anxious to provide more employment for the pioneers of the First Aliyah. Since he had recently purchased the famed Château Lafite back in France, he sent its experts from Bordeaux in 1882, along with French rootstock, to plant vines and founded the Carmel Winery in Rishon Letzion and Zichron Yaakov.
Long before Jewish immigrants industrialized the growth of Jaffa oranges and made them the most recognized export of the Zionist enterprise, Carmel was exporting kiddush wine to Jewish communities across Europe and North America. And unlike the oranges, which had originally been cultivated by local Arab growers, for religious reasons winemaking was an almost exclusively Jewish industry (with the exception of a few Christian monasteries).
For a century, however, Israeli wines were almost uniformly sickly sweet and nonvintage, for sacramental use on Shabbat and other religious occasions. There was no wine culture in young, spartan Israel, and the small number of religious Diaspora Jews who aspired to that culture drank kosher wines from France and Italy.
That all changed in 1983 when the first wines of the Golan Heights Winery, owned by a group of kibbutzim, were released. For the first time in Israel, there was a winery that wasn't going to base its financial model on kiddush wine but by appealing to Israeli (and international) palates.
Golan wines came along just as Israel was entering its first tech-fueled period of prosperity and there was suddenly a relatively large moneyed class prepared to pay for the finer things in life. The brand became synonymous with a new age of luxury in Israel, and would spawn hundreds of imitators as wineries sprang up across the country.
Unintended political effect
Golan's success at both producing quality wines and creating a new and growing customer base for them, not only revolutionized Israel's wine industry. It also had an unintended political effect. The vineyards and wines created a new image for the Golan settlers: No longer just hardy farmers living within firing range of Syrian tanks, but purveyors of the good life – Israel's own Provence or Tuscany. And when in 1992 Yitzhak Rabin's Labor government began seriously negotiating for peace with then-President Hafez Assad's regime in Damascus – a peace whose price would have been Israeli retreat from the Golan Heights – that new image of the Golan was heavily utilized in the successful campaign against the talks.
The West Bank settlers were watching and taking notes. They had also planted vineyards. This was not for PR purposes initially, but to widen their hold over thousands of acres of the occupied territories. Wide swaths of the West Bank that had been used by local Palestinians as grazing land were now taken over by rows of vines, guarded by the Israeli army.
In 2007, a new leader was chosen for the Yesha Council of settlements. Unlike his religious predecessors, who had focused mainly on building new settlements, Dani Dayan was a secular businessman. Two years after the settlements in the Gaza Strip and Northern Samaria had been uprooted by Ariel Sharon's government, he was determined to prevent another disengagement by "occupying the hearts" of Israelis.
Copying the Golan playbook, Dayan encouraged the settler wineries to upgrade their facilities and he began conducting tours of opinion-makers, celebrities, journalists and foreign guests, hoping to show a different, "normalized" face of the settlers. (In 2016, Dayan was appointed by Prime Minister Benjamin Netanyahu as Israel's new consul general to New York, in what would be another major act of normalizing the settlers with the largest Jewish community in the world.)
But this time Dayan was dealing with a more experienced and jaded Israeli public that already knew a thing or two about wine. And settler wines were not that great. Certainly not good enough to change the image of settlers as religious fanatics who were prepared, if necessary, to drag Israel into religious wars to preserve Greater Israel. They would have to try harder.
***
How good is Psagot wine? 2: Merlot
An American wine writer I know and respect who's spent a lot of time in Israel claims that "Merlot is the most evocative grape of Israel's terroir." But she's also quite left-wing, so she won't be pleased to hear that Psagot proved the panel's favorite of the Israeli Merlots. One panelist called it "super-smooth," while others found pleasant notes of bittersweet chocolate and herbs. Recanati's Manara Vineyard from the Upper Galilee and Tulip – one of the wokest wineries in Israel, making a point of employing people with disabilities and sourcing its grapes from around the country – did well but were ultimately judged "good but unremarkable."
The surprise was the low ranking of the heavy-hitting Golan Heights Winery. The Merlot in its Yarden series is usually a reliable performer, but came last with the panelists as "too astringent" and "lacking in any complexity." Perhaps 2016 was an off-year for Merlot on the Golan Heights.
***
New type of drinker
In the first couple of decades after the Golan revolution, Israel's wine scene was overwhelmingly secular and relatively left-learning. Many of the quality wineries didn't even bother obtaining a kashrut certificate, and there was a degree of suspicion when settlers tried to muscle in on the scene. Plus, there were still concerns that wines from the West Bank were too politically controversial and could harm the local wine industry's hopes for greater exports and international recognition. That began to change, though, as relatively affluent religious and much more right-wing Israelis, as well as Diaspora Jews, started to spend heavily on wine.
But there was still lingering unease. One of Israel's biggest wine manufacturers, Barkan, was founded in 1990 in the Barkan industrial zone just across the Green Line. However, in 2008 it moved to Kibbutz Hulda, near Rehovot, partly out of fear of political repercussions. Likewise, Yatir – one of the highest quality local producers and founded by a partnership of settlements in the South Hebron Hills – was bought by Carmel and relocated to the Arad Valley, moving all its vineyards within Israel's internationally recognized borders.
In 2014, Psagot CEO Berg launched a public campaign against Tel Aviv restaurants, accusing them of boycotting settlement wines. A year later, two leading wine writers published a guide to Israeli wine, pointedly excluding those from the West Bank. But these were just temporary setbacks. Most Israeli consumers didn't seem to care, and the local wine industry increasingly began to accept their settler colleagues.
As the November 2015 EU guidelines proved toothless and the BDS campaign fizzled out, settler wines became available in nearly every Israeli supermarket and liquor store. They were also widely exported, mainly to Jewish communities. They were well and truly blending in.
***
How good is Psagot wine? 3: Blends
The winner of the Bordeaux-style red blends was no surprise. Castel in the Judean Hills has long been one of Israel's most consistent producers of top-quality, French-style wines and its Petit – a more affordable version of its Grand Vin – with its "perfect balance" and "rich" flavors was the favorite of all the panelists.
The surprise was Psagot's Edom coming second, just pipping by one point Yatir's Mt. Amasa from Tel Arad down south. Both were judged as "extremely drinkable" but also "slightly lacking in character." Another surprise was the low appreciation in our blind tasting of Galilee Mountain's Yiron, which has for a long time been one of the most consistently popular mid-market Israeli wines. Or as one panelist put it, the kind of wine you bring your mother-in-law. The panelists didn't have anything particularly bad to say about the "perfectly pleasant" Yiron, just that it "felt plain" in comparison to the others.
***
'Placid farmer-types'
Daniel Rogov, the celebrated wine critic who wrote for this paper for 27 years until his death in 2011, wouldn't visit wineries in the West Bank. He forced the winemakers of Judea and Samaria to come to him in Tel Aviv with their wares. Despite his left-wing politics and strident atheism, he was the world's foremost expert on kosher wine and wrote about settler wines with the same meticulousness and fairness he brought to all his reviews. I once asked him about it and he joked that "if the settlers are busy making wine, they're not doing other, much worse, things."
In an interview, he once answered more seriously that the settlers would like to present themselves "as placid farmer-types planting vineyards and growing wine." But he reviewed them nonetheless. And in his last annual guide to Israeli wines, published posthumously, Psagot and Tanya (on the settlement of Ofra) were even included in his list of 12 up-and-coming wineries. Haaretz's most recent wine critic, Itay Gleitman, also reviewed them. The paper hasn't published a regular wine column since 2018, though I'm probably the only Haaretz wine critic who chose not to review settler wines. Then again, I only wrote three columns before giving up the coveted position due to lack of time.
Yoana Gonen, who writes an ethics column in Haaretz's Hebrew edition, addressed the settler wines issue in 2018 when a reader asked what he should do with a bottle from the Har Bracha winery that he'd received as a gift. Settler wine, Gonen wrote in response, "is a concentrated capsule of astringency and massive land theft," that the agricultural land controlled by the settlements is even larger than their built-up area and the main motivation is to use these lands to prevent any Palestinian statehood. "Therefore, it's clear why any person who's against the settlements – not to mention any ethical person – will prefer not to buy wine made in these wineries."
But the ethical qualms, political pressure and European labeling don't seem to have prevented the normalization of settler wines. Or stopped them from getting better.
***
How good is Psagot wine? 4: Cabernet Sauvignon
Since Psagot's Chateau Pompeo seems to exist only in press releases, for the last test we chose the most expensive wine you can actually buy: its Single Vineyard Cabernet Sauvignon, at the hefty price of 210 shekels ($73). I admit to some initial bias here through the belief that it was overpriced and its competitors were all considerably cheaper.
Three of our panelists chose it as their number one, and the two others gave it second place. One described it as "full-bodied and still young with plenty of potential," while another noted its "satisfying thickness without being overpowering." A close second (and my early favorite) was Flam's Cabernet in its Reserve series from the Judean Hills, which got plenty of love for "a great variety of herbaceous and fruity flavors," but also lost out on "a slightly rough aftertaste."
The cheapest wine of the lot was from Carmel's Admon Vineyard in the Upper Galilee, which was an honorable third because while showing "plenty of red fruit flavors and slight earthy notes," it remained "enjoyable but not complex." The small Katlav Winery in the Judean Hills, which has made some excellent reds in recent years, was faulted for an "unbalanced finish" and "unpleasant olive flavor."
Bottom line: If our panel is anything to go by, Psagot Winery has defied politics, human rights and international law, and successfully normalized occupation wine.
***
Sudden improvement
The key to the sudden improvement of Psagot wines is that, along with other settler wineries, they've gotten their professional act together and hired experienced winemakers to work there full-time. In Psagot's case, the talented Yaacov Oryah was in charge for five years. Professionalism, coupled with the quality of the grapes grown at high altitude, has produced much better wine. A few months ago, Oryah left to pursue his old passion for making wines in the desert and has been replaced by Sam Soroka, one of Israel's most veteran winemakers. He worked in the United States, Canada, France and Australia before emigrating to Israel, where he made wine at Carmel, among other places.
The willingness of members of Israel's cadre of elite winemakers to cross the Green Line and work on the settlements is another sign of how they have been normalized and become part of the mainstream. This process was happening long before Trump became president and his administration announced that America doesn't regard the settlements as illegal.
Will the trend of normalization be reversed once President-elect Joe Biden is inaugurated? More likely it will slow a bit, and though they've lost the presidential election, senior Republicans like Pompeo – who hopes to win his party's nomination in 2024 – will continue normalizing places like Psagot. (The winery's owner, incidentally, is the Miami-based Falic family, which also owns the Duty Free Americas chain and was a big donor to the campaigns of Trump and Netanyahu, and multiple settlements, so Pompeo is naturally eager to court the family as well.)
And it's not just the Americans: The EU seems too preoccupied right now to go any further than its labeling guidelines from five years ago.
For all the hype and snobbery and inflated prices, wine still retains its unhurried aura in our 5G, hypersonic times. It's the one traditional product that cannot be rushed or fully industrialized, but still comes from the grapes, with the right soil and amounts of sun and rain, followed by long months and years of aging in the barrel.
It will always be a product of its terroir, the specific place where it grows, a potent symbol for Israelis and Palestinians alike of the settlers' insistence on remaining firmly rooted in the West Bank while Psagot's red wines continue to blur the Green Line and increasingly normalize the occupation.
Click the alert icon to follow topics:
ICYMI
Ken Burns' Brilliant 'The U.S. and the Holocaust' Has Only One Problem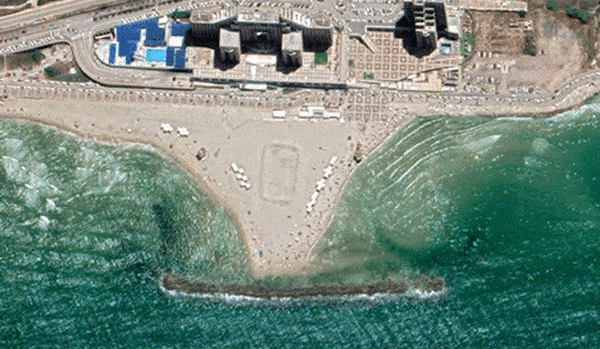 Facing Rapid Rise in Sea Levels, Israel Could Lose Large Parts of Its Coastline by 2050
As Israel Reins in Its Cyberarms Industry, an Ex-intel Officer Is Building a New Empire
How the Queen's Death Changes British Jewry's Most Distinctive Prayer
Chile Community Leaders 'Horrified' by Treatment of Israeli Envoy
Over 120 Countries, but Never Israel: Queen Elizabeth II's Unofficial Boycott