Coronavirus Israel Live: 1,100 Yeshiva Students Test Positive After Jerusalem Prayer Service
Leader of Lithuanian ultra-Orthodox tests positive for COVID-19 ■ Israel extends lockdown until October 14, approves protest restrictions ■ In first, police say arrested man who tested positive at a party
Ultra-Orthodox men walk past roadblocks erected in Jerusalem during a lockdown to curb the spread of the coronavirus, July 13, 2020.
Credit: Ohad Zwigenberg
>> This story is no longer being updated. Follow live updates here
Israel, the West Bank and Gaza are dealing with a renewed coronavirus outbreak, leading to proposals and measures intended to curb its spread and mitigate the economic ramifications of the crisis by both Israeli and Palestinian authorities.
Israel currently has 71,908 active cases; 1,679 people have died. In the West Bank, there are 7,286 active cases and 357 deaths, and in Gaza 1,397 active cases and 22 deaths.
LIVE UPDATES
8:30 A.M. Environmental protection minister infected with coronavirus
Environmental Protection Minister Gila Gamliel has tested positive for the coronavirus, she said early Sunday, writing on Twitter that she was feeling well and hoped to recover soon. (Haaretz)
SATURDAY
11:00 P.M. Israel records 5,523 new cases, 49 more deaths
Israel's Health Ministry recorded 5,523 new cases of the coronavirus on Saturday. The total number of active cases stands at 71,509, with 840 people in serious condition and 224 on life support.
Forty-nine more patients died on Saturday, raising the overall death toll to 1,682. (Haaretz)
8:43 P.M. Border Police to replace soldiers in enforcing traffic restrictions
The IDF announced Saturday evening that the Border Police will replace soldiers in the coming days in enforcing traffic restrictions imposed during the national lockdown. According to the army announcement, IDF forces will reinforce the "defense mission" in the West Bank instead of the border police. The IDF announced that the decision was made under the direction of Chief of Staff Aviv Kochavi. (Yaniv Kubovich)
7:10 P.M. Israel records 5,063 new coronavirus cases
Israel's Health Ministry recorded 5,063 new cases of the coronavirus Saturday. The total number of active cases stands at 71,908, with 839 people in serious condition and 224 on life support. The death toll rose to 1,679. (Haaretz)
11:21 A.M. Hostel for disabled in Israeli Druze village shuts down amid virus outbreak
Thirty-three tenants of a hostel for people with disabilities in the Druze village of Yarka have contracted the coronavirus and 18 more were placed in quarantine, leading to the closure of the facility, according to data provided by the Yarka local council.
Some 110 tenants reside in the hostel, aged 7 to 40. In addition, 22 staffers also caught the virus.
The hostel's management and the council decided to close the facility for two weeks, while 53 of the tenants who have no other place to go will remain in the hostel and will be treated by eight staffers. (Noa Spiegel)
FRIDAY
8:00 P.M. Over 1,000 yeshiva students test positive after Rosh Hashana prayer service
At least 1,100 Yeshiva students who participated in a Rosh Hashana prayer service at a synagogue of the Ger Hasidic sect in Jerusalem have tested positive for the coronavirus.
Last week, it was reported that 260 of the ultra-Orthodox group tested positive, but since then hundreds more were diagnosed.
Many of the students who tested positive returned to their family homes after the Jewish New Year, before they discovered that there was widespread infection in the Beit Midrash, and fear that they also infected their family members. (Aaron Rabinowitz)
6:27 P.M. Call center employee suspected of removing people from quarantine list for money
A call center worker at a company providing services to the Health Ministry was arrested on Thursday on suspicion of taking bribes to remove people listed for COVID-19 quarantine.
The call center fielded calls from people appealing Health Ministry notifications that their cell phones had been located near a virus carrier, requiring them to self-isolate. (Josh Breiner)
>> Click here to read the full report
5:50 P.M. Police say arrested man who tested positive at a party
An Israeli man who had been diagnosed with coronavirus was arrested on Thursday at an outdoor party in southern Israel, police say, in the first such arrest. According to the police's statement, the man told them he no longer required to quarantine, but that turned out to be false.
The Ashdod Magistrate's Court extended the man's detention until Sunday. (Almog Ben Zikri)
1:30 P.M. Knesset panel shelves option to open small businesses because it would lift protest restrictions
On Thursday, the Knesset's Constitution, Law and Justice Committee approved the protest restrictions. Although the committee considered pressuring the government to allow small businesses to operate during the closure, it ultimately shelved the move after the committee's legal advisors clarified that such an allowance would require that restrictions on demonstrations be lifted. The protest restrictions went into effect Thursday night, 24 hours following their approval by the government late on Wednesday.
The idea to implement a carve-out for small businesses was put forth by lawmaker Ayelet Shaked of the far-right alliance Yamina. She sought to convince fellow committee members that non-essential businesses with up to ten employees should be allowed to operate again in light of the fact that regulations currently allow up to ten people to gather indoors.
11:09 Leader of Lithuanian ultra-Orthodox community tests positive for COVID-19
The leader of the Lithuanian ultra-Orthodox community, Rabbi Chaim Kanievsky, has tested positive for the coronavirus, his family said on Friday.
"The rabbi feels well and is continuing with his studies, of course under close medical supervision," his family's statement said, adding that the rabbi asks that public pray for his health.
The 92-year-old Kanievsky broke his quarantine at the end of Yom Kippur and received people at his home, despite being exposed to a diagnosed case.
In recent days, the virus spread across the rabbi's home, with several of his family members contracting COVID-19, including two who are in constant daily contact with Kanievsky.
The rabbi's family told Haaretz that from the moment they began feeling symptoms, those who were ill immediately quarantined themselves. The family also said that the people who see the rabbi often are tested beforehand, or have already contracted and recovered from the virus.
On Wednesday night, Kanievsky and Rabbi Gershon Edelstein, another leader of the community, called on worshipers to conduct all prayers in open areas, refrain from entertaining during the upcoming Sukkot holiday and to wear masks. They also asked that those in high-risk groups take special care.
On Sunday, Kanievsky ordered the rabbis of Bnei Brak to stop the minyans (prayer quorums of at least 10 men) throughout the city entirely and to pray individually to curb the spread of the coronavirus.
In the midst of the first wave of infections, when the government ordered the closure of the education system, Kanievsky ordered the continuation of studies in yeshivas and Talmud Torah (religious schools), noting that "cancellation of Torah" is more dangerous than the virus.
However, a few days later, on the orders of his co-leader Rabbi Gershon Edelstein, the yeshivas and Talmud Torah closed their doors.
Throughout the crisis, Kanievsky encouraged his followers to continue their studies, while wearing masks and social distancing.(Aaron Rabinowitz)
THURSDAY
11:35 P.M. Israel's death toll rises by 22 on Thursday
The total death toll jumped to 1,622 on Thursday evening, according to a late evening update by the Health Ministry. The current number of active cases is at 72,399, with 821 in serious condition, and 193 on ventilators.
The total number of cases went up to 253,490. (Haaretz)
8:00 P.M. Israel diagnoses over 7,000 new cases
According to Health Ministry data, there are 71,956 active cases in Israel, an increase of 7,039 so far on Thursday. Of those cases, 817 are considered serious cases, and 186 patients are on ventilators.
The health system carried out 70,012 tests so far on Thursday.
The number of coronavirus deaths in Israel has risen to 1,600, an increase of nearly 19 since Thursday morning.
There have been 252,533 coronavirus cases diagnosed since the pandemic began, and 178,976 recoveries. (Haaretz)
5:20 P.M. Yeshivas will not reopen soon in ultra-Orthodox communitities
Brig. Gen. Roni Noma, responsible for managing the corornavirus in Israel's ultra-Orthodox communities, stated yeshivas will not reopen as long as the general education system for students over 10 are closed. "If everything is closed and there are no studies all over the country, with an emphasis on ages over 10, then there will be no yeshivas," Noma said.
Yesterday, the director general of the Education Ministry, Hezi Levy, said that the outline of the capsules system in yeshivas may return to activity, even though for him the outline has failed.
According to Noma, he and his staff will have to check two key parameters before reopening yeshivas -- in which about 6,000 verified patients were located in the past month and a half -- national policy and infection rate in ultra-Orthodox community. "I think given the level of infection at the moment it will be very difficult to resume studies" he said. (Aaron Rabinowitz)
1:15 P.M. Health ministry staffer arrested for taking bribes to get people out of quarantine
Police arrested Thursday morning a Health Ministry employee suspected of taking people off the mandatory quarantine list in exchange for bribes.
The suspect, a resident of the Negev village of Rahat in his twenties, is employed by an external company contracted by the Health Ministry to staff call centers. Israelis can call these support centers if they received a message from the ministry saying that they were in proximity to a coronavirus patient and must quarantine for 14 days, and want to appeal the message if they believe it was sent by mistake.
The suspect worked at one of these call centers, and received monetary bribes from a number of people who wished to appeal their quarantine. In exchange, he erased their names from the list, and the people were able to return to their daily routines, including contact with others.
The suspect will go before the Rishon Letzion District Court this afternoon to have his detention extended; police are accusing him not only of taking bribes, but also of the crime of committing an act that may spread infection, which carries a seven-year maximum prison sentence. (Josh Breiner)
11:53 A.M. Top health official claims restrictions on departing flights based mostly on 'egalitarianism'
The Health Ministry's head of public health services, Dr. Sharon Elrai-Price, said Thursday morning that the justification for preventing exit from Israel, even to green countries, is a leveller between those who can pay for a flight and those who cannot.
Earlier Thursday morning, the government approved restrictions on departing flights.
In an interview with Kan public radio, Dr. Elrai-Price contended that the "justification is based more on egalitarianism." It is hard to crackdown on freedom of movement for the people of Israel, who under the current restrictions are unable to move more than one kilometer (0.6 miles) from their homes in most circumstances, and to allow "somebody who has money to get onboard a plane and to fly somewhere else," she said.
When asked about the health justifications for preventing flights, she responded that while "there is a risk in boarding a flight...decisions are not made by the Health Ministry, as you know." (Ido Efrati)
11:10 A.M. Protesters say 'Israel will shake' over weekend after gov't curbs demos
The Black Flags anti-Netanyahu protest group, which has disavowed mass demonstrations since the current coronavirus lockdown began, is expected to organize localized protests every Thursday and Saturday that will be held in small capsules which comply with the government's new COVID-19 regulations.
The group has already published a map that includes 2,500 locations across the country.
"This coming weekend, the State of Israel will tremble with a demonstration the size of which has never been seen in Israel," the organization said Thursday. Among the planned protest locations are the homes of government ministers and Knesset members from the coalition. (Nir Hasson, Bar Peleg)
10:30 A.M. Expert team finds that COVID-19 patients dying more quickly and at higher rates
A Hebrew University team has determined that there has been a marked rise in the past two weeks in deaths of coronavirus patients in serious and moderate condition in hospitals, and that the effectiveness of the increased lockdown restrictions the government has imposed in that time is limited.
The expert team from the university's Racah Institute of Physics, of the school of public health, also found a drop in the time between COVID-19 patients' admittance to the hospital and their deaths. The average time it takes for a patient to die of the virus is now 11 days; at the beginning of the month, it was 15 days.
The team presented their findings to the government's coronavirus response team, the coronavirus cabinet in the Knesset and the National Security Council.
These figures may attest to a lowered standard of medical care that hospitals can provide for coronavirus patients, as medical centers overcrowd with virus patients. Another explanation provided by the expert team is that patients who have arrived at the hospitals recently may already be in advanced stages, or that the resources provided may not be enough to keep them alive. They added that the shortened hospitalization period is an indicator of the health system's reduced ability to prevent death.
There were 596 COVID-19 deaths in September, as opposed to 387 in August and 233 in July. In past days, between 22 and 30 people have died of the disease each day. This week, the number of patients in serious condition surpassed the limit set by the health system for hospitals to function – set at 800. (Ronny Linder)
10:00 A.M. Police questions two protesters who told soldier he should be ashamed of aiding to prevent demos
Two protesters were taken in for questioning by police Thursday morning for telling a soldier stationed at a police checkpoint near the Knesset that he should be ashamed of himself for helping to stop protests.
The two women, both in their fifties, are suspected of insulting a civil servant and are expected to be investigated Thursday. They filmed themselves at a police checkpoint on Tuesday on the way to the protest against tightening coronavirus regulations to clamp down on protests.
They told the soldier, among other things, that he is participating in a military coup and told him to disobey his orders.
Their lawyer, Daniel Haklai, said that the two apologize for the unpleasant way in which they addressed the soldier, and that anyone can understand the anger they felt about the use of IDF soldiers to negatively impact the civil rights of Israelis. But, Haklai added, it's a large leap from there to intimidating them through questioning.
"They didn't break a single criminal law. On the contrary: They are victims of threats by many after minister David Amselam [of Likud] uploaded the video to the internet. The police must investigate those making the threats, not the victims. This is an investigation of intimidation."
The Israeli courts tend to side with the defense in cases of insulting civil servants. (Josh Breiner)
9:00 A.M. Nearly 9,000 cases diagnosed yesterday
According to Health Ministry data, there are 68,811 active cases in Israel, an increase of 8,919 since Wednesday. Of those cases, 810 are considered serious cases, and 206 patients are on ventilators. The health system carried out 68,128 tests Wednesday.
The number of coronavirus deaths in Israel has risen to 1,571, an increase of nearly 20 from Wednesday night.
There have been 248,133 coronavirus cases diagnosed since the pandemic began, and 177,752 recoveries.
The Health Ministry did stress that the Yom Kippur holiday at the beginning of the week dramatically reduced testing over the weekend and on Sunday and Monday, and expect to see a renewed rise in diagnoses alongside an increase in testing. (Haaretz)
8:33 A.M Police released four protesters detained at Tel Aviv demonstration
The Israel Police released four protesters who were detained on Wednesday night at a demonstration against government restrictions on public protest as part of its effort to combat COVID-19, which were approved Thursday overnight.
The four were arrested following a confrontation with police who blocked their way, and two were detained for questioning after blocking a road. (Bar Peleg)
1:30 A.M. Israel approves 1 km protest restrictions, extends lockdown until October 14
Late on Wednesday night, the government approved restrictions that prevent residents from demonstrating in places more than a kilometer from their home during the nationwide coronavirus lockdown. The restrictions had been approved by the Knesset late Tuesday night, and are valid for a week.
The government also decided to extend the lockdown by three days until October 14, and that a fine of NIS 500 be imposed on anyone visiting the sukkah [tabernacle] of anyone he or she does not live with during the Sukkot holiday.
The new regulations provide police officers with the authority to use force to prevent a person from leaving their local area, within the new 1 kilometer (0.6 miles) limit. "Without the authority to prevent people from leaving their locality in prohibited situations, it will only be possible to impose fines," the regulation states.
"The use of force is required to ensure that people do not leave exit their area of residence when it is not permitted," reads the regulation, adding that said force "must be exercised with reasonabilty and proportionality."
It was also clarified that this provision would only be valid for the lockdown period. (Noa Landau, Ido Efrati)
WEDNESDAY
11:50 P.M. Four demonstrators arrested at Tel Aviv protests
Four protesters at the demonstrations in Tel Aviv Wednesday night were arrested following a confrontation with police who blocked their way, and two were detained for questioning after blocking a road. Upon the dispersal of the demonstrations, the protesters called for the protest to resume Thursday. (Bar Peleg)
11:40 P.M. Lithuanian ultra-Orthodox leaders call on community to pray in open spaces, wear masks and refrain from hosting during the upcoming Sukkot holiday
In an unprecedented statement, Lithuanian Haredi leaders, Rabbi Chaim Kanievsky and Rabbi Gershon Edelstein, called on worshipers to conduct all prayers in open areas, advised worshipers to refrain from entertaining during the upcoming Sukkot holiday and to wear masks. They also asked those in high-risk groups to take special care. Although worded as "suggestions" and "blessings", it is expected that the Rabbis' words will in practice be implemented as directives. (Aaron Rabinowitz)
9:35 P.M. Hundreds demonstrate in Tel Aviv against protest restrictions taking effect Thursday
Hundreds demonstrated in Tel Aviv on Wednesday against restrictions on protests that are expect to come into effect on Thursday. The protest was organized at the last minute through social media pages after Attorney General Avichai Mendelblit said earlier in the day that the new restrictions passed by the Knesset Tuesday night had not yet taken effect. (Bar Peleg)
8:45 P.M. Netanyahu suggests limiting citizens to within 200 meters of home during lockdown
Prime Minister Benjamin Netanyahu suggested to officials in a coronavirus cabinet meeting on Wednesday that citizens be allowed to travel no more than 200 meters from their homes during the current lockdown. People are currently allowed to travel up to a kilometer. Netanyahu clashed with Defense Minister Benny Gantz over the suggestion, with Gantz telling the prime minister that the government was "driving the public crazy" and Netanyahu responding, "You won't tell me whether we are driving the public crazy or not." (Noa Landau)
8:35 P.M. Death toll rises to 1,552
The number of coronavirus cases has risen by 8,430 since Tuesday, bringing the number of active cases to 68,110, including 821 in serious condition. There are 212 people on ventilators. The death toll has risen by 29 to 1,552. There were 34,557 tests conducted on Tuesday. (Haaretz)
7:45 P.M. Netanyahu tells officials lockdown exit strategy could take half a year to a year
Prime Minister Benjamin Netanyahu told members of the coronavirus cabinet on Wednesday that the lockdown exit strategy could take between half a year to a year. The Health Ministry and Ronni Gamzu, the country's coronavirus crisis czar, have recommended an R number (the average number of people each infected person will go on to infect) of 0.8 or lower as a benchmark for gradually lifting the lockdown, alongside a stable decrease in the number of cases. (Noa Landau)
6:20 P.M. Coronavirus czar recommends significant increase in fines for violation of restrictions
Ronni Gamzu, the official in charge of overseeing the country's coronavirus response, advised the coronavirus cabinet on Wednesday that fines for violating restrictions be doubled or more. Gamzu recommended doubling the fine for failing to wear a mask to 1,000 shekels and doubling the fine for violating quarantine or opening a business against regulations to 10,000 shekels. He also suggested increasing the fine for holding large gatherings or opening an educational institution against regulations from 5,000 shekels to 50,000. He further said that the number of patients in serious condition may reach 950 within a week, up from the current 824. (Ido Efrati)
6:00 P.M. Last-minute anti-Netanyahu protest to be held in Jerusalem at 8 P.M.
Activists in the protest movement against Prime Minister Benjamin Netanyahu have called for a last-minute protest outside his official residence in Jerusalem at 8 P.M., after the attorney general stated that newly approved restrictions on protests have not begun to take effect. (Bar Peleg)
5:30 P.M. Two policemen who returned from Ukraine found positive
Two policemen who were sent as part of a delegation to Uman, Ukraine have been diagnosed with the coronavirus. The delegation of four policemen traveled to Uman during the Rosh Hashanah holiday, despite the fact that Ukrainian authorities banned the entry of Israelis attempting to make the pilgrimage to the grave of Rabbi Nachman of Bratslav. The police officers who made the trip entered the required 14-day quarantine upon their return. (Josh Breiner and Yaniv Kubovich)
4:50 P.M. President Rivlin grants first pardon for person unable to repay debt because of financial hardship caused by coronavirus crisis
President Reuven Rivlin granted on Wednesday the first pardon for someone owing a fine who was thrown into economic hardship by the coronavirus crisis. The request for a pardon was made by a single mother of three children, two of which are disabled, who has suffered from domestic violence and was fined during a period in which she was addicted to drugs and involved in sex work. She now lives off of a disability pension and is in a rehabilitation process. The coronavirus crisis increased her expenses and she was facing eviction from her home. The president decided to pardon her in light of the fact that she attempted to repay her debts and made some of the payments. Rivlin and Justice Minister Avi Nissenkorn announced a week ago a plan to pardon people indebted over fines who have encountered serious financial hardship because of the ongoing crisis. (Jonathan Lis)
4:40 P.M. Protest group plans demonstrations in over 1,000 locations nationwide
The Black Flags protest group announced plans on Wednesday for new protests to be held on Thursday and Saturday in more than 1,000 locations around the country, following lawmakers' approval of legislation restricting protests during the nationwide coronavirus lockdown. Noting that regulations allow citizens to demonstrate at locations up to a kilometer away from their homes, the group said it had created over 1,000 WhatsApp groups to coordinate protests around the country. (Noa Shpigel)
4:09 P.M. Attorney general: Protest restrictions will only take effect after new regulations approved
Attorney General Avichai Mendelblit informed the government on Wednesday that protest restrictions approved by the Knesset late Tuesday night are invalid until new regulations on the matter are approved.
Once the amendment goes into effect, the state will be able to prevent residents from demonstrating in places more than a kilometer from their home, and the distance will be adjusted depending on the severity of general restrictions. Justice Ministry officials are now working on the wording of regulations that will be submitted to the cabinet by Wednesday night.
The Knesset approved in a 46-38 vote the second and third votes to enact the amendment to the coronavirus authority law that will allow the restriction of protests. Most Kahol Lavan legislators approved the bill, after the Likud party withdrew objections it had submitted that would have tightened the restrictions even further. Kahol Lavan lawmakers Miki Haimovich and Ram Shefa voted against the bill, while other coalition members avoided the vote. (Netael Bandel)
3:55 P.M. High Court orders government to respond to petition against legislation restricting demonstrations
The High Court of Justice declined on Wednesday to issue a stay against the law to limit demonstrations during the nationwide lockdown, as requested in a petition submitted by the Movement for Quality Government NGO. Judge Neal Hendel ordered the state to respond by October 7 to claims raised in the petition against the law.
The NGO asserted that the law passed on Tuesday night "empties of content one of the most distinctive rights in a democratic regime" and that "health considerations do not meet the standard for amending the law." The petition further stated that "restricting protests based on distance from the home of the demonstrator will lead to a loss of the public element of holding a protest – and will effectively deal a mortal blow to the public reverberation demanded when holding demonstrations. Because of this, one can assume that it will dramatically hurt demonstrations and will lead – in fact has already led – to their almost complete cancellation."
The amendment allows the government to prevent citizens from demonstrating where they want to and limits the distance one can go to attend a protest, which will likely be changed depending on the severity of the regulations. The law had until now exempted protests from limits on the distance from which people can travel from home, with essentially the only restrictions on demonstrators being a requirement to maintain distance from other protesters and to wear masks. (Netael Bandel)
1:29 P.M. National Security Council to recommend stricter enforcement of mask wearing to protect vulnerable
The National Security Council will on Wednesday recommend that ministers order increased enforcement of mask wearing indoors and provide clearer instructions to the public in order to protect at-risk and elderly populations. (Noa Landau)
12:52 P.M. Top Health Ministry official says third of cases are ultra-Orthodox
The ultra-Orthodox make up 12 percent of Israel's population, but now account for 34% of all infections, Health Ministry Director General Chezy Levy said.
Speaking with journalists, Levy said this increase has been accompanied with a spike in patients in critical condition.
"Today we have about 850 seriously ill patients, out of which 1,500 are hospitalized and 200 are on ventilators. This is not a good situation," Levy said.
"In one yeshiva there were 500 patients. The ultra-Orthodox community, due to overcrowding, prayers, and sometimes because of disobeying the rules, has reached a huge morbidity rate," Levy added.
The director general also warned that the upcoming holiday of Sukkot could increase the infection rate even more. "Fortunately, the ultra-Orthodox population is taking a lot of tests," he noted.
However, Levy said that the mortality rate among ultra-Orthodox Israelis is lower than that of the general population, at 2.5 compared to 2.8 per million. He also identified a steep rise in mortality among Israeli Arabs over the past week and a half.
Levy identified trends of infection among the ultra-Orthodox and since the re-opening of schools.
On the subject of the latter, Levy said that opening schools could be delayed until well after the current lockdown ends, if not indefinitely: "There is no doubt that the education system won't be able to open as usual, and it is not clear whether it can open in general."
"The whole world is aware that re-opening schools without ensuring that masks are worn and social distancing is maintained is a driving force for increasing the rates of infection and mortality," he said.
"The capsule system in the ultra-Orthodox education system evidently did not work either," he added.
However, he conceded that the ministry may allow ultra-Orthodox education to continue operating under the capsule system.
According to the Health Ministry, the next four or five days could witness the number of coronavirus patients in serious condition reach 1,000, as well an uptick in the death toll. (Aaron Rabinowitz)
12:20 P.M. Almost 180,000 more Israelis register as jobseekers since beginning of second lockdown
Data released by the Israeli Employment Service shows that 178,020 more Israelis have registered as jobseekers since September 17, when the second coronavirus lockdown began. (Haaretz)
12:01 P.M. Coalition whip calls to replace coronavirus czar
Coalition whip Miki Zohar called on Health Minister Yuli Edelstein to appoint former Health Ministry Director-General Moshe Bar Siman Tov as coronavirus czar.
The current coronavirus czar, Prof. Ronni Gamzu, is expected to end his role in October. Bar Siman Tov said Wednesday morning that "no concrete offer has been made."
On his Twitter account, Zohar wrote that "What matters is the test of results [of the coronavirus crisis]. Moshe Bar Siman Tov passed this test successfully. In the first wave, the prime minister and Siman Tov managed to curb the increase in the number of people infected and even reduce the number of patients and people on respirators to the best numbers in the world. I call on the health minister to appoint him as soon as possible, because nobody is as suited as him to be responsible for our country's coronavirus response." (Ido Efrati)
4:29 A.M. Knesset passes law limiting protests under lockdown
The Knesset passed an amendment to the government's coronavirus law early Wednesday morning that bars protesters from traveling more than a kilometer (0.6 miles) from their homes to attend a demonstration.
Along with the law, a "special state of emergency" was declared, which the ministerial cabinet will need to ratify three times each week. (Haaretz)
>> Click here to read the full report
TUESDAY
10:30 P.M. IDF troops to stop manning lockdown checkpoints in Jerusalem
The Israeli military decided Tuesday night not to place more soldiers at police checkpoints in order to help enforce the lockdown in Jerusalem. In light of the decision, soldiers will leave their posts in the city Tuesday night. Troops were stationed, among other locations, at checkpoints directing a protest convoy against the promotion of an amendment to legislation, which would allow the government to restrict demonstrations. Although eyewitnesses say the police directed protesters, the placement of the soldiers at the checkpoints provoked criticism. (Yaniv Kobovich)
10:20 P.M. Hundreds protesting in in Modi'in Ilit, blocking roads, say Israeli police
A demonstration is currently taking place in Modi'in Ilit, with hundreds of demonstrators participating and blocking roads, Israel Police said. They added that police forces are working on-site to disperse the demonstration and so far two protesters have been arrested on suspicion of disrupting public order. (Hagar Shezaf)
7:30 P.M. No prayers permitted indoors, ultra-Orthodox council announces
The Shas Council of Torah Sages announced on Tuesday that "all prayers should be held in open spaces, and no prayers should be held in closed spaces at all."
A statement issued by the council, which functions as the spiritual body behind the Sephardic Shas movement, stated that "everyone must strengthen themselves with all their might, observe and adhere to all health guidelines."
Last Wednesday, the president of the Council of Sages, Rabbi Shalom Cohen, published a letter according to which people who are at risk of deteriorating into severe condition if they contracted the coronavirus should pray only in open places on Yom Kippur.
"The others," Cohen added, "will try and make every effort to add and hold quorums in open spaces, or in synagogues in small groups."
This is the first provision of its kind from the Council of Sages instructing the complete closure of synagogues. At the beginning of the first wave in March, with the spike in morbidity in Bnei Brak, Rabbi Cohen instructed the city's residents not to pray in synagogues and other places to pray according to Health Ministry guidelines as it is a matter of mental supervision. (Aaron Rabinowitz)
4:31 P.M. Netanyahu says lockdown will last more than a month, may take much longer
Prime Minister Benjamin Netanyahu said on Tuesday that Israel's nationwide lockdown won't be lifted within less than a month, and that it "may take much longer than that."
Also on Tuesday, the Knesset is debating an amendment to the government's coronavirus law that would bar protesters from traveling more than a kilometer (0.6 mi) from their homes to attend a demonstration.
Outside, hundreds of protesters gathered to protest the legislation, three of whom were arrested by Israel Police.
Speaking in a Facebook live feed on his page, Netanyahu said the protests are "the whole problem" in regards to the consistent rise of coronavirus cases in the country.
He said that with the new restrictions, "Anyone who wants to demonstrate and lives at a distance of 1,000 meters from the Prime Minister's residence can do so, there is no such restriction.
"The problem is twofold: one, the spread of the disease, and that's what happened unfortunately with uncontrolled gatherings, and the second thing is also the unravelling caused by the sense of anarchy that this thing produces," Netanyahu said, but did not present data to support his claim that weekly protests in front of his residence are responsible for Israel's precipitous COVID-19 morbidity rate. (Jonathan Lis)
4:15 P.M. With 799 patients hospitalized and in serious condition, Israel nears 800-patient threshold
The Health Ministry reported 197 new coronavirus cases on Tuesday, bringing the total in Israel to 234,060 with 65,511 of them considered active.
1,585 patients are hospitalized, a record number since the outbreak began. 799 of them are in serious condition, nearing the 800-patient threshold health officials have warned would lead to a collapse of the Israeli health system. Of those, 200 patients are on life support.
Seven more patients died, bringing the total number of deaths to 1,516. (Haaretz)
4 P.M. Academic year for higher education to begin with distance-learning only
The academic year for higher education will start with distance learning only, the Committee of University Heads in Israel announced on Tuesday, on the assumption that the lockdown restrictions will continue even after the holiday period. The committee added that later in the semester, the institutions will examine the possibility of returning students to campus, depending on the national infection rate.
Academic institutions have in recent weeks published plans combining distance learning and in-person classes. Many institutions have also informed first-year students that they will make an effort to allow them to come to campus several times a week to facilitate their adjustment to university and college studies. (Shira Kadari Ovadia)
3:30 P.M. Israel passes 800 seriously ill patients, limit for health system
For the first time since the coronavirus pandemic began, the number of Israeli patients hospitalized in serious condition in Israel has passed 800, a Health Ministry document shows, a number defined in the past by the health system as the "limit for system failure."
Passing this number, the health system said, will cause deficiencies in care for coronavirus patients and make other hospital functions more difficult.
A document published by the Health Ministry, which includes data as of 1 P.M., says there are currently 811 patients in serious condition. (Haaretz)
11:30 A.M. Number of jobseekers getting closer to million mark
More than 42,000 people were registered with the employment service since Thursday, before Yom Kippur, bringing the total to 895,858.
Of those, more than half are on unpaid leave. Since September 17, when the first version of the second lockdown started, 163,297 jobseekers were registered in the employment service, the vast majority on unpaid leave.
The figures show that for 76 percent of them, this was the second registration since the beginning of the coronavirus outbreak. (Sivan Klingbail)
11:24 A.M. Israel coronavirus mortality rate surpasses U.S. for first time since pandemic began
According to a report released by the IDF's military intelligence branch on Tuesday, Israel has a higher infection and mortality rate per million people than the United States, France, Britain, Italy, Austria and South Korea.
Israel conducts the highest number of coronavirus tests per capita out of all these countries, but also takes the top spot for the rate of positive test results, at 14.8 percent, the report states. (Ido Efrati)
10:50 A.M. More than 5,000 fines given in last two days, Israel Police say
The Israel Police issued 5,194 citations for violating coronavirus regulations since September 27, a statement from the force said. Most, around 3,800, were given for travelling without authorization, followed by fines for not wearing a mask. (Haaretz)
9:07 A.M. Health minister: Lockdown will not be lifted within expected timeframe
Health Minister Yuli Edelstein told Kan Bet radio that the lockdown will not be lifted in 10 days – within the time originally allotted for the national lockdown.
"I'm telling you explicitly, even if we work transparently, there's no scenario in which in another 10 days, we'll lift it all and say it's all over and everything's fine," he said. "There might be changes for the better," he added, but during this full lockdown, as opposed to the one Israel exited in April, "we'll leave it in stages, responsibly."
When asked about the possibility of further limiting protests, as the Knesset is scheduled to be discussing today, Edelstein said that if protesters continue to demonstrate "it will end in more thousands of diagnoses and more seriously ill patients in hospitals." He added that it pained him to sign the orders to close synagogues and houses of worship after the Yom Kippur holiday. "Nothing will happen if people find other ways to demonstrate without gathering and without breaking the rules."
Edelstein said that the decision to close the courts – which would further delay Prime Minister Benjamin Netanyahu's trial – is not in the hands of the legislative branch, and is the choice of the judiciary.
6:00 A.M. Knesset to discuss protest clampdown this morning
A compromise between Likud and Kahol Lavan could lead to a clampdown on protests to curb the spread of the coronavirus, it emerged Monday evening.
The Knesset's Constitution, Law and Justice Committee, followed by the Knesset as a whole, are scheduled to debate and possibly ratify amendments to a law on Tuesday on the handling of the coronavirus pandemic epidemic that might ban protesters from traveling more than a kilometer (0.6 miles) from home to attend a protest.
Prime Minister Benjamin Netanyahu's Likud party had demanded significant additional restrictions, including a call to prohibit all demonstrations during the current lockdown to curb a spike in coronavirus infection rates across the country. Now, however, Likud said it would retract its four proposals for more stringent restrictions, and in return Kahol Lavan would lend its support to new restrictions. (Jonathan Lis)
4:00 A.M. COVID-19 spike pushing Israeli hospitals to the limit, report details
Hospitals have begun scaling down surgery, canceling outpatient care and reducing the number of beds in internal medicine wards as pressure mounts to redirect resources to the growing number of coronavirus patients. A declining quality of care is already being felt in some departments due to the workload on intensive care and internal medicine, according to a report from the last few days by the so-called "barometer team" that keeps track of the situation in hospitals. (Ido Efrati)
2:20 A.M. Israeli reservists say coronavirus crisis commanders fail to wear masks or socially distance
Reservists called up to serve on the Israel Defense Forces Home Front Command's coronavirus crisis response team have complained to the chief of staff and the IDF's personnel ombudsman that officers in the transport battalion were failing to adhere to health safety guidelines. (Yaniv Kubovich and Bar Peleg)
Click the alert icon to follow topics:
ICYMI
Ken Burns' Brilliant 'The U.S. and the Holocaust' Has Only One Problem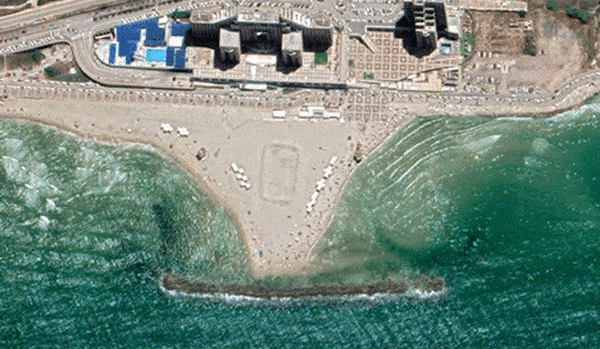 Facing Rapid Rise in Sea Levels, Israel Could Lose Large Parts of Its Coastline by 2050
As Israel Reins in Its Cyberarms Industry, an Ex-intel Officer Is Building a New Empire
How the Queen's Death Changes British Jewry's Most Distinctive Prayer
Chile Community Leaders 'Horrified' by Treatment of Israeli Envoy
Over 120 Countries, but Never Israel: Queen Elizabeth II's Unofficial Boycott